October 18, 2023
A Performance Option Synopsis
The City Council has amended the land use code to make two important changes to the design review program aimed at encouraging additional low-income housing. The first change permanently exempts low-income housing projects from the Design Review program. The second change provides a new Design Review exemption for projects that meet Mandatory Housing Affordability (MHA) requirements by providing units on site via the Performance Option under the Land Use Code. Projects that opt into the Performance Option can skip MUP and Design Review and proceed directly to Building Permit where land use code compliance will be evaluated concurrently with other review subjects.
Expediated Timelines:
Bypassing Design Review and MUP milestones could yield significant time and cost saving on project delivery.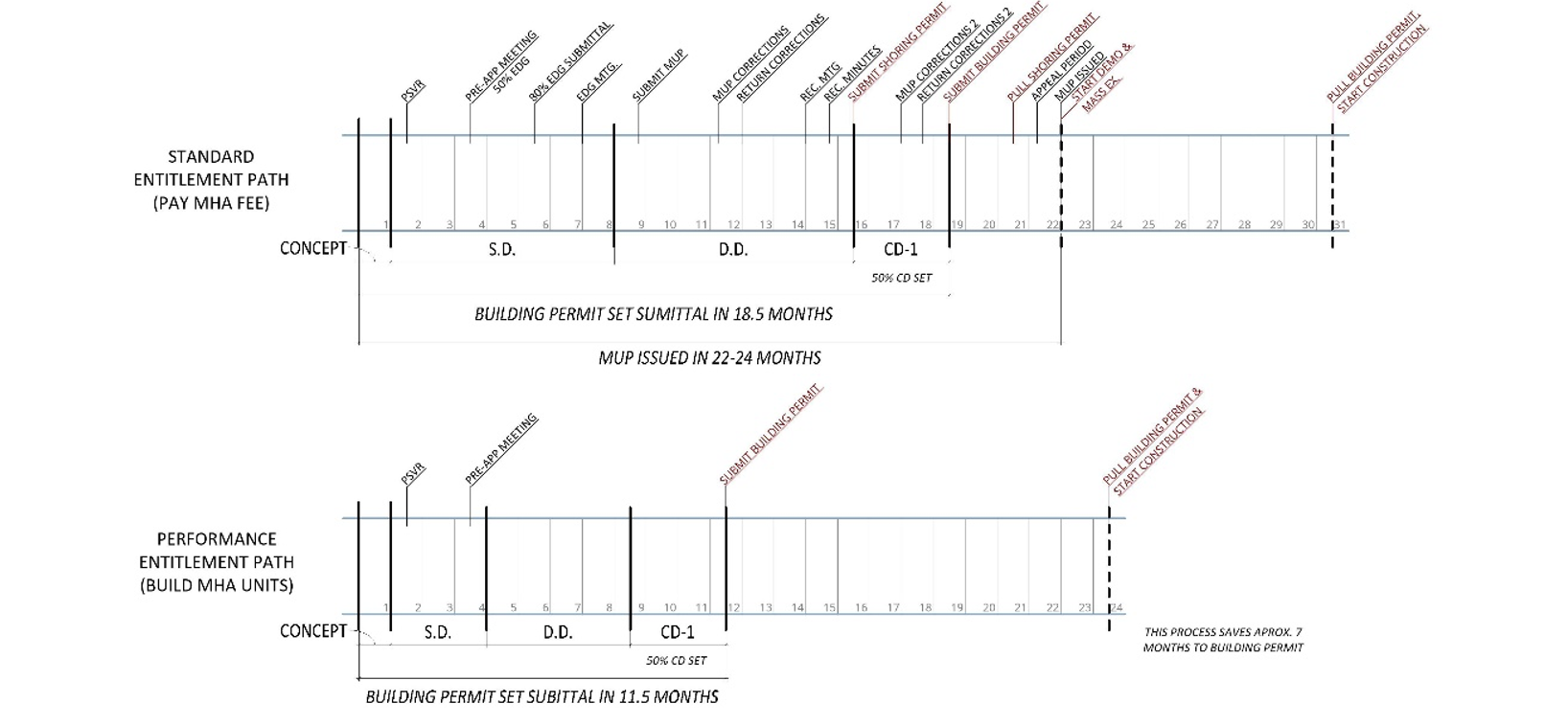 Schedule comparisons showing how fast the entitlements process can be if MHA units are provided instead of the 'payment in lieu.'
Calculating the Number of Affordable Housing Units Required to avoid Design Review:
If a project contains commercial space, the area dedicated to affordable units required to satisfy the Performance Option is calculated as a percentage of the overall applicable area in commercial use. If a project contains residential space, the required number of affordable units is calculated as a percentage of the total number of dwelling units in the project. Developments that contain both commercial and residential space will use a combination of both calculation methods.
Performance Amount for Commercial Development:
The net unit area of affordable housing required to comply with Performance Option is outlined in Tables A&B for SMC 23.58B.050. The required square footage set-aside for affordable units varies respectively by zone, MHA suffix (M/M1/M2), and performance area intensity as noted in Map A for SMC 23.58C.050. For most zones, the area of affordable housing required ranges between 5-9% of the applicable commercial floor area.
Performance Amount for Residential Development:
The number of affordable housing units required to comply with Performance Option is outlined in Tables A&B for SMC 23.58C.050. The required percentage set-aside similarly varies respectively by zone, MHA suffix (M/M1/M2), and performance area intensity as noted in Map A for SMC 23.58C.050. For most zones, the number of affordable housing units required ranges between 5-11% of the total number of units to be developed in each structure.

Table from the Seattle municipal code indicating how many units need to be affordable for a project to be exempt from development design review.
Performance Standards for Qualifying Affordable Units:
Duration: Units provided to comply with the Performance Option must remain affordable for 75 years from the date of certificate of occupancy.
Distribution & Comparability: Units provided to satisfy the Performance Option must be generally distributed throughout the structure and be comparable to other units in terms of: Type of dwelling unit such as live-work unit or congregate residence sleeping room; Number and size of bedrooms and bathrooms; Net unit area; Access to amenity areas; Functionality; and Lease term.
Eligibility: Household eligibility varies with unit size and rental date.
At initial occupancy (lease-up), units with a net area of 400 sf or less are eligible to households with incomes up to 40% of AMI. Units with a net area greater than 400 sf are eligible to households with incomes up to 60% of AMI.
Thereafter at annual certification, units with a net area of 400 sf or less are eligible to households with incomes up to 60% of AMI. Units with a net area greater than 400 sf are eligible to households with incomes up to 80% of AMI.
Public Subsidy: Affordable housing units provided to satisfy the requirements of the Performance Option may NOT be used to earn public subsidy such as through the Multifamily Housing Property Tax Exemption (MFTE Program).
Rent Levels: Monthly rents for units with a net area of 400 sf or less, shall not exceed 30% of 40% of AMI. Monthly rents for units with a net area greater than 400 sf, shall not exceed 30% of 60% of AMI. "Monthly rent" must include a utility allowance for heat, gas, electricity, water, sewer, and refuse collection, as well as any recurring fees that are required as a condition of tenancy.
Annual Certification, Third Party Verification: Every year an owner of the rental unit must obtain from each tenant a certification of household size and income. Owners of rental units shall attempt to obtain third party verification whenever possible to substantiate income at each certification, which shall include contacting the individual income source(s) supplied by the household. If written or oral third-party documentation is not available, the owner may accept original documents (pay stubs, W-2, etc.) At the discretion of the Director of Housing, the owner may accept tenant self-certifications after the initial income verification and first annual recertification. The owner shall maintain all certifications and documentation obtained on file for at least six years after they are obtained.
Reporting: Once a year the owner of the rental unit shall submit a written report to the Director of Housing, verified upon oath, demonstrating compliance with Chapter 23.58C. The written report shall state: the occupancy and vacancy of each rental unit, the monthly rent charged for the unit, and the income and size of the household occupying the unit. The Director of Housing may require other documentation to ensure compliance including documentation of rents, copies of tenant certifications, documentation supporting determinations of tenant income including employer's verification or check stubs, and other documentation necessary to track program outcomes and the demographics of households served. The owner of the rental unit shall pay the Office of Housing an annual fee of $150 per rental unit for the purposes of monitoring compliance with the requirements.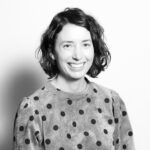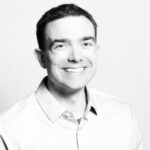 By Jennifer Sobieraj Sanin, Managing Design Principal, and Michael Lama, Project Designer
FILTER
SEARCH
This search form (with id 2) does not exist!
The Art of Efficiency
September 18, 2023
Design Dos and Don'ts for Authentic, Low-Density Apartment Communities
Popularized because of their connection to nature and relative abundance of space, garden-style apartments are lower density, low-rise housing complexes that are typified by their green, garden-like surroundings. Through Ankrom Moisan's experience designing high-quality low-density communities, we've found that successful garden-style design is all about striking a balance. There's an art to creating a community that is highly livable and authentic, yet also efficient and economical. Based upon our expertise with this style of housing, here are our dos and don'ts for creating successful low-density garden-style communities.
Do capitalize on site assets.
Site plans are everything when it comes to designing unique low-density housing. Before any buildings are designed, take note of site features such as topography, open space, noteworthy views, and existing natural resources such as bodies of water or mature trees. Designing a site plan around these features elevates the design of a garden-style apartment community to be authentic to its location, setting the place apart as a destination with its own identity. For example, at Deveraux Glen the site plan intentionally takes advantage of the surrounding green space by orienting the buildings to maximize views. This is apparent in the irregular perimeter, shown below.

Deveraux Glen site plan / Aerial shot of a neighborhood free stock photo – Photo by Erik Maclean (Pexels)
Do balance the parking.
While parking yield is important, preserving the character of the place is also essential for success. This requires finding a careful balance. Because available parking ratio ultimately determines home yield, and not allowable density, parking drives (pun intended) everything. Efficient footprints like parking must be designed first, with buildings fitting into the site afterwards and conforming to the lot's parameters based on the home plan. However, that does not mean the parking lot has to be the focal point for a site's layout. Remember: nobody wants to live in a parking lot. A certain degree of intentionality is required to design a desirable community that has a sense of place and doesn't just feel like an asphalt lot.

North Ogden masterplan / Contemporary style house exteriors near trees in daytime – photo by Maahid Photos (Pexels)
Don't neglect landscaping.  
Use greenery to break up the humdrum of asphalt. Whenever possible, a space of 15 feet between parking and ground-level homes is ideal for garden-style, as it budgets 5 feet for the pedestrian sidewalk and 10 full feet for landscaping. There should also be landscaping between head-in parking stalls. 5 feet is the minimum amount of space recommended, but again, having more room for trees to be planted both screens the car park from above, and improves the quality of the space at ground level. Utilizing landscaping in this way improves the apartment's sightlines and views for both the ground-floor homes that look towards the parking lot and the upper-story homes looking down on it. While covered parking may improve the visual landscape of a community, taking it a step further with green roofs or alternated landscaping does much more for both the environment and residents. The ultimate goal in garden-style design is to create a place that is as livable as possible to drive absorption, retention, and rent rates.

Club at the Park / Parking lot at The 206
Do consider walkability.
Since garden-style home doors are exterior-facing, the outdoor experience must be carefully considered. Distances between frequently visited areas need to take walkability into account. Remote parking may allow for an increase in home yield but result in a reduction in rent rate. Designers should be very intentional with how far residents will have to walk to get from their cars to their front door, and vice versa. Parking allocation studies need to be done to assign parking stalls to certain buildings and determine whether or not distances and available parking options realistically work. Trash enclosures, too, need to be within a reasonable distance from residential homes and located along a route accessible to trash collection vehicles for removal. By putting forethought into residents' travel patterns, designers can create a highly livable place.

Meridian Gardens rendering / Kitts Corner rendering
Do enhance ground-level homes.  
Ground level living is perhaps the most important design consideration for low density garden-style apartments. There are a handful of ways to enhance first-floor ground-level homes, the most effective being the inclusion of a stoop at the entrance. Stoops help create a sense of defensible space, and resident identity. Ground level homes also benefit from street elements. Streets are characterized by parallel parking and sidewalks, whereas parking lots are based on 90-degree parking, which means that light from cars in parking lots are angled directly into ground-level windows and the amount of land dedicated to the car is the greatest. Ground-level homes often receive the short end of the stick, so giving those homes extra thought can go a long way for improving the resident experience.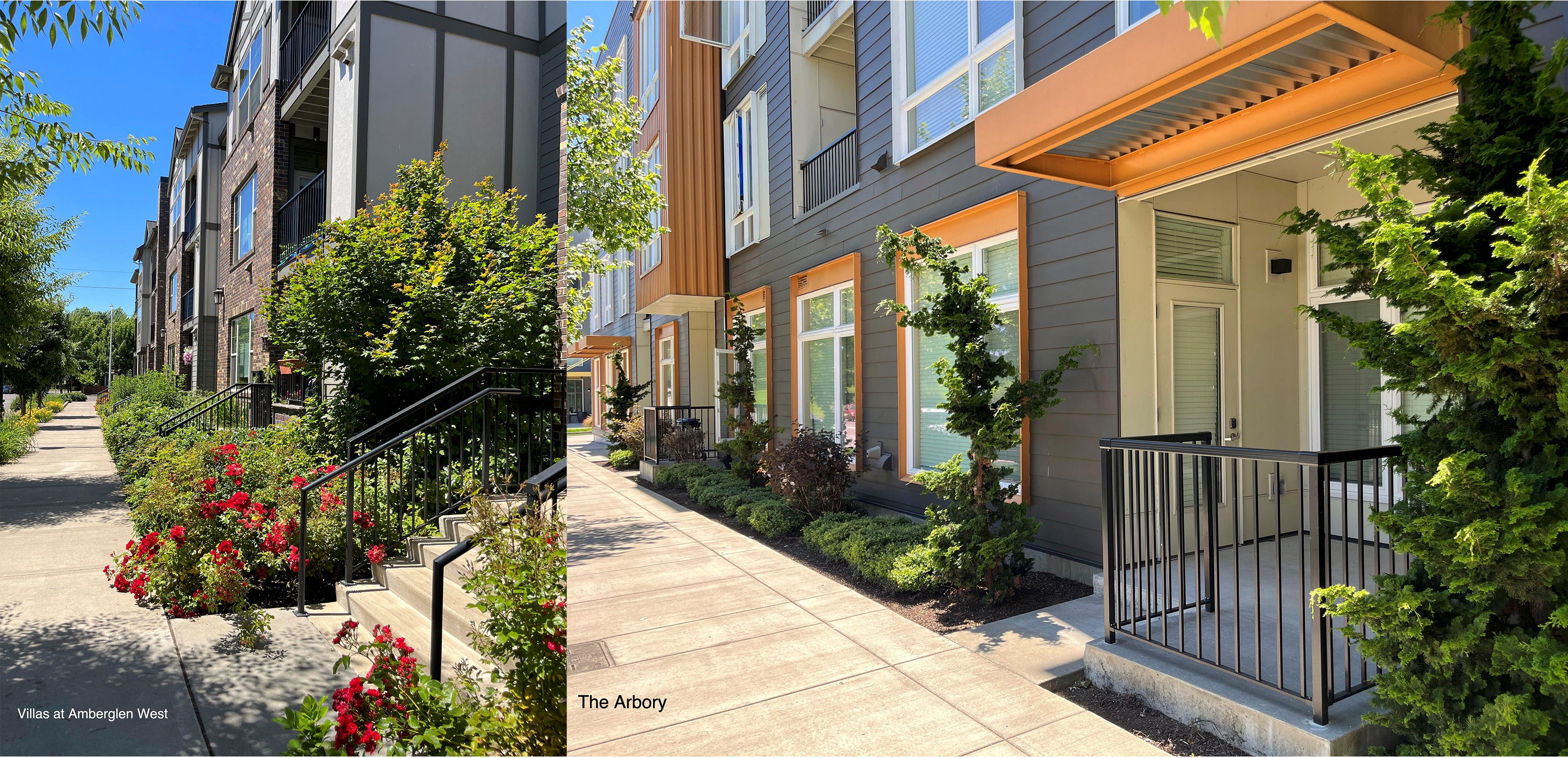 Stoops at The Villas at Amberglen West / Ground-level porches at The Arbory
Don't underestimate the importance of identity.  
Develop an encompassing identity for the entire community through a central amenity. As the heart of the place, the amenity building reinforces the character of the site. Surrounding spaces should support that identity through the quality and character of their architecture and interior design. Don't shortchange design fees here; It's better to spend up on the club house and economize elsewhere than to forgo the identity established by a central amenity. 

Clubhouse at Seasons Apartments and Farmington Reserve / Clubhouse at The 206
These guidelines are only a brief overview of some of the key principles to creating successful garden-style communities. There is a tremendous level of consideration of the specifics of a site when translating these principles into a successful design. What it all essentially comes down to is hiring an architect who understands these design principles and how to apply them to create efficient, high-quality communities. And of course, having beautifully maintained greenery doesn't hurt, either.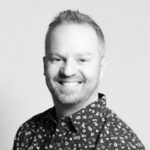 By Don Sowieja, Principal-in-Charge
FILTER
SEARCH
This search form (with id 2) does not exist!
An Interview with the Oregon Chapter's 2022-2023 IIDA President, Clare Goddard
August 31, 2023
I sat down with Clare Goddard, now Past President of the IIDA Oregon Chapter to hear about her reflections on the 2022-2023 Board year.
Q: What has been the most rewarding part about being IIDA President?
A: I am going to miss the chapter leader conferences. There's something so powerful about connecting with other IIDA leaders across the region and the US and being able to commiserate or learn from them (or just make new friends). Even though you don't get a weekend, I always come back feeling excited to tackle a new challenge.
For my term as President, I think the most rewarding part was being a catalyst for change in how the board operates. Having the board willing to not continue with the status quo and embrace change was exciting; not only because it lifted a huge weight off my shoulders, but I feel I was able to make my mark on the IIDA Oregon chapter.
I also credit IIDA with keeping me sane and connected when we were all remote – especially during lockdown. Being a part of IIDA and having an outlet outside of work helped to fill my cup and to build my network. I am truly so grateful to be part of this design community.
Q: What would be your best tip for balancing or prioritizing IIDA and work, life, etc.?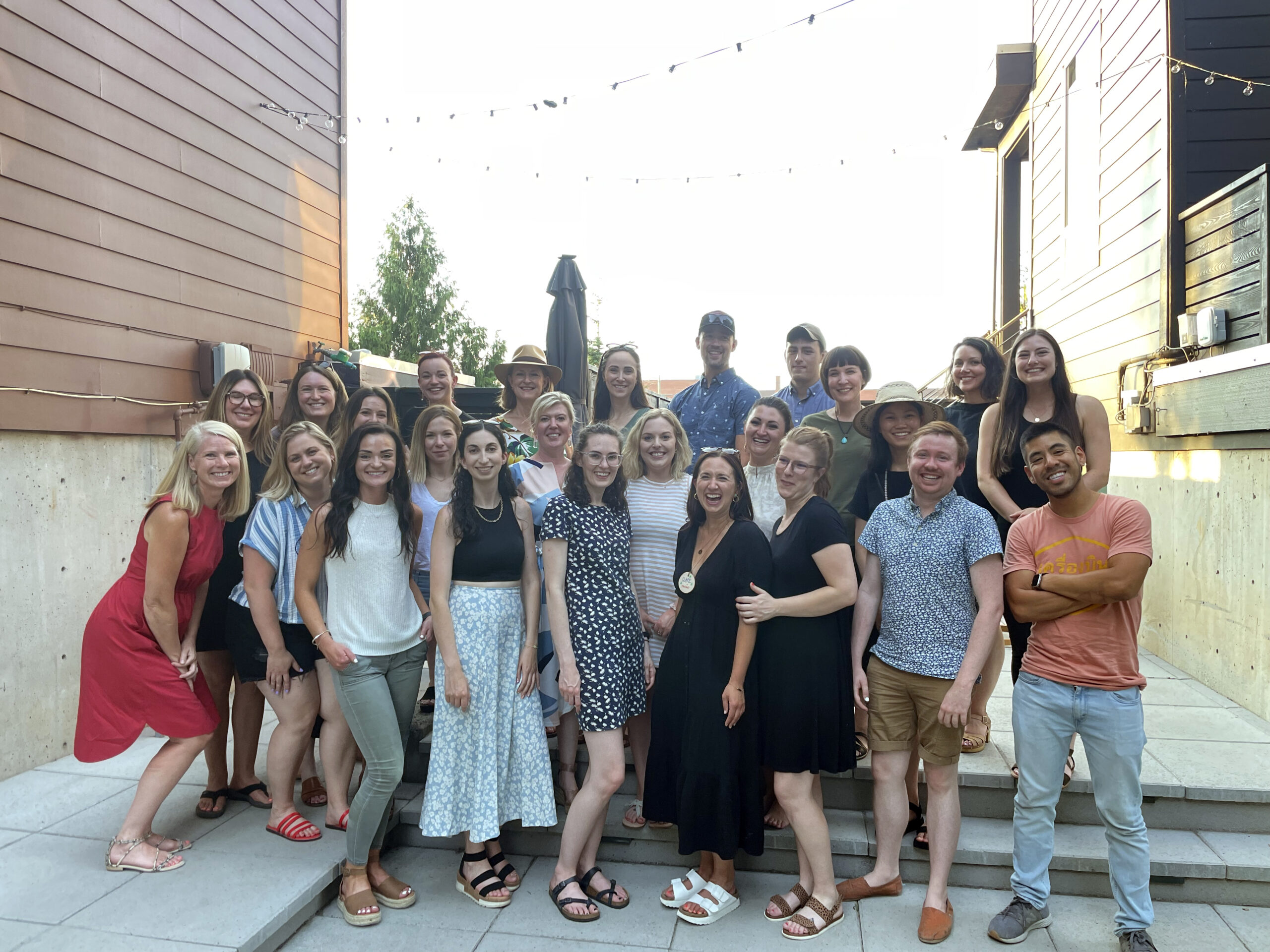 A: I've always had a very clear division between my work and my home life, and those boundaries really helped me in my presidency as well. I had to be aware of my To Do List- I had to get detailed and ask myself what I can accomplish today. What can I realistically accomplish this week? And how am I going to divide that up?
I also set strict hours for myself – capping Ankrom work at 40 (no overtime) and trying to do IIDA work after dinner or on the weekends. I really had to focus on prioritizing and stick to those priorities.
I think there were sometimes when there was not always the balance that I would have liked between work, IIDA and personal life. In the end though, I was able to find that harmony – and harmony to me is such a better word than balance because balance to me is like one side is always winning and there is more effort in just making them equal. Harmony means that you've found some way to make both your personal and your professional life work together and neither one is weighted.
I was also incredibly lucky in my presidency to be able to work 100% remotely from home. That has also allowed me to be more flexible and to be better able to create that harmony. Flexibility is key- being able to make my schedule work for myself.
Q: What has been the most challenging experience during your presidency?
A: It was the first six months of my presidency before I took a step back and asked the question "why". Why did we operate the way we operated?
At that time, I was so overwhelmed and felt like I was letting everyone in my life down because I was stretched so thin and felt like I was not making a difference – that I was just trying to keep my head above water. I was just going from event to event, from meeting to meeting and not really accomplishing anything. And then I just had this moment where I realized, I was the president and could make a change to improve how we operated and the president's role in general. That I could change it, and that I needed to change it. I immediately felt a sense of calm and empowerment. How can we make the Presidency better, how can we make the Directors' positions better? Giving everyone – including me – a sense of agency to give back to our design community in a more thoughtful way.
Q: What have you learned while being the IIDA President, skills or experiences, that transfer to your work or have helped you grow in your role here at Ankrom and then specifically on our Workplace team?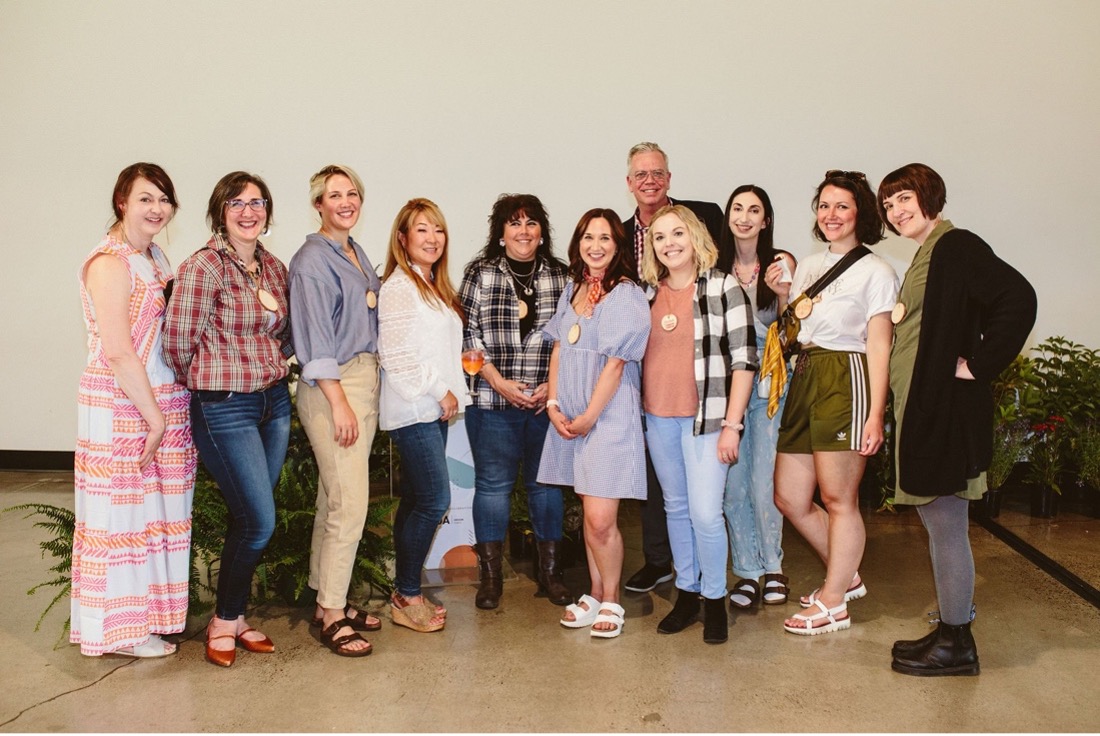 A: The biggest thing being IIDA President has helped me with is delegation. I realized that I could lean more on my team and that I do not have to do it all. I also got to use my business degree – so reusing a skill that had been gathering dust – since running an IIDA chapter is like running a small business. In running that small business and planning multiple events, I was also able to practice my project management skills.
The other skill I got to work on was networking and relationship management. As IIDA President – attending both local and national events – I am the face of interior design for the state of Oregon (as our mission statement says). Therefore, when I am at these events, I need to network and act accordingly to make sure that I'm supporting sponsor relations, board member relations, and in general making sure I am representing the organization to the best of my abilities. And I think that's directly applicable to my role at Ankrom, that when I am at work events or gatherings, I am a representative for Ankrom.
Q: How are you, your partner, and your dog going to unwind after finishing this year?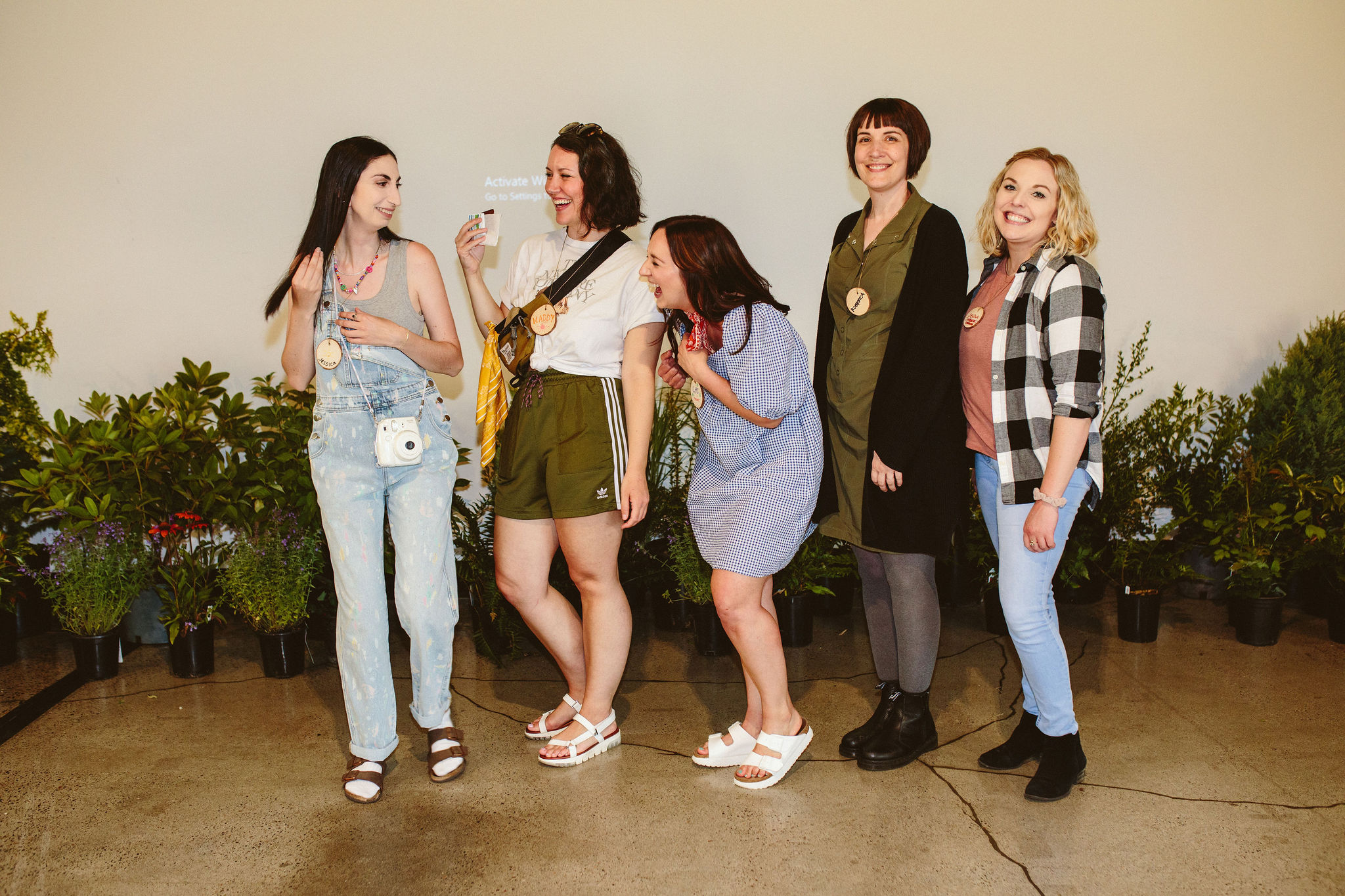 A: We have already taken and planned a few trips to get more quality time together! We took our girl Millie (dog daughter) on her first camping trip a few weeks ago – Millie even SUP'd for the first time. And then in October after the Design Excellence Awards are done, Jacob (partner) and I booked a week trip to Sedona, AZ. We haven't been on a long trip since I became President, so we're going to take a helicopter tour of the Grand Canyon, go hiking, mountain biking, go to a spa, enjoy some wineries, and eat some yummy food.
Also, since I will now have free time, Jacob bought me ceramics lessons at a local pottery studio. I am excited to pretend I am on The Great Pottery Throw Down!
Thank you, Clare, for an amazing year- I've loved watching you be the President with such grace and honesty, both as a colleague and as an IIDA board member!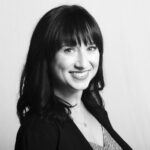 Clare Goddard, Senior Associate Interior Designer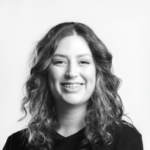 Emily Feicht, Interior Designer
FILTER
SEARCH
This search form (with id 2) does not exist!
Conversations with Michael Stueve
June 30, 2023
Featured Articles about the Future of Workplace
Our very own Michael Stueve, Workplace Principal and UI/UX Strategist, is always thinking innovatively about the future of workplace and is also eager to share his values that shape his experienced perspective behind workplace design. Not only has he recently developed "The Office as an Ecosystem" strategies, but he has been featured in these articles: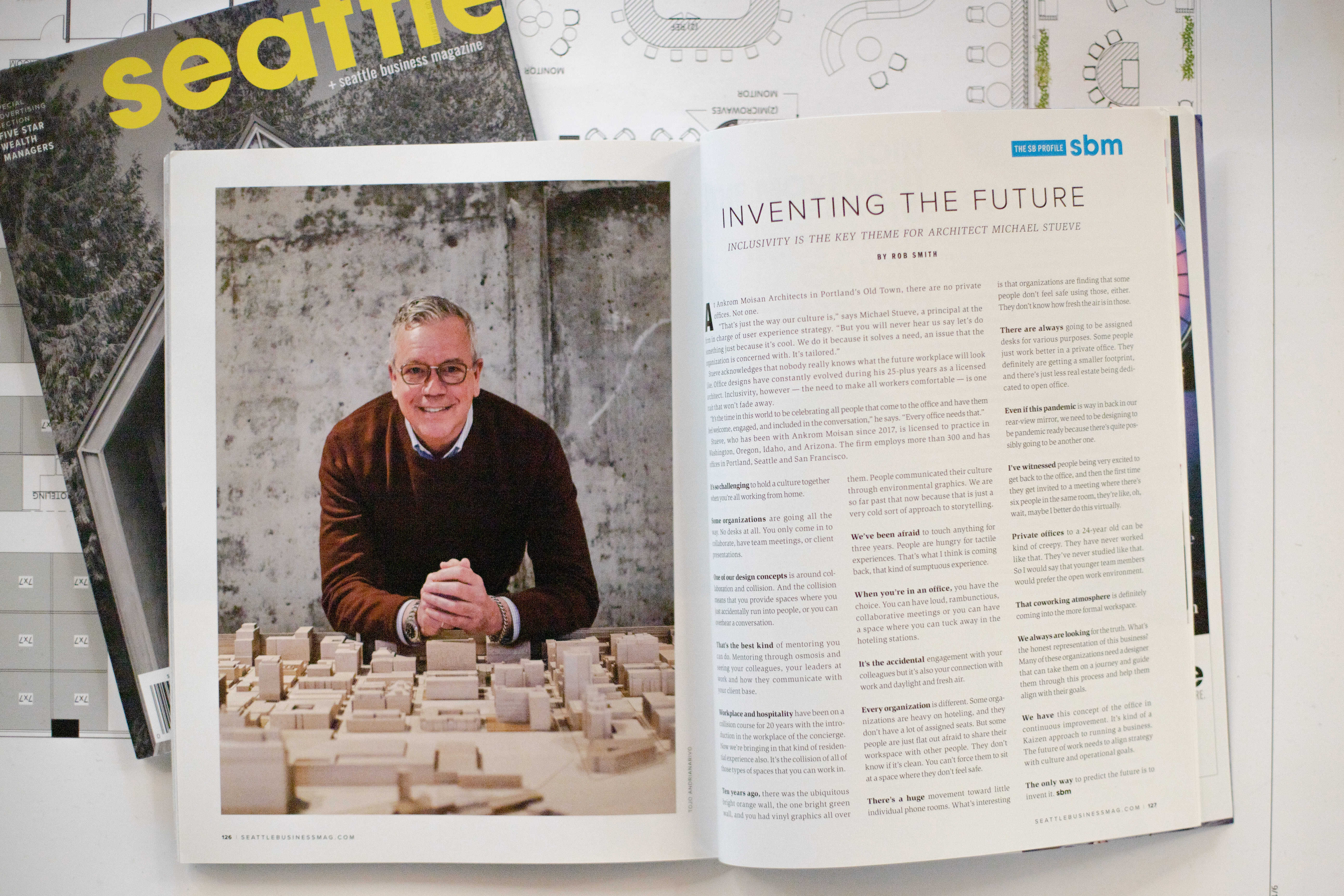 Seattle Magazine: Inventing the Future (available in print only)
FILTER
SEARCH
This search form (with id 2) does not exist!
Ankrom Moisan's Healthcare SPAKL Team – Big Focus on Small Projects
June 6, 2023
A Conversation with Kimberleigh Grimm, Associate Principal
The SPAKL team is Ankrom Moisan's thorough and decisive resource for solving complex and challenging Healthcare project designs. Looking beyond initial or obvious facility concerns and truly partnering with clients for a better understanding of the maintenance and equipment upgrade projects are salient to their success.  
Kimberleigh Grimm, Associate Principal, discusses the scope of projects that the SPAKL team undertakes and the challenges that these types of Healthcare projects often present. Kimberleigh's excitement about and enjoyment of this topic is palpable. She is representative of the strengths and enthusiasm that the SPAKL team brings to the table.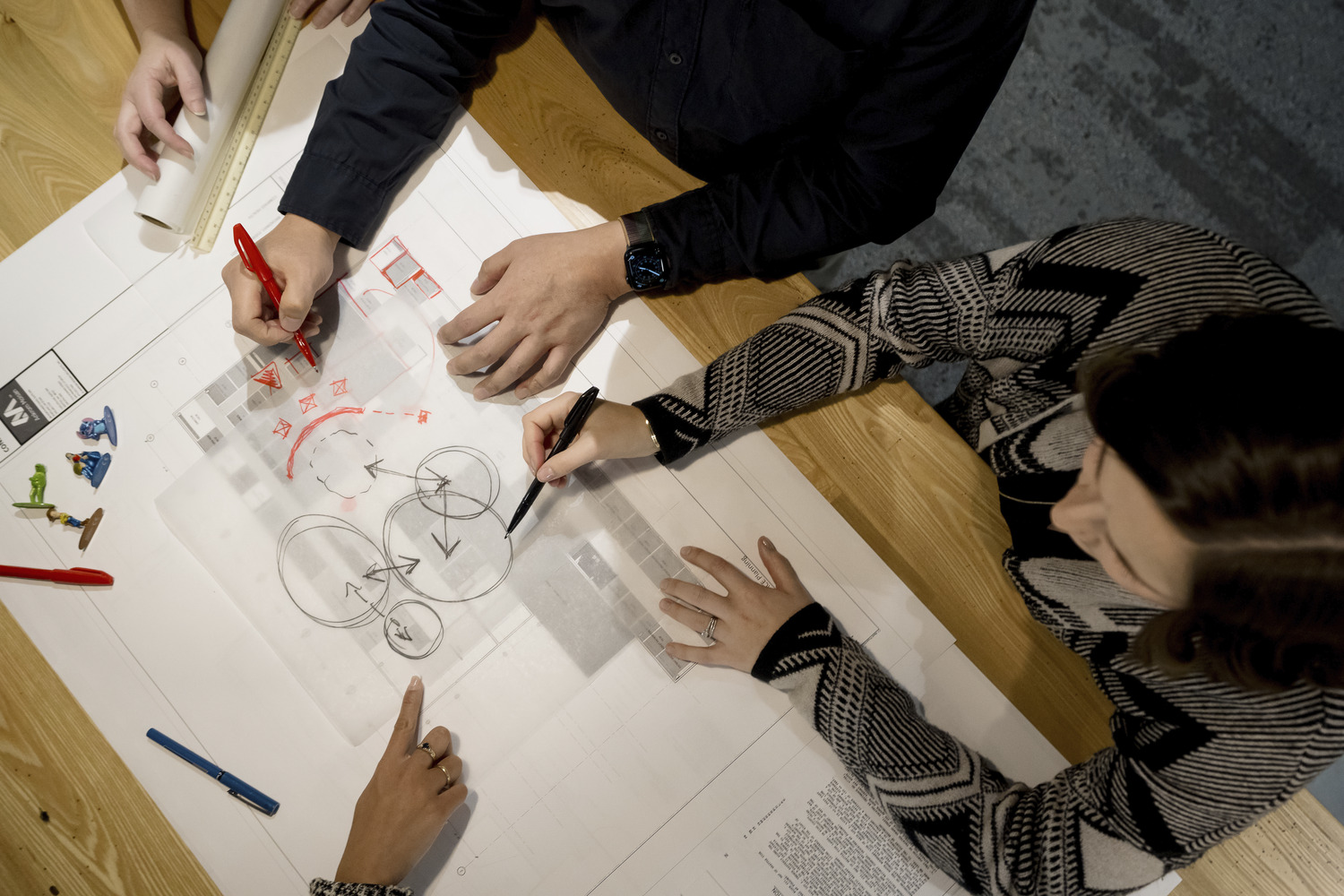 Ankrom Moisan's Healthcare SPAKL team designing together
Q: What is SPAKL? 
A: SPAKL is a subset of the Ankrom Moisan Healthcare team that focuses on specialized, problem-focused healthcare projects. It stands for Special Project Alterations Knowledge League, and it is a team that is experienced in (and committed to) maintenance projects in healthcare systems. We don't wear capes or fly faster than a speeding bullet – our super-power is the knowledge, enthusiasm, and fun that we bring to this type of project work. 
Q: How long has SPAKL been an AM Healthcare team feature? 
A: Maintenance projects have always been the core of our healthcare team's work. SPAKL emerged from internal conversations about creating a focused team with a depth of knowledge in acute healthcare renovation work that is dedicated to increased efficiency, both for us, and our clients. Each project builds on knowledge gained in previous work to enable the next to be even more successful. 
Q: How and why does AM Healthcare SPAKL approach differ from other firms' approach to similar projects? 
A: Most firms aren't truly interested in maintenance or equipment replacement projects. They accept this work to leverage the client relationship for bigger, "better" projects. Because these projects aren't really valued by most firms, they typically assign less-experienced staff that don't understand the intricacies of the projects. 
This is not AM's approach. We like what we call the "dirty jobs". We like them because we understand that they are just as important to a healthcare facility as a new build or a full clinic remodel. We developed the SPAKL team around these types of maintenance projects, and our team is highly experienced in healthcare renovations. We understand the sophistication of these projects in terms of improved patient and staff experiences, reducing construction disruptions and maintaining continuous operations, and understanding existing conditions. We also understand that these projects usually have tight fees (and tighter schedules) and leverage our knowledge and experience with each facility and jurisdiction to maximize efficiency.  
Another way we differ from other firms is that we genuinely enjoy this type of work – we love the complexity and the fact that each project is a unique experience.  
Q: What makes a SPAKL project unique to other Healthcare projects? 
A: We like to say that SPAKL projects are problem-focused, not project-focused. There is a wide variety of projects ranging from equipment replacement projects to maintenance projects to make-ready projects, but the one thing they have in common is that they are intended to address a specific facility concern.  
Unlike a typical project that is tasked with helping a facility re-imagine an aspect of their operations, we are problem solvers. Aging equipment? DOH citations? Safety or infection prevention concerns? We evaluate the existing conditions and work with the facility to come up with efficient solutions. 

Washer/disinfector installation; Sterilizer replacement
Q: What is the biggest challenge when organizing around the client's operations? 
A: Every project is unique and has its own challenges. Sometimes the challenge revolves around how to minimize disruption during construction. This can range from minimizing infrastructure shutdowns to reducing construction impacts in terms of activity and noise. For example, one project might be concerned about noise impacts to adjacent NICU patient care, while another project's main issue is minimizing the number of electrical shutdowns required over the project. The key to navigating this is to listen and ask essential questions to fully understand the facility concerns.  
Q: What does it mean to "treat them with care"? How do you do that? 
A: At AM, SPAKL projects are as significant to us as bigger, fancier projects. SPAKL projects may never generate pretty pictures or win design awards, but they are critical to the functioning of a facility. Replacing outdated equipment increases throughput, improves patient outcomes, and improves both the patient and staff experience. That is critical. 
We treat each project with the same care that we bring to the larger projects that we work on. We believe user engagement is crucial, and we work from the beginning to bring the users into the design process so that we can understand both immediate and long-term objectives and concerns. Our style differs from other firms in that we don't do presentations before the user groups, we host discussions – and we consider the Facility to be the experts in that discussion. It is an open dialog intended to lead us to the best solution. The Facility knows their patient populations, they know their current concerns and what things are working and what is not working. They know what they like and what they do not like. We listen and have an open dialogue, and that is how we get to the best solution for each project. What is right for one facility is not necessarily right for any other facility. 

Meeting discussion documentation 
Q: What are the methodologies that you've found most useful? 
A: SPAKL projects often have tight budgets, and we use a lot of tools out of the LEAN toolkit. We feel that actively involving users in the design process leads to better engagement and better outcomes. For example, rather than providing design options and asking users to pick one, we like to have tabletop exercises where the user group can propose design options of their own and then discuss them.  Which means, rather than us telling the users what we think the design solution is, the users are engaged in the design process to test their own ideas. In the end, the user group becomes the best advocate for the final design because they feel ownership of the project and feel heard throughout the process.  
We also feel that an early and deep dive into existing conditions is key to a successful project. Existing drawing documentation is great, but it is only part of the story. We want to really understand the totality of existing conditions so that we can anticipate potential problems and address them early in design. You will never hear the words, "we can figure that out in CA" from a member of the SPAKL team. Never. 

Full scale cardboard mockup; Tabletop exercise
Q: What are some memorable experiences you've had during a SPAKL project? 
A: Some of our most memorable projects are also the ones the facility might prefer that we not discuss. And client confidentiality is vital. However, the best thing about SPAKL projects is the variety of work. Every project is unique and has its own set of challenges. It's one of the things we like best about the work…every week is a new adventure.  
One week you may be working on an infant security project and a PET/CT replacement project, the next week you might be working on a central sterile renovation and a sink replacement project. Every project we work on builds a bigger picture of the facility and helps the next project be more efficient.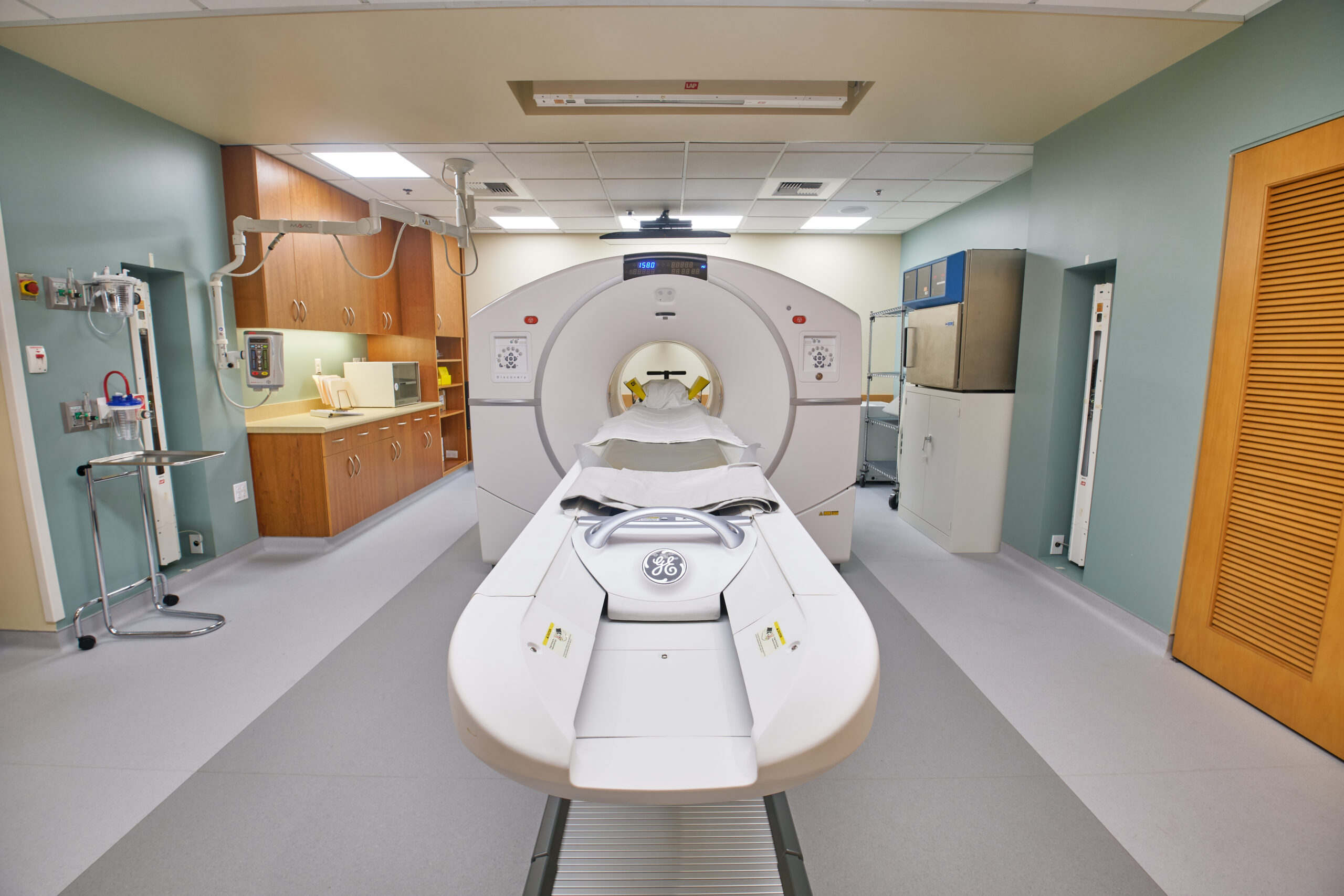 PET/CT room
The collaboration that the SPAKL team has with clients is unique and illustrative of the solution-focused approach they are becoming known for. Listening, cultivating deep understanding, and involving the client with the hands-on problem-solving all inform this team's success, not only on these specialized projects, but with the growing number of clients that return to work with AM for further Healthcare facility updates. Observably, Kimberleigh brings energy and inspiration to the SPAKL team, and has forged a path of thorough discernment of what makes a Healthcare facility project complex and important for the community it serves.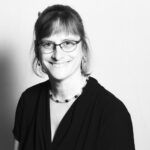 Kimberleigh Grimm, Associate Principal 
FILTER
SEARCH
This search form (with id 2) does not exist!
How Architects are using Artificial Intelligence in the Design Process
May 22, 2023
A Q&A with Michael Great and Ramin Rezvani
Revolutions in digital tools and technology are rapidly changing the landscape of many different industries across the globe. One of the latest innovations in digital technology is the widespread use of Artificial Intelligence, or AI. Two Ankrom Moisan architects, Michael Great and Ramin Rezvani – Director of Design Strategy and Senior Project Designer, respectively – have recently begun to incorporate AI software into their design process, receiving encouraging results.
Before the advent of Artificial Intelligence software, precedent images sourced from Pinterest or similar could be used to establish the initial aesthetic direction of a project. Because not every feature of an image would be relevant for a certain project, these images were often cropped and/or collaged together, leading to unnecessary confusion if clients became attached to specific features in precedent images that were never intended to be a part of the final design. AI-generated images have the potential to circumvent that issue, providing inspiration imagery that is specific to a particular place, project, client and design.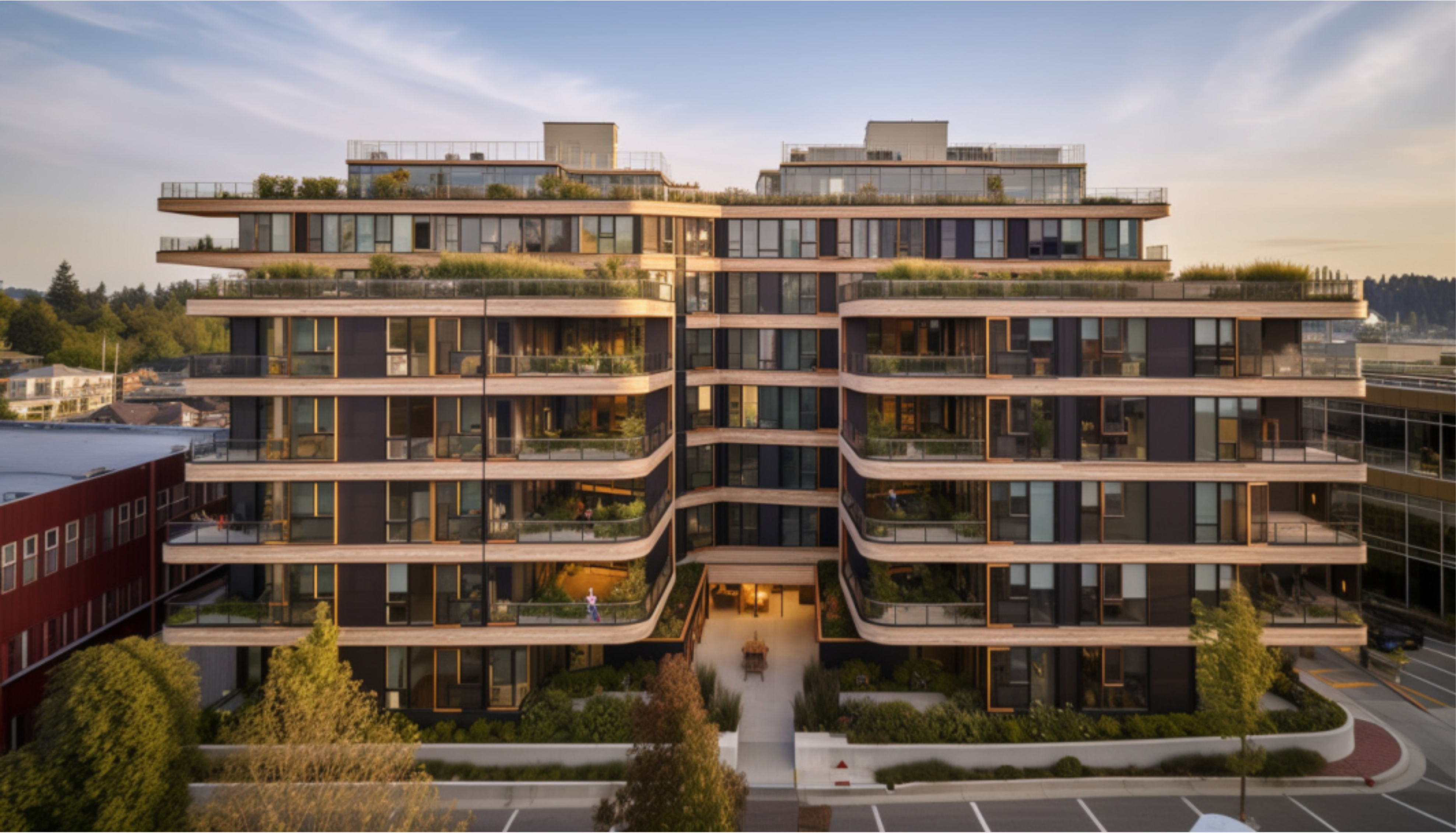 Example of an AI-generated precedent image.
Recently, Michael and Ramin have been using AI to create precedent imagery for their projects. In their experience, renderings created by AI software such as Midjourney assist in streamlining the design process and ensuring that clients are on the same page as designers when it comes to project design and direction.
For many, Artificial Intelligence still represents an enigmatic, complicated technology of the future, reserved for the plots of science fiction movies. However, recent developments in technology have made AI and its uses more widespread and accessible than ever. To explain how AI can be utilized to generate unique outcomes and facilitate a cohesive design language for a project, Michael and Ramin sat down to answer some questions about how Midjourney is integrated into the projects they work on and to dispel common misconceptions about the technology.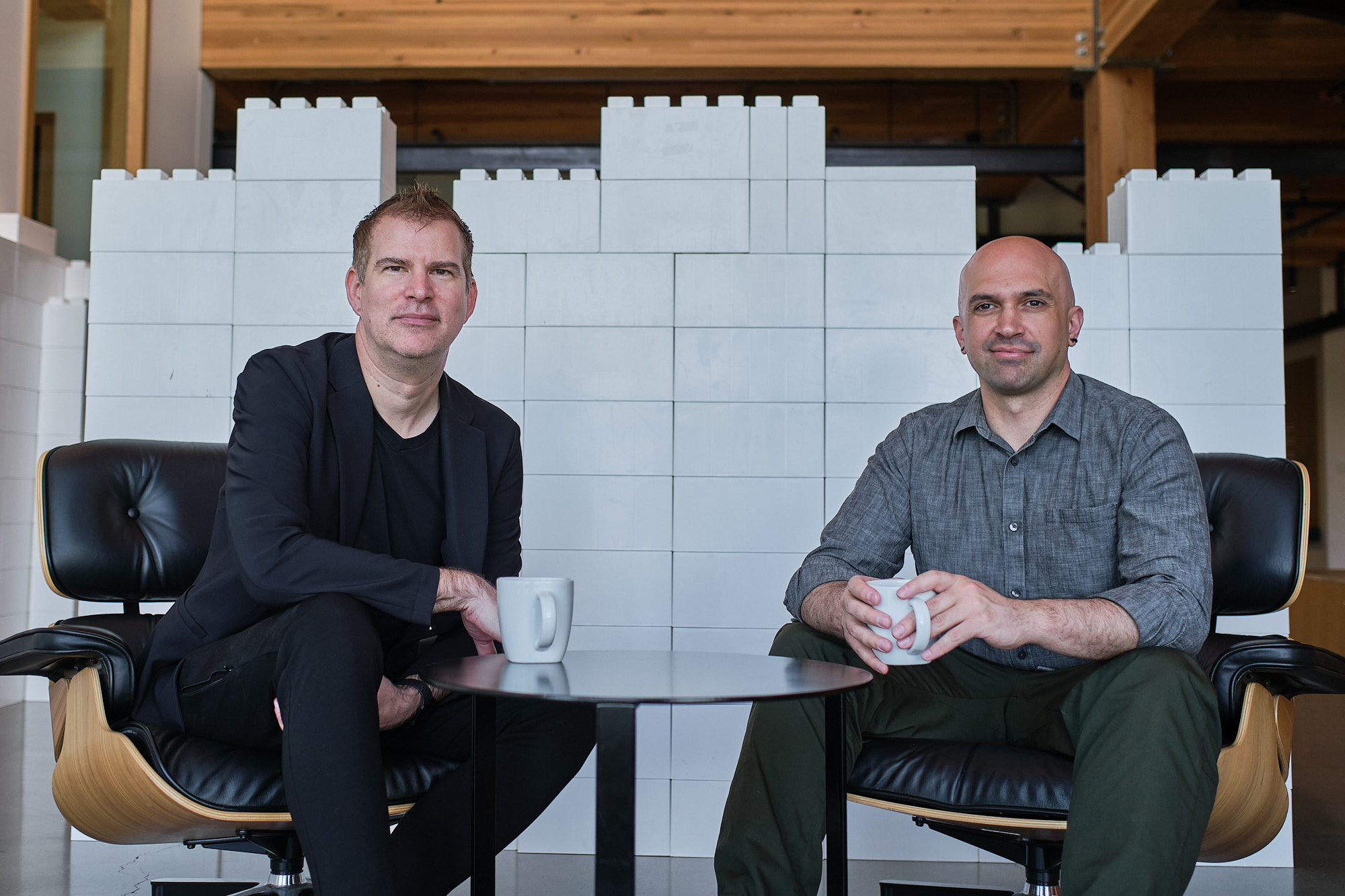 Michael and Ramin together in the Portland office.
Q: When did you begin incorporating AI into your approach to project design? Why was this something you decided to do?
Michael:
Our adoption of AI software has aligned with the technology's continual improvement. Initially when we started experimenting with architectural imagery, it was giving us broad stroke building concept imagery. These were by no means a "design" but it got Ramin and I thinking, 'Oh, this technology might be evolving to a place where we could utilize it more in the design process, let's trial this a bit and see what we can get out of it.'
Part of my interest there is that historically architects have used precedent imagery to describe things that don't exist yet, or to get clients aligned to what the design intent might be? Language doesn't often get us to a full understanding. So, I think architects have always used imagery, whether that's precedent imagery or rough sketches to just get alignment about the direction of a project aesthetically. Both Ramin and I have always thought it was strange that in this process you are often using existing buildings to convey new ideas. I think the advantage of using Midjourney and AI is that we can accomplish the same general task of conceptual alignment but show clients unique imagery that is specific to their project, place and aesthetic.
Ramin:
We just started playing around with Midjourney when it came out. It was really exciting and interesting, and we had no idea what it was, or what it could do, or how powerful it was the first couple of times we were testing it out. Then we tried to make it do something specific, and that's where it started getting fascinating, because it's potentially a huge shortcut for certain things- especially with generating concept imagery.
We kind of hit a wall with a project where we wanted to be able to quickly visually convey something that didn't exist. We had some loose ideas influenced by some projects that only exist at a completely different scale than what we were looking at. We thought 'let's see if we can figure out how to combine all of these ideas and generate imagery to illustrate to the client where we are going with this.' Through that process, getting imagery close to what we were trying to do was mind-blowing.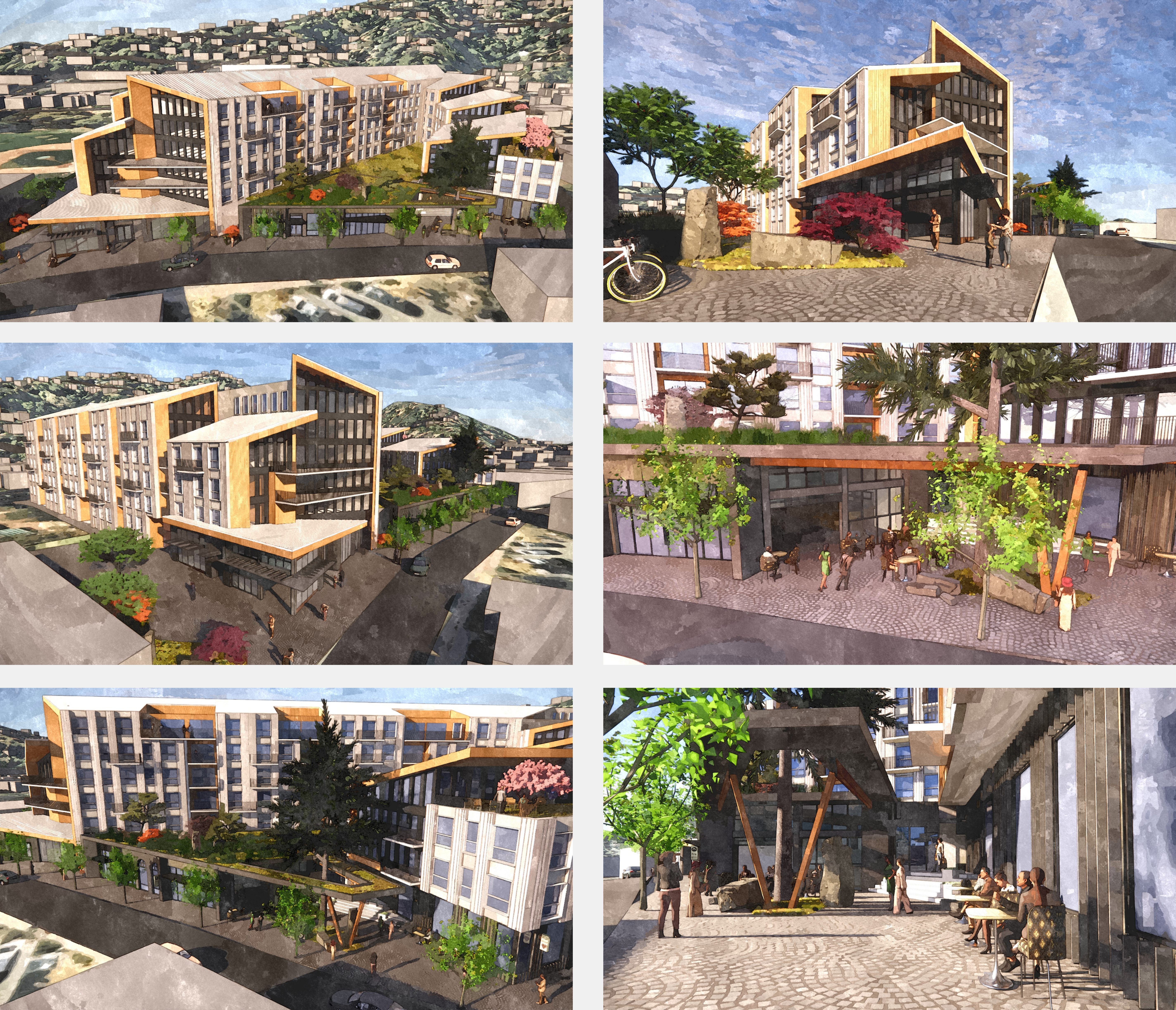 Final project design renders created by Michael and Ramin that were influenced by AI imagery.
Q: Ramin, you've said that AI is "like a paintbrush or any creative tool, you just need to figure out how to use it," and Michael, that "it's a language. You have to learn it, just like any software." How did you both go about learning to use these tools, and how long did it take you to learn the language, so-to-speak?
Michael:
I don't know how far we actually are on that journey, and I think we have a long way to go. There are a ton of resources out there, though, in terms of helping you learn the language through prompt editing. But this is moving so fast that there is now software that will do your prompts for you. You can just add in a few descriptive words, and it'll fill in the rest, writing it in the way that the AI software wants to see it. Every time you use it, the more you use it, you learn something about what the output is. The more trial and error you go through, the faster you get at getting to an image you can use.
You have to think differently about the words you are using to get the imagery desired. It's a shift in how you think since you have to use fewer words to get your idea across. You must be specific and pointed while still giving the software enough information. From that standpoint, I feel like the faster you can get your mind into that mode of thinking, the better off you will be as AI continues to develop, because the premise of utilizing language to direct output will only accelerate from here.
What we all have to adapt to and learn is how to use language to describe what we want machines to do. But even that is probably a couple years from being obsolete. There seems to be an updated version of Midjourney every month that's substantially better than the last. Even since we last talked, they've come out with reverse-prompt capability. So instead of putting a text prompt and getting an image, you can do the opposite, dropping in an image and getting a prompt. By doing so you can start to understand the language in reverse because you're dropping in an image and the AI is telling you what it sees in text.
Ramin:
I've been using it a lot, trying to figure out how to create very specific imagery. Like Michael said, it's a lot of trial and error. To be able to get usable images, it has definitely required a shift in the way that I think due to the way that the prompts work. I've been approaching it almost like a science experiment, changing the prompts slightly with each iteration to see what I get back visually with each update. But also, it's not like you can master it because it's changing so rapidly. The next versions will likely have a completely different interface, so the way that you write prompts will likely change too.
Q: Can you walk me through the typical steps of using Midjourney to create precedent imagery?
Michael:
The process right now that we've been utilizing is that we're trying to plug it in to an existing process. On a lot of our projects, we start by charette-ing and brainstorming, trying to develop a cohesive concept. AI software like Midjourney increases the speed at which we can reach solutions, because we're not all going in different design directions.
What we've tried to do initially is take the guiding design principles for a project and feed those words into the AI to see what kind of visual representation it would create with our initial thoughts. So again, trying to accelerate the process a bit and get to visuals through words that we've already talked about or discussed to create alignment on design direction. As the technology evolves, there will be other ways for us to utilize it, maybe in final renderings, for instance. But right now, I think coming up with precedent imagery is the best use of it.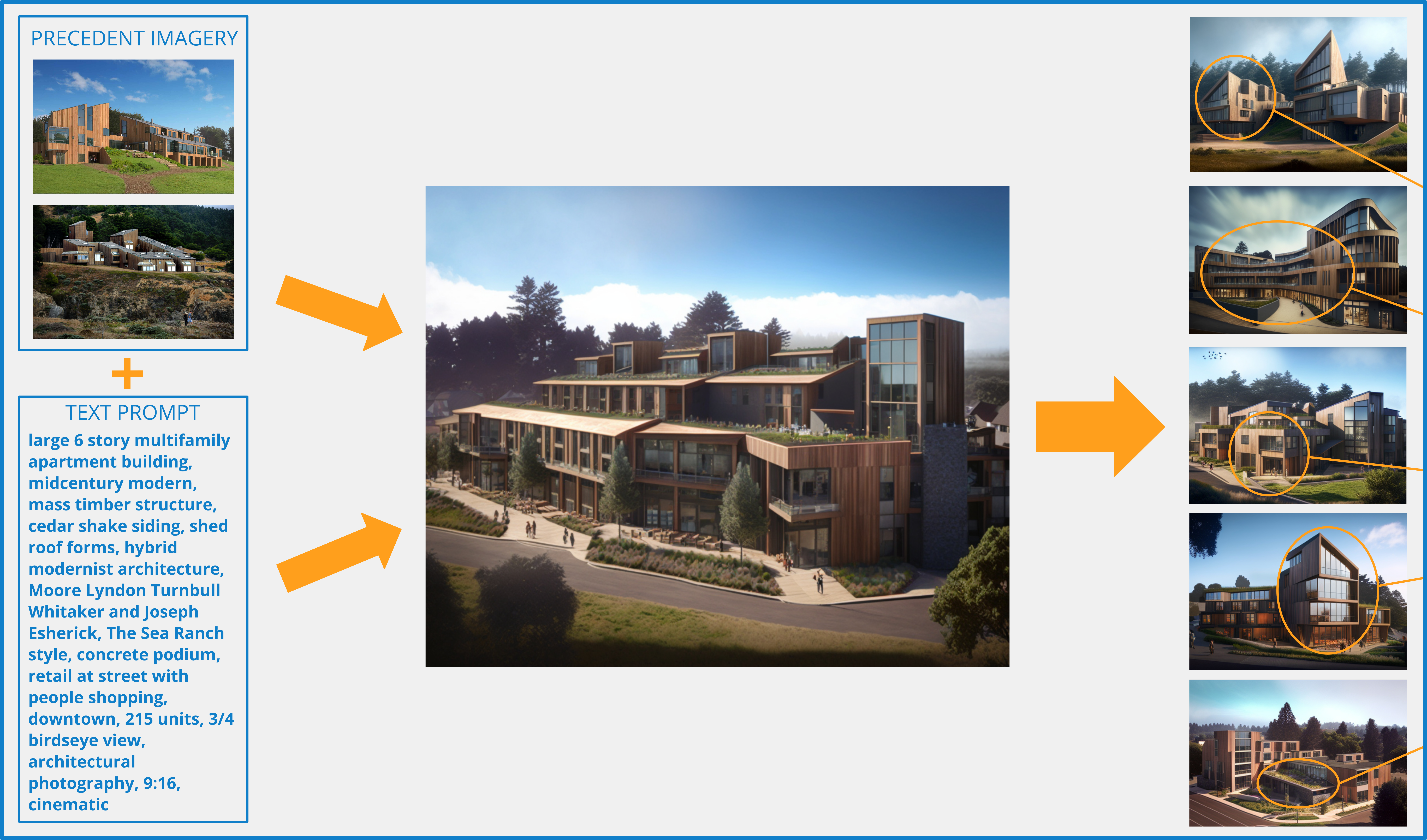 Visual breakdown of how guiding design principles and text prompts are used to generate new precedent imagery renderings with AI software.
Q: [You've] said that clients often don't know what to make of design renderings when they learn that they were created by AI. What are some common misconceptions or misunderstandings about Artificial Intelligence that you've encountered since you began using it?
Michael:
The most common misconception that Ramin and I have run into is that the AI-created images are just precedent imagery pulled from the internet. You have to explain that it's not a search engine, it's not finding an existing image on the web. Often, I have to describe what it does in shorthand for people to understand it.
Ramin:
One of the things I noticed right away was people asking 'doesn't this take the creative process out of architecture now that you have this image designed by AI?' At least for the time being, I don't feel that way. As a design team, you still have to generate the foundational ideas and coax the AI to output something that aligns with your goals and vision. It's a quick way to get the team on the same page and discover interesting emergent qualities from concept intersections that you may not have discovered on your own. In our current workflow AI produced visuals are intended to draw from and quickly study a whole bunch of different ideas to curate the most interesting aspects of each, based on what we asked the software to do.
Q: Do you have any fears surrounding the use of AI or the rate at which it is evolving, a la Terminator's Skynet?
Michael:
Like any new technology, it absolutely has the ability to be used in various ways. I mean, there's no way around that. I think there's many applications of AI that could be negative, primarily in terms of its ability to manipulate people. But in terms of what we do, there's not much risk if you understand it's just one tool out of many that we can use. It's not like Midjourney will actually produce architecture. It produces ideas that a designer still has to understand, edit, and synthesize into a project's end design.
Ramin:
It's hard to tell right now what is going to change and how much it will change. I'm definitely concerned about it, not just for the field of architecture, but for humans. In general, I feel like no technology has advanced this quickly before and it will continue to accelerate. There are just so many unknowns but I'm sure we will quickly see AI implementation in daily life. I think that we'll know a lot more in the next five years or so.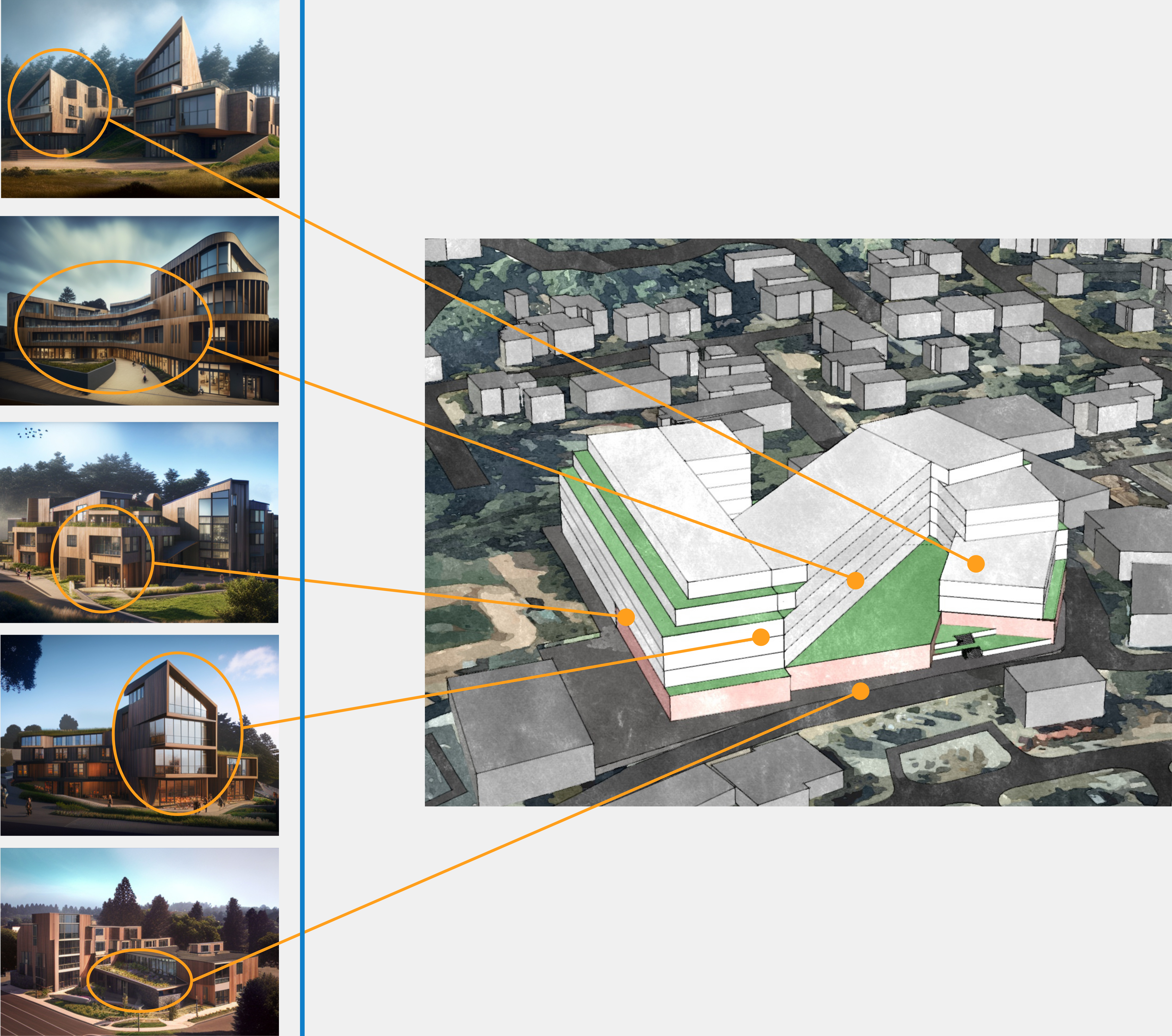 AI process design results, highlighting the Midjourney-generated concept renderings that Michael and Ramin synthesized and incorporated into the initial massing render for a project.
Q: With the rapid speed at which AI changes and evolves, how do you envision the future of AI as it relates to architecture? What about the future of architecture as it relates to AI?
Michael:
I think that AI continues a theme that has remained consistent throughout the last 100 years in terms of how architecture utilizes technology. Usually, it's used to speed up the design process. One thing about architecture that's so different from a lot of other professions is that it still relies on artistry, but there's always a 'hurry-up' type of attitude, we are often pushed to develop designs and drawings faster and faster because of project economics. So, we're always looking for tools to speed up the process. In addition, architecture is a broad profession. There are people doing wildly different things in the profession their whole career, and I think that could get streamlined.
Outside of Midjourney, there's a whole slew of AI implementations using other design and construction software that's meant to speed up how fast we can produce a construction set with fewer people. I think inevitably, that's where architecture has always gone. 100 years ago, it took 40 people in a room, drawing a set for a high-rise tower by hand. I think in the future, a 40-story tower can probably be designed and drawn by two people. Eventually, the industry will get to a point where one or two people can accomplish that same task in half the time it takes now.
I would say that right now, as designers, we are not spending enough time understanding the place, the people using the building, and the environment surrounding a project. We're rushing through a lot of those elements to get projects built, so I think where you end up by incorporating AI into that process is more thoughtful buildings, because we don't have to spend as much time crossing the T's and dotting the I's. We can actually think about the project and the building rather than drawing it, and to me, that's pretty exciting. Architecture can't do anything but get better through this process. I don't think anything gets worse. It just gets better.
Ramin:
In my mind, there's no doubt that any areas of inefficiency in the architectural process right now, some of which will be resolved using AI. It's going to accelerate and amplify the amount that an individual can do by themselves, so I think it'll take fewer people to do the same amount of work.
I think it will allow us to study way more aspects of a project quickly and, like Michael said, make projects significantly better by understanding more of the site's parameters. It feels like an amplification to me now, but who knows what will happen in six months?

AI-rendered precedent imagery from other projects.
Compared to other Pacific Northwest architecture firms, Ankrom Moisan is a pacesetter in terms of integrating Artificial Intelligence and other digital tools. Few competitors use AI, if at all. International firms, though, tend to use AI software for design-based research. However you cut it, the digital tools of imagined sci-fi futures are closer than it seems, and may, in fact, already be here. It's a massive paradigm shift that will take some time to get used to, but the good news is that when the AI overlords take over, we will already know how to deal with them.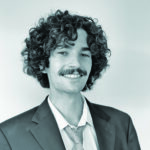 By Jack Cochran, Marketing Coordinator
FILTER
SEARCH
This search form (with id 2) does not exist!
Dignified Healing Spaces
May 18, 2023
Supportive Housing, Mental Health, and Addictions Treatment & Recovery
Does design have the power to enhance dignity?
Many of us have the privilege to go about our daily lives unaware of the powerful role the built environment plays in supporting our feeling of being celebrated and respected. As architects and designers, we must place inhabitants' dignity at the forefront of our design priorities. Our work has the power to create spaces that have far reaching and lasting impacts. Few places need this perspective more than spaces that serve predominantly underserved, underrepresented, or socially stigmatized communities.
To start, what is dignity?
Dignity is the right of a person to be treated ethically as well as being valued and respected for who they are. For healthcare professionals dignified care means recognizing and honoring patients' capacities and ambitions. While patient dignity is a core tenant of healthcare staff training, it is also critically important to consider the role of the built environment to support dignity for both patients and staff.
Dignity can be defined by four main factors:
Respect – Respect includes self-respect, respect for others, respect for peoples' privacy, and confidentiality.
Autonomy – Autonomy includes having choices, being able to make decisions, rights, needs, and independence.
Empowerment – Empowerment includes feelings of being important and valuable, self-esteem or self-worth, and pride.
Communication – Communication includes clear information, language, intuitive wayfinding and directional cues, and privacy.
Here are five considerations for designing dignified environments:
1. Design as a Beacon – Too often, mental health and treatment program facilities exist in hidden spaces kept out of sight from the public. We aim to create spaces which bring a sense of pride to those who enter. By considering each step of the end-user experience, from the street approach to the quality of finishes, we aim to thoughtfully apply design aesthetics to create a welcoming facility from the very earliest interactions. Welcoming patients, clinicians, and the community into a space that is beautifully designed to support the specific needs and identity of the users is a meaningful way to communicate the intrinsic value of the patients and clients within those spaces.
In initial design discussions, Compass Health requested a sense of grandeur within their new facility located in Everett, Washington. After years of making do with an aging building, the goal for their Phase II building, housing both inpatient and outpatient behavioral healthcare, was to create a space that anyone would feel proud to enter. The stigma of mental health treatment was stripped away by prioritizing a grand, double-height entry and foyer that highlights exterior garden space. The exterior finishes were selected to be warm and welcoming.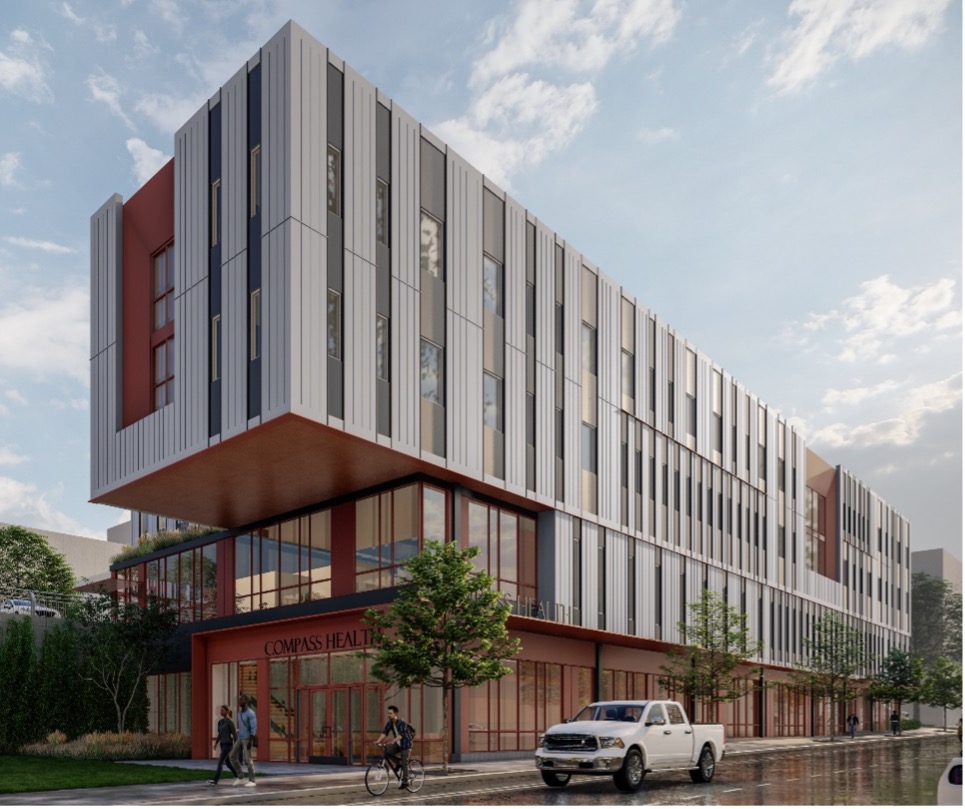 Compass Health's Phase II: The entry design uses scale, richly colored materials, and nature to evoke a warm welcome to all who enter.
2. The Power of Choice – In design, when we do not acknowledge the vast spectrum of human needs, we strip away the ability to exercise autonomy and control over our surroundings. Design that is mindful of autonomy, considers a variety of mental states, capabilities, traumas, and preferences to create dynamic spaces which allow people to choose the experience that fits their needs best in that moment. Avoiding the stress of being in an uncomfortable space allows patients and clients to receive care while in the best possible mindset. It also reduces negative associations that may become barriers for seeking care in the future. In many cases, mental health, housing, or medical facilities unintentionally strip away the opportunities for personal choice due to logistics and procedures, but thoughtful communication with providers allows designers to construct opportunities for choice and autonomy within even the highest acuity patient types.
The design team on the Alameda Senior Respite and Primary Care Facility acknowledged the importance of choice and autonomy in the design of the new 30,000 sq. ft. facility serving Alameda County in California. The design, which creates permanent supportive housing for an aging subset of the local homeless population, thoughtfully addresses the need for individual choice by completely rethinking the approach to lighting design throughout the building. Acknowledging the impact of harsh or bright lighting, uncomfortable lighting when resting, or a lack of lighting when trying to read and relax, the design team prioritized indirect lighting throughout all patient spaces, designed hallways outside of bedrooms to dim to the lowest levels allowed by code during quiet hours, and coordinated a wall sconce with controls at each bedside for residents. These simple, yet impactful, solutions allow residents to have autonomy over their surroundings in a way many of us would take for granted.
3. Safety over Security – We deserve to feel safe in our environments, and increasingly, facilities are moving towards providing a friendly face at entry points to help visitors feel welcome in lieu of uniformed security, which can be particularly traumatizing for many populations. Through collaboration with staff and clinicians, we can facilitate safety by designing clear pathways of visibility for observation and engagement that does not feel intrusive. Doing so allows visitors and residents to maintain their sense of independence and autonomy while remaining safe. Intentionally designed spaces which focus on relationship building increase the safety of patients while also increasing the likelihood of positive experiences and returns for subsequent care in the future.
The inpatient floors for Compass Health were laid out around a central nurse station allowing care teams to maintain a direct line of sight to all patient spaces, including the outdoor patient areas. Whereas other facilities require patients to be accompanied by a staff member to outdoor or group spaces, the clear paths of visibility allow patients to move from space to space unaccompanied, fostering independence while ensuring staff are aware of any interactions which may require their attention. Similarly, opportunities for passive observation in outpatient areas allow for easy circulation and a friendly face at various reception desks to assist first-time visitors and clients, as well as to foster connection with staff in various areas throughout the lobbies.

Compass Health Phase II: The building massing prioritized sightlines for the on-unit nursing and care team from the earliest diagrams (left). Interior design focused on maintaining the connection between staff and patients (right).
4. Whole Person Healing – If we consider the physical, mental, emotional, and social determinates of health in the design and programming process, we can create transformational facilities that help bolster the entire community. By creating space for additional programs and prominently locating basic needs near entries, each visitor can easily access support. Furthermore, designing medical care with counseling and housing opportunities provides a holistic approach to wellness that caters to a vast spectrum of needs, removing the barriers of care that occur when visiting many different facilities for the same services. Integrating community spaces into our designs allows additional social needs to be met that may not be related to specific medical needs, while inviting the community into spaces shared by diverse populations humanizes the experience of those seeking treatment in those spaces.
The core tenant of Central City Concern's Blackburn Center is to "help people's health through comfort, community, and safety." The center, which serves people experiencing homelessness, poverty, and addiction in the Portland, Oregon area also aims to create a supportive housing project which incorporates mental and physical health resources under the same roof. The design carefully integrates a complex series of support systems that begin on the ground floor with commons area, teaching kitchen, pharmacy, and community services. Moving up a floor, the medical clinic supports the housing residents onsite. Housing includes palliative care, two floors of single room occupancy housing, and a floor of apartments for permanent housing, which supports people nearly ready to live on their own. The design aesthetics and function aim to create a fulfilling and enriching home-like experience that bolsters residents in all aspects of health and wellness, truly treating the whole person.
5. Nature as Medicine – Biophilia states that we, as humans, are part of nature and are inherently attracted to, and supported by, natural environments. Using nature as a tool to promote healing and wellness is a key part of providing users with the respect and dignity they deserve. Many at-risk populations receive care and housing in aging spaces that do not receive quality daylight, and access to outdoors is deemed too unsafe and difficult to monitor. By incorporating nature connections such as views, natural materials, fresh air, and plants into the requirements for healing spaces, we ultimately acknowledge the humanity of the occupants within a space. Whether they are patients, residents, visitors, or staff, everybody benefits from contact with nature through positive distractions, lowered blood pressure, increased resilience to environmental stressors, and the benefit of aligning our sense of time and place with the observable natural rhythms of the world around us.
Early on in Compass Health's design process, the importance of fresh air and contact with nature was identified by the client and design team. As a result, the earliest building massing schemes explored how to bring nature as far into the building as possible. The resulting form for the inpatient floors is two separate wings positioned beside deeply cut rooftop gardens with a central connection space that serves as the primary gathering and dining area for the inpatient population. Each of the two floors of inpatient treatment have access to dedicated outdoor garden spaces that are designed to allow residents to move freely between interior living spaces and outdoor areas. Beyond the patient outdoor spaces are extensive green roofs which are visible from interior spaces in the public, staff, and patient spaces. This impactful design decision will support the healing and restorative vision of Compass Health's mission to treat the whole person.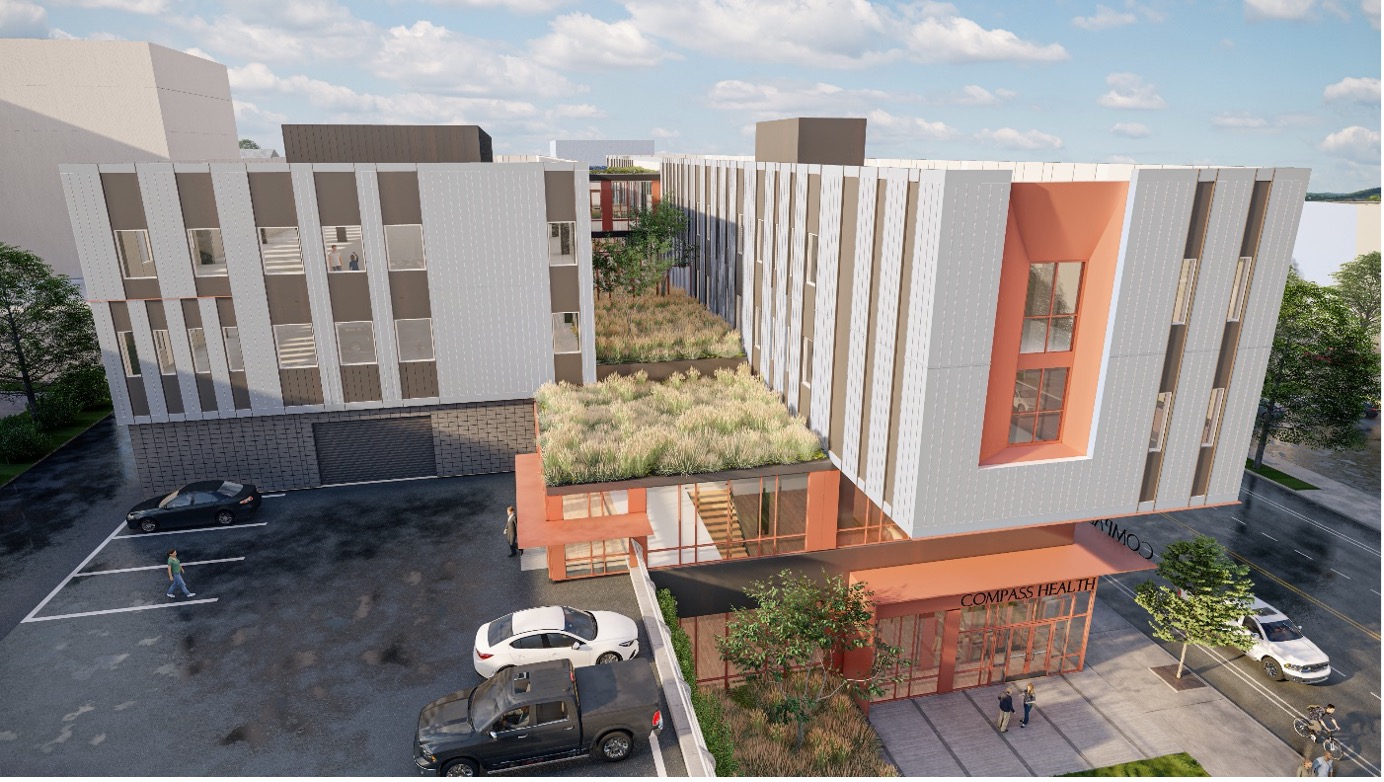 Compass Health Phase II: Both inpatient floors provide residents, staff, and visitors views of nature by utilizing the space between buildings for extensive green roofs.
Why design for dignity?
By implementing these five strategies, designers can create spaces that honor the core aspects of dignity by respecting each visitor and their unique place in the world, supporting their autonomy through choice, empower occupants as they move through the space, and ultimately communicate equitably inhabitants. The resulting designs are spaces which can be as meaningful as they are beautiful while actively participating in the health and growth of our communities.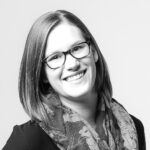 By Ashlee Washington, Senior Associate
FILTER
SEARCH
This search form (with id 2) does not exist!
Being Well
May 10, 2023
Holistic Approaches to Wellness in Urban Living
While physical health and fitness have been an important aspect of residential design for many years, it's only in the last 5-10 years that the language – and the thinking – has become more expansive. 
Wellness is the new watchword. It's not just a trend, but rather a powerful approach to residential planning, design, and programming that has the potential not only to improve your residents' lives, but your bottom line, driving demand and tenant loyalty.
Wellness, approached thoughtfully and executed with purpose, is more than an amenity, it's a business strategy. 
Read on…
FILTER
SEARCH
This search form (with id 2) does not exist!
Creating Environments to Suit Your Energy
May 5, 2023
Fitness Amenity Spaces for the Workplace
Happy National Fitness Day! Kim Bielak is credited for starting the day in 2017 which is "designated for the first Saturday of May to be a celebration of strength and empowerment for fitness" (Source). Here at Ankrom we design our fitness centers and bike rooms for the end user to feel that same strength and empowerment for fitness. In celebration of National Fitness Day, we want to share Ankrom's past designed workplace fitness and bike amenity spaces.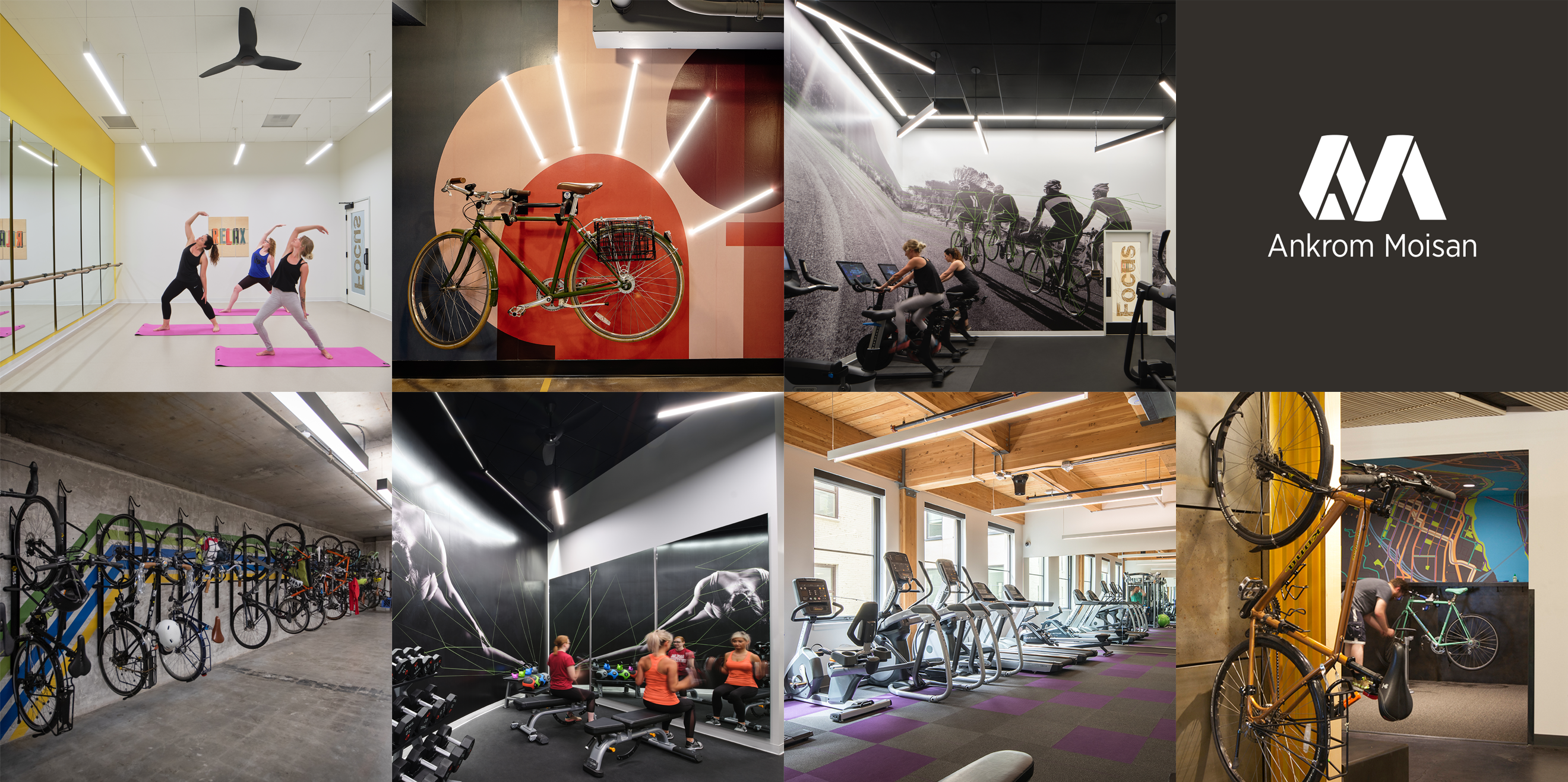 A word from one of our Fitness Resident designers, Clare Goddard.
Q. What is unique about Ankrom's approach to fitness and bike spaces?
A. How we approach fitness differently is focusing on making it an experience and a destination. Whether that includes coordination of equipment, wall graphics, lighting, we focus on it being an experience of what clients are wanting to have, not just utilitarian, and not a place of dread for the end users.
Bike spaces used to be treated as more of a back of house space with little design to them. Instead, we have been looking at them as a space where we can have fun and even make a bold statement. Having fun with bikes taps into Portland bike culture, why not elevate the space more?
Q. How do you design a space that is inclusive for all abilities and fitness levels?
A. The first thing that it comes down to is universal design: doorknobs, benches, ADA lockers and ADA compliance, etc. Equally, providing a variety of fitness equipment, yoga rooms, treadmills, interactive mirrors, stretching or weight training areas – let the user choose their workout type for a variety of abilities. Variety is key.
A well-designed fitness center should feel welcoming and inviting because so often fitness centers do not feel inclusive, or they are uncomfortable. Everyone should be able to move their body with joy within the space.
For example, in a project I was a part of we took an existing basement space, added brand new lighting, bright colors, added various benches, hooks, upscale lockers and even additional parking for e-bikes and recumbent bikes.
Q. How do you balance aesthetic between open gym v. class environment?
A. Using materials that feel like they go together or are complimentary between spaces. Using lighting that is around the perimeter of mirrors and highlighting what is more important in each space. For example, flooring changes could be LVT in the classroom and anti-microbial carpet tile, rubber or cork flooring in the gym area.
Q. What is your favorite part about designing fitness spaces?
A. My favorite part is that I'm an athletic person, and I enjoy working out. I get to put myself in that mode to imagine how myself or others would use the space. "Getting into the concept" and making it unique from other fitness centers.
Q. Where do you start with fitness planning and programming?
A. The best way to start with a fitness center is to get surveys from building tenants to hear what they want, so that you have information on what the tenants want to use. Understanding the competition and comparing what other buildings are offering also helps to make a fitness center stand out in the crowd. Compare what other buildings in the area are offering.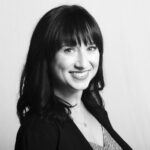 Contributor: Clare Goddard, Senior Associate Interior Designer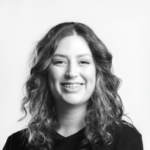 Emily Feicht, Interior Designer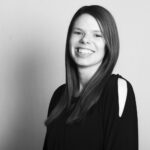 Rebecca Brock, Associate Interior Designer
FILTER
SEARCH
This search form (with id 2) does not exist!
Compelling Sustainable Materials and Resources for 2023
April 21, 2023
An Earth Day Conversation with Liza Meek, Materials Library Coordinator
Q: What environmental innovations are you seeing trending in new products for 2023?
A: Including recycled content has been a trend for a while, but now I'm hearing more about products that are degradable or contain biodegradable elements. These are products that you wouldn't traditionally think of such as textiles and carpets.
Example from Maharam: "Rapidly degradable polyester has a biopolymer catalyst added to the molecular makeup of the yarn that accelerates degradation.  A biopolymer is a polymer product by or derived from living organisms. Textiles using rapidly degradable polyester are engineered for performance environments and carry the same warranty as standard Maharam textiles. The textile's degradation will only initiate when placed in an anaerobic environment. Rapidly degradable polyester is no more susceptible to sunlight, chemical cleaners, staining, or dyes than a standard recycled polyester."
Other examples of biodegradable products are from Patcraft. Patcraft has an innovative product called ReWorx that is designed for circularity. It's made of recycled plastic bottles and can also be recycled at the end of its life.
Q: Are there any sustainable practices that designers aren't talking enough about or forgetting to check?
A: There are almost too many resources available as far as material transparency goes.  Find one or two reliable resources like the mindful MATERIALS portal or utilize our firm's customized sustainability filters on the Material Bank website.
Designing for a circular economy is a great consideration, particularly around materials. Consider how the product was extracted and processed. Does it contain recycled materials or biodegradable materials?  Can the material be reused or repurposed and broken down to create new products?
If budget or scope doesn't allow for that type of undertaking, focus on avoiding elements that affect human health, such as the Six Classes of Harmful Chemicals put out by the Green Science Policy Institute.
If there is a certain sustainability goal for the project, reach out to the manufacturer reps for the companies you love and use them as a resource. Ask them which products they have that meet your project's sustainability goals.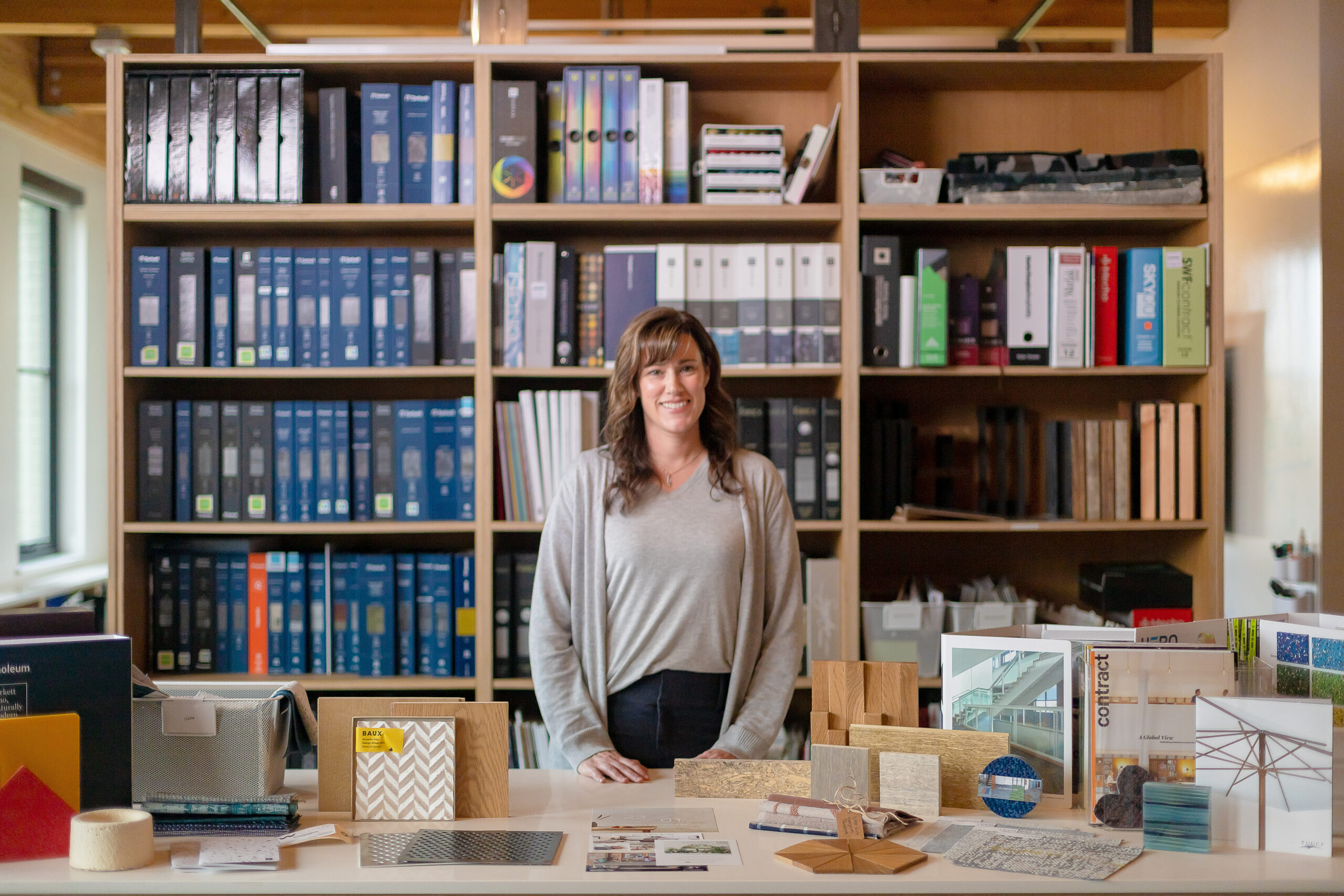 Q: With new products coming out for Spring, what would you consider to be the top 3 products or brands that are embracing environmental innovation/sustainability? What are the innovations these products/companies are focusing on?
A: The flooring companies, textile companies and acoustic manufacturers are where I see the most push towards sustainable product innovation. Many of them are developing products that are degradable, use recycled materials (up-cycled clothing, recycled PET or polyester), PVC-free, or using ECONYL (yarn that is 100% regenerated from fishing lines). Some recent examples are:
Kirei/ Air Baffle: uses Nike grind (recycled PET)
Brands using ECONYL: Interface/FLOR, Delos, Mannington, Milliken, Masland, and Forbo
LUUM is a textile brand that is using up-cycled clothing in some of their products:
Q: Have you noticed any steps/long-term policies or goals announced by these companies to help promote environmental well-being for the future?
A: I'm hearing from several textile reps that their companies are making the move to go PFA free. PFAS are forever chemicals that build up in your body over time and have been linked to many health issues.
Maharam: "As of Jan 2023, Maharam was 78% PFAS free, including all new intros from July 2022- forward. We're in the midst of transitioning all of our textiles and will be 95% PFAS free by the end of this year."
I'm also hearing more manufacturers are pushing beyond carbon neutral and into carbon negative. Interface is a great example.
Q: Why should workplace designers and clients care about sustainability even when under quick deadlines and tight budgets?
A: With the amount of information available to consumers, they are becoming savvier about what's in their environments and the expectations are rising.  Consumer demand is driving that, and more and more manufacturers are making products that align with those values.
Gen Z'ers are also pushing the sustainability movement. According to Trend Hunter, 75% of Gen Z is willing to pay more for sustainable products and they are influencing the older generations.
"Two years ago, only 30 of Gen X parents were willing to spend 10% more on sustainable products.  90% are more willing today."
Workplace designers should care about sustainability because their clients do. Healthy buildings are higher quality buildings, and they offer a better return on their investment. Many large and small companies have ESG goals and initiatives. Buildings designed with healthy and sustainable materials and systems can go a long way toward helping businesses meet their ESG commitments.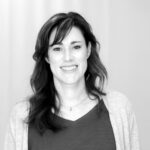 Liza Meek, Materials Library Coordinator
FILTER
SEARCH
This search form (with id 2) does not exist!
The Office as Ecosystem: Strategy 5
April 11, 2023
Culture-First Design for an Engaged Employee Ecosystem
We're all feeling the effects of the boom-bust economic cycle, and it makes it hard to know where to focus the attention when it comes to building a thriving workplace. How much can and should we invest in an office environment when the people who inhabit it are more transient than ever?
Here at Ankrom Moisan, we've been inspired by clients and corporate leaders that are doubling down on their workplaces during these unprecedented times. They've sought to build spaces that not only reflect their values, but also allow their employees to experience them and live them out in their daily work. This kind of long-term, culture-centric approach to the workplace can be more powerful than any training tool or company retreat, with longer-lasting returns, as the message gets reinforced every day.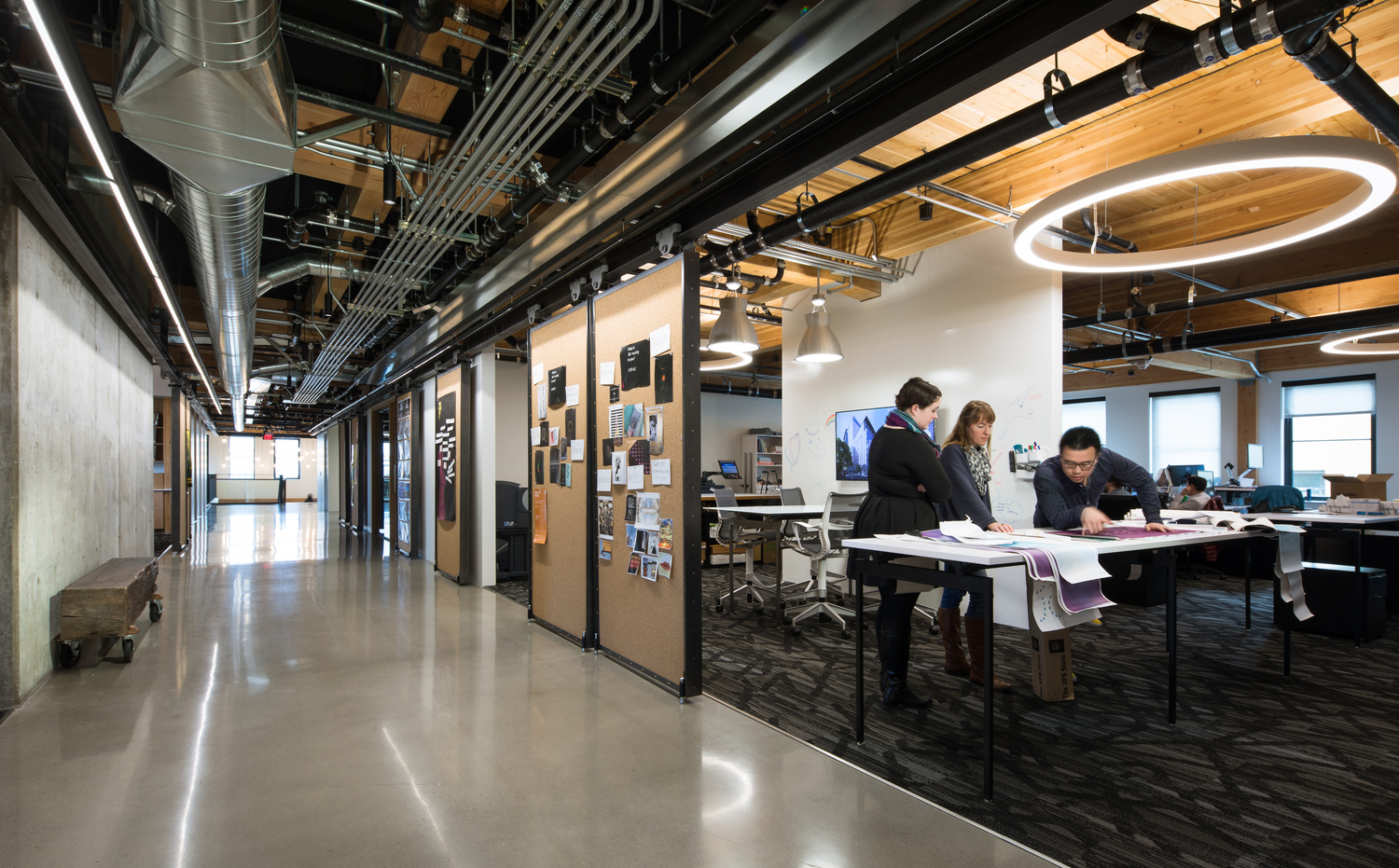 Ankrom Moisan, Portland, Oregon
What do we mean by culture-first design? It's a translation of company values and brand personality into design imperatives. For instance, a company that prioritizes continual learning might integrate an auditorium-style space for seminars, speakers, and certification classes. Display walls might be added near each department to allow groups to highlight key aspects of their work, accomplishments, or projects-in-progress, so others can better understand what they do. A casual meeting area might do double-duty as a mini library, curated with the help and suggestions of employees. The possibilities are endless, but when focused on what your company uniquely values, they also become an exciting, impactful reinforcement of what really matters.
Feeling inspired and want to apply ecosystem thinking to your workplace? Read our full strategic roadmap here, or reach out to our team anytime. We are here to help you and your employees thrive.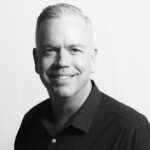 Michael Stueve, Principal, UX Strategy 
Banner photo: Community Transit of Snohomish County, Everett, Washington
📸: Aaren Locke
FILTER
SEARCH
This search form (with id 2) does not exist!
The Office as Ecosystem: Strategy 4
April 4, 2023
New Ways to Meet
Running a productive meeting today is a virtual minefield. With remote participants, on-site attendees, a variety of videoconferencing resources, and let's face it, more meetings than anyone really has time for, it's both more essential, and more difficult, to get meetings right.
We've leaned hard on technology over the past 3 years, but it's time to give design its rightful role in the conversation. While what's happening on screen matters, the places and spaces we meet can contribute significantly to a better overall experience.
The challenge at hand is to make the experience more equitable for all attendees, whether in-person or remote. We've heard stories of in-person meetings with 50 people all in one room and logged in to Zoom, so that the 5 people who were joining remotely would not be left out. While a noble effort toward creating an equitable experience, there has to be a better way.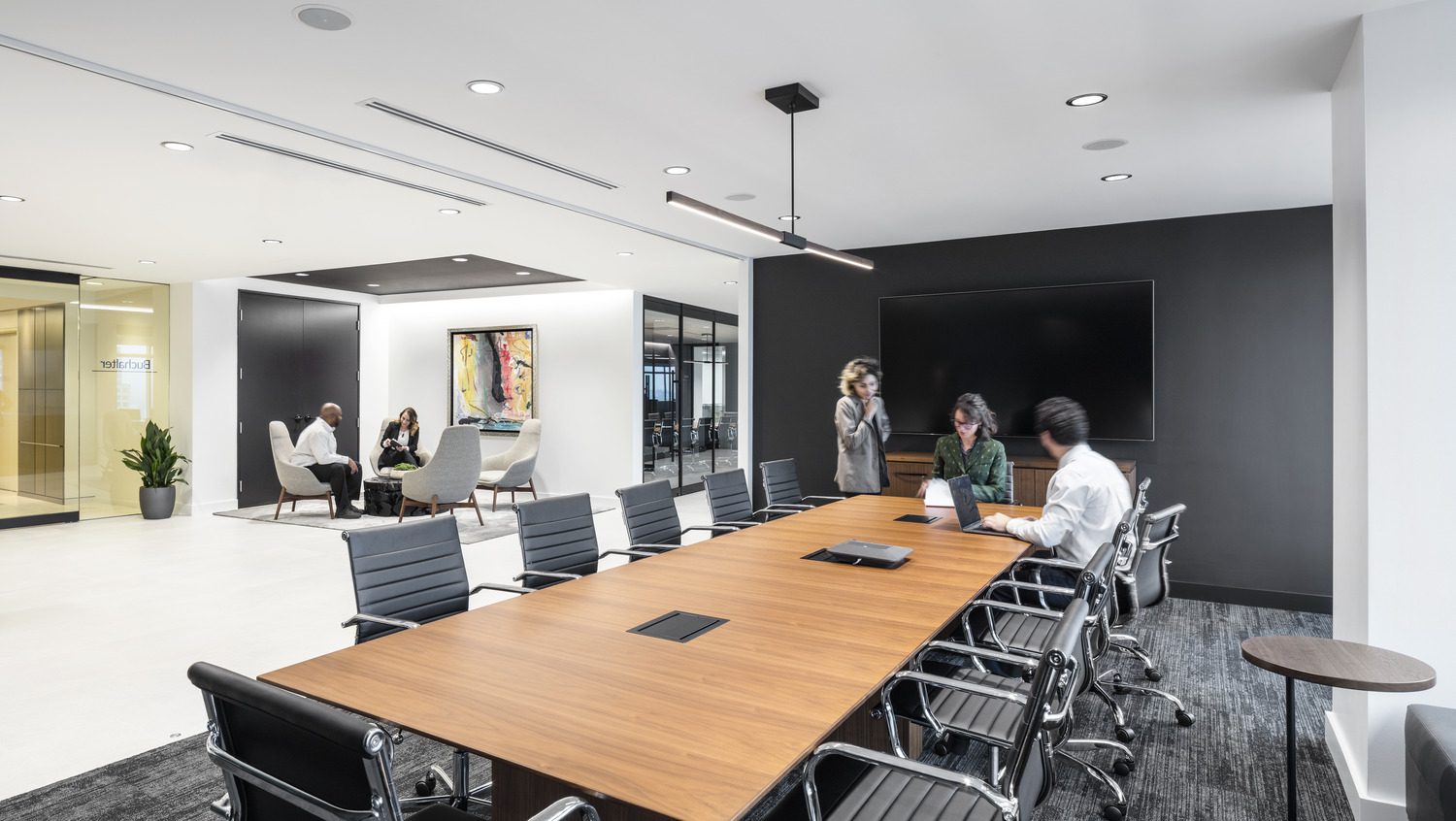 Buchalter, Portland, Oregon
📸: Magda Biernat
The truth is that the implementation of a few design strategies can make a significant difference. For instance, lighting, materials, and color palettes that read well on-camera and feel good in-person can equalize the experience. Room orientation, table layouts, and careful screen placement can bring remote attendees tableside and minimize the tendency to leave people out of the conversation. Thoughtful sound design with an eye (and ear) toward an optimal acoustical experience for those in-person and joining remotely ensures everyone has a chance to be heard.
Eager to solve the problem of mediocre meetings? We explore more meaningful meeting and workplace design strategies in our strategic roadmap, The Office as Ecosystem. Check it out here.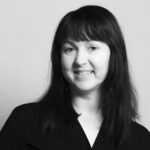 Bethanne Mikkelsen, Managing Principal, Interior Designer
Banner photo: 2201 Westlake, Portland, Oregon
📸: Moris Moreno
FILTER
SEARCH
This search form (with id 2) does not exist!
The Office as Ecosystem: Strategy 3
March 28, 2023
The Not-So-Office Office
The traditional idea of an office was losing appeal well before the pandemic made it obsolete. As wireless technology made it possible for people to untether from their desks, many found they liked working in other environments that, while not designed for work, were conducive to it.
Those environments, such as coffee shops, co-working spaces, hotel lobbies, and living rooms, in many ways represent the antithesis of office design and décor. Feminine, nurturing, and sensorially engaging, the comfort they offer seems at odds with productivity.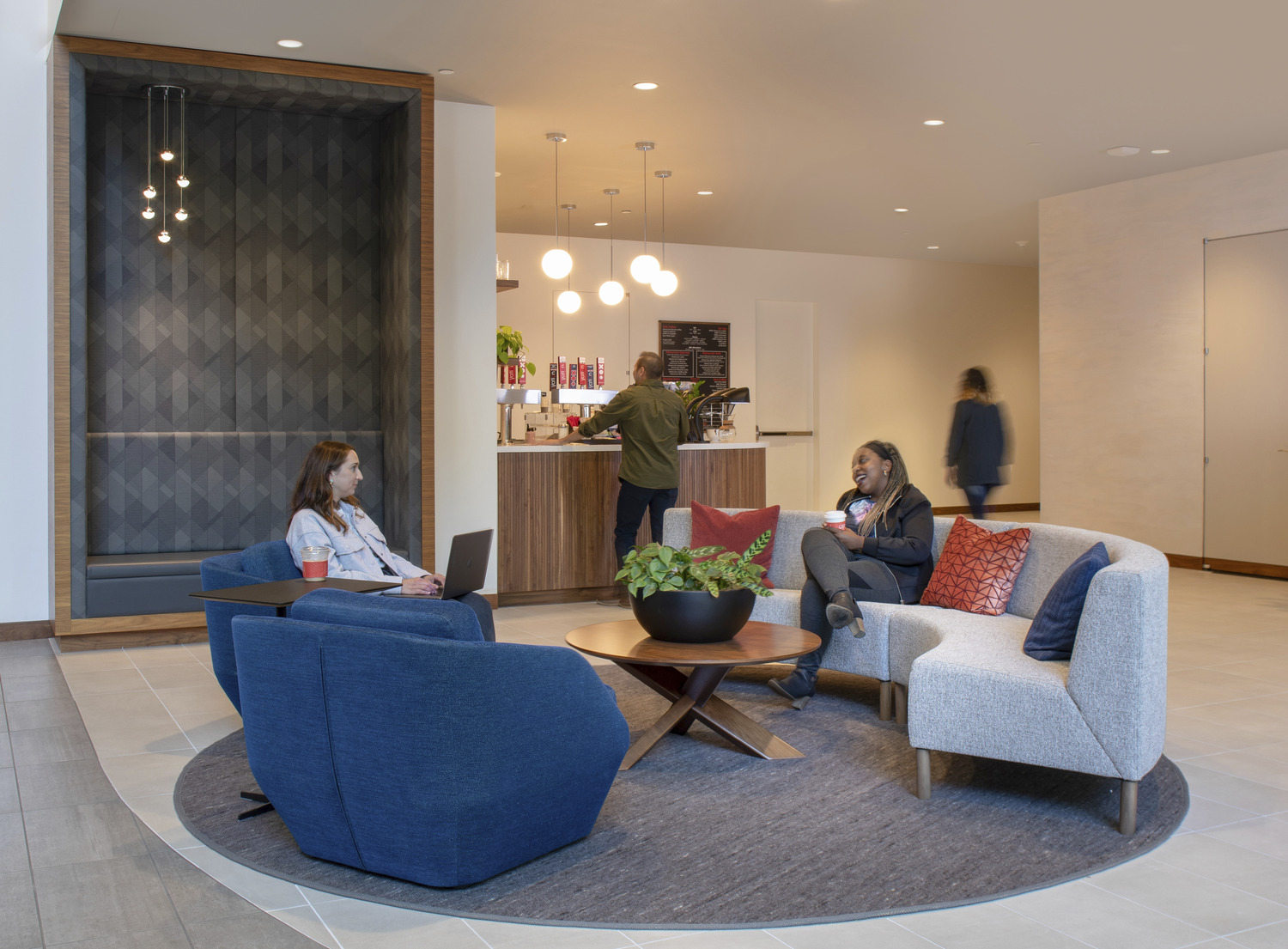 Moda Tower Lobby, Portland, Oregon
📸: Cheryl McIntosh
Progressive workplaces, however, are finding the opposite to be true. Workplace design that's informed and inspired by the principles of residential, food and beverage, hospitality, and retail sectors is helping drive employee satisfaction and the desire to be in the office, without sacrificing the need for work to get done.
Applying this cross-disciplinary approach requires a nimble team willing to seek inspiration from a wide array of sources. It also requires attention not just to what your office enables employees to do, but attention to what and how it makes them feel.
As with each of the strategies explored in our The Office as Ecosystem series, the benefit also extends to the bottom line. When employees feel engaged and inspired, and their needs addressed, they can contribute in more meaningful ways to the business at hand.
Eager to see this strategy in action? Check out the full series, The Office as Ecosystem, here, with inspiring case studies and examples of ecosystem-thinking applied in the real world.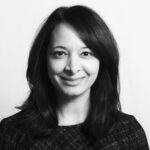 Erica Buss, Senior Associate, Research & Information Services Manager
Banner photo: Community Transit of Snohomish County, Everett, Washington
📸: Aaren Locke
FILTER
SEARCH
This search form (with id 2) does not exist!
The Office as Ecosystem: Strategy 1
March 14, 2023
The Office Gets Personal (And the Ecosystem Thrives)
The Office as Ecosystem approach has 3 key tenets:
The well-being of one lifts the prospects of all
Fostering connections between people is the primary function of the office
Productivity is a by-product of belonging
When we think about and design for the office as an ecosystem, we're essentially saying that if one area, department, or person is underserved, the workplace as a whole will suffer. Likewise, we acknowledge that moves toward inclusion, equity, and belonging benefit not just the person or people for whom they are taken, but everyone in the greater workplace community.
This kind of people-first thinking and design can manifest in small, easy-to-implement tactics, as well as larger, systemic shifts.
At a systemic level, there's a paradigm shift from the office in service of a business function to an office in service of individuals, each of whom brings different needs as well as gifts to the ecosystem. This requires abandoning both the one-size-fits-all, as well as the set-it-and-forget-it mindsets. Instead, it requires companies to embrace custom solutions, curiosity, and continuous improvement.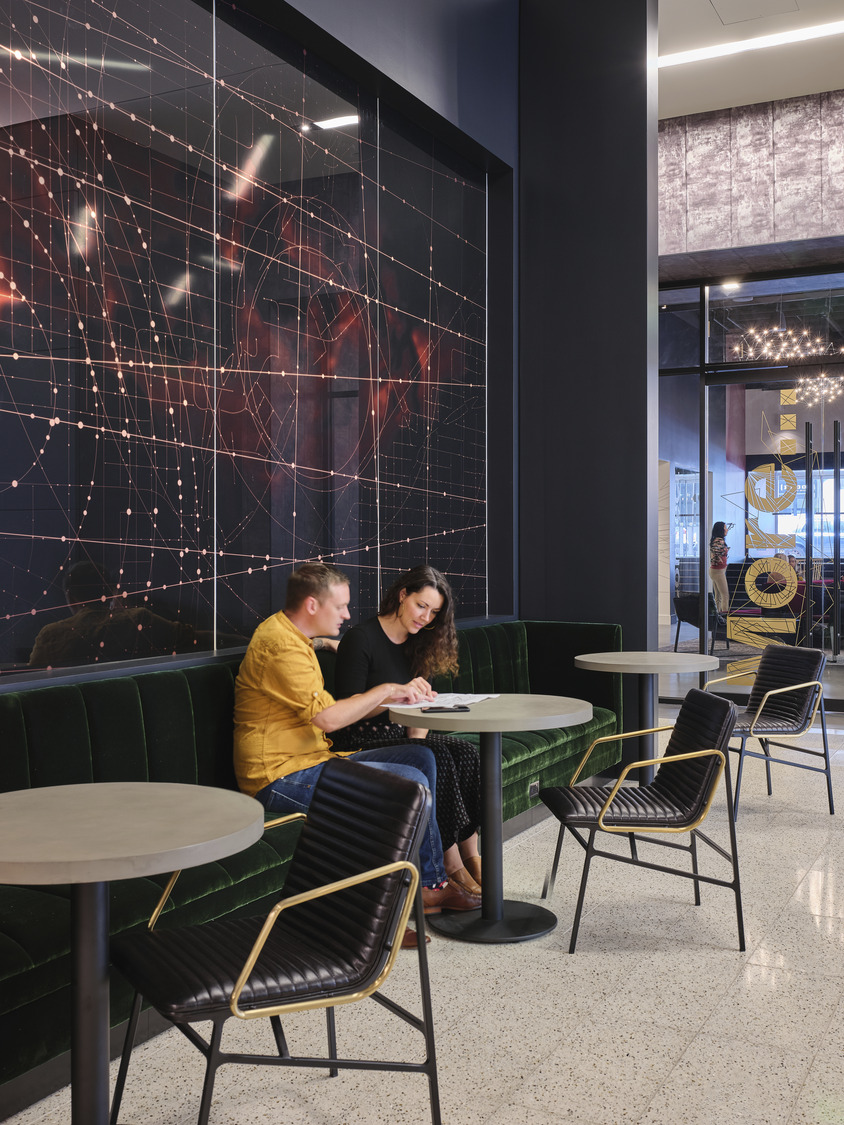 Aspect, Portland, Oregon
📸: Christian Columbres
This can be as simple as inviting a wider array of people with a more diverse set of perspectives to the proverbial table when it comes to office planning and design, asking what they need and building solutions together. Truly ecosystem-focused companies might even go a step further and imagine the needs of future staff and visitors, envisioning a truly welcoming environment for people of all abilities and backgrounds. In this way, companies become attractive to a wider, more diverse, and more engaged talent pool, and avoid the need to react and retrofit with each new hire.
Tactically, there are new, people-first solutions emerging every day that allow workplaces to serve the needs of the individuals within their workforce. Straightforward but ingenious solutions, such as furnishings that support fidgeting or fit a variety of body types not only accommodate differences but celebrate them. Visual cuing systems for d/Deaf persons meet a specific need, but also raise the consciousness of everyone in the office about the myriad ways people receive and process information. Imagine the impact when that understanding gets translated to customer, client, or shareholder interactions. When people-centered design becomes the "norm," everyone in the workplace community – and often well beyond it – benefits.
Want to learn more? Check out our full strategic roadmap here, or watch this space for our next installment, "The Commute-Worthy Workplace," coming next week.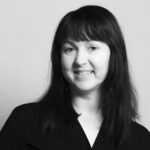 Bethanne Mikkelsen, Managing Principal, Interior Designer
Banner photo: Fox Tower Green Room, Portland, Oregon
📸: Shelsi Lindquist
FILTER
SEARCH
This search form (with id 2) does not exist!
Where are the Women? (2 of 2)
March 8, 2023
Findings from the 2022 Do GOOD / Be WELL Scholarship Project
[This is part two of a series highlighting the 2022 Do GOOD / Be WELL scholarship project researched by Amanda Lunger, Elisa Zenk, and Stephanie Hollar. Read more about how this project came to be in part one, here.]
Backed by Ankrom Moisan's Do GOOD / Be WELL research scholarship and galvanized by a noticeable lack of women in architecture, Amanda Lunger, Elisa Zenk, and Stephanie Hollar set out to determine why women are not at the forefront of the field, and what can be done to get them there.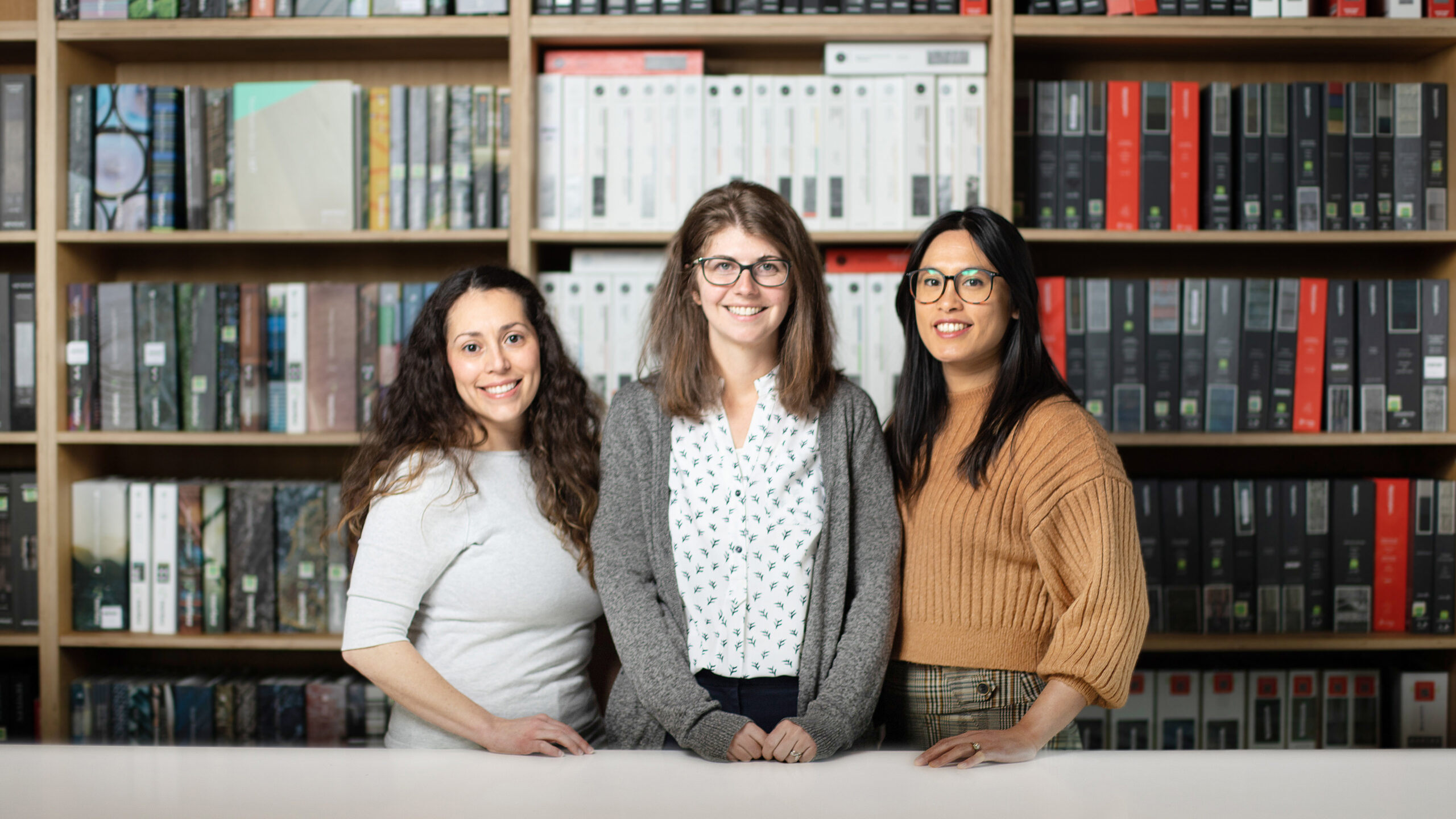 Elisa Zenk, Stephanie Holler, and Amanda Lunger in the Portland office's design library.
The Research
Amanda, Elisa, and Stephanie did this by administering all-office surveys, holding conversations with women in the field of architecture, evaluating their own individual experiences at Ankrom Moisan, and conducting case-studies that observed the structure and operation style of women-led architecture firms. The all-office survey contained twenty-two questions and was answered by 158 participants, both male and female. As for the conversations with women in architecture, fourteen of those women were current AM employees, and ten of them former AM employees.
What these conversations, surveys, and case studies revealed was eye-opening, but not out of left field. A substantial disparity exists between men and women's experiences in the architecture industry. This article will highlight the primary problems afflicting women in architecture and provide methods for both firms and individuals to combat and overcome them.
Amanda, Elisa, and Stephanie identified 6 key issues:
An Unclear Path to Leadership
Burnout
Pay Disparity
Balancing Motherhood and a Career
The Road to Licensure
Feeling Out of Place
While these findings may paint architecture as a lopsided and unfair industry, the good news is that there are many ideas and suggestions for how to boost equity and support women in architecture. Some of the ideas, presented at the 2022 AIA Women's Leadership Summit in San Jose, California, which Amanda, Elisa, and Stephanie attended, range from celebrating the successes of other women, reminding individuals to ask for help when needed and remembering that it's okay to say no, to making time to mentor younger women, and delegating and sharing opportunities with other colleagues. Some suggestions are as simple as taking ten minutes at the beginning of every meeting to create a psychological safety zone, so that everyone feels like they belong at the table and can express themselves without fear of rejection.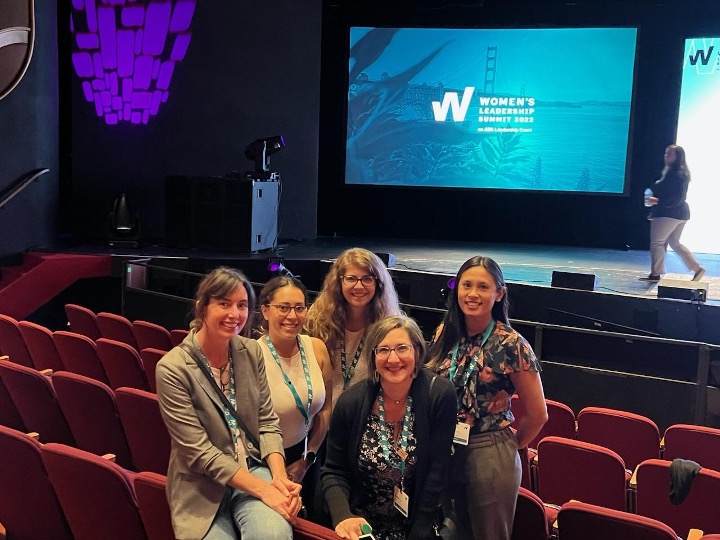 Jennifer Sobieraj Sanin, Elisa Zenk, Stephanie Hollar, Mariah Kiersey, and Amanda Lunger at the 2022 AIA Women's Leadership Summit.
Additionally, Amanda, Elisa, and Stephanie have provided their own insights for how Ankrom Moisan, and other architecture firms, can remedy the gap between men and women in the field. Other potential solutions suggested by a variety of sources—from interviews with women in the field and from solutions other firms have implemented—synthesized through Amanda, Elisa, and Stephanie's research will be interwoven with the six key issues they identified.
An Unclear Path to Leadership
Leadership is a common goal for both men and women in architecture. 70% of the people surveyed by Amanda, Elisa, and Stephanie stated that they would like to be in a leadership position. Unfortunately, women seemed to feel that goal was out of reach. One employee surveyed responded that they "truly wish to hold a leadership position someday but have zero expectations that they would ever make it into [one]." Another answered that a leadership role was desirable but seemed like "you are inundated with paperwork and peopling and are no longer a part of the design of architecture." The desire to still be a part of hands-on design processes may be a factor in forgoing the pursuit of leadership roles, but it is not the sole reason leadership can feel out of reach to female architects.
This dashing of expectations may be attributed to the observation that the path to leadership roles is less than clear for women in architecture. 35% of women felt that they didn't understand the path to leadership at Ankrom Moisan, whereas only 20% of men felt that the road to leadership was beyond their grasp. There were some other survey respondents, however, who saw this lack of clarity regarding career advancement as a challenge, stating "I have no one to look up to that looks like me. So, I've decided to become that person – a leader."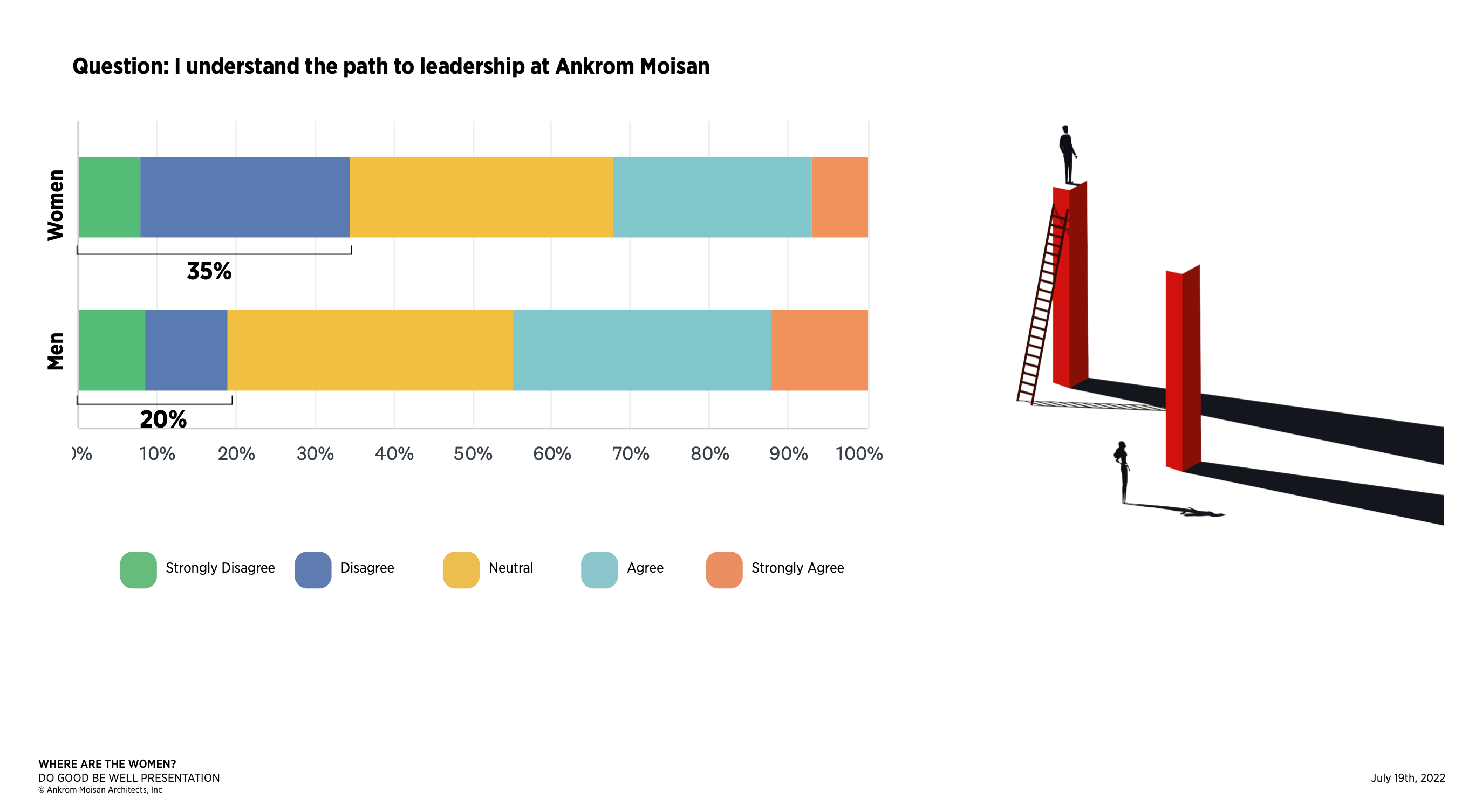 Survey results highlighting an unclear path to leadership positions.
One reason the ladder to success might appear so esoteric is that a lack of evaluations and constructive feedback can work as a barrier against career growth and advancement. Luckily, through their research, Amanda, Elisa, and Stephanie were able to gather ideas for how to break down this barrier and make the path to leadership clearer. These suggestions range from designing strategic plans like PEP employee evaluations and check-ins for developing staff into leadership roles and standardizing them across teams, to adding peer reviews to the evaluation process for a broader spectrum of feedback.
Taking these suggestions to heart, Ankrom Moisan's Career Pathways Program establishes resources for employees to understand the path to leadership, making it the most significant action item to come from Amanda, Elisa, and Stephanie's research. Another key solution that emerged from this project was the hiring younger staff for employees to mentor and lead, thus creating 'inward facing' roles for many of the architects that desire to hold a leadership position and providing younger hires with mentors that they can look up to and learn from.
Burnout
When employees take on additional work and responsibilities beyond their regular role, they become overworked and have little energy left for their regular duties. Adding newer, younger staff to architecture teams would also help solve the burnout problem, which is primarily caused by a staff shortage. Unfortunately, it seems that burnout happens to women at a disproportionate rate. 46% of women have felt overwhelmed by their responsibilities at work, which is drastically more than the 29% of men who feel that way.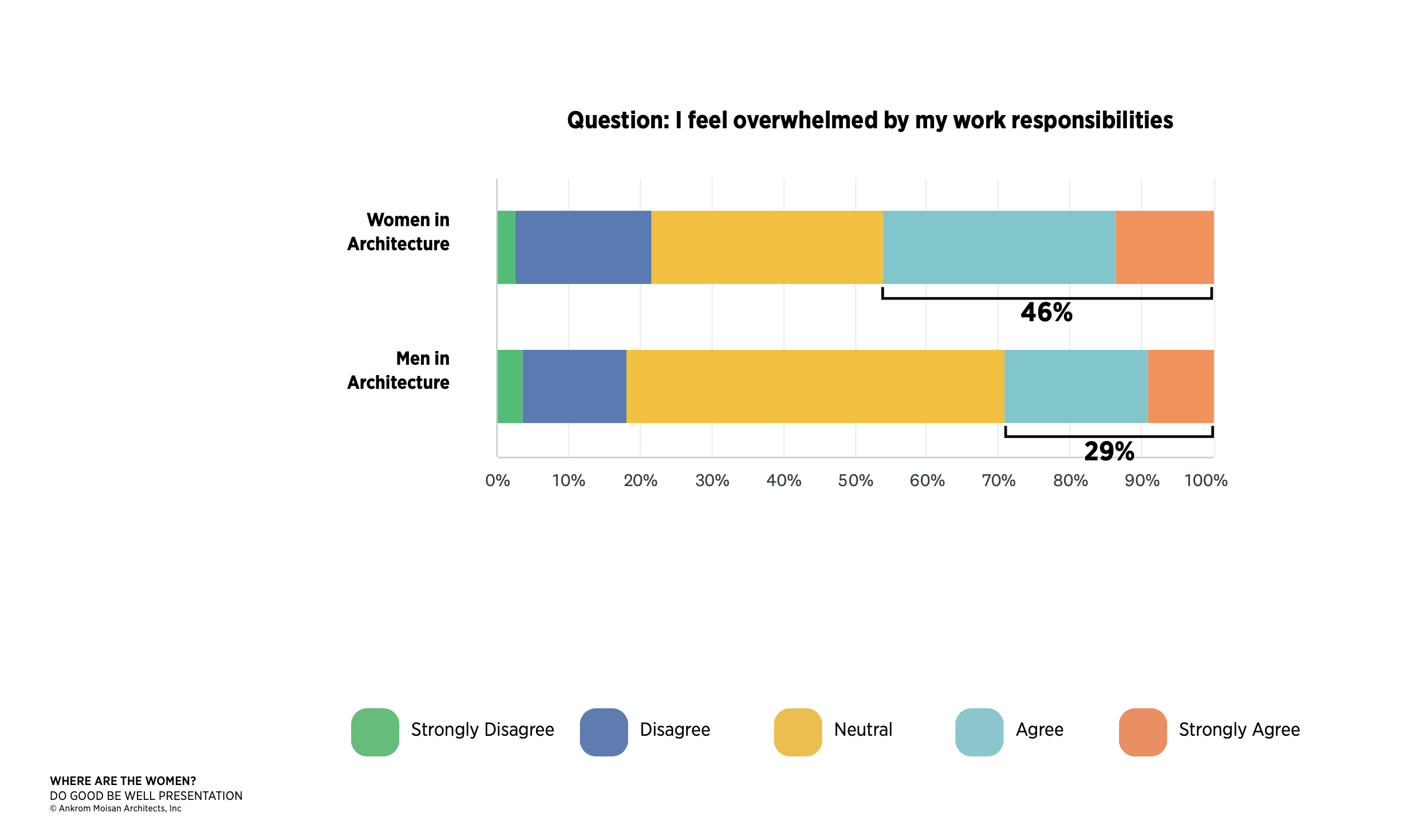 Survey results related to staffing, workload, and burnout.
The feeling of being overcome by professional obligations often prevents employees from wanting to advance in their career, as well, as that advancement presumably comes with even more responsibility. One survey response elucidated, "I enjoy working with the people and the clients we have, but not always having the resources to staff a project can lead to burn out, make it hard to want to be involved in any initiatives, and really leads to questioning what it means to [want] to advance." Some of the solutions suggested by Amanda, Elisa, and Stephanie to combat this are to focus on hiring and retaining emerging professionals, ensuring that employees who feel overwhelmed have the opportunity to move to less demanding projects with lighter workloads, and designing strategies to ensure that staff are not spread too thin, or constantly in 'survival mode.'
Pay Disparity
It's common for employees who take on extra work to receive a pay raise with their new responsibilities. This is not always the case, though, and sometimes individuals must negotiate to secure an increase in their salary. Yet again, this is an area that is not entirely equitable. In fact, negotiations have the largest discrepancy in attitude between men and women in architecture. 46% of women surveyed admitted that they do not feel comfortable asking for a raise or a promotion, which compared to male respondents' 11%, is eyebrow-raising. One discerning observation that reveals why this is the case indicated that "women typically ask for a raise after they've [proven] that they've done something, but men ask for a raise in anticipation that they're being asked to do something." Ultimately, this means that women may be doing more work for less reward than their male counterparts, as they feel they must go above and beyond before they are entitled to additional compensation.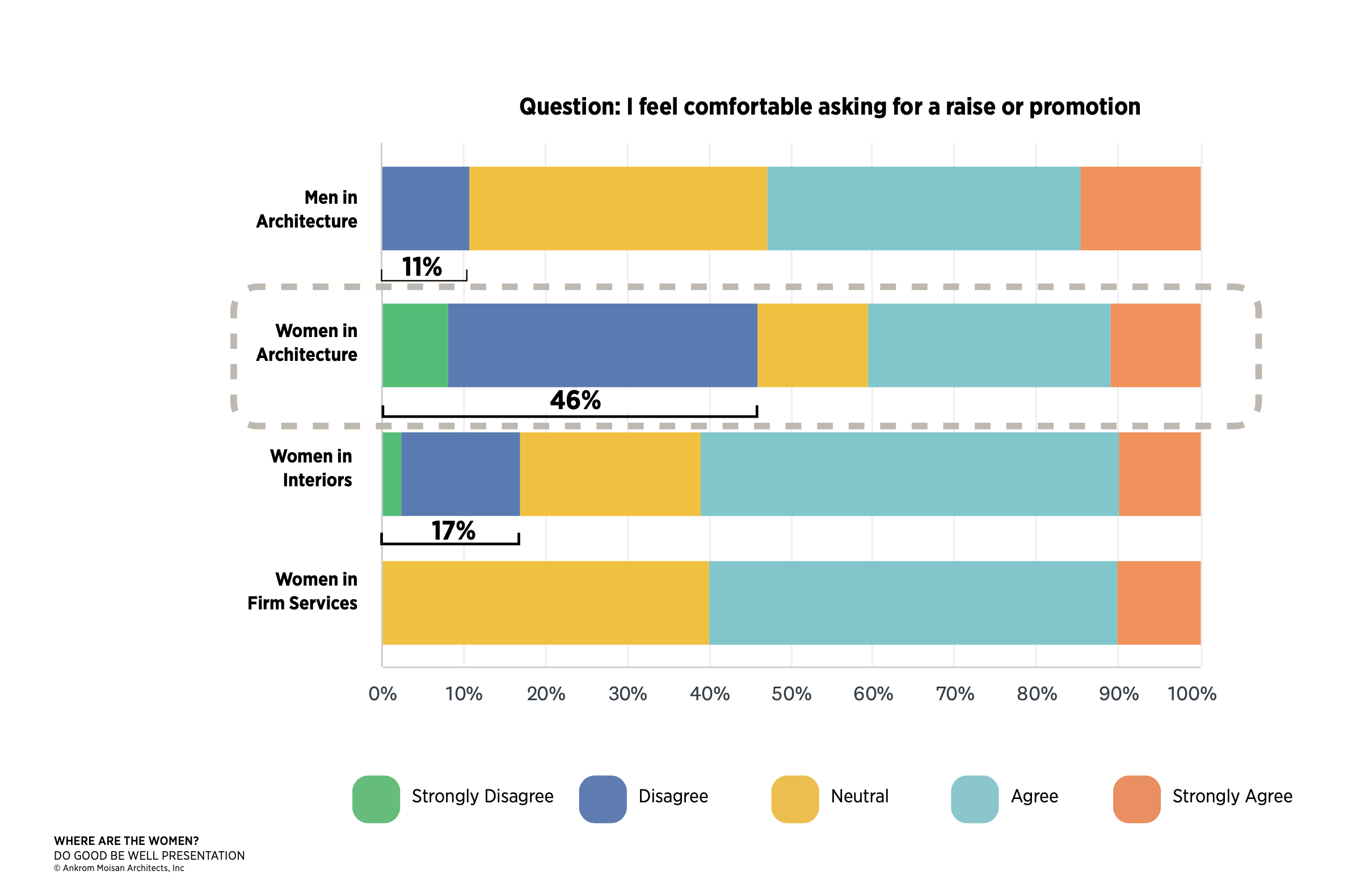 Survey results related to negotiations.
Another component to this issue is pay transparency. Not knowing the pay range for a position when entering negotiation can set a person up to settle for less than they deserve. Additionally, a lack of transparency can prevent people from wanting to negotiate in the first place. As one survey respondent put it, "I haven't been super confident, and I didn't want to come across as pushy. I also didn't do it because I wasn't aware what other firms offer." A potential solution for this, it seems, is offering confidence and negotiation workshops for women while proactively checking in on pay and role satisfaction, ensuring that companies are candid about the salary ranges for all their positions prior to negotiations. A case study observing Jeanne Gang's Studio Gang found that knowing the baseline salary for any given position is key for enacting change, for yourself and others.
Because pay has been ranked as the second most important aspect of an individual's career in an AMA office-wide survey, just after work-life balance, being transparent about salary ranges is crucial for both recruiting and retaining employees. It's known that staff who feel that they're being paid below the market value are 49.7% more likely to search for a new job within the next six months in comparison to employees who feel they are compensated at or above the market rate (Payscale). While about a quarter of both men and women were unsatisfied with their earnings, there were 27% more women than men who felt that the pay range for their role was not clear enough. Proposed solutions for ensuring pay ranges are as transparent as possible include conducting regular pay audits to identify and correct inequities, publishing pay ranges for each role, and communicating with staff about how those ranges are determined.
Outreach is another method to secure the place of women in architecture that great strides can be made in. By talking with female architecture students, conversations can be started around fair wages and negotiation, so that the next generation of women architects are already equipped to face the challenges of the industry. Additionally, encouraging employees to take part in programs such as Architects in Schools, ACE Mentorship, and the Boys and Girls club can expose more youth to the field of architecture, ensuring that its future is bright, and that burnout no longer holds back staff from doing their best work.
Balancing Motherhood and a Career
One area that undoubtedly impacts women and their careers more than their male counterparts is having children. Of the surveyed employees, half of the men who responded did not believe that having kids impacted their careers, while only 30% of women could say the same.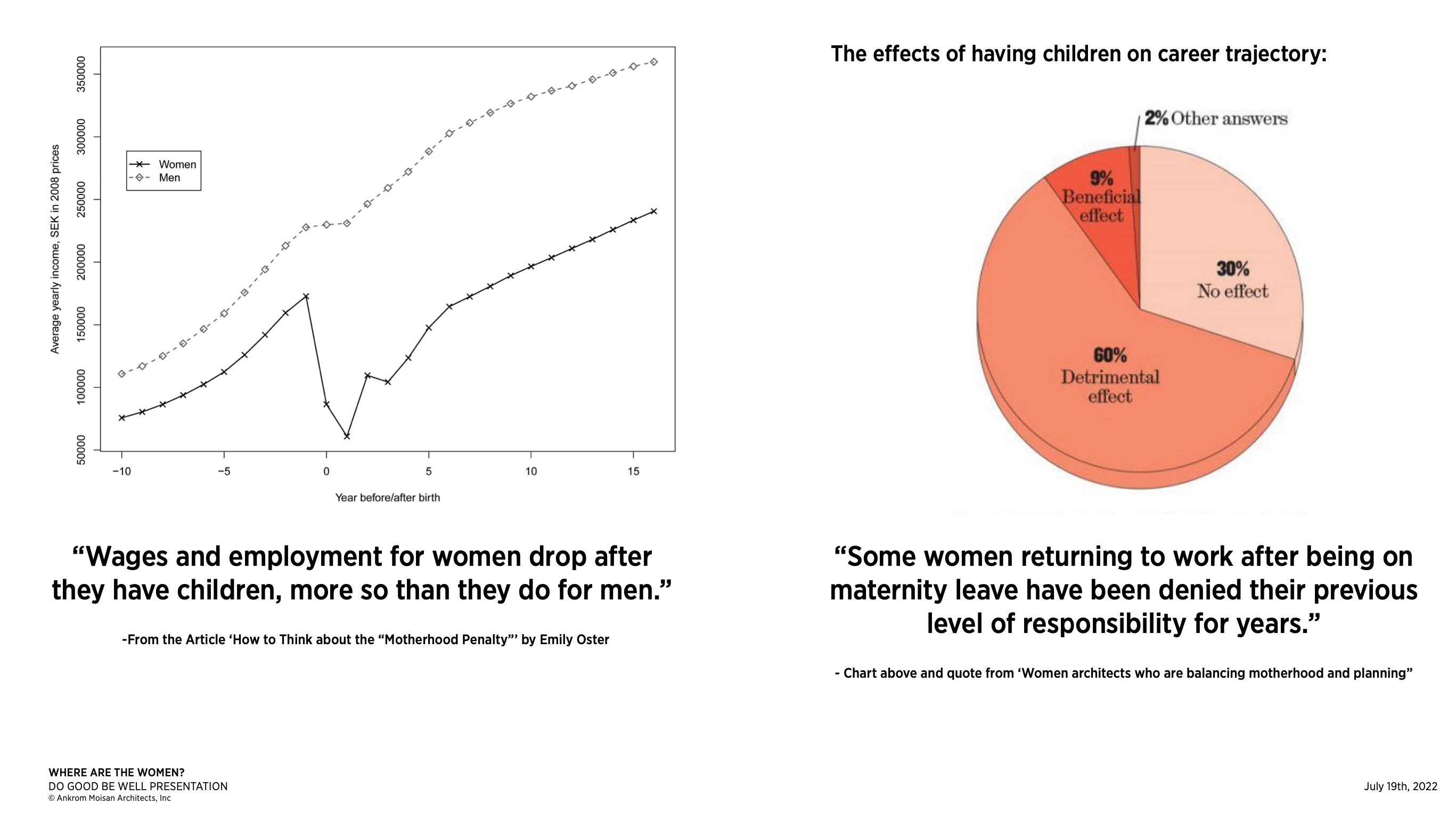 Graphic representations of the impact childbirth has on the careers of women.
Often, female architects start families at crucial career pinch points. If they choose to have children, it is not uncommon to return from maternity leave and be denied the same level of responsibility that they had previously held for years. The professional uncertainty tied to having children can mean that working women have to choose between one or the other. Some women try to juggle both motherhood and advancing a professional career but find that "being a mom and an architect, [it can feel] like both suffered." Others draw a line, declaring that they are "not willing to sacrifice [their] personal or family time in order to advance [their] career." Still, it's hard not to feel like they are missing opportunities male counterparts don't have to give up.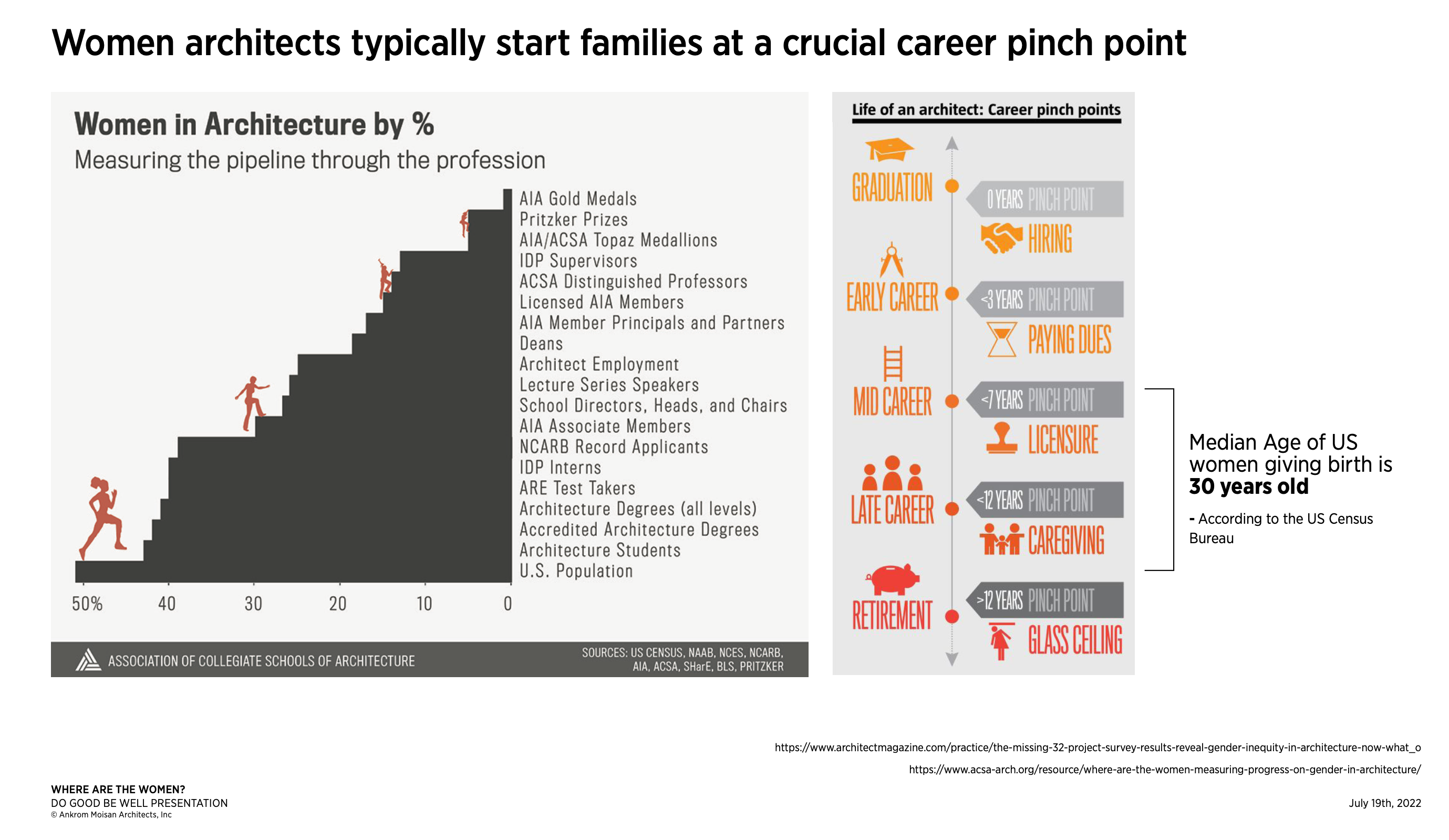 Illustration of how children come at a pinch point for many women's careers.
There are ways to counter this feeling, though. Firms can provide better parental relief, for both men and women, normalizing child-rearing as the responsibility of both parents, rather than the sole responsibility of a mother. Promoting flexible work schedules can also help parents look after their children without sacrificing their career. Finally, firms can subsidize childcare, reducing the need for mothers to have to choose between their kids and their careers. At MOYA Design Partners, a childcare stipend is included as part of the work benefits project. Another case study found that Architects FORA, a 100% women-owned firm, is staffed completely remotely to provide as much flexibility as possible for employees with families. Whether children are young or old, this surely makes a difference in balancing professional obligations and a healthy home life.
The Road to Licensure
Motherhood is not the only thing that can set back a woman's career. Licensure also serves as a roadblock on the path to leadership, especially for women. Although 61% of male architects are licensed, only 40% of women are. Employees that spoke to Amanda, Elisa, and Stephanie stated that "becoming licensed has been a daunting task." Though supervisors can be supportive, encouraging employees to take the Architecture Registration Examination, "trying to excel with work responsibilities, office initiatives, and activities leaves little time for work-life balance, finding time to study for the ARE's, and general decompression from it all."
A healthy work-life balance is integral to both quality of work and quality of life. It's necessary to protect this balance without penalizing employees who forgo studies and examinations that occur outside of working hours. Suggested solutions include incorporating ARE study and testing hours into staffing plans, reexamining the requirements to become a principal, and offering greater incentives for passing the Architecture Registration Examination and completing the process licensure. If these steps are undertaken, it's possible that firms will see more licensed female architects, and women architects in leadership roles.
Feeling Out of Place
Outside of architecture firms, women face even greater challenges. "It's difficult to be taken seriously as a woman in architecture, especially as a young woman," one survey response said. "Not so much amongst other architects, but to GCs and consultants I feel like we have to prove our knowledge and worth 100 times over." Another respondent noted that "it's really hard when you're asking someone like me, [a] thirty-something-year-old woman to bring in business. I have nothing to relate to 65-year-old men. How am I supposed to cultivate those relationships and bring in business?"
These challenges often originate from sexist stereotypes and beliefs regarding the kind of work women can do. The best way to put an end to beliefs like this is to train staff, especially men, to be allies to women in their field. It is imperative that men are aware of the challenges that women face in architecture, that way they can advocate for their co-workers in beneficial, productive ways. Firms can also accelerate the implementation of Diversity, Equity, and Inclusion strategies, and work with (or continue to work with) women-owned consultant firms to ensure that women in architecture are supported and celebrated.
Of course, it must be acknowledged that none of these issues stand alone. Many of them intersect in complex ways, preventing women from making the most of their experiences in architecture. For example, having children can prevent female employees from taking the time to complete licensure, which may bar her from working on more projects that could potentially advance her career to the level of leadership. Alternatively, having too much work and being spread too thin can stop her from mentoring younger staff, taking the ARE, or even deciding to have kids. These are tough choices that nobody should have to make; a career and a family should not be mutually exclusive.
Making Progress
What is worth celebrating most, though, is the fact that Ankrom Moisan is already executing many of the ideas recommended by the DEIB Council to fight these issues. Benefits like Flex holidays and remote and hybrid work options allow women with families to devote time to both their career and their children, on their own schedule. Programs such as AM Learn encourage employees to continue their professional growth through educational opportunities like the office's regular Lunch & Learn sessions. Annual DEI surveys and listening sessions from The Diversity Movement promote conversations around these topics, certifying that everybody's voice is heard. Do GOOD/Be WELL research projects provide an outlet for investigating critical issues to improve overall company culture.
Furthermore, Ankrom Moisan is committed to establishing clear career pathways, explicit evaluation criteria, and equitable pay transparency for all positions. This initiative led to the creation of the Career Pathways Program, a practical resource which summarizes the relationship between roles and titles in architecture, interior design, and practice services, with the hope of clarifying the pathways for professional development and growth available to Ankrom Moisan employees. Informative charts and diagrams illustrate our disciplines' roles, role summaries, and evaluation criteria at all levels. All of this goes to ensure that our HOWs are fully embodied, every day.
There may be a lot of challenges when it comes to safeguarding gender parity in architecture, however, what Amanda, Elisa, and Stephanie have done with their Do GOOD/Be WELL research project is confirm that there are plenty of actionable solutions that guarantee the future of architecture is indeed female.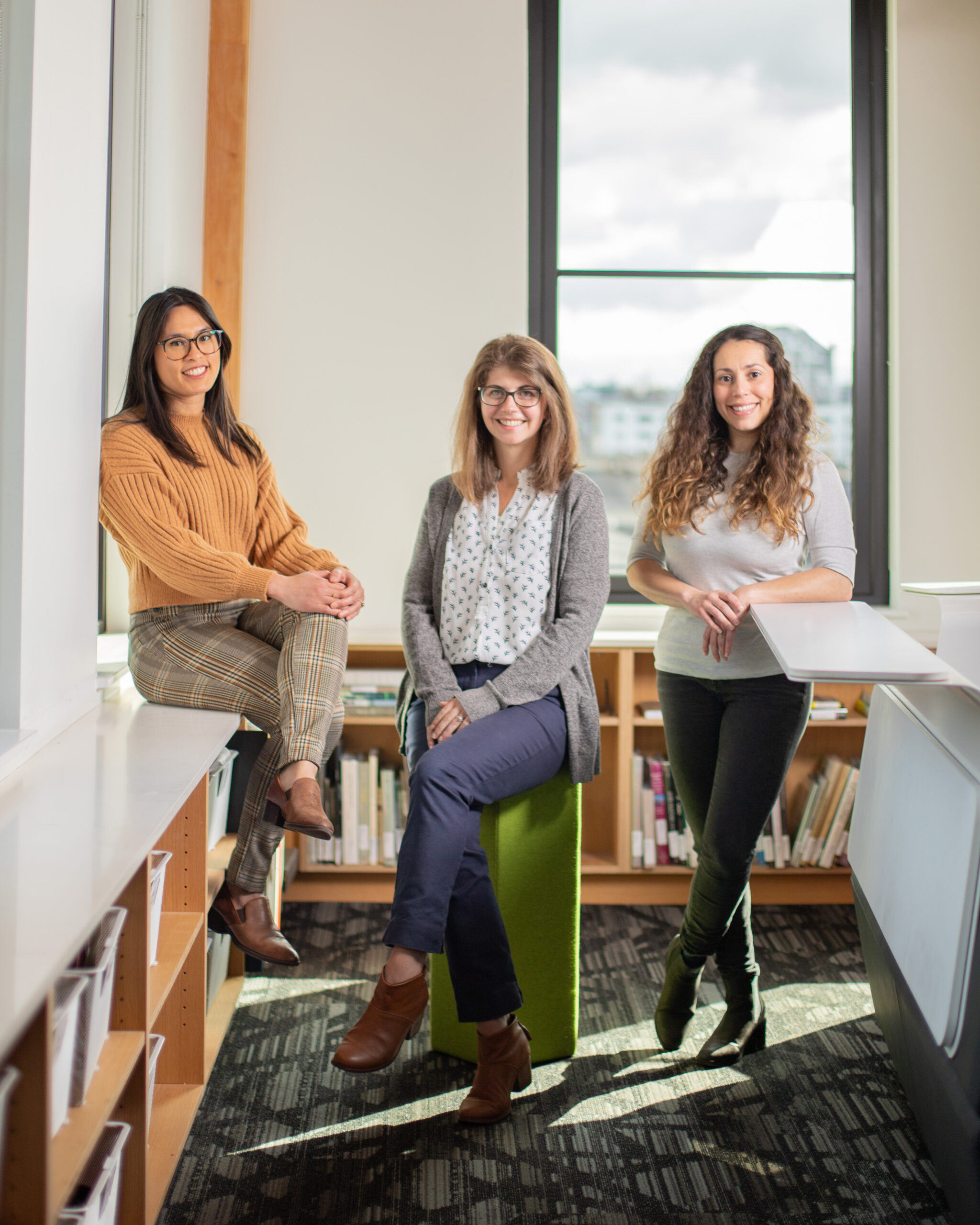 Amanda Lunger, Stephanie Hollar, and Elisa Zenk in the Portland office.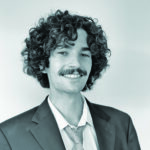 By Jack Cochran, Marketing Coordinator
FILTER
SEARCH
This search form (with id 2) does not exist!
Where are the Women? (1 of 2)
March 8, 2023
The Story Behind the 2022 Do GOOD / Be WELL Scholarship Project
[This is part one of a series highlighting the 2022 Do GOOD / Be WELL scholarship project researched by Amanda Lunger, Elisa Zenk, and Stephanie Hollar. Read more about their investigation and what they found in part two, here.]
The Do GOOD / Be WELL scholarship encourages Ankrom Moisan employees to research an open-ended topic of their choosing to discover and share the practical results of their findings with the firm, industry, and community at large. The scholarship, started in 2017, is sponsored in memory of former AM employee Carolyn Forsyth, an inspirational leader and unyielding force for change. Intended to honor her legacy of sustainability, equity, innovation, advocacy, education, and leadership, the DGBW scholarship elevates and empowers new and inspiring ideas within Ankrom Moisan and the broader field of architecture, pushing us all, as the name implies, to do good and be well.
For the 2022 Do GOOD / Be WELL scholarship, Amanda Lunger, Elisa Zenk, and Stephanie Hollar ventured to ask: Where are the Women?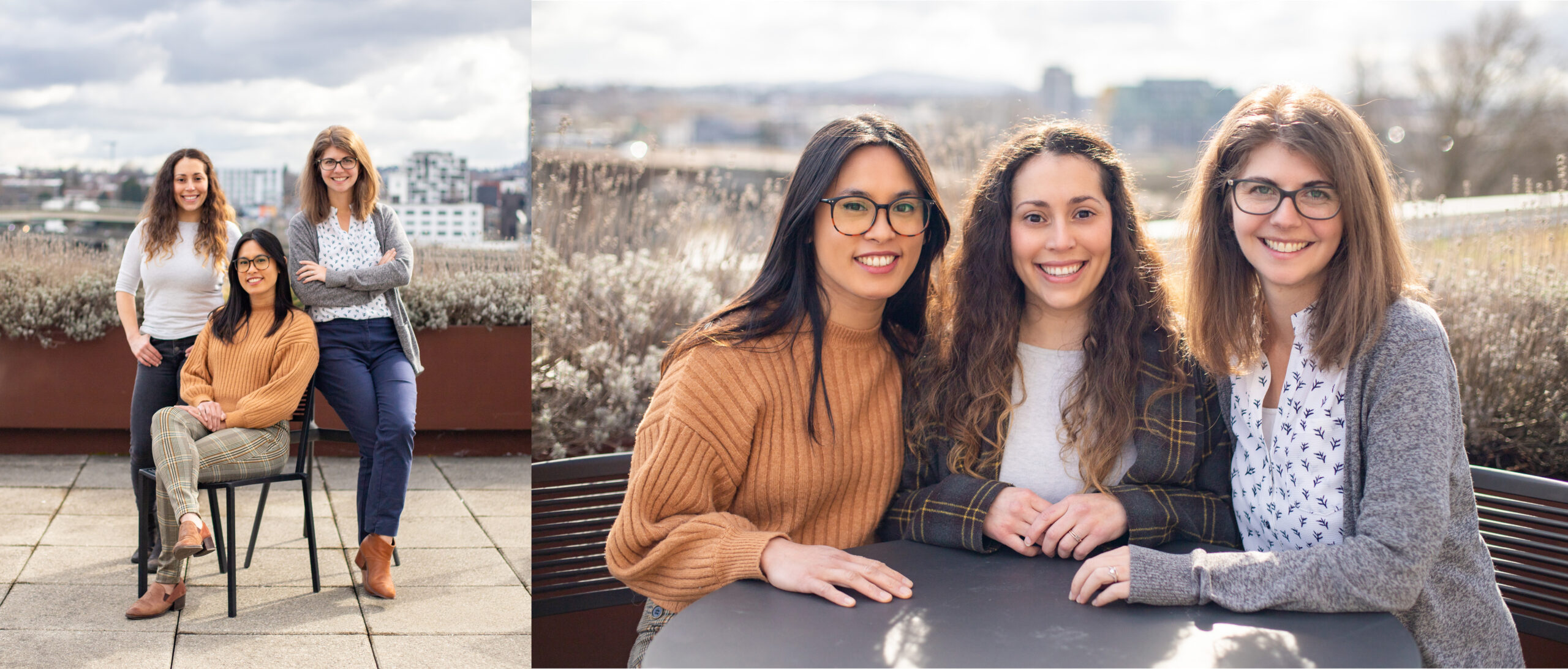 Amanda, Elisa, and Stephanie atop Ankrom Moisan's Portland office.
The idea came to them naturally. During the firm's 2020 Women's Day celebration, Elisa noticed that some of the AM statistics shared didn't seem to tell the whole story. "The women in architecture numbers were getting buried in the celebration of the fact that our office had this large percentage of women," Elisa explained, "but when we looked into it, most of that percentage was made up of women in the interiors department and various overhead positions." The real number of women in architecture was not as equitable as it could be. "I think I already knew this intuitively, that women are underrepresented in design roles," Amanda disclosed, but "once we actually looked at those numbers, that was kind of shocking to me." Stepping back to all architecture roles, not just design, women only make up 37% of architecture staff nationwide, according to AIA industry data collected in 2019. Amanda, Elisa, and Stephanie all knew that there should be more women in the industry and began to question why that was not the case. They were also interested in solving that problem at our firm, pushing AMA beyond industry trends.
After Amanda, Elisa, and Stephanie discussed this observation, they agreed that they had seen too many brilliant women, presumably on track for leadership, leave the field. "We were talking about these women who were really rockstars in the architecture department who were leaving," recalled Amanda. "We were speculating as to why the industry seemed to have that problem." Whatever the cause, it was clear that some women were dissatisfied with their experiences in architecture.
Stephanie recognized that the issue of women in architecture leaving Ankrom Moisan for other opportunities was one that needed a deeper investigation. It was also a problem that affected her directly. "The women who we saw leaving at that time were older than me and in architecture, but then they left. I saw them as people that I was looking up to [that] were mentors and having them leave really created a gap of future women architecture leaders," she remarked. "It makes you kind of question your own career sometimes. Like if all these other women are leaving, it's like, OK, what am I doing here? Like what are they finding elsewhere?"
In fields traditionally dominated by men, like architecture, same-sex mentors are paramount to the success of early career women. Female designers are more likely to aspire to career advancement if they see someone like them at the top. This role-modeling is critical for the retention and professional growth of our talented female architects.
The consequences of the lack of female representation in architecture was further emphasized by Amanda, "Being a woman in architecture, I've run into a lot of experiences in dealing with colleagues where I felt very misunderstood and kind of lonely as being a gender minority or marginalized gender in this industry. I've had personal experiences sitting in a meeting with consultants and some of my project team members, who are all men. At the beginning of the meeting, they're all talking about working on their cars, or fishing, like these shared hobbies that they have. I had a hard time finding common ground. It was hard to know where to start [building rapport] in some of those cases. I felt like I got overlooked a lot of the time." Elisa felt similarly, noting how being the only woman in the room "makes it hard to have a voice or feel comfortable having a voice. There's not always room at the table, even if you're sitting there." Elaborating on this idea, Amanda reflected, "I feel like I was always looking for a woman who had been in that position before and could give me advice like how to cope and how to get through it. But those mentors just weren't there."
The exodus of women from established architecture firms becomes even more lamentable once one recognizes that the leadership positions and characteristics women tend to embrace are critical for the future success of the firm; roles and traits such as "inspiration, participative decision-making, setting expectations and rewards, people development, and role modeling" (McKinsey, 2018). Simply put, a workplace with more women is a workplace with more creativity, productivity, and profitability (MIT News, 2014). The lack of women in architecture is intrinsically detrimental to everyone in the industry.
The healthcare team working together in the Seattle office.
Amanda, Elisa, and Stephanie's interest in what happened to these women came at the right time. It was about a week before applications for the Do GOOD / Be WELL scholarships were due, and after their initial conversation, Amanda thought, "maybe we should turn this into a research project, that way we have time set aside to really look at it. I mean, nobody else was doing this research, so it kind of felt like, well, if we don't do it, who's going to?" The group quickly put together an application and submitted it before the April 2nd deadline, a date shared with Carolyn Forsyth's birthday.
Many of the data points collected during the project's research were gathered from conversations with women architects about their professional experiences, career goals, the tools that helped them succeed, and what they thought firms could do better to support their growth. Additional observations came from personal experience, while other statistics were sourced from the AIA. The bulk of Amanda, Elisa, and Stephanie's AMA-specific statistics originated from a firm-wide survey they conducted, which gathered responses from 158 participants, both male and female.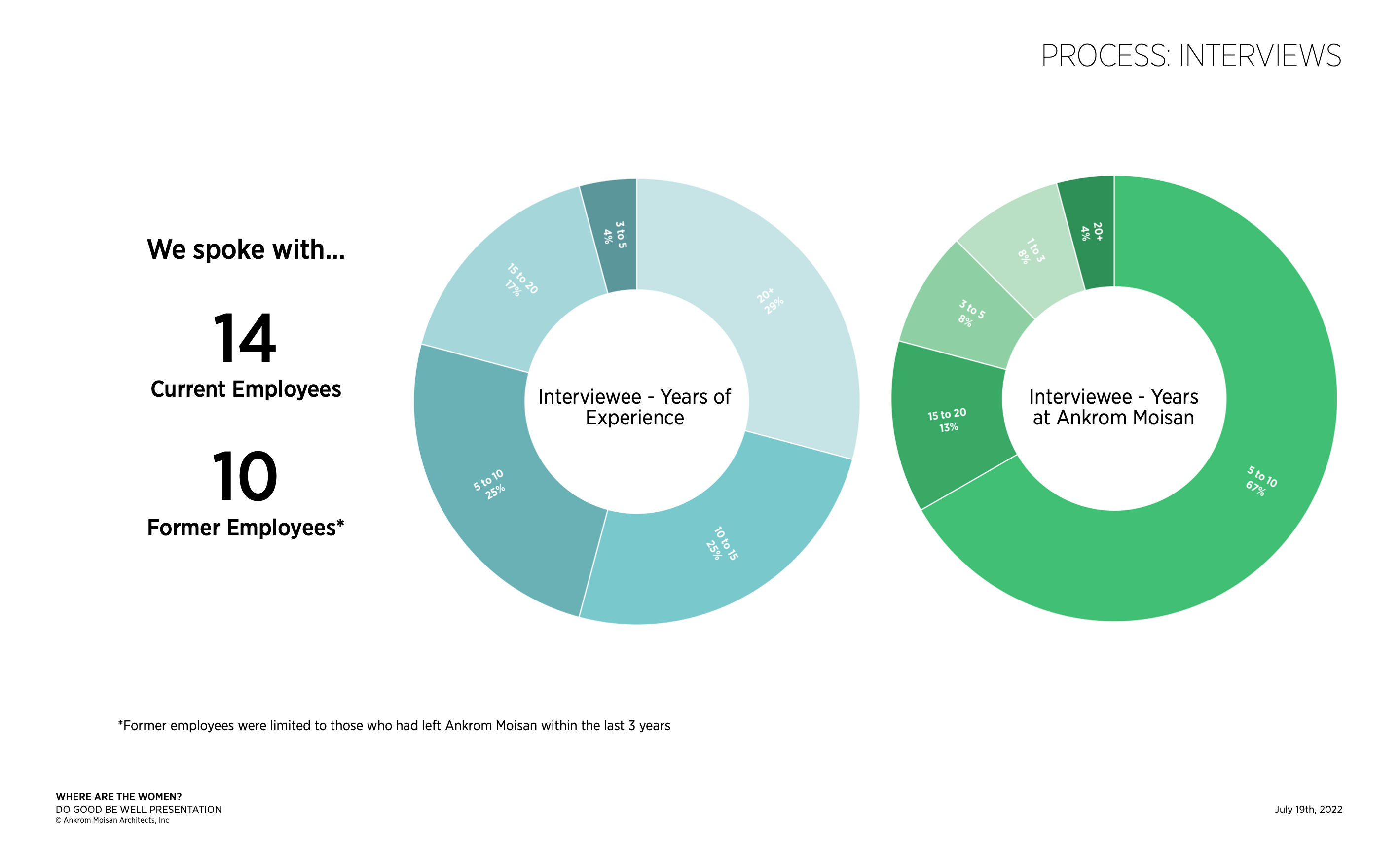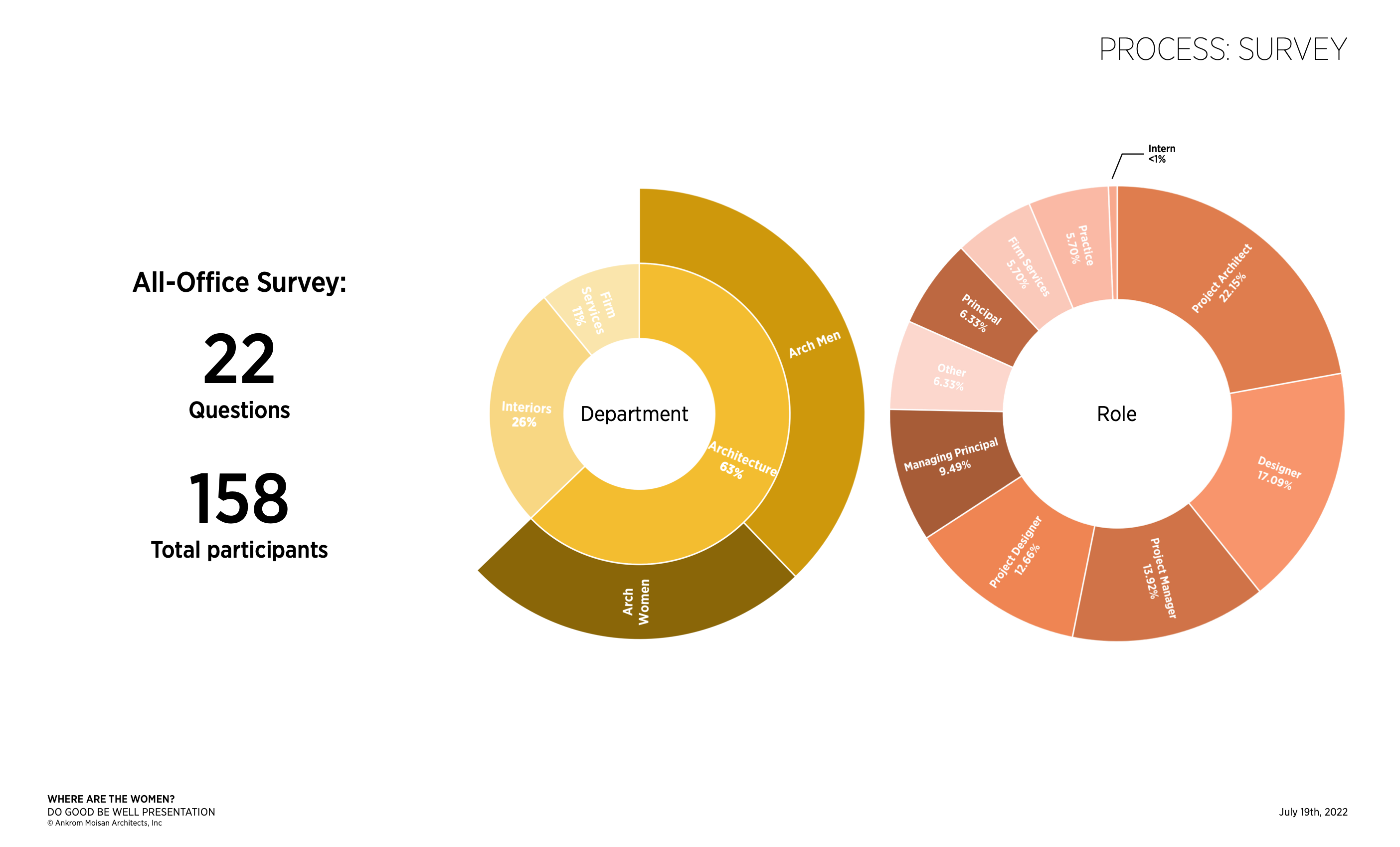 Graphs illustrating the research project's interview and survey process.
Stephanie disclosed that the study they conducted was designed to provide "specific points that we could apply here at Ankrom to help [combat the disappearance of women from architecture]." The idea was that by identifying the roadblocks that women face when advancing in their careers, they will be able to more confidently advocate for themselves and the resources they need to grow as professionals. The research is an important first step in Ankrom Moisan's journey to bringing gender parity to the architecture department and increasing diversity, equity, and inclusion in the firm overall.
The particulars of the information found, and conclusions presented to Ankrom Moisan by Amanda, Elisa, and Stephanie in their Do GOOD / Be WELL scholarship project can be read in part two of this blog series, found here.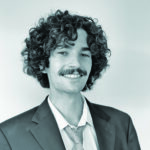 By Jack Cochran, Marketing Coordinator
FILTER
SEARCH
This search form (with id 2) does not exist!
The Office as Ecosystem
March 7, 2023
5 Ways to Design for the Workforce You Have Now and the Workforce You Want in the Future
Our workplace design team has a unique window into the changing nature of work, and the challenges that companies have keeping up with it. Every client meeting we attend, and every new design request we field, gives us a view of what's really going on in today's offices.
Late last year, we started to see some patterns emerge in the conversations we were having with clients about their workplace needs. And those patterns lined up with some trends and tactics we'd been incorporating into our projects.
It just made sense, then, to turn those patterns into a strategic roadmap our colleagues and clients could use as they are all rethinking what the workplace looks like. It examines the ways we need to shift our thinking about the roles, both functional and emotional, that offices play in workers' lives today, with lots of examples and ideas to get begin the journey of workplace transformation.
We call the overarching approach "The Office as Ecosystem," because it acknowledges that the workplace is an interconnected environment, where the well-being of one lifts the prospects of all.
If you've been grappling, as so many companies have, with a changed workforce and a not-so-relevant workplace, maybe a shift to ecosystem-thinking is in order.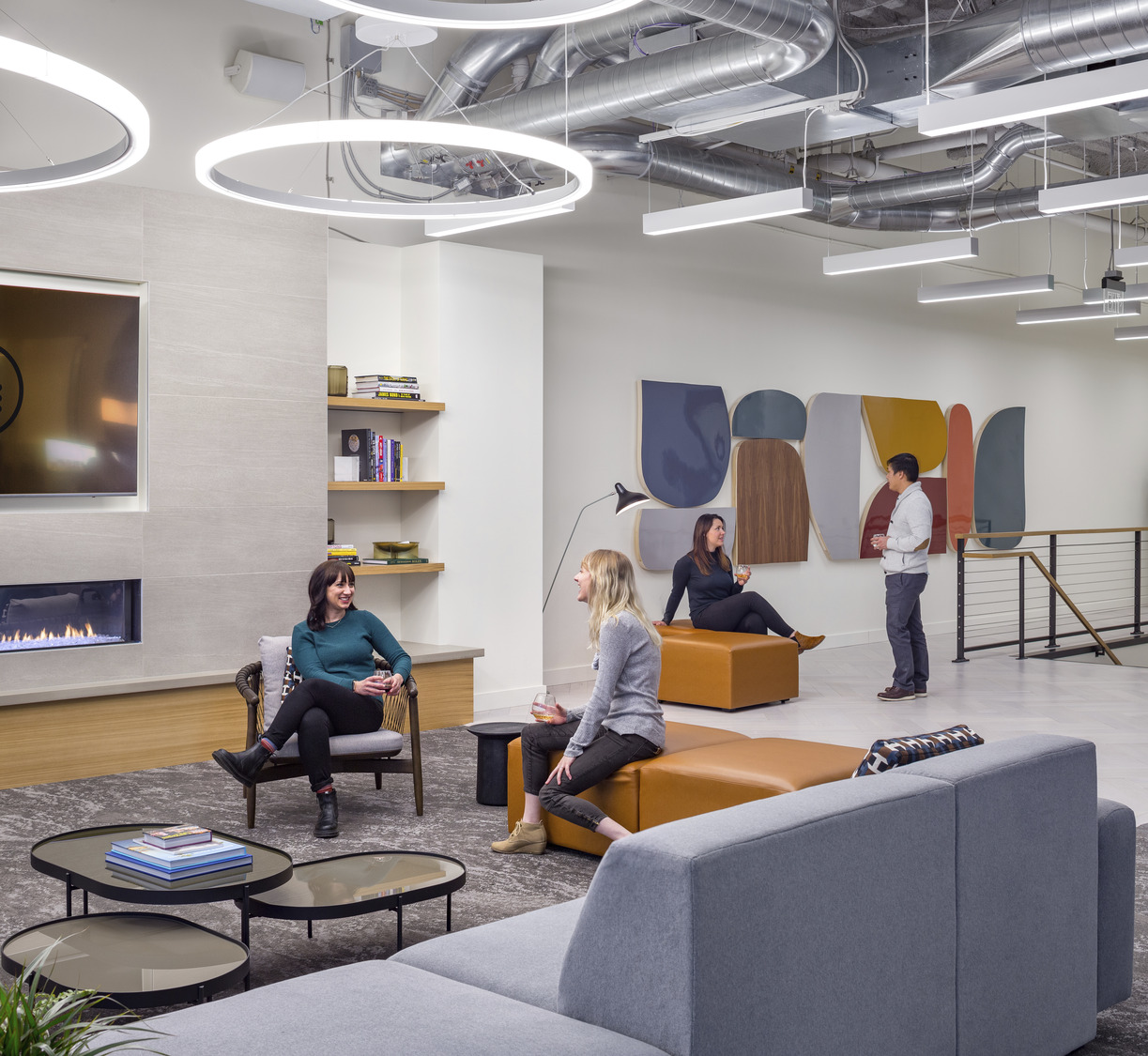 Archivist Capital, Portland, Oregon
📸: Josh Partee
Check out the full strategic roadmap here, or watch this space for each installment, starting next week:
Part 1: The Office Gets Personal
Part 2: The Commute-Worthy Workplace
Part 3: The Not-So-Office Office
Part 4: New Ways to Meet
Part 5: Culture First Employee Engagement
(each Part will be hyperlinked once the blog post launches)
Banner photo: Buchalter, Portland, Oregon
📸: Magda Biernat
FILTER
SEARCH
This search form (with id 2) does not exist!
Exploring our Design Passions
November 24, 2022
The AM Travel Scholarship
"It was one of the highlights of my entire working career." 
At Ankrom Moisan, we believe that continued education is a key facet of success and fulfilment. When we make room for the betterment of ourselves, when we feel supported to follow our passions and to live authentically, we all thrive. 
In addition to programs such as Lunch and Learns, conferences, and paid educational hours, AM offers two annual in-house scholarships; the Do Good Be Well Scholarship and the Travel Scholarship. Both are open to all staff across all offices.  
The annual travel scholarship is an opportunity for our employees to travel while exploring a design topic they are passionate about. They receive 10 days of paid time off for their trip and a stipend to cover their travel expenses. When they come back, they receive additional time to prepare a design presentation and share their findings with the rest of the firm.  
Jenny Chapman and Sadaf Quddusi, two previous AM Travel Scholarship winners, tell us about their travel experiences. 
In 2021, Jenny visited Italy to attend the Venice Biennale and explore the global design conversation surrounding communal living and how we will live together in the future.  
"I think it's really important that we take time away from our day-to-day work to lift our eyes to the horizon and consider what's coming next in our industry. The AM Travel Scholarship is a great opportunity to do that, it offers space to think deeply about design.  
My experience travelling to the Biennale and exploring different architectural approaches really helped me to refresh my perspective. It was incredibly valuable to see some of the same problems we often face in this region, being solved in entirely different ways in other parts of the world."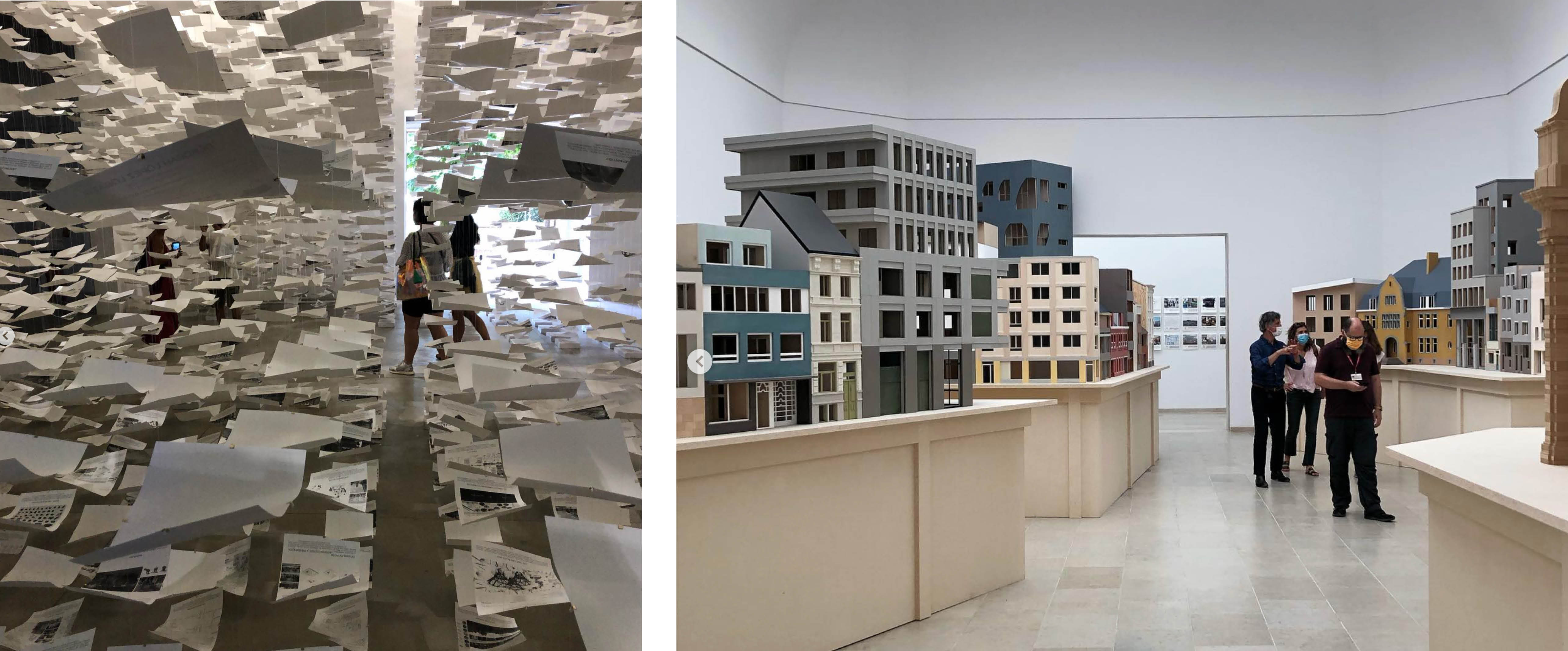 Exhibits from the 2021 Venice Biennale 
Sadaf—who visited the UK in 2019 to study mass timber—agrees, adding that "research is so important to what we do. My research in the UK allowed me to be on the leading edge of the mass timber transition in the US. It was something I was really glad to study and share with the firm." 
The Travel Scholarship is an investment in the design culture and community of our firm and industry. It is an opportunity to explore how design betters our environments and our lives. 
Our 2023 scholarship is now open for submissions. In January we'll be sharing the next winning design topic, stay tuned!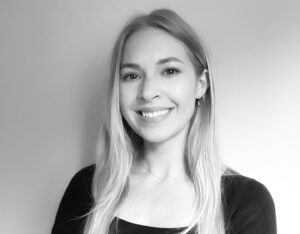 by Mackenzie Gilstrap, Sr. Marketing Coordinator
FILTER
SEARCH
This search form (with id 2) does not exist!
Looking Ahead
May 24, 2021
The Post-COVID Landscape for Senior Housing
Ankrom Moisan's Jeremy Southerland, Alissa Brandt, and Chris Ebert led a presentation at the 2021 LeadingAge California Virtual Conference to discuss the research and insights our team has uncovered that will have the biggest impacts on senior housing development in 2021 and beyond. 
Three 
ways to improve senior housing 
design:
Affordability

 – 

adapting to meet demand

.

 

Technology

 – revolutionizing senior 

communities

.

Wellness

 – 

a deeper 

connection

.

 
Pre-pandemic demographic trends remain relevant and will affect development moving forward. Boomers continue to flood the marketplace with 10,000 Americans turning 65 every day; and this market surge will last until 2029. The demand continues, and the new things to pay attention to include affordability as well as a leap forward in technology, which ultimately impacts community wellness. Traditional models of retirement housing are no longer going to meet the market's needs, and senior housing developers and planners will need to adapt to address the lack of affordable housing and embrace a surge in technology.  
Looking at cross-market trends, there are a few things happening in other market sectors that will spill over into senior housing. As offices in urban cores reopen, high-value renters will also return. Seniors have been experiencing a sense of "bored in the 'burbs'" and more of them are looking to relocate to vibrant, dynamic city centers, so senior housing planners should evolve their sites to address this desire. Hyper-localism is another insight we have seen accelerate as well as value-based spending, so expect seniors to look for the same things in their big purchases.  
Shifting back to the development landscape environment, developers and clients are still being driven by their biggest concern: cost. The same lessons we have learned from affordable housing development can dramatically reduce costs and increase efficiency for senior housing communities. As we move ahead, we will continue to apply strategies for affordable housing so we can maximize our spend and have extra money left over for high-market-value items like elevated interior finishes, specialty amenities, or simply more affordable housing. 
Creative partnerships and joint ventures are another major strategy we have seen successfully used to reduce operational costs and enhance service offerings. Built-in services and shared resources and amenities help create resident-focused communities which interact with the wider community. We also expect wellness to play an even larger role in design, landscaping, and architecture as residents look for more ways to socialize.  
Technology and the rapid advancement of telehealth and telemedicine during Covid-19 will likely cause the biggest transformation of the senior community landscape. The emergence of creative healthcare models such as pop-up health centers and roving busses that bring services directly to residents will revolutionize senior housing, connect seniors to affordable programs, and eliminate the need to transport residents off-site. Infrastructure for virtual visitation (ranging from boosted bandwidth capacity to spaces designed specifically as "Zoom Rooms") is finding its way into building programs.  
With an increased access to and use of technology comes improved wellness, allowing seniors to stay better connected to healthcare providers, loved ones, and each other. This advancement, because of the pandemic, also means a shift in how developers see senior communities as healthcare coordinators, not just providers. This has forged a deeper connection and sense of community between staff and residents. Everyone is working together to keep residents safe and healthy.  
Senior communities have needed to adapt to a rapidly changing world and have learned how to function when conditions are less than ideal. In the future, senior communities will look for even more ways to incorporate wellness into the entire design of a project, create flexible layouts, and use the latest in technology to provide an environment that helps seniors age in place comfortably.  
FILTER
SEARCH
This search form (with id 2) does not exist!