December 19, 2021
Integrating Work and Home Through Mass Timber.
At 38 Davis, work and home is integrated through mass timber. Located in the heart of Portland's Old Town Chinatown District, this building was the first ground-up construction to occur in the district in over a decade. One of the world's first Leadership in Energy and Environmental Design (LEED) v4 certified developments, the building was designed with software guided fans and operable windows rather then relying solely on an HVAC supported air conditioning and heat recovery system. A testament to our commitment to sustainability, the 124,000 sq. ft. headquarters also features a greywater reclamation system and green roof that treats water and removes contaminants on site.
The six-story, mixed-use timber-framed building, which is home to our Portland headquarters, combines office, residential, and retail spaces. Expressing raw craft with care, the mass timber used in 38 Davis is more than warm and honest-it's structurally sound and sustainable, lowering the building's overall carbon footprint.
Utilizing a historic method of a traditional 3×4 tongue-in-groove floor panel system, the building features locally sourced Douglas fir timber beams and exposed columns, which can be seen from the inside as the beams come together in an energetic display of raw materials and craftsmanship that mirrors the work we do. This post-and-beam system allowed our team to create larger interior spaces, high ceilings, and large window openings, achieving our vision of a background "warehouse" space overlaid with a tech-forward workplace that is all parts beautiful and utilitarian, yet historic and comfortable.
As you enter the building, you flow through the ground floor communal thru lobby connecting entries along SW Davis and the semi-private mid-block courtyard with a custom backlit metal art was designed to represent the flow of the Willamette River as it moves through downtown Portland. In the lobby, reclaimed wood wraps the threshold to shared elevators guiding visitors from retail on the ground floor to office space on the second through fourth floors, and workforce housing on floors five and six.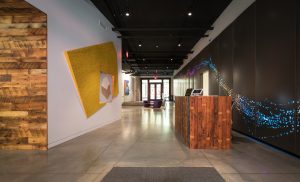 We believe that diversity and sustainability are of paramount importance to the vitality of our lives, neighborhoods, and cities. Designing from an owner's position, we seized the opportunity to create a vibrant, mixed-use development where we can live, work, and learn alongside local community members. The communal lobby, elevator, rooftop, bike storage, locker room and gym area create dynamic interactions between our staff, building residents, and University of Oregon students. A unique, inter-use greywater reclamation system filters runoff shower water from the upper residential floors and uses it to flush the toilet's of the offices below, saving an estimated 202,800 gallons of water annually.
FILTER
SEARCH
This search form (with id 2) does not exist!
Employee Spotlight: Keith Larson
December 17, 2021
Professional Modeler Extraordinaire
Did you know Ankrom Moisan has an in-house model maker?
Meet Keith Larson. While he's been working as a professional modeler since the 1990s, his craft started as a kid playing with LEGO sets. To say he is detail-oriented is an understatement.
From making props on movie sets to creating 1/32" scale replicas of commercial airliners, Keith has an incredible portfolio from which he draws inspiration. Although his career has taken him through a broad spectrum of industries, his love for architecture and design has continued to bring him back to this world.
Since starting with Ankrom Moisan in 2016, Keith has collaborated with our project teams on models small and large, simple and complex. With such a diversity in markets and locations, every project brings something unique to the workbench.
When we asked our in-house model maker Keith Larson to share his current projects, Sandy Health Center was top of mind. The 1/16" scale finished type model includes scale people—a first for Keith's work at the firm. Filled with details, the steep pitched roof was a particular challenge. Cutting the individual angles by hand and seamlessly assembling each piece was a personal triumph.
Keith worked very closely with the architecture team to ensure each detail was correct. The finished model represents a 9,500 sq. ft. facility that consolidates primary care, behavioral health, and dental services into one location. Following the Sandy Design Guidelines, the final architecture is a modern take on a rustic aesthetic.
🎬: Ankrom Moisan
FILTER
SEARCH
This search form (with id 2) does not exist!
Convenience Factor
December 1, 2021
Design Solutions for Modern Life
The new standard is that services, products, and conveniences are available to people in a matter of minutes. Residents demand their communities to keep up with these changes and accommodate their needs seamlessly.
Download the Convenience Factor to explore how design can better address modern conveniences like food delivery and online shopping while also embracing the sharing economy.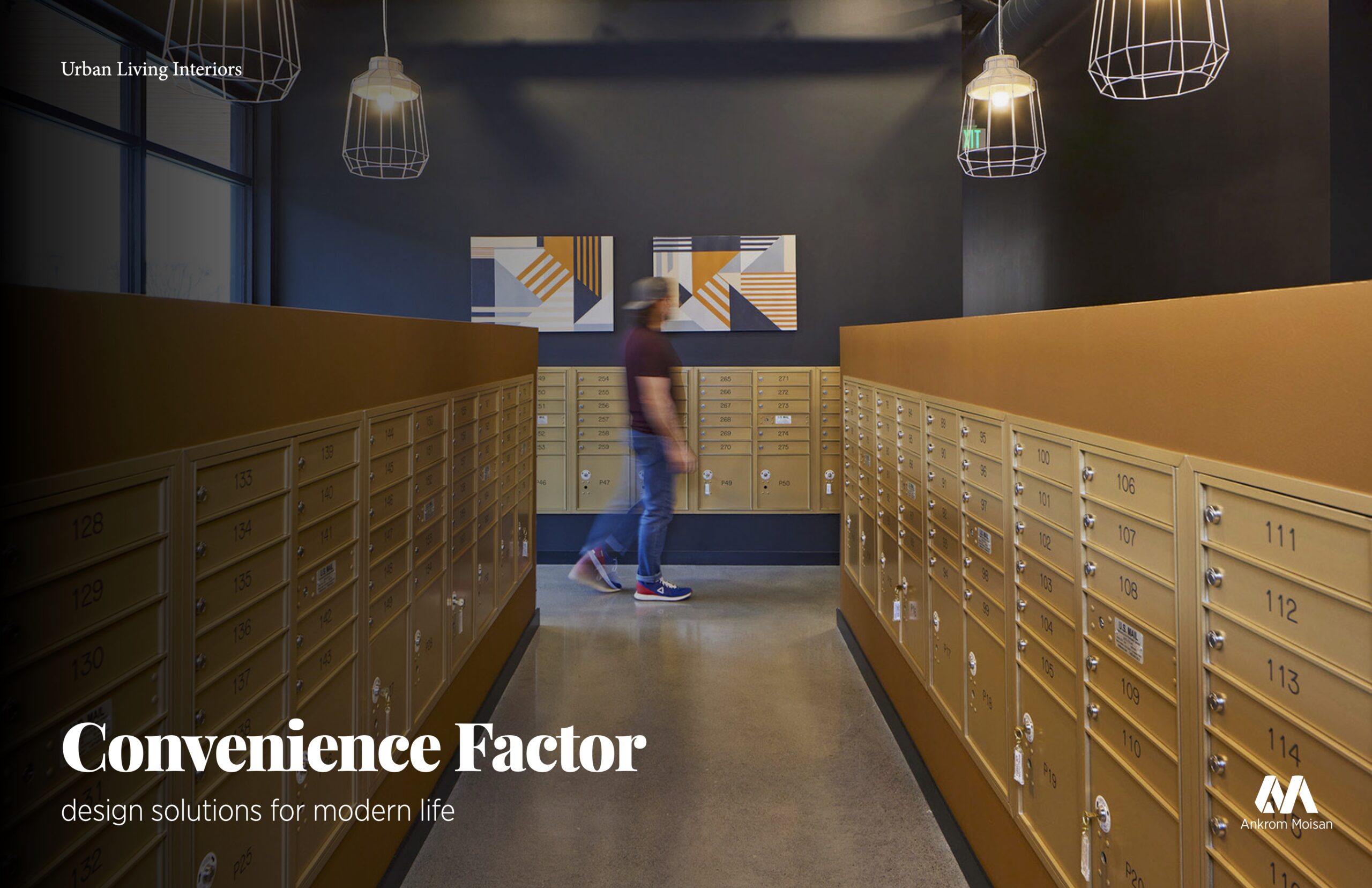 FILTER
SEARCH
This search form (with id 2) does not exist!