June 30, 2021
Workplaces as Part of the Larger Ecosystem
Before the pandemic, it was common for businesses and office workers to have an insulated experience within the community in which they worked. There was a binary relationship between work and home. Your real community was where you lived. Your work community barely registered beyond the front door of your office. When offices emptied out last March, leaving central business districts empty and local retail and restaurants on life support, the limitations and, frankly, harm, of this or compartmentalization was suddenly brought to light.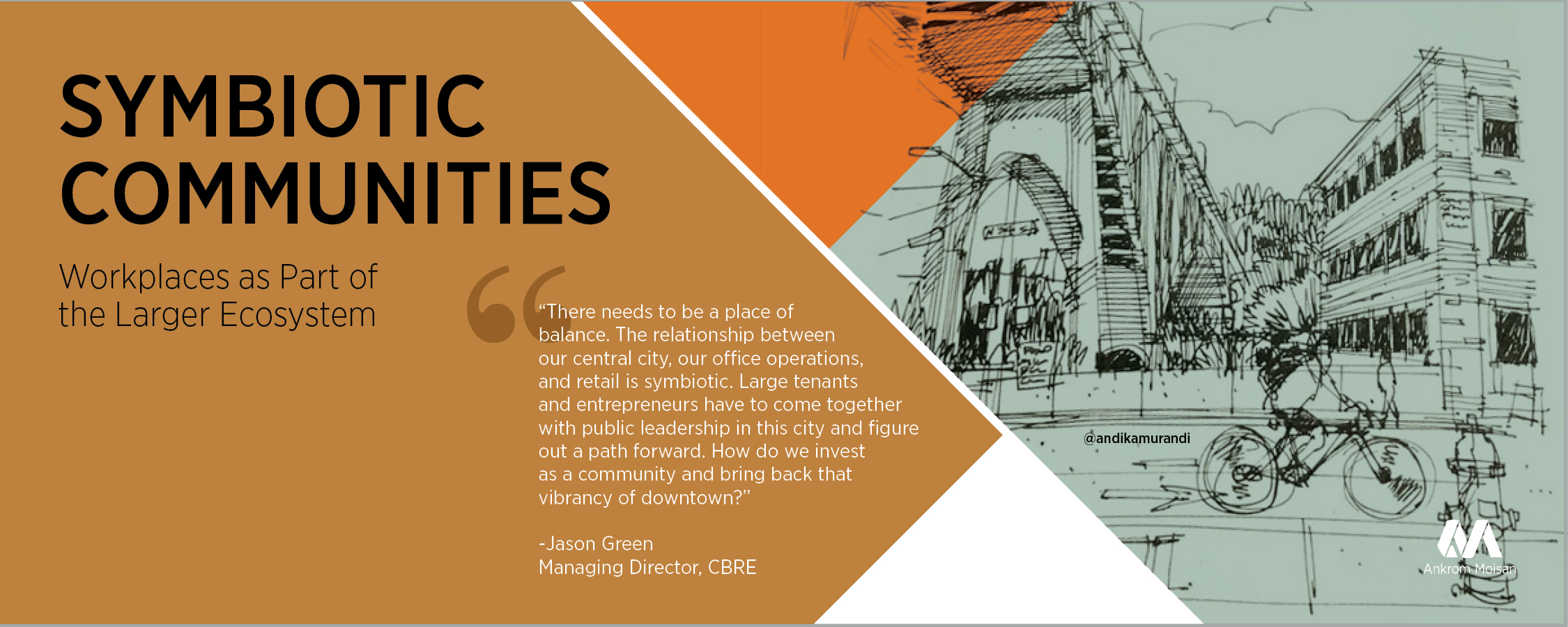 Resilient communities are predicated on a collaborative relationship between businesses, workers, retail, and civic groups. Now, as workers slowly trickle back to the office, we must use this opportunity to re-imagine a more collaborative relationship between workers, businesses, and government within the blocks, cities, and districts in which they call home. Workplaces and their surrounding communities need to be agile, resilient, and inclusive in order to thrive in the future. To get there, employers and community leaders must recognize the interdependence of workplaces and their communities. As workplace designers, we strengthen communities when our design solutions are informed by the symbiotic relationship between workplaces, retail, services, and housing.    
So, what are we doing today to address this? We are actively engaged with our workplace clients to elevate the discussion around their, as well as our own, engagement with the surrounding community. Public-private partnerships, together with design solutions that promote inclusivity, can enhance the quality of life, improve safety, and create equitable opportunities that are critical in building resilient communities.
FILTER
SEARCH
This search form (with id 2) does not exist!
Civic Pride
June 28, 2021
Connecting to the Community Outside Your Building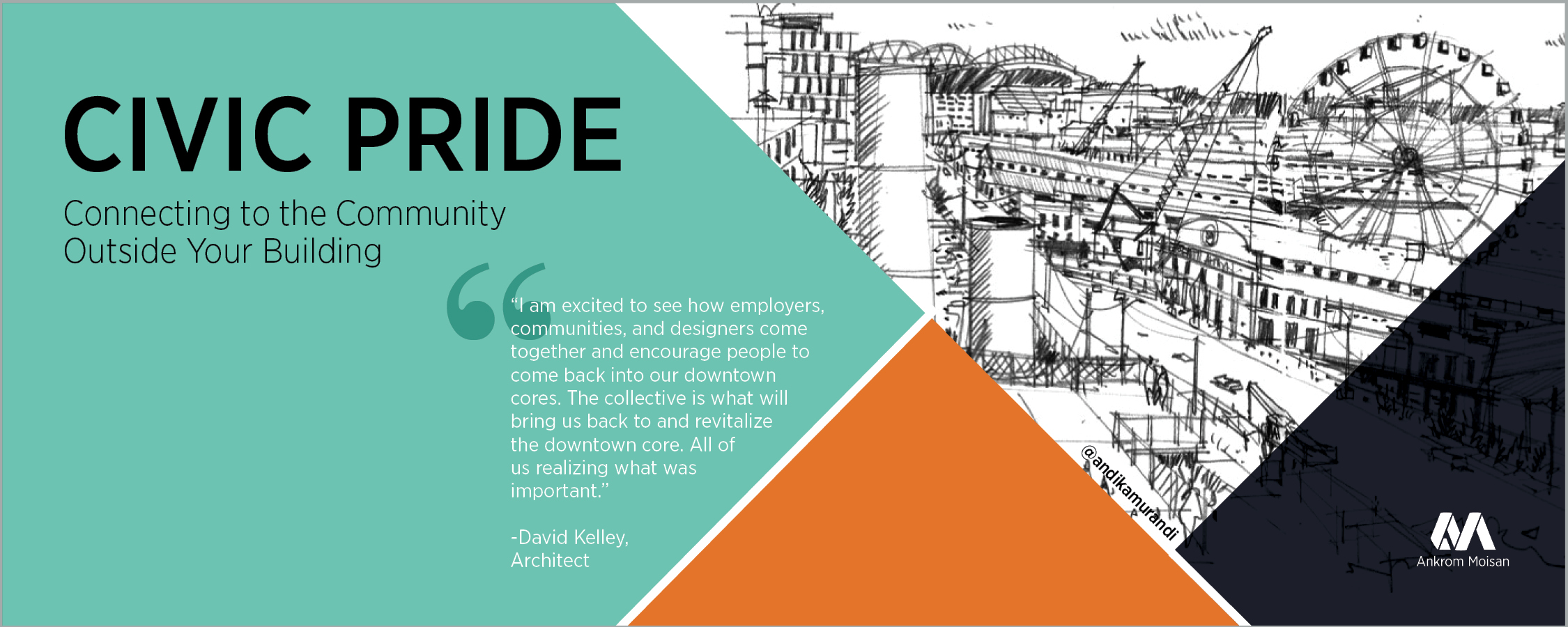 What is the responsibility of an organization or building owner toward the larger community in which they inhabit? Studies show that the long-term implications of the work-from-home trend could have an unintended adverse impact on downtown business districts, commercial real estate, and local businesses. The situation demands new and innovative thinking to ensure our cities remain vibrant.
We believe that in order to rebuild and restore connection and engagement between workplaces and the surrounding community, employers and community leaders need to form partnerships rooted in shared values and civic pride. Workplaces can play a critical role in the vibrancy of our communities and must rise to the challenge of being a strategic partner with local jurisdictions and community organizations.
What is the role of design in all of this? The answer lies in connectivity. Our design solutions encourage connection between the building and the surrounding neighborhood. For example, active and engaging ground floors that provide space for community programming, wellness services, or experiential retail environments serve as vibrant and vital assets that benefit the broader community. By engaging multiple and diverse stakeholders, including the local community as co-creators in their design solutions, designers and their clients play a major role in the revitalization of urban centers.
To learn more about how you can get involved and flex your civic pride, check out the advocacy work of the Downtown Portland Clean and Safe, the Seattle Downtown Business Association, and the Downtown Los Angeles Business Improvement Districts.
FILTER
SEARCH
This search form (with id 2) does not exist!
What's Next for the Workplace?
June 25, 2021
Reviving Businesses Post-Pandemic
What will it take to revive central business districts across the US? What role will your workplace play in this recovery?  What makes a community resilient, balanced, and livable and what role do workplaces play in this equation? What would it look like if your office was more integrated into the community?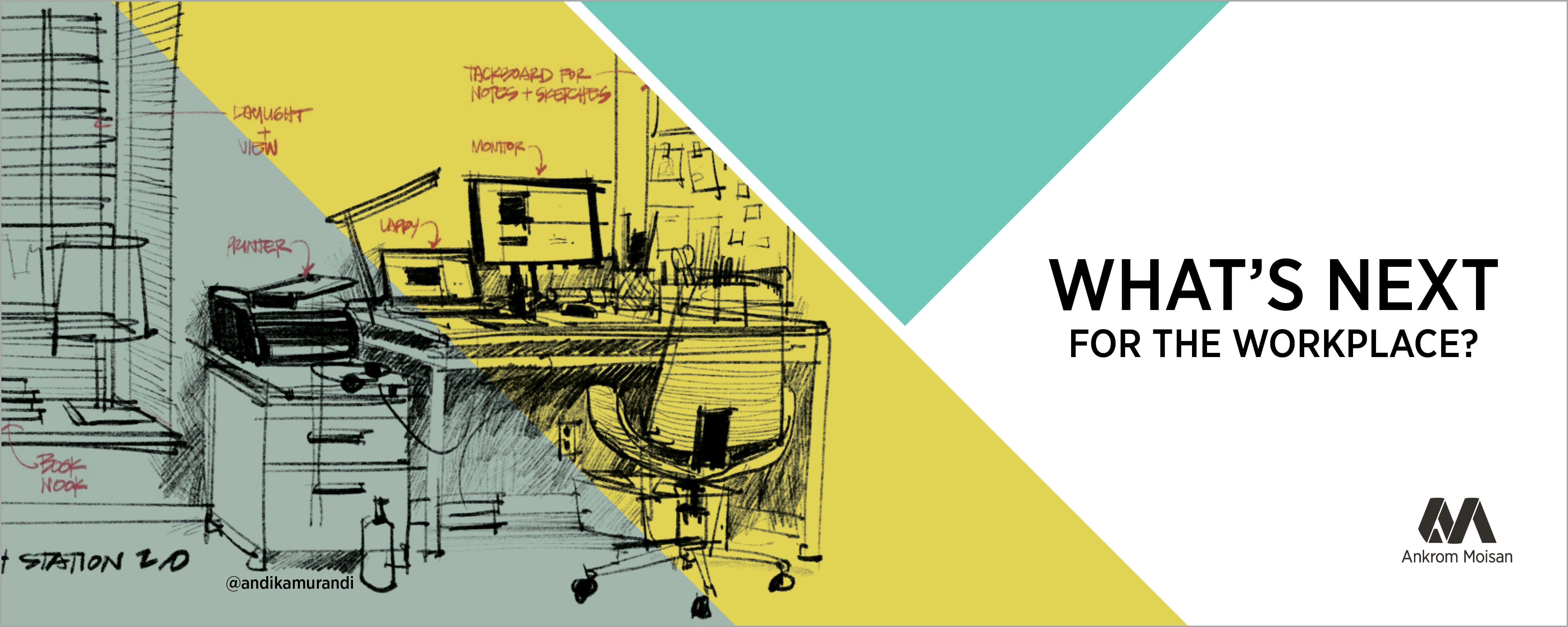 As the pandemic loosens its grip and businesses prepare to return to the office, we believe there is an opportunity for workplaces to imagine a better future and play a larger role in reviving and restoring our communities. We surveyed industry partners, urban planners, end users, and market experts to get their take on the trends and opportunities they see for a revitalized urban core.
Based on our research, the notions of civic pride, symbiotic communities, and human centered design are fundamental to re-imaging the relationship between workplaces and their surrounding communities. Over the next few days, we will explore each of these principles and unpack what they mean for workplace design.
FILTER
SEARCH
This search form (with id 2) does not exist!