August 26, 2022
High-Tech Accessibility for the Win
It is undeniable that housing insecurity affects millions across the United States. Rents are up and homelessness is on the rise. There are many factors that lead to these crises, including high housing costs relative to income, poor housing quality, unstable neighborhoods, or even health concerns and peripheral medical challenges and costs. Add to that the encompassing environmental impacts of climate change and a driving need to design and build more sustainably; we are faced with the need to take a more holistic approach to housing and accessibility to address our growing concern for the wellbeing of our communities.
We partnered with Albertina Kerr, an organization dedicated to supporting people experiencing intellectual and developmental disabilities (I/DD), mental health challenges, and other social barriers, to design the largest affordable and accessible housing project in the PNW. This joint project became one of the largest Zero Energy affordable housing projects in the U.S.
This four-story, 150-unit complex features 30 accessible units designed to provide adults with intellectual and/or developmental disabilities, earning 30% or less than the average median income, a place to live independently. Three units are available to families needing temporary housing and the remaining units are reserved for low wage direct service providers. This project showcases innovative technologies and design features readily available today to achieve better health outcomes for residents, minimal overall carbon emissions, and significant savings on energy bills. Energy-efficient features include a 660 KWh PV Array that will produce 727 MW-hours of electricity annually, enough renewable energy to fully operate the building with no utility cost to residents.
Albertina Kerr's in-house staff were consulted to help inform the direction of features that are most useful to the residents. Smart-home integrations enhance safety and useability, and pull-out cook tops and mechanized upper cabinets help residents manage daily tasks. Thoughtfully integrated accessibility features include room darkening shades, RGB controllable lighting for chromatherapy mood management, and acoustically enhanced wall, floor, and ceiling construction that gives residents control of their space to prevent overstimulation.
Wynne Watts Commons is a huge step forward for sustainable and inclusive quality housing for some of the most vulnerable in our community.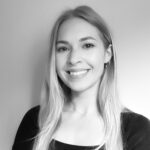 by Mackenzie Gilstrap, Sr. Marketing Coordinator