June 7, 2022
Opportunities for Collaboration
In pursuit of the best solutions, we create opportunities for collaboration.
After all this time meeting and sharing ideas through screens, we are thrilled to be able to collaborate in-person again.
Designers from our Portland office got together recently for a charrette at the pin-up wall—sharing design concept ideas for our on boards project, Fairfield Burnside. Through discussion of neighborhood context and influences, the team began generating a diverse scheme of building concepts for this upcoming 8-story mixed-use development.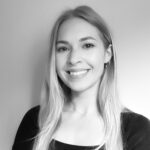 by Mackenzie Gilstrap, Sr. Marketing Coordinator