August 24, 2022
Empowering Others
Empathetic, balanced, and calm—three words you'll hear from Jennifer Sobieraj Sanin's team if you ask them to describe her leadership style.
This month we're excited to be spotlighting Jen, an architect and Managing Design Principal in our Seattle office. In her eleven years with AM, Jen has come to stand out as a female role model in architecture due to her unwavering advocacy for her teams, and for women in particular.
Jen approaches her leadership position with the intention to empower others. She creates an environment conducive to growth by "letting others get creative and do their best work," as one of her colleagues has noted, "while at the same time staying engaged and providing feedback that guides the project in the right direction and helps you grow as a designer."
We asked Jen to share her advice for emerging professionals in the industry. Here's what she told us:
1. Be an advocate for yourself. Don't be afraid to voice your opinions and ask for opportunities.
2. Find your mentor—someone who will offer guidance and stand up for you when you need it. Check in with them regularly.
3. Don't change yourself to fit into a higher-level role. There is room for you to become a leader while doing what you love and are good at. A great leadership role will be flexible enough to match your skills and passions.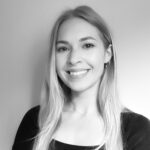 by Mackenzie Gilstrap, Sr. Marketing Coordinator