June 22, 2022
Conveying the Nuances of Design
Our incredible in-house visualization team is testing out some VR upgrades! Virtual reality has proven to be a valuable design tool for our teams so we're expanding our capabilities with new equipment. Soon, we'll have upgraded VR stations in each of our three offices.
So, how do we use VR?
VR allows our designers to get a true sense for the scale and feel of a space as they are designing it—adding efficiency and improving end results. For instance, virtually walking through a unit during the programming stage helps inform early layout and square footage decisions so that costly last-minute changes can be avoided and the resulting unit design will better meet pricing expectations.
It also helps our interior designers to visualize details previously left to the imagination such as how flooring patterns would look repeated on large scales or how the placement of a lighting fixture might affect the overall feel of a space. Getting these small details right leads to a more cohesive and intentional end-product.
By providing our clients the opportunity to experience different design variations within their projects, we can aid their decision-making processes. While designing Olympic Tower, a luxury senior-living high-rise in Seattle, we gave our client, Transforming Age, the opportunity to tour the building two years before the project even broke ground. After using VR to experience the tower's premier amenity, a performance hall, the client realized the scale was not what they had imagined. As a result, we increased the ceiling height, changed the dimensions of the stage and adjusted the lighting. VR helped convey the nuances of the design so the client could make informed decisions on where to allocate resources, and they didn't have to experience any surprises during construction.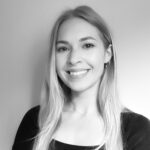 by Mackenzie Gilstrap, Sr. Marketing Coordinator