October 12, 2021
The Green Room Lounge at the Fox Tower
A trend our workplace team has been observing lately: landlords are considering their tenants more like customers and creating spaces as a lifestyle brand to attract and retain tenants in their buildings. In response to this trend, TMT Development contracted with our team to turn an irregularly shaped, difficult-to-lease suite on the 25th floor of the Fox Tower into a communal space where employees can meet, socialize or relax throughout the day/ after work.
We presented three design concepts to TMT, and they ultimately chose the "Staycation" scheme, which would bring a vibrant, fun environment to a generally overcast and earth-toned city view. Pulling inspiration from colors and textures from travels around the country and the world, I wanted the lounge to feel like you just stumbled into a lively, hidden gem of an outdoor bar in a historic area of town; a secret only the locals know about.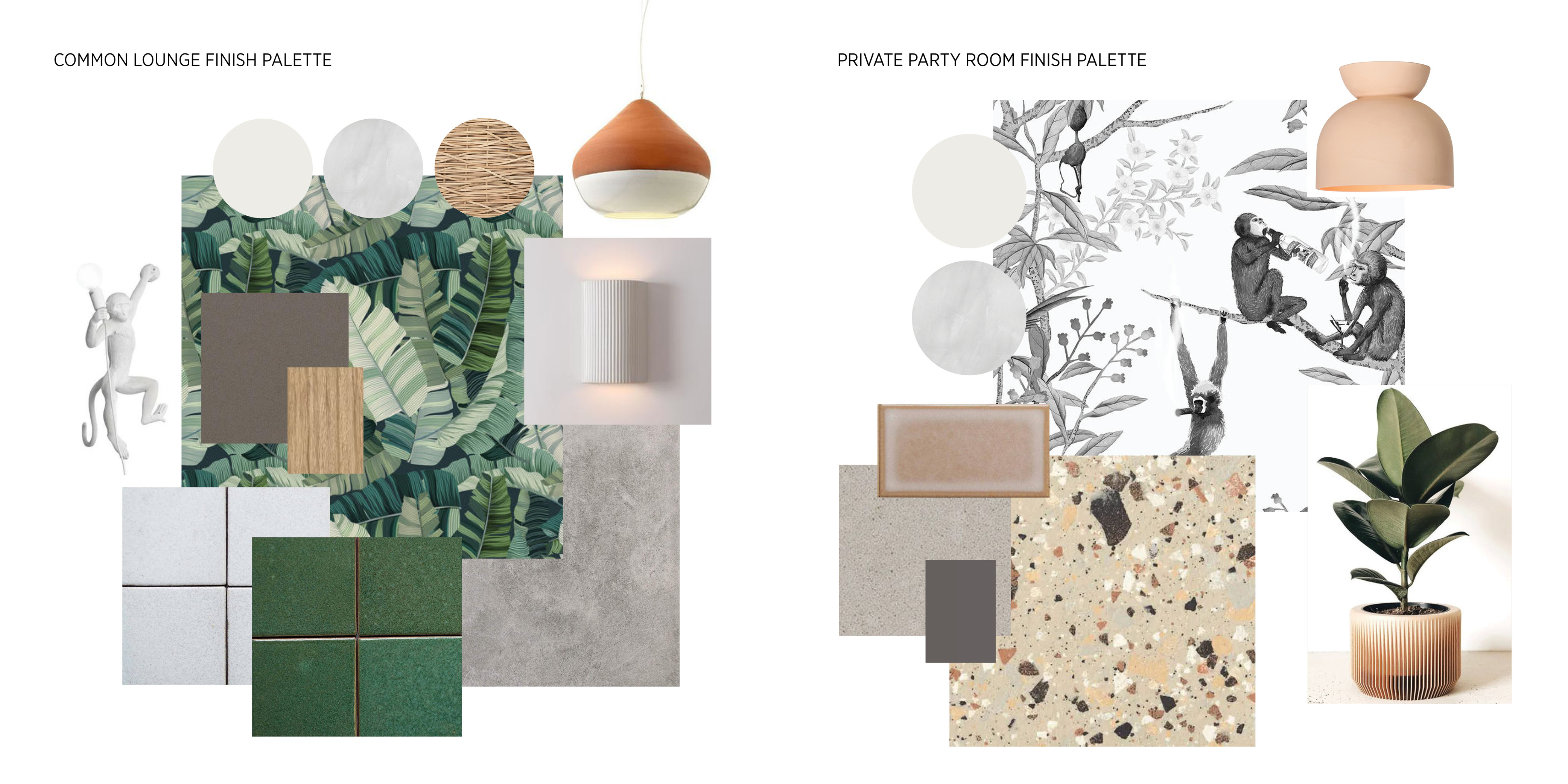 Materials are everything. They create mood, texture, ambiance, curiosity, and comfort. To achieve the "Staycation" look and feel, I specified Portola limewash paint to create a washed, rough texture on the walls, giving the effect of aged concrete walls. The terracotta light fixtures bring warmth through the natural clay material, while the sconces and surface mounted, handmade ceramic fixtures by local lighting company Cedar & Moss, add a touch of artistry and craft. In one of the early schematic mood boards, we included an image of a monkey light fixture; the client fell in love. We sourced the same fixture to add whimsy, humor and an element of discovery to the bar area. It hangs above the shuffleboard, camouflaged into the leafy wallpaper, a reward for those who pay close attention to their surroundings.
The mischievous monkey thread continues into the Private Party Room. From afar, the Astek wallpaper used in this room, meant for private gatherings and celebrations, looks sophisticated and simple. As you step closer, you realize your party is crashed by a bunch of wildly playful monkeys, again rewarding those who pay close attention to details! In contrast to the lush greens in the main lounge space, this room leans into warm tones with beautiful terrazzo floor tiles, and large bright planters.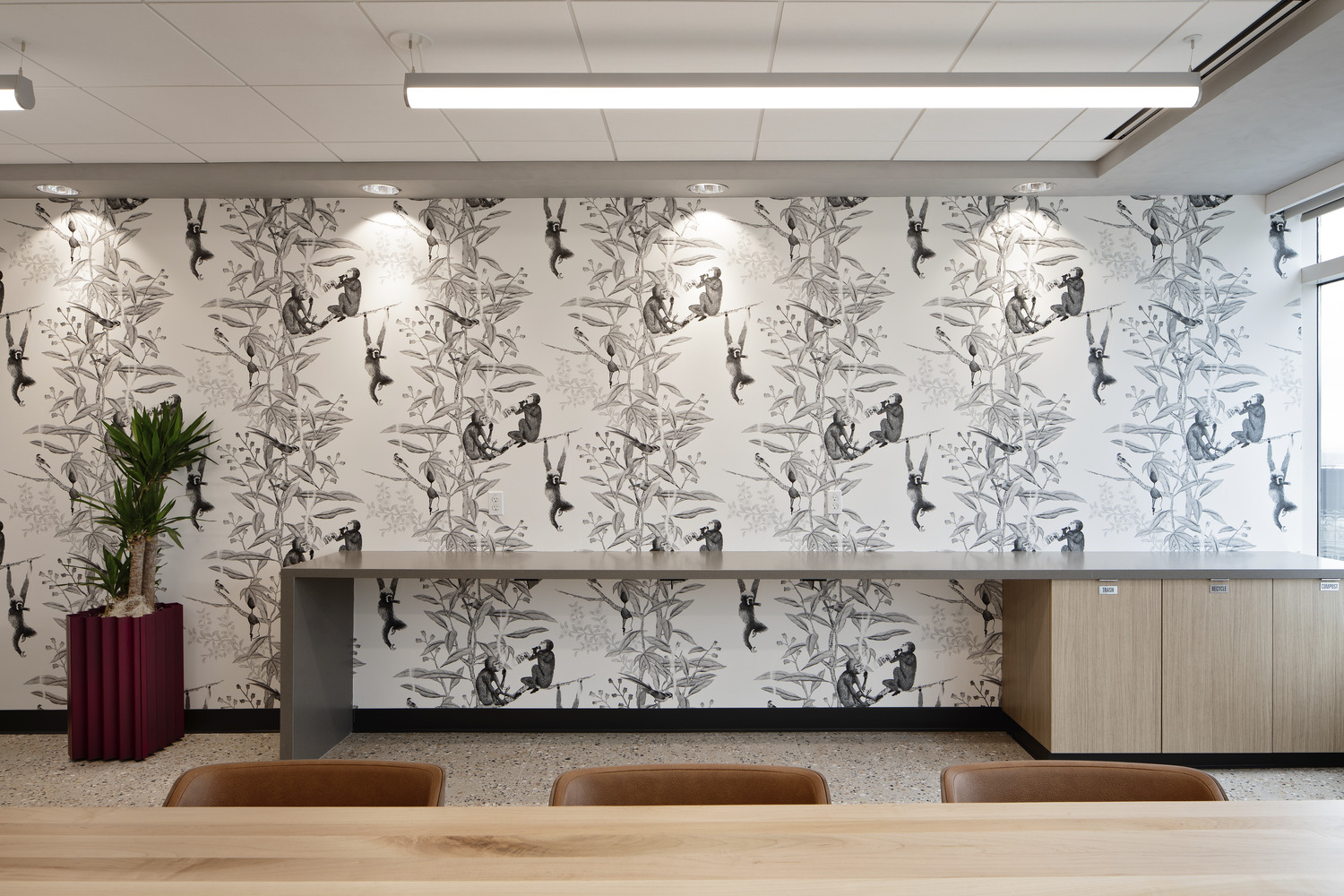 Located on the 25th floor, this suite has beautiful, vast views of downtown Portland and the forested hills beyond. The irregular shape of the suite lent itself to opportunities for a variety of seating types, including both social and more private areas. I knew I wanted the lounge to feel open yet "zoned" for different activities, so my original intent was to use modern breezeblocks to create a partially open partition to bring the natural light further into the main bar area and delineate between the main bar and the dining area. Because of cost constraints and limited installers that were willing to install the breezeblocks, we came up with an alternate, less expensive solution: a rope wall. Using simple brass rope attachments, manila rope, and an opening framed with walnut wood, this wall visually connects the two spaces and adds more textural material and character to the lounge.
The furniture and fixture selection was critical to the design concept: rope, leather, wood, and color were materials and elements I looked for. Bent-wood chairs hang from rope, swinging gently in front of the nearly full-height windows. Dark walnut chairs pleasantly contrast against white oak tables. Woven leather lounge chairs, solid wooden log side tables, and green powder-coated chair legs are placed throughout. And lastly, a bright yellow Smeg refrigerator in the main bar attracts your wandering eye, a piece of functional art. The result of these elements working together is a lounge that lifts your spirits as soon as you step foot inside. ✨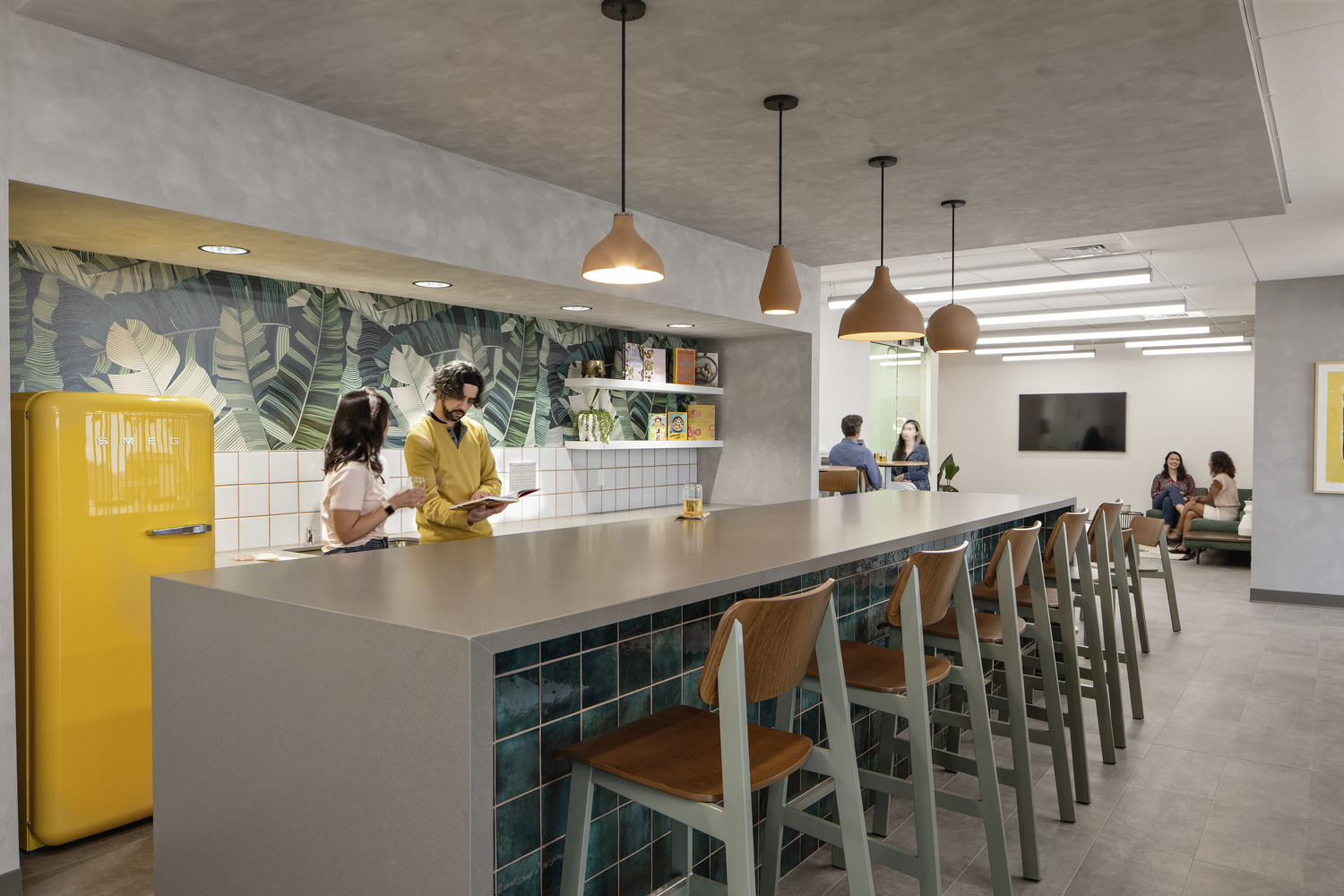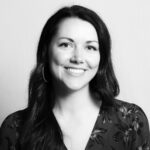 Maddy Gorman is a certified Interior Designer specializing in Workplace design, based in our Portland office since 2015. In her free time, she enjoys elements of discovery whether that is in nature, finding new delicious food combinations, uncovering patterns and stories through Tarot, exploring inward while lying still in a float tank, or traveling the world.