July 13, 2022
Hitting the Right Notes
Ankrom Moisan Managing Principal Ryan Miyahira recently hosted AM's second annual Pickathon, a video showcase of the firm's many talented musicians.
We chatted with Ryan, who is a talented musician himself, to hear more about the inspiration behind AM Pickathon, an event he not only hosts but also created and produces.
Q. What's your musical background and how did Pickathon come about?
A. I've been playing music since I was a kid. I had a band in high school and another in college, playing mostly 80s indie music. After college, my wife, Lara, and I started a band called the Hip Replacements. We cover old r&b and soul music. We've performed at several Ankrom Moisan Christmas parties and still play the occasional bar gig.
One of my favorite things to do is to go see live music. During the pandemic, we watched a lot of streaming concerts and I thought it would be fun to do an Ankrom version. I've had the chance to play music with other AM employees so I knew that we had a lot of musical talent in the firm. I wanted to show off those hidden talents in a fun way.
Q. How long have you been with AM and what has motivated you to stay?
A. I've been with AM for 22 years. Back in 2000 when I was looking for a job, the most important thing to me was to find the coolest group of people. I was looking for creative, hardworking, and fun people that wanted to do their best, but were also easygoing enough to have a good time while doing it. That's how I landed at AM. I've noticed that it seems to perpetuate itself—a group of good people is like a magnet that attracts more good people. That's what has motivated me to stay for so long.
I also appreciate that it's been a very supportive and fun environment where you can make your own way. There's so much room for passion and exploration at AM. If you have an idea, like hosting a Pickathon, and the drive to do it then the firm will support it.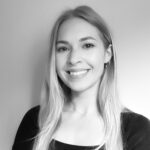 by Mackenzie Gilstrap, Sr. Marketing Coordinator