June 16, 2022
Exploration Leading to Success
Lori Kellow, Ankrom Moisan's longest standing employee, has been with the firm since 1985. After a nearly 37-year tenure, Lori has a uniquely broad perspective on the architecture industry and Ankrom Moisan's place within it. We recently sat down with Lori to hear her insights. Lori touches on what the industry was like for women in the '80s and how technology has changed the design process.
Q. What is the biggest industry change you've seen since you started working at AM?
A. Technology, absolutely. In just the past few decades the standard design process has shifted from primarily utilizing manual tools, such as hand-drafting equipment, to being almost entirely computer-based. To research and draw using technology is so powerful. I remember when we had to visit the library and flip through physical binders, the Sweet catalogues, to find products to specify. Now all this information is right at our fingertips and efficiency has just soared because of it.
Q. What has motivated you to work at AM for 37 years?
A. In the mid-80s it was still very difficult for women, especially in architecture, to get a seat at the table. At Ankrom Moisan it was different, leadership showed me from day one that my opinions and ideas were valued. I've always been treated with respect and paid commensurate to my skills.
It was within 3 years at the firm, in 1988, that I was promoted to Principal, becoming the first woman in a leadership role. In the many years since, I have not lost that feeling of being valued and the sense of opportunity. I believe that if you have passion and drive, there are not many roadblocks to growth and success at Ankrom Moisan.
Q. What is your advice for professionals beginning their careers in the architecture and design industry?
A. Explore. I am a firm believer that you must try as much as you possibly can in order to find your passion. I spent years working on diverse project types and taking on varying roles. Eventually I discovered my passion for social service healthcare projects. I find a great deal of fulfillment in creating places that help people heal. Through exploration, I've also realized I am especially adept at big-picture thinking and I prefer to do schematic design work. I'm fortunate enough to work with a firm that has allowed me the freedom to explore and provided the opportunity to tailor my role to match my strengths and passions.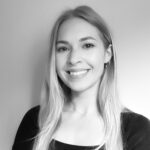 by Mackenzie Gilstrap, Sr. Marketing Coordinator