August 15, 2022
Activating Public Art and Springtime Through Renovation
For our first mass-timber curtain wall in Portland's Moda Tower, our goal was to design a canvas that activates the new public art at its heart. Effectively renovating a lobby for public art means more than just designing a white gallery box. The renovated lobby space requires a design that both elevates the artwork and functions for practicalities like circulation, lighting and climate, and code.
Before, Moda Tower's lobby was like many others: small, dark, and relatively constricted. After decommissioning the long-standing previous artwork, we enlarged the lobby and its windows, and replaced the dark, dated floor with bright, crisp materials. The new 30 ft mass timber curtain wall is punctuated by wood-accented and fresh white walls. Warmth and light now invite visitors entering the lobby.
More than just a neutral background, the renovated Moda Tower lobby and our mass timber curtain wall are integral parts of the featured artwork, "Canopy" by Portland-based artist Joe Thurston. Coordinating with our client Unico Properties and Thurston, our team created a lobby redesign that captures the artist's idea of a springlike forest canopy – the feeling of trees reaching toward each other against the sky.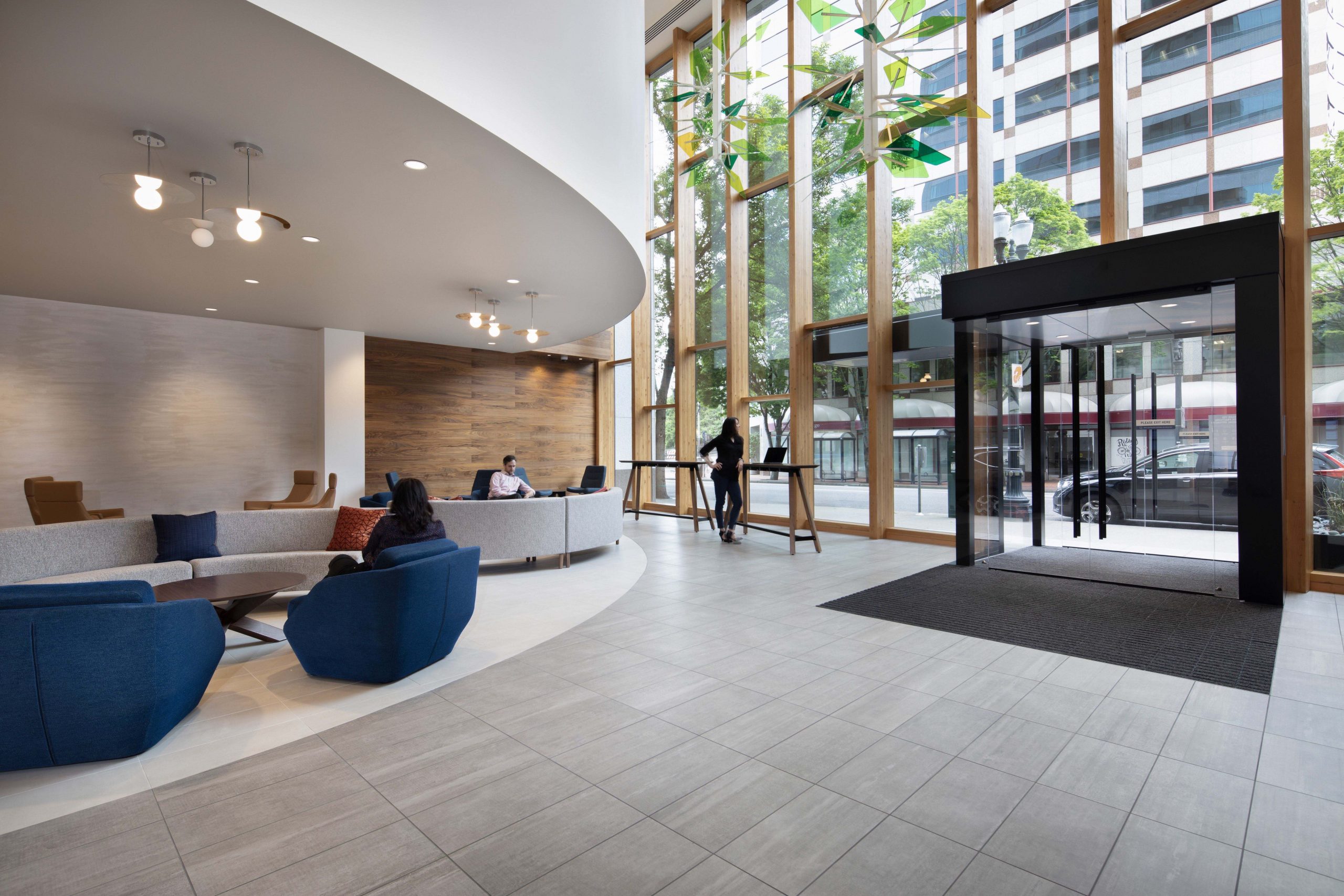 We want visitors to look up as they enter. The glass leaves of Thurston's tree-inspired artwork hang from the lobby's ceiling 30 feet up, spotlighted by our expansive, not-quite-neutral gallery space. Outside, passersby are treated to a bright, vibrant extension of Portland's forests. Using mass timber and other wood accents brings a unique natural beauty and warmth that flows through the space. Within the lobby, people should pause, even momentarily, to look up and find something unexpected.