April 22, 2022
Materials That Make an Impact
Our Workplace Design Team is highlighting our integration of salvaged products and materials to celebrate Earth Day! We intentionally source and specify materials made with recycled content and naturally renewable resources in our projects. Beyond these materials there's an abundant opportunity for reusing products that have already been manufactured, this keeps new items out of the landfill and is less energy-intensive than reforming old into new.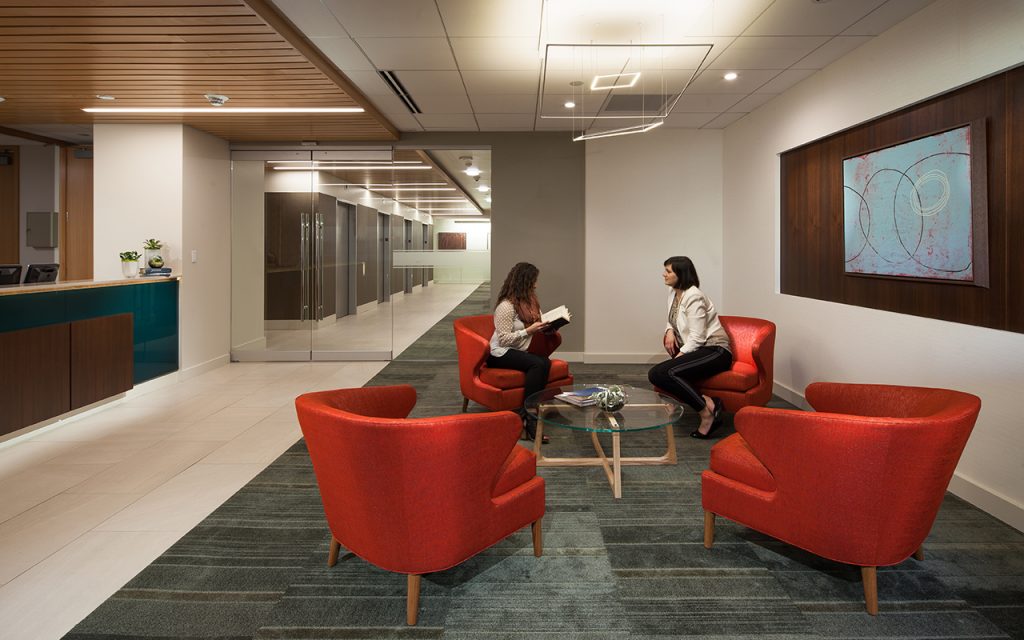 Salvaged goods are not always an obvious choice. A client, in financial services, was consolidating their office space in Seattle, which meant they had a lot of surplus furniture in great condition. The design team took inventory of the existing furniture and strategically incorporated over 140 pieces of furniture throughout multiple floors of the office space. This included conference chairs, task chairs, lounge furniture, and break room furniture. All of the unused furniture was donated to Green Standards to be resold or recycled. This project achieved its LEED certification in 2019!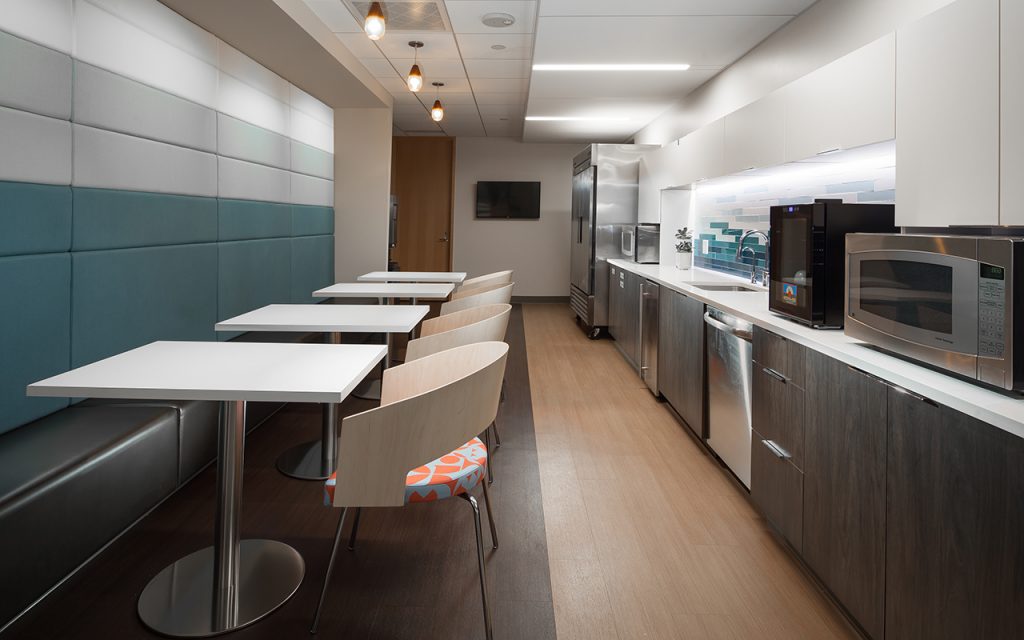 Incorporating salvaged or unconventional materials in tenant improvement projects with fast schedules and tight budgets is the challenge we are looking for! For a project with Los Angeles Sanitation, we brought the concept of recycling into the design. Our designer researched recycled materials and discovered an artist who uses metal cans to create artwork. To exhibit this artwork, the designer, in collaboration with a casework fabricator, created a decorative panel to be installed into the face of the reception desk. A quote from the artist was included in the bid documents to make pricing by the contractor a breeze. Thoughtful planning and smart design allowed us to seamlessly incorporate a design element that reflected the client's values. This was a success for all.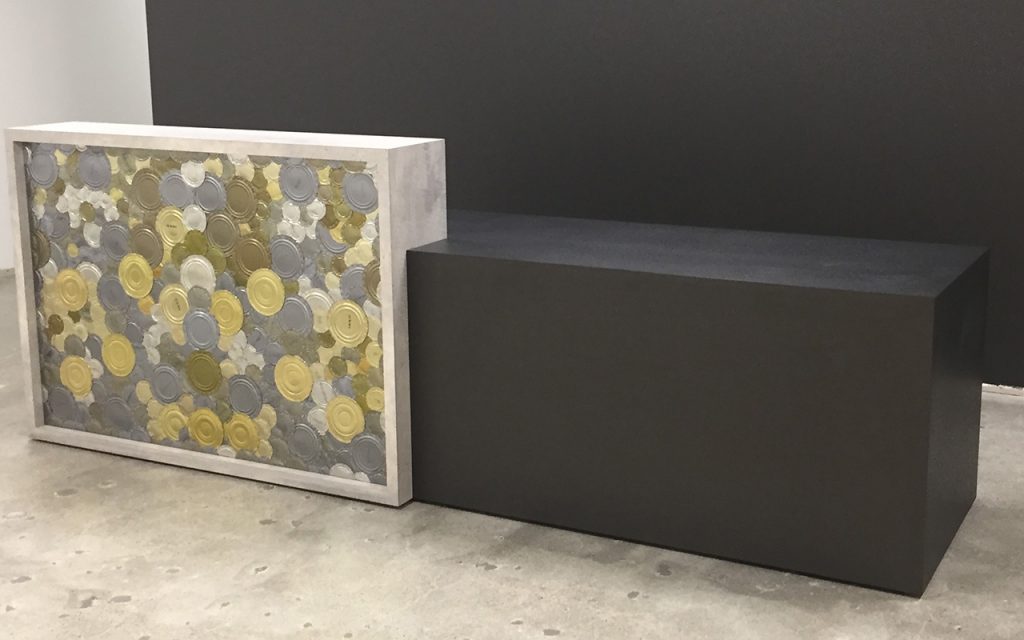 At 38 Davis, our firm's office in Portland, we concepted our design to reflect our values. Sustainability and environmental stewardship are at our core. This is demonstrated by incorporating salvaged wood, from Pioneer Millworks. The salvaged wood material was applied in multiple locations – from ceiling clouds and wall cladding in the conference rooms to rolling benches and booth seating backs in our entry area. The selected wood contrasts the mass-timber construction, while maintaining the warmth and texture only wood can bring. The final project achieved LEED v4 Gold.
Designing for Inclusivity
January 20, 2022
Propelling Culture Forward
Designing for inclusivity is something that is always on interior designers' radar.  ADA regulations instituted in 1990 blossomed into the concept of universal design: the creation of environments that, despite differences in age, size, and ability level, are safe for all users, can meet their needs, and support their health and well-being. However, the pandemic experience, the current political and social climate and the new need for virtual connectivity have challenged interior designers to push beyond implementing basic strategies to create inclusive environments.
What are some of the characteristics of inclusive environments?  How can interior designers and their clients pivot to prioritize inclusivity?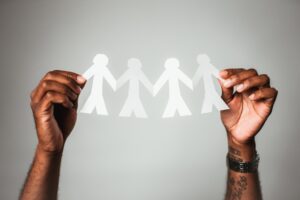 Inclusive environments recognize that not all people experience space in the same manner.  People want to feel supported and represented by the spaces they inhabit.  The visual narratives that space creates for one person may trigger very different feelings within another.  How do the colors, textures and light level affect one's experience of a space?  A conversational design process that discusses how elements within an environment land for the user helps to create relevant (and desired) environmental experiences.
Inclusive environments recognize that different people need different things in order to perform their best.  And, that these things may change over the course of a day or may depend upon one's mental state or the tasks at hand. Spaces that offer the user choices are key to managing these nuances.  Some points to consider are: what posture might one want to have while in this space or performing their task(s)?  Will they want activity to surround them or will they prefer more solitude?  Do they want to see activity nearby or should visual distractions be minimized?  What level of acoustic privacy is desired?  These questions illustrate that not "one size fits all" and that inclusivity is prepared to provide options for users.
Inclusive environments enable everyone to participate equally, confidently and independently.  People can move through and use the space intuitively – or, the information needed is provided and is easy to understand and implement.  Wall graphics, signage, artwork, the integration of technology are considered.  Also, not all accessibility concerns are centered around a permanent condition – our needs may change over the course of a lifetime or in different situations: we might experience limited mobility if using crutches, navigating a stroller or carrying bulky luggage.  Empathy for the user helps interior designers consider as many variables as possible.  This allows for intellectual and emotional access to a space and invites users to feel relevant and engaged.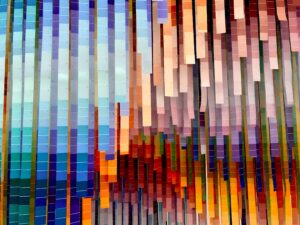 Designing for inclusivity is important because it propels our culture forward. Inclusive environments and the experiences users have within them tell them their opinion and perspective matters.  It allows them to be present and to bring their skills and knowledge into the conversation and hopefully, enriches everyone.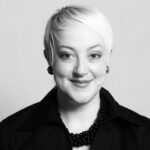 By Laura Serecin, Interior Designer
AM Design Week 2020
September 23, 2020
In Conjunction with Seattle Design Festival: About Time
For Seattle Design Festival's 10th anniversary in August, 2020, our Portland, Seattle, and San Francisco offices celebrated Design Week virtually. Over five days, we explored what drew us to design, the realties of this present time, and the many ways our neighborhoods and cities are changing. We shared over 400 photos, 500 posts, and 1,829 emojis. At time when connecting with people isn't easy, Design Week gave us a chance to see the world through each other's eyes.
Here's a tiny sample of what we shared.