December 1, 2023
with Minimal Impacts to Buildings
Background
At Ankrom Moisan, we work hard to ensure an equal experience for all users of the spaces we design. We explore how to push beyond the expected with accessibility features on projects like Wynne Watts Commons, and we welcome updated codes and standards to address the needs of our community. As the 2021 Building Code takes effect in each jurisdiction, the embedded 2017 A117.1 Standard for Accessible and Usable Buildings and Facilities also takes effect.  The new 2017 A117.1 provides significant updates to accessibility clearances based on a study of wheelchair users.  The A117.1 is developed by the International Code Council (same authors as the International Building Code). Their challenge is to find the best design criteria for a wide range of abilities, from wheelchair users to standing persons with back problems to persons with low vision or hearing challenges.  Ankrom Moisan has participated in their process as an "interested party" in one issue, kitchen outlets, and can attest to the countless hours that go into just one requirement.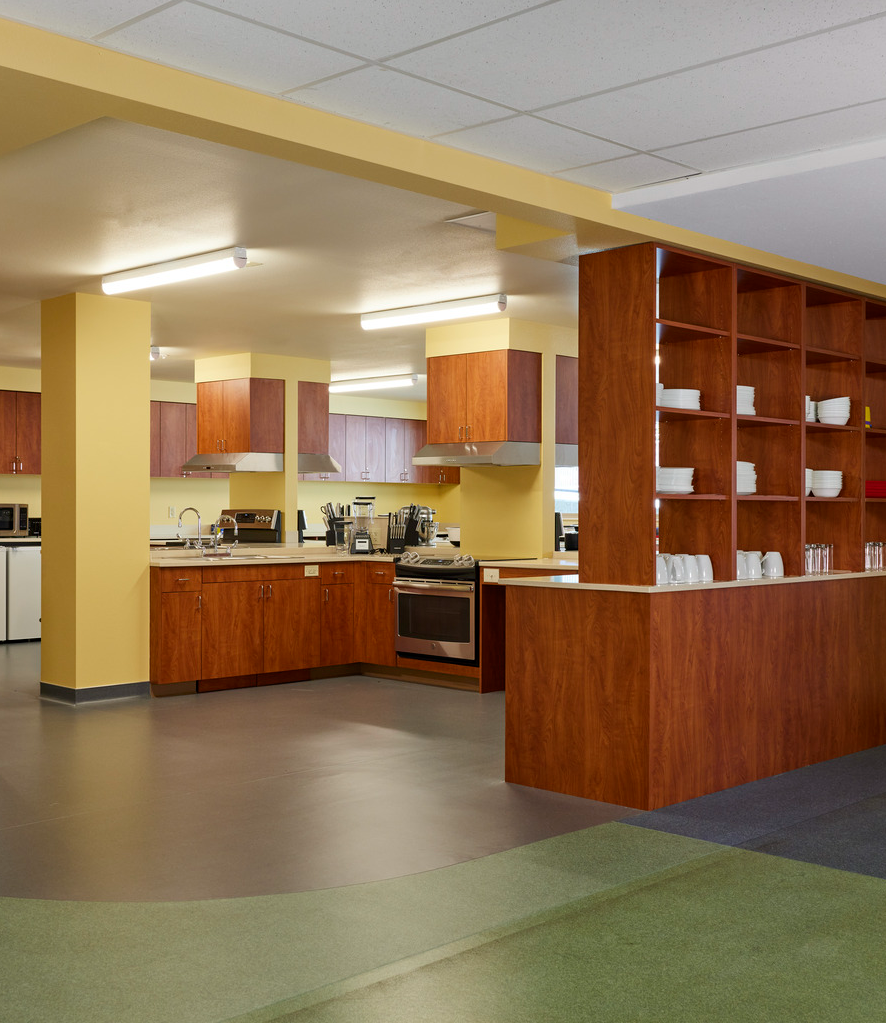 At the Ronald McDonald House expansion we wanted to make all families staying for short or long stays be able to use all the amenities, including the common kitchens.
Changes
Overall impacts to projects by this change are modest, resulting in a few rooms being enlarged by a few inches. While the changes are minimal to buildings, they provide much higher levels of accessibility for impacted users.  The most impactful updates are changes to the following requirements:
In most cases, clear floor spaces grow from 30-inch by 48-inch to 30-inch by 52-inch.
The turning circle that was a 60-inch "wedding cake" with knee and toe clearance all around is now a 67-inch cylinder with minimal knee and toe clearance.
When looking at a typical privately funded apartment building, the changes are minimal as long as they are understood at the start of the project.  There are no changes to Type B units (except new exceptions for kitchens outlets were added), and for the Type A units, the kitchen, bathroom, and walk-in closet may grow a few inches. The trash chute access room will see the biggest change, growing up to 7" in both directions. All these changes are minor when incorporated into the initial design of the building but could be very tricky late in the design process.
There are still some unknowns; If there are Accessible units in a project, they will now require windows to be fully accessible. While the height and clear floor space requirements are easy to meet, we are still searching for a window style and manufacturer that can meet the requirements that windows are operable without tight grasping and less than 5 pounds of pressure to open and lock/unlock.
Our work isn't done; kitchen outlets were simplified in the corners where a range and refrigerator protrude past the counter with this code cycle, but we must wait for the next A117.1 cycle for kitchen outlets to no longer dictate kitchen design. Ankrom Moisan submitted code changes that are now in effect in the 2022 Oregon Structural Specialty Code and submitted a proposal for the next version of A117.1 and can report that kitchen outlets will no longer drive design or require any special design or construction features in the next code cycle.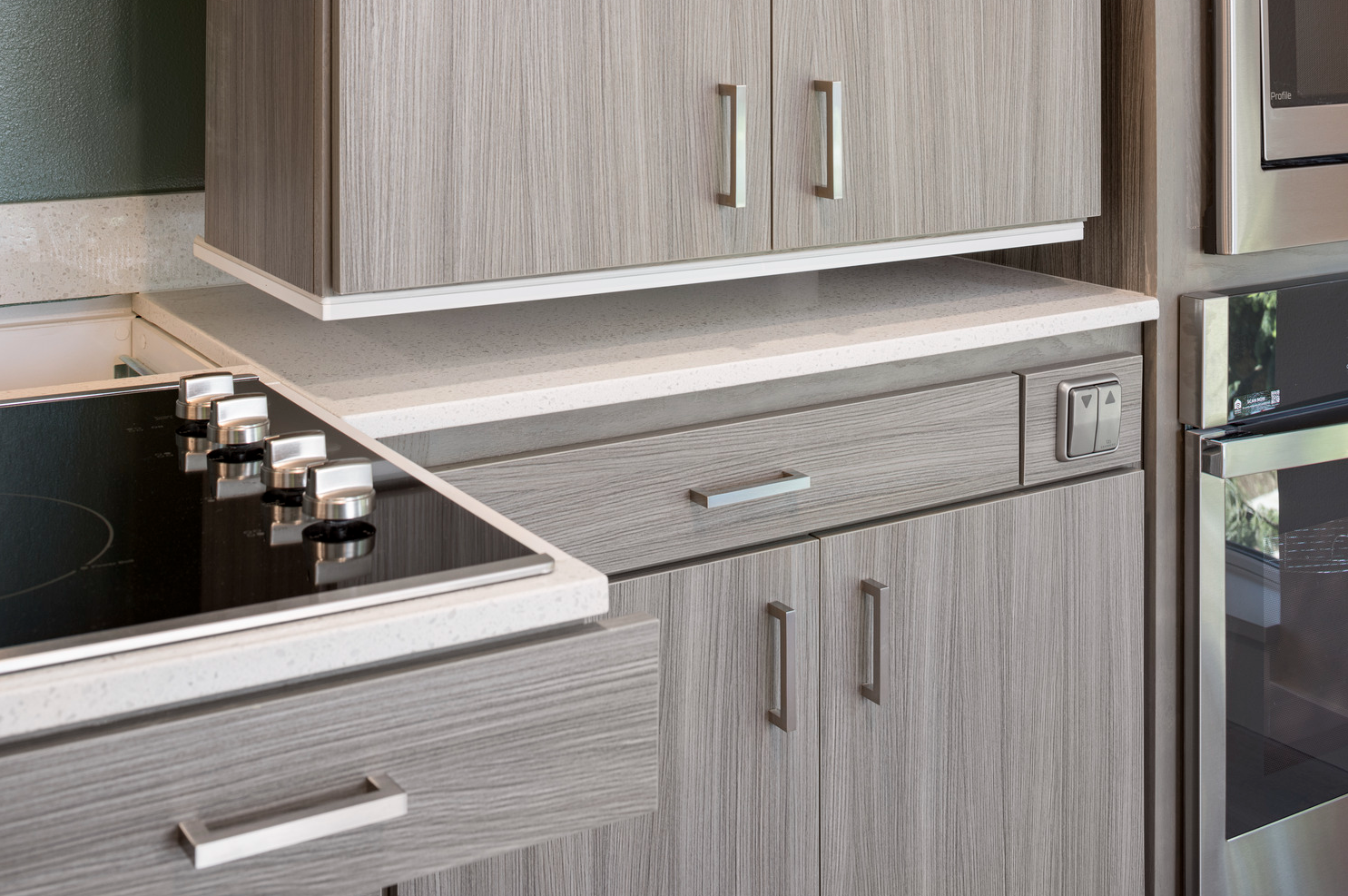 At the Wynne Watts Commons the team provided universal design residential units that included cooktops that pull out and upper cabinets lower with the controls shown in the cabinet front.
Added complexity with new code change
From a designer's perspective, the requirements of accessibility have grown exceptionally complex.  For example, under the new A117.1, there are now different size clearances for new and existing as well as Type A and Type B units, and the definition of "existing" in the A117.1 does not match the definition in the building code.  This adds to the already confusing accessibility requirements that require us to reference multiple documents for any given item (building code with unique amendments by jurisdiction, Americans with Disabilities Act, Fair Housing Act, etc.). Coupled with different interpretations from different experts and code officials it is no wonder why accessibility requirements feel a bit daunting to us and our clients.  As an example, California does not adopt the A117.1 but rather chooses to write its own Chapter 11 of the building code with its own unique scoping and technical criteria. And that is just accessibility, our Architects are juggling fire life safety, energy code, constructability, and our client's budget all while creating great places where communities thrive.
As a firm, we had a challenge to overcome; the new accessibility requirements do not apply to all our projects at the same time. Depending on where they are in the permitting process and the jurisdiction they are in, every project must determine when, and if, they are required to flip to the new code. While most of our projects will be using the new code by early 2024, many will still be under the old code for years to come. We had to develop Revit resources for our project teams that could work for both codes at the same time. Our Accessibility experts partnered with our BIM team to develop a system meeting these goals and requirements:
It had to be as simple and easy to use as possible for our project teams.
It had to be blatantly obvious, by a quick glance within Revit, what codes were being shown on any given project.
It had to provide all the options now allowed by the standards and guide teams to pick the applicable option.
Our solution to this challenge was rolled out to our project teams in September 2022 and provided over 500 updated Revit families.
Below is our graphic of the changes to the A117.1 that affect AM projects. The orange color helps all team members quickly identify the new families are being used.
We have found so many nuances in the accessibility codes that it can be hard to make generic statements.  We would love to talk to you about your specific project or topic.  Please reach out to Cara Godwin at carag@ankrommoisan.com to learn about accessibility for your project.
* Originally published October 6, 2022, updated 12/01/2023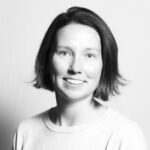 by Cara Godwin, Senior Associate
FILTER
SEARCH
This search form (with id 2) does not exist!
Ankrom Moisan's Healthcare SPAKL Team – Big Focus on Small Projects
June 6, 2023
A Conversation with Kimberleigh Grimm, Associate Principal
The SPAKL team is Ankrom Moisan's thorough and decisive resource for solving complex and challenging Healthcare project designs. Looking beyond initial or obvious facility concerns and truly partnering with clients for a better understanding of the maintenance and equipment upgrade projects are salient to their success.  
Kimberleigh Grimm, Associate Principal, discusses the scope of projects that the SPAKL team undertakes and the challenges that these types of Healthcare projects often present. Kimberleigh's excitement about and enjoyment of this topic is palpable. She is representative of the strengths and enthusiasm that the SPAKL team brings to the table.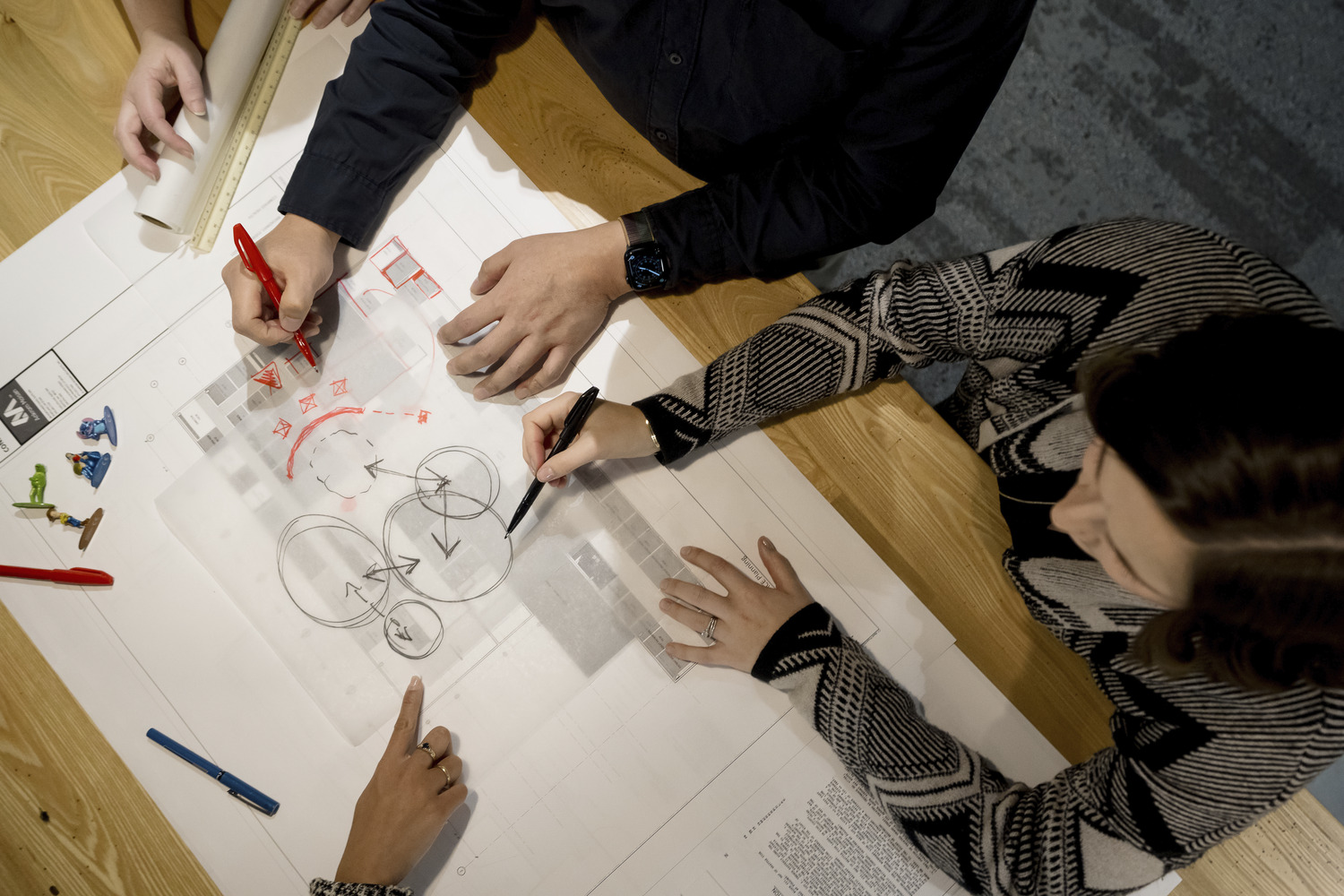 Ankrom Moisan's Healthcare SPAKL team designing together
Q: What is SPAKL? 
A: SPAKL is a subset of the Ankrom Moisan Healthcare team that focuses on specialized, problem-focused healthcare projects. It stands for Special Project Alterations Knowledge League, and it is a team that is experienced in (and committed to) maintenance projects in healthcare systems. We don't wear capes or fly faster than a speeding bullet – our super-power is the knowledge, enthusiasm, and fun that we bring to this type of project work. 
Q: How long has SPAKL been an AM Healthcare team feature? 
A: Maintenance projects have always been the core of our healthcare team's work. SPAKL emerged from internal conversations about creating a focused team with a depth of knowledge in acute healthcare renovation work that is dedicated to increased efficiency, both for us, and our clients. Each project builds on knowledge gained in previous work to enable the next to be even more successful. 
Q: How and why does AM Healthcare SPAKL approach differ from other firms' approach to similar projects? 
A: Most firms aren't truly interested in maintenance or equipment replacement projects. They accept this work to leverage the client relationship for bigger, "better" projects. Because these projects aren't really valued by most firms, they typically assign less-experienced staff that don't understand the intricacies of the projects. 
This is not AM's approach. We like what we call the "dirty jobs". We like them because we understand that they are just as important to a healthcare facility as a new build or a full clinic remodel. We developed the SPAKL team around these types of maintenance projects, and our team is highly experienced in healthcare renovations. We understand the sophistication of these projects in terms of improved patient and staff experiences, reducing construction disruptions and maintaining continuous operations, and understanding existing conditions. We also understand that these projects usually have tight fees (and tighter schedules) and leverage our knowledge and experience with each facility and jurisdiction to maximize efficiency.  
Another way we differ from other firms is that we genuinely enjoy this type of work – we love the complexity and the fact that each project is a unique experience.  
Q: What makes a SPAKL project unique to other Healthcare projects? 
A: We like to say that SPAKL projects are problem-focused, not project-focused. There is a wide variety of projects ranging from equipment replacement projects to maintenance projects to make-ready projects, but the one thing they have in common is that they are intended to address a specific facility concern.  
Unlike a typical project that is tasked with helping a facility re-imagine an aspect of their operations, we are problem solvers. Aging equipment? DOH citations? Safety or infection prevention concerns? We evaluate the existing conditions and work with the facility to come up with efficient solutions. 

Washer/disinfector installation; Sterilizer replacement
Q: What is the biggest challenge when organizing around the client's operations? 
A: Every project is unique and has its own challenges. Sometimes the challenge revolves around how to minimize disruption during construction. This can range from minimizing infrastructure shutdowns to reducing construction impacts in terms of activity and noise. For example, one project might be concerned about noise impacts to adjacent NICU patient care, while another project's main issue is minimizing the number of electrical shutdowns required over the project. The key to navigating this is to listen and ask essential questions to fully understand the facility concerns.  
Q: What does it mean to "treat them with care"? How do you do that? 
A: At AM, SPAKL projects are as significant to us as bigger, fancier projects. SPAKL projects may never generate pretty pictures or win design awards, but they are critical to the functioning of a facility. Replacing outdated equipment increases throughput, improves patient outcomes, and improves both the patient and staff experience. That is critical. 
We treat each project with the same care that we bring to the larger projects that we work on. We believe user engagement is crucial, and we work from the beginning to bring the users into the design process so that we can understand both immediate and long-term objectives and concerns. Our style differs from other firms in that we don't do presentations before the user groups, we host discussions – and we consider the Facility to be the experts in that discussion. It is an open dialog intended to lead us to the best solution. The Facility knows their patient populations, they know their current concerns and what things are working and what is not working. They know what they like and what they do not like. We listen and have an open dialogue, and that is how we get to the best solution for each project. What is right for one facility is not necessarily right for any other facility. 

Meeting discussion documentation 
Q: What are the methodologies that you've found most useful? 
A: SPAKL projects often have tight budgets, and we use a lot of tools out of the LEAN toolkit. We feel that actively involving users in the design process leads to better engagement and better outcomes. For example, rather than providing design options and asking users to pick one, we like to have tabletop exercises where the user group can propose design options of their own and then discuss them.  Which means, rather than us telling the users what we think the design solution is, the users are engaged in the design process to test their own ideas. In the end, the user group becomes the best advocate for the final design because they feel ownership of the project and feel heard throughout the process.  
We also feel that an early and deep dive into existing conditions is key to a successful project. Existing drawing documentation is great, but it is only part of the story. We want to really understand the totality of existing conditions so that we can anticipate potential problems and address them early in design. You will never hear the words, "we can figure that out in CA" from a member of the SPAKL team. Never. 

Full scale cardboard mockup; Tabletop exercise
Q: What are some memorable experiences you've had during a SPAKL project? 
A: Some of our most memorable projects are also the ones the facility might prefer that we not discuss. And client confidentiality is vital. However, the best thing about SPAKL projects is the variety of work. Every project is unique and has its own set of challenges. It's one of the things we like best about the work…every week is a new adventure.  
One week you may be working on an infant security project and a PET/CT replacement project, the next week you might be working on a central sterile renovation and a sink replacement project. Every project we work on builds a bigger picture of the facility and helps the next project be more efficient.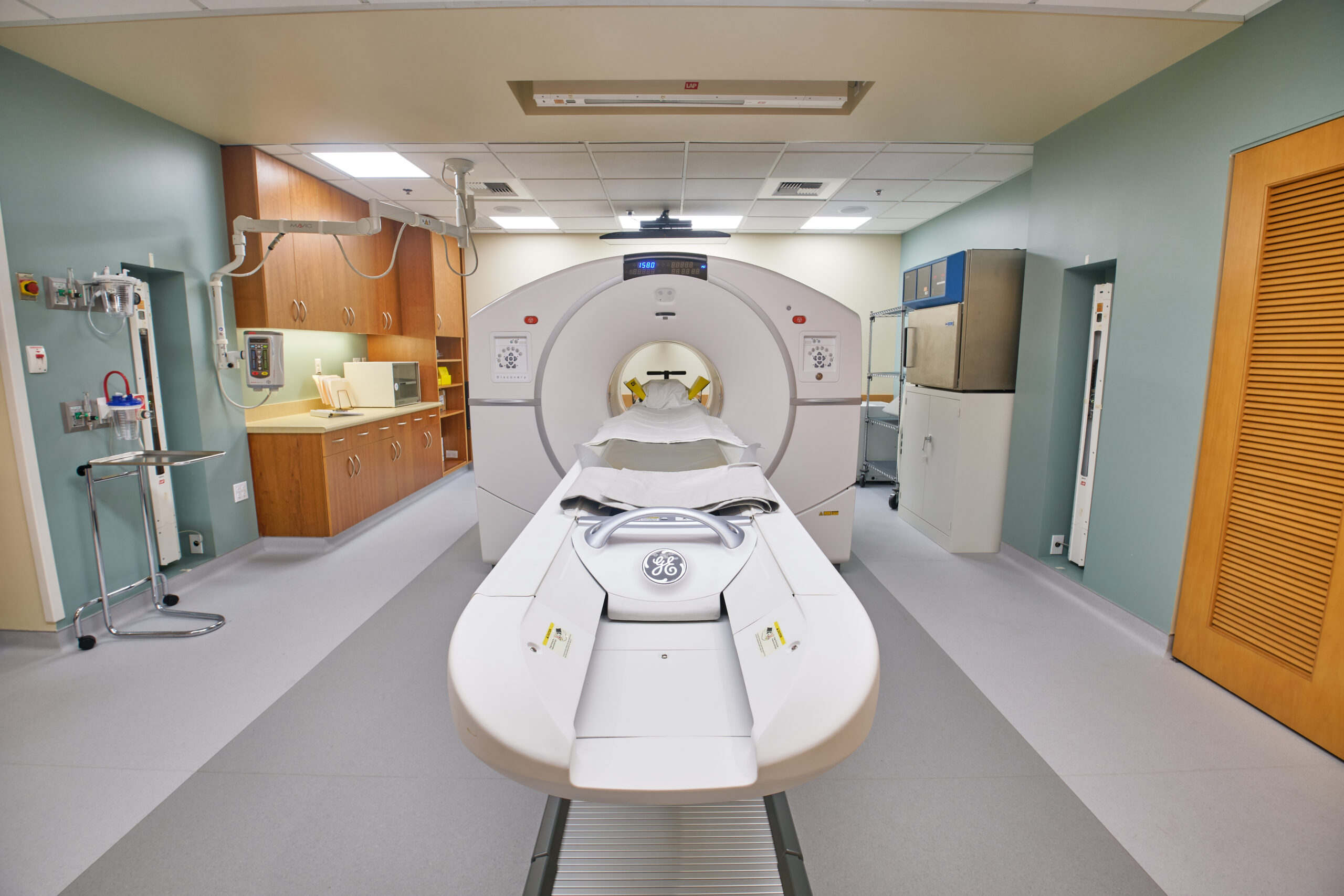 PET/CT room
The collaboration that the SPAKL team has with clients is unique and illustrative of the solution-focused approach they are becoming known for. Listening, cultivating deep understanding, and involving the client with the hands-on problem-solving all inform this team's success, not only on these specialized projects, but with the growing number of clients that return to work with AM for further Healthcare facility updates. Observably, Kimberleigh brings energy and inspiration to the SPAKL team, and has forged a path of thorough discernment of what makes a Healthcare facility project complex and important for the community it serves.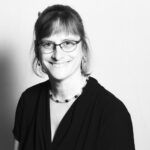 Kimberleigh Grimm, Associate Principal 
FILTER
SEARCH
This search form (with id 2) does not exist!
Dignified Healing Spaces
May 18, 2023
Supportive Housing, Mental Health, and Addictions Treatment & Recovery
Does design have the power to enhance dignity?
Many of us have the privilege to go about our daily lives unaware of the powerful role the built environment plays in supporting our feeling of being celebrated and respected. As architects and designers, we must place inhabitants' dignity at the forefront of our design priorities. Our work has the power to create spaces that have far reaching and lasting impacts. Few places need this perspective more than spaces that serve predominantly underserved, underrepresented, or socially stigmatized communities.
To start, what is dignity?
Dignity is the right of a person to be treated ethically as well as being valued and respected for who they are. For healthcare professionals dignified care means recognizing and honoring patients' capacities and ambitions. While patient dignity is a core tenant of healthcare staff training, it is also critically important to consider the role of the built environment to support dignity for both patients and staff.
Dignity can be defined by four main factors:
Respect – Respect includes self-respect, respect for others, respect for peoples' privacy, and confidentiality.
Autonomy – Autonomy includes having choices, being able to make decisions, rights, needs, and independence.
Empowerment – Empowerment includes feelings of being important and valuable, self-esteem or self-worth, and pride.
Communication – Communication includes clear information, language, intuitive wayfinding and directional cues, and privacy.
Here are five considerations for designing dignified environments:
1. Design as a Beacon – Too often, mental health and treatment program facilities exist in hidden spaces kept out of sight from the public. We aim to create spaces which bring a sense of pride to those who enter. By considering each step of the end-user experience, from the street approach to the quality of finishes, we aim to thoughtfully apply design aesthetics to create a welcoming facility from the very earliest interactions. Welcoming patients, clinicians, and the community into a space that is beautifully designed to support the specific needs and identity of the users is a meaningful way to communicate the intrinsic value of the patients and clients within those spaces.
In initial design discussions, Compass Health requested a sense of grandeur within their new facility located in Everett, Washington. After years of making do with an aging building, the goal for their Phase II building, housing both inpatient and outpatient behavioral healthcare, was to create a space that anyone would feel proud to enter. The stigma of mental health treatment was stripped away by prioritizing a grand, double-height entry and foyer that highlights exterior garden space. The exterior finishes were selected to be warm and welcoming.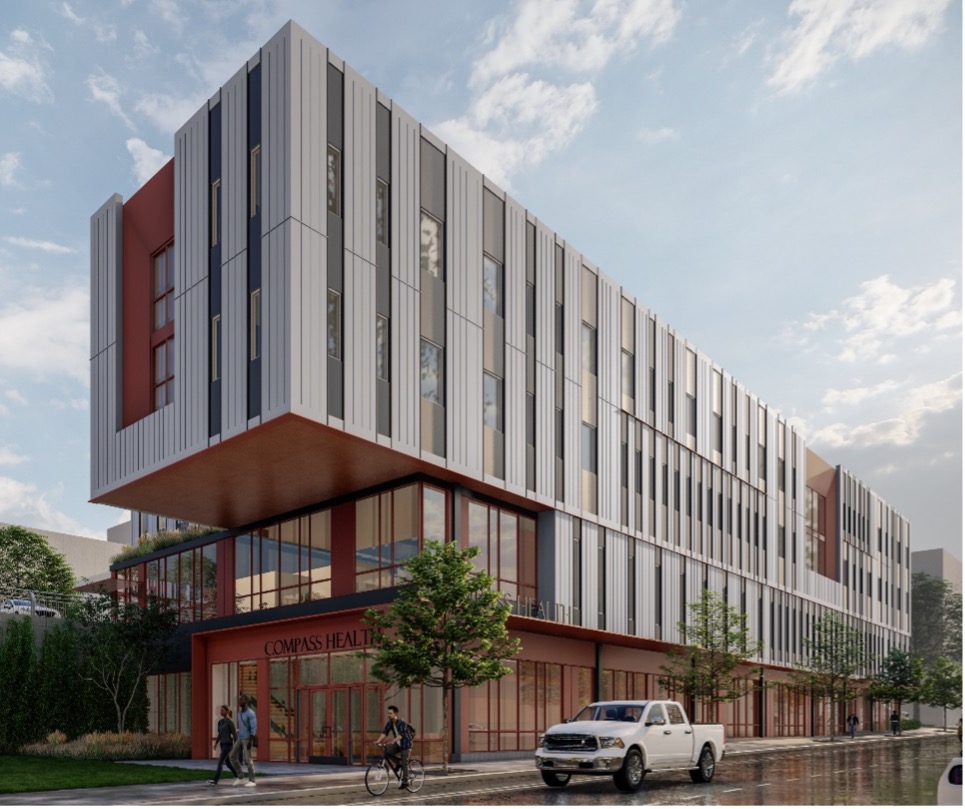 Compass Health's Phase II: The entry design uses scale, richly colored materials, and nature to evoke a warm welcome to all who enter.
2. The Power of Choice – In design, when we do not acknowledge the vast spectrum of human needs, we strip away the ability to exercise autonomy and control over our surroundings. Design that is mindful of autonomy, considers a variety of mental states, capabilities, traumas, and preferences to create dynamic spaces which allow people to choose the experience that fits their needs best in that moment. Avoiding the stress of being in an uncomfortable space allows patients and clients to receive care while in the best possible mindset. It also reduces negative associations that may become barriers for seeking care in the future. In many cases, mental health, housing, or medical facilities unintentionally strip away the opportunities for personal choice due to logistics and procedures, but thoughtful communication with providers allows designers to construct opportunities for choice and autonomy within even the highest acuity patient types.
The design team on the Alameda Senior Respite and Primary Care Facility acknowledged the importance of choice and autonomy in the design of the new 30,000 sq. ft. facility serving Alameda County in California. The design, which creates permanent supportive housing for an aging subset of the local homeless population, thoughtfully addresses the need for individual choice by completely rethinking the approach to lighting design throughout the building. Acknowledging the impact of harsh or bright lighting, uncomfortable lighting when resting, or a lack of lighting when trying to read and relax, the design team prioritized indirect lighting throughout all patient spaces, designed hallways outside of bedrooms to dim to the lowest levels allowed by code during quiet hours, and coordinated a wall sconce with controls at each bedside for residents. These simple, yet impactful, solutions allow residents to have autonomy over their surroundings in a way many of us would take for granted.
3. Safety over Security – We deserve to feel safe in our environments, and increasingly, facilities are moving towards providing a friendly face at entry points to help visitors feel welcome in lieu of uniformed security, which can be particularly traumatizing for many populations. Through collaboration with staff and clinicians, we can facilitate safety by designing clear pathways of visibility for observation and engagement that does not feel intrusive. Doing so allows visitors and residents to maintain their sense of independence and autonomy while remaining safe. Intentionally designed spaces which focus on relationship building increase the safety of patients while also increasing the likelihood of positive experiences and returns for subsequent care in the future.
The inpatient floors for Compass Health were laid out around a central nurse station allowing care teams to maintain a direct line of sight to all patient spaces, including the outdoor patient areas. Whereas other facilities require patients to be accompanied by a staff member to outdoor or group spaces, the clear paths of visibility allow patients to move from space to space unaccompanied, fostering independence while ensuring staff are aware of any interactions which may require their attention. Similarly, opportunities for passive observation in outpatient areas allow for easy circulation and a friendly face at various reception desks to assist first-time visitors and clients, as well as to foster connection with staff in various areas throughout the lobbies.

Compass Health Phase II: The building massing prioritized sightlines for the on-unit nursing and care team from the earliest diagrams (left). Interior design focused on maintaining the connection between staff and patients (right).
4. Whole Person Healing – If we consider the physical, mental, emotional, and social determinates of health in the design and programming process, we can create transformational facilities that help bolster the entire community. By creating space for additional programs and prominently locating basic needs near entries, each visitor can easily access support. Furthermore, designing medical care with counseling and housing opportunities provides a holistic approach to wellness that caters to a vast spectrum of needs, removing the barriers of care that occur when visiting many different facilities for the same services. Integrating community spaces into our designs allows additional social needs to be met that may not be related to specific medical needs, while inviting the community into spaces shared by diverse populations humanizes the experience of those seeking treatment in those spaces.
The core tenant of Central City Concern's Blackburn Center is to "help people's health through comfort, community, and safety." The center, which serves people experiencing homelessness, poverty, and addiction in the Portland, Oregon area also aims to create a supportive housing project which incorporates mental and physical health resources under the same roof. The design carefully integrates a complex series of support systems that begin on the ground floor with commons area, teaching kitchen, pharmacy, and community services. Moving up a floor, the medical clinic supports the housing residents onsite. Housing includes palliative care, two floors of single room occupancy housing, and a floor of apartments for permanent housing, which supports people nearly ready to live on their own. The design aesthetics and function aim to create a fulfilling and enriching home-like experience that bolsters residents in all aspects of health and wellness, truly treating the whole person.
5. Nature as Medicine – Biophilia states that we, as humans, are part of nature and are inherently attracted to, and supported by, natural environments. Using nature as a tool to promote healing and wellness is a key part of providing users with the respect and dignity they deserve. Many at-risk populations receive care and housing in aging spaces that do not receive quality daylight, and access to outdoors is deemed too unsafe and difficult to monitor. By incorporating nature connections such as views, natural materials, fresh air, and plants into the requirements for healing spaces, we ultimately acknowledge the humanity of the occupants within a space. Whether they are patients, residents, visitors, or staff, everybody benefits from contact with nature through positive distractions, lowered blood pressure, increased resilience to environmental stressors, and the benefit of aligning our sense of time and place with the observable natural rhythms of the world around us.
Early on in Compass Health's design process, the importance of fresh air and contact with nature was identified by the client and design team. As a result, the earliest building massing schemes explored how to bring nature as far into the building as possible. The resulting form for the inpatient floors is two separate wings positioned beside deeply cut rooftop gardens with a central connection space that serves as the primary gathering and dining area for the inpatient population. Each of the two floors of inpatient treatment have access to dedicated outdoor garden spaces that are designed to allow residents to move freely between interior living spaces and outdoor areas. Beyond the patient outdoor spaces are extensive green roofs which are visible from interior spaces in the public, staff, and patient spaces. This impactful design decision will support the healing and restorative vision of Compass Health's mission to treat the whole person.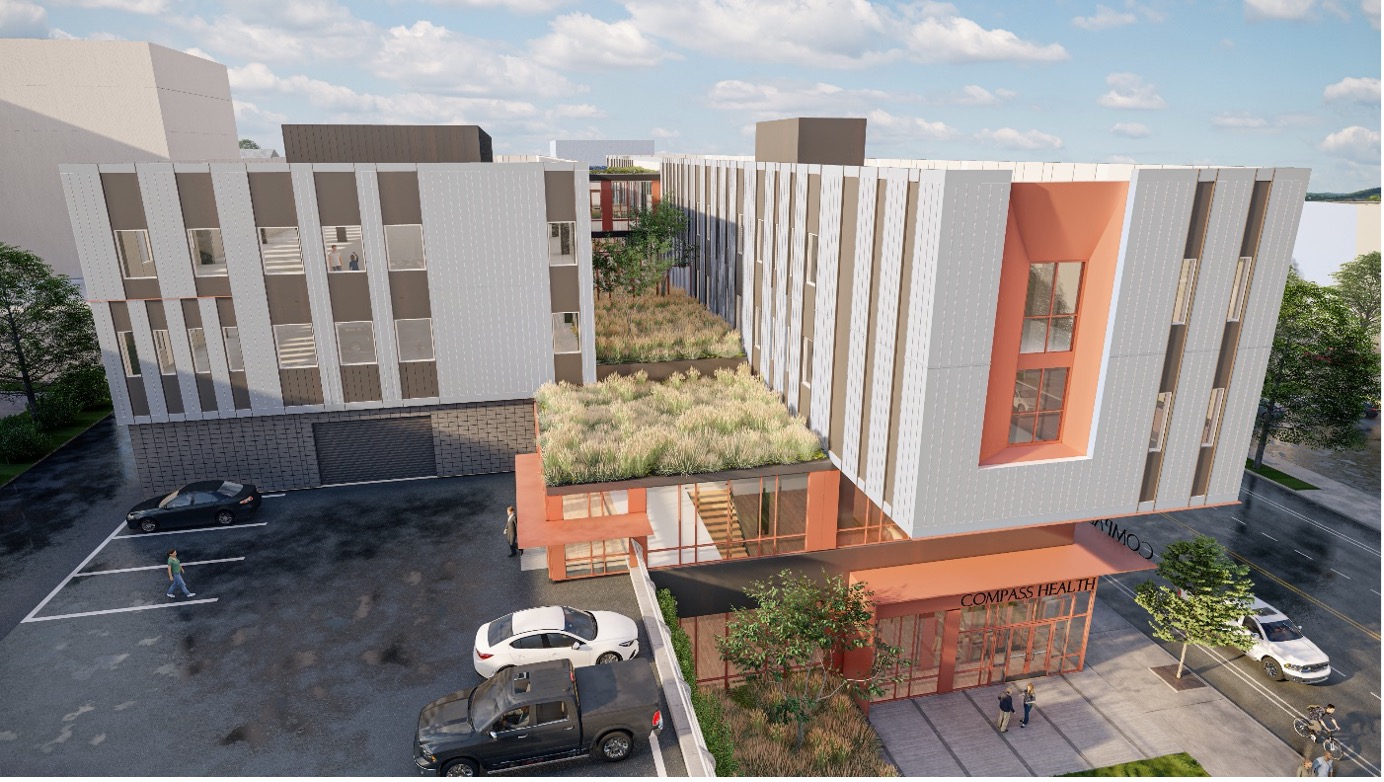 Compass Health Phase II: Both inpatient floors provide residents, staff, and visitors views of nature by utilizing the space between buildings for extensive green roofs.
Why design for dignity?
By implementing these five strategies, designers can create spaces that honor the core aspects of dignity by respecting each visitor and their unique place in the world, supporting their autonomy through choice, empower occupants as they move through the space, and ultimately communicate equitably inhabitants. The resulting designs are spaces which can be as meaningful as they are beautiful while actively participating in the health and growth of our communities.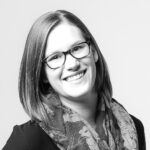 By Ashlee Washington, Senior Associate
FILTER
SEARCH
This search form (with id 2) does not exist!
Being Well
May 10, 2023
Holistic Approaches to Wellness in Urban Living
While physical health and fitness have been an important aspect of residential design for many years, it's only in the last 5-10 years that the language – and the thinking – has become more expansive. 
Wellness is the new watchword. It's not just a trend, but rather a powerful approach to residential planning, design, and programming that has the potential not only to improve your residents' lives, but your bottom line, driving demand and tenant loyalty.
Wellness, approached thoughtfully and executed with purpose, is more than an amenity, it's a business strategy. 
Read on…
FILTER
SEARCH
This search form (with id 2) does not exist!
Indoor / Outdoor Air Quality
May 5, 2023
Research to Help You Breathe Easy
The Do GOOD / Be WELL scholarship encourages Ankrom Moisan employees to research an open-ended topic of their choosing and share the practical results of their findings with the firm, industry, and community at large. The scholarship, started in 2017, is sponsored in memory of former AM employee Carolyn Forsyth, an inspirational leader and unyielding force for change. Intended to honor her legacy of sustainability, equity, innovation, advocacy, education, and leadership, the DGBW scholarship elevates and empowers new and inspiring ideas within Ankrom Moisan and the broader field of architecture, pushing us all, as the name implies, to do good and be well. 
As the recipient of the 2022 Do GOOD / Be WELL scholarship, Cara Godwin encouraged Ankrom Moisan employees to not only learn about air quality but to measure their own. Cara implemented a program that provided home air kits, consisting of a HEPA filter and an air sensor, to be checked out and taken home.  
By using air sensors that provided a real-time air quality score, participants were able to better understand how opening windows, cooking, and running exhaust fans impact indoor air quality. The program also encouraged people to be Citizen Scientists by gathering data in their own respective environments and automatically sharing it to the Purple Air network map in real time, increasing the pool of scientific knowledge that design decisions can be made from.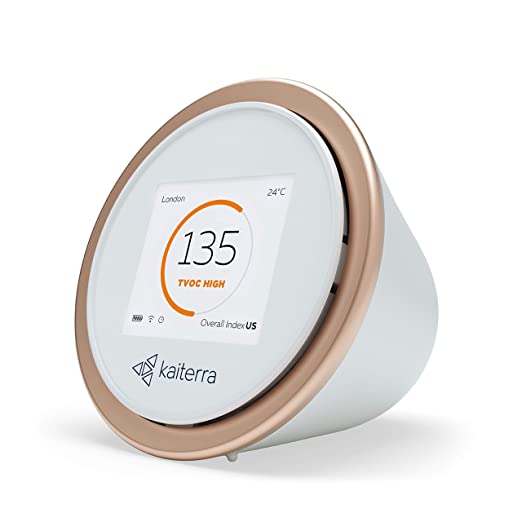 Kaiterra Egg air sensor utilized in Cara's research study. 
The (Overlooked) Importance of Air Quality 
Designers of the built environment are deeply familiar with energy scores and water scores, but air quality has been less defined and is often left unconsidered—Cara hopes to change that.  
Cara has lived in the Methow Valley for twelve years now, an area which often deals with wildfire smoke. Cara and her husband had indoor air quality at the front of their minds when they built their home in 2011. Their son has had respiratory issues since birth and asthma since just before his second birthday, which led the pair to learn more about indoor and outdoor air quality. "We are a 'Clean Air Methow Ambassador,' we have been interviewed on a podcast, interviewed by a health reporter, and often my son's photo and story are used in discussions about air quality," Cara stated. "This scholarship seemed like a natural way to share this information with coworkers and hopefully have a positive impact on future building designs."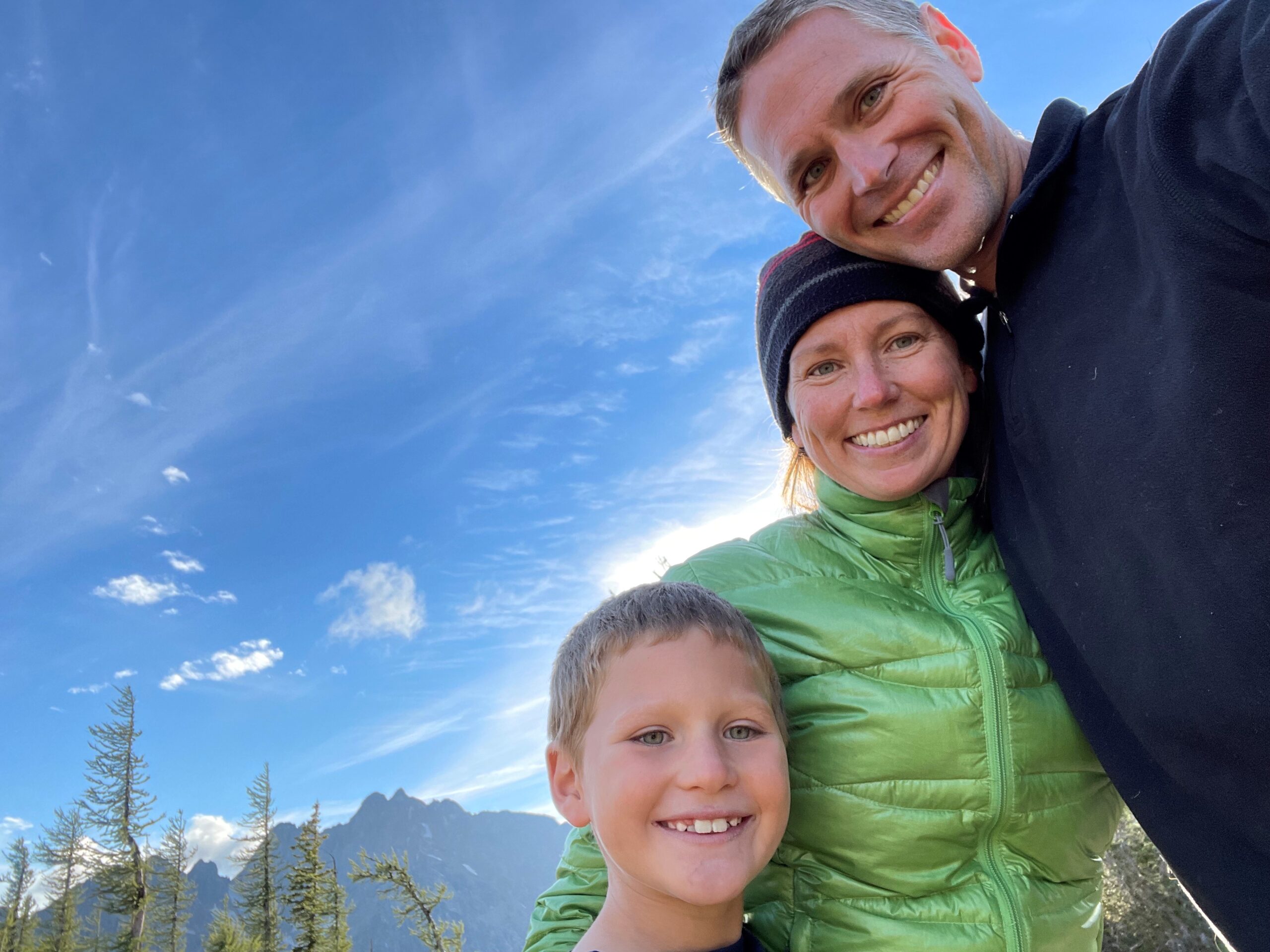 The Godwins: Cara, her husband, and her son. 
Even if you have not personally noticed issues with air quality, you are likely being affected by air pollutants. More and more research talks about PM2.5 – fine inhalable particles with diameters that are 2.5 micrometers or smaller – and their long-term effect on our lungs. PM2.5 sources include chemical exhaust from industries and automobiles, wildfire smoke, pollen, dust, and hundreds of other chemicals. EPA and other clean air groups are focusing on education for people to understand air scores and sources. This study helps expand those efforts. 
The Findings from the Air Sensors 
The most common response from kit recipients was about cooking. It is uncommon for range hoods to be used every time a cooktop is utilized, though that is the recommendation. After receiving their results, many participants noted they will use the hood more often. One participant noted that their charcoal recirculating exhaust fan was not adequate on its own and required a window to be open for proper ventilation.  
Another finding was that pets do not seem to have a negative impact on air quality. Running the HEPA filter had noticeable positive impacts for participants with seasonal allergies and asthma. 
In a survey filled out after using test kits at home for a few weeks, participants were asked what they might do differently in future designs after receiving their own personal air quality scores. Several responded by advocating for electric cooking over gas. A few mentioned advocating for operable windows and making operable windows open further. There is a desire to avoid using charcoal recirculating fans for kitchen exhaust. Others mentioned trying to design for air changes above code minimum and running the whole house exhaust longer.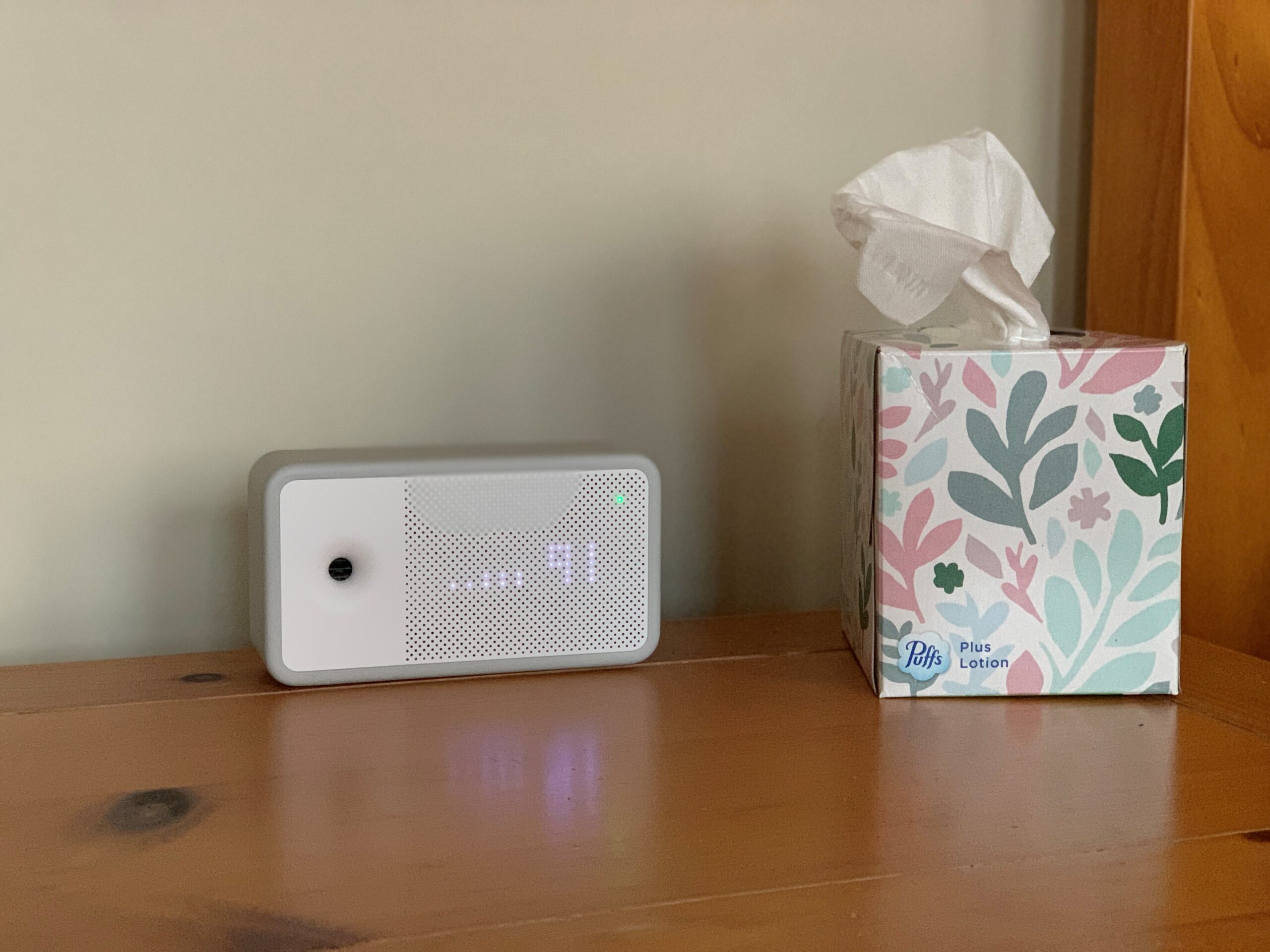 Awair air monitor in use. 
Swapping Cooktops to Improve Air Quality 
During this time, Cara was looking into replacing her propane cooktop with an electric induction range and took the opportunity to tie her search in with her research proposal, using the information gathered from the use of the HEPA filter and air sensor to guide her purchase decision, and sharing the results with the firm. This choice was supported by Cara's experiences with indoor air quality monitors, as they have demonstrated that cooking has the greatest impact on air quality in a home. Cara swapped out her propane cooktop for a gas one, as well as her exhaust hood in hopes that a quieter exhaust hood would be used more. Finding the right induction range was the tricky part. The options seem limited, and costs vary greatly.  
Her research found that the difference in cost is dependent on the size of the magnet, and that the size of the magnet, or burner, should match the size of the pan being used. This is because a pan too large for a burner will not heat up efficiently, and food will not be evenly cooked. The main obstacle in sourcing a new cooktop was related to finding black appliances, which have even fewer options. In the end, Cara switched to black stainless steel. For the exhaust hood, quieter options require an 8" exhaust duct. Cara's pre-existing duct was only 6", meaning it was not feasible to replace the exhaust duct in the roof assembly, so the new hood is only slightly better in terms of noise level. 
For the actual experience with induction cooking, Cara states that "it has been a real pleasure to cook with. The cooking is more even, and water does boil as fast as everyone says. There is also peace of mind with all the recent news of harmful chemicals coming from gas cooktops."  The original concern with the propane cooktop had to do with CO2 levels rising during seasonal times of wildfire smoke when fresh air is closed off, but the benefits of an induction range have expanded to all year round. Cara recommends induction over gas to anyone building new construction, and in her case, with someone with respiratory issues in the house, switching is a great option.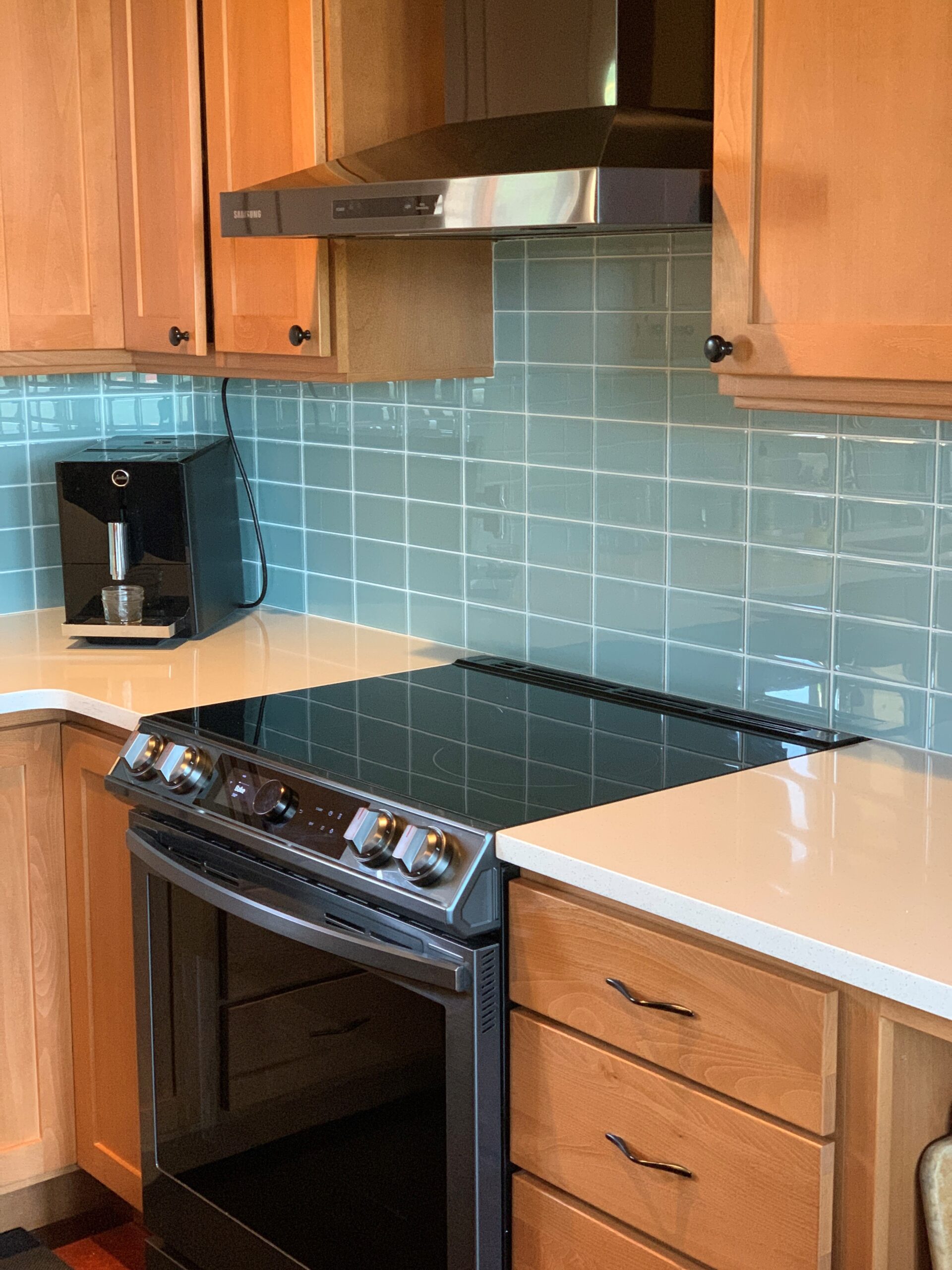 Cara's new black stainless steel induction range with hood. 
Applying the Research to our Designs 
If you have not experienced it yourself, you probably know someone who has had to alter their plans or take medication due to allergies to pets, perfume, or wildfire smoke. At Ankrom Moisan, we talk about designing for all users and that should include designing for respiratory sensitivities.  
This study will hopefully help influence future building designs to take user sensitivities into account, and therefore create buildings that are a haven from pollutants and irritants during times of poor outdoor air quality. And in times of good outdoor air quality, our spaces should reduce known contributors to poor indoor air quality.  
One example of how we can design more inclusively is to consider air quality and pet allergies. Many residential communities today allow dogs but that can exclude people with allergies from living there—unless the air quality improves and the building, as well as furnishing, is designed to minimize pet dander. Our designers, armed with the findings from Cara's research, can also advocate for features that will benefit everyone such as electric induction ranges, quieter exhaust hoods and operable kitchen windows 
Though indoor and outdoor air quality is a consideration that is often forgotten, Cara's DGBW research program illustrates the importance of bringing all aspects of wellness into a building's design, and redefines how we explore beyond, changing what designing for inclusiveness can mean.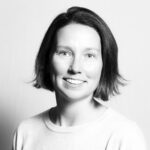 By Cara Godwin, Practice Manager
FILTER
SEARCH
This search form (with id 2) does not exist!
Creating Environments to Suit Your Energy
May 5, 2023
Fitness Amenity Spaces for the Workplace
Happy National Fitness Day! Kim Bielak is credited for starting the day in 2017 which is "designated for the first Saturday of May to be a celebration of strength and empowerment for fitness" (Source). Here at Ankrom we design our fitness centers and bike rooms for the end user to feel that same strength and empowerment for fitness. In celebration of National Fitness Day, we want to share Ankrom's past designed workplace fitness and bike amenity spaces.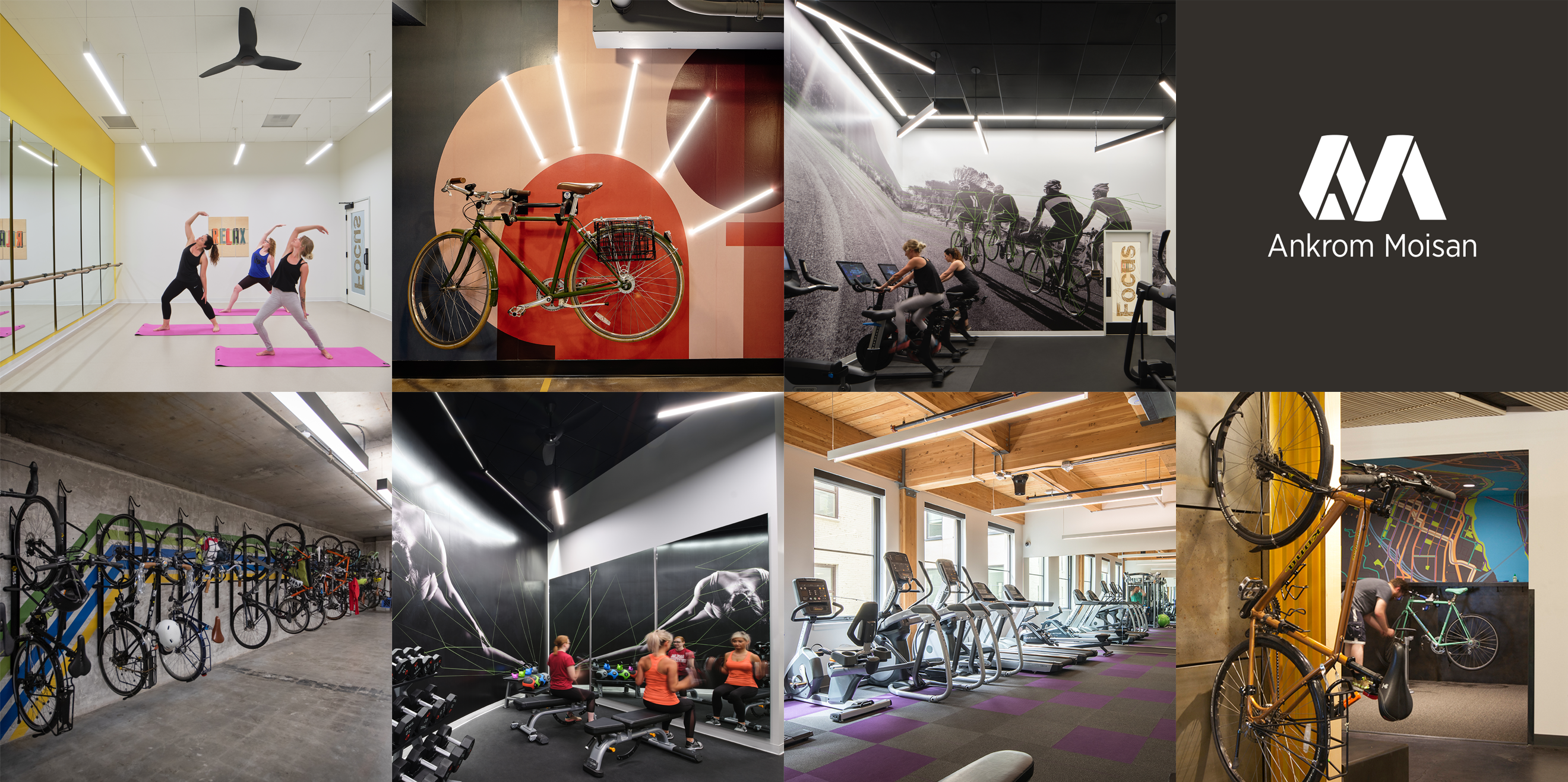 A word from one of our Fitness Resident designers, Clare Goddard.
Q. What is unique about Ankrom's approach to fitness and bike spaces?
A. How we approach fitness differently is focusing on making it an experience and a destination. Whether that includes coordination of equipment, wall graphics, lighting, we focus on it being an experience of what clients are wanting to have, not just utilitarian, and not a place of dread for the end users.
Bike spaces used to be treated as more of a back of house space with little design to them. Instead, we have been looking at them as a space where we can have fun and even make a bold statement. Having fun with bikes taps into Portland bike culture, why not elevate the space more?
Q. How do you design a space that is inclusive for all abilities and fitness levels?
A. The first thing that it comes down to is universal design: doorknobs, benches, ADA lockers and ADA compliance, etc. Equally, providing a variety of fitness equipment, yoga rooms, treadmills, interactive mirrors, stretching or weight training areas – let the user choose their workout type for a variety of abilities. Variety is key.
A well-designed fitness center should feel welcoming and inviting because so often fitness centers do not feel inclusive, or they are uncomfortable. Everyone should be able to move their body with joy within the space.
For example, in a project I was a part of we took an existing basement space, added brand new lighting, bright colors, added various benches, hooks, upscale lockers and even additional parking for e-bikes and recumbent bikes.
Q. How do you balance aesthetic between open gym v. class environment?
A. Using materials that feel like they go together or are complimentary between spaces. Using lighting that is around the perimeter of mirrors and highlighting what is more important in each space. For example, flooring changes could be LVT in the classroom and anti-microbial carpet tile, rubber or cork flooring in the gym area.
Q. What is your favorite part about designing fitness spaces?
A. My favorite part is that I'm an athletic person, and I enjoy working out. I get to put myself in that mode to imagine how myself or others would use the space. "Getting into the concept" and making it unique from other fitness centers.
Q. Where do you start with fitness planning and programming?
A. The best way to start with a fitness center is to get surveys from building tenants to hear what they want, so that you have information on what the tenants want to use. Understanding the competition and comparing what other buildings are offering also helps to make a fitness center stand out in the crowd. Compare what other buildings in the area are offering.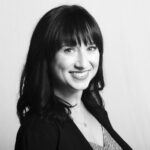 Contributor: Clare Goddard, Senior Associate Interior Designer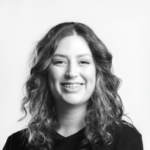 Emily Feicht, Interior Designer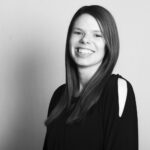 Rebecca Brock, Associate Interior Designer
FILTER
SEARCH
This search form (with id 2) does not exist!
Compelling Sustainable Materials and Resources for 2023
April 21, 2023
An Earth Day Conversation with Liza Meek, Materials Library Coordinator
Q: What environmental innovations are you seeing trending in new products for 2023?
A: Including recycled content has been a trend for a while, but now I'm hearing more about products that are degradable or contain biodegradable elements. These are products that you wouldn't traditionally think of such as textiles and carpets.
Example from Maharam: "Rapidly degradable polyester has a biopolymer catalyst added to the molecular makeup of the yarn that accelerates degradation.  A biopolymer is a polymer product by or derived from living organisms. Textiles using rapidly degradable polyester are engineered for performance environments and carry the same warranty as standard Maharam textiles. The textile's degradation will only initiate when placed in an anaerobic environment. Rapidly degradable polyester is no more susceptible to sunlight, chemical cleaners, staining, or dyes than a standard recycled polyester."
Other examples of biodegradable products are from Patcraft. Patcraft has an innovative product called ReWorx that is designed for circularity. It's made of recycled plastic bottles and can also be recycled at the end of its life.
Q: Are there any sustainable practices that designers aren't talking enough about or forgetting to check?
A: There are almost too many resources available as far as material transparency goes.  Find one or two reliable resources like the mindful MATERIALS portal or utilize our firm's customized sustainability filters on the Material Bank website.
Designing for a circular economy is a great consideration, particularly around materials. Consider how the product was extracted and processed. Does it contain recycled materials or biodegradable materials?  Can the material be reused or repurposed and broken down to create new products?
If budget or scope doesn't allow for that type of undertaking, focus on avoiding elements that affect human health, such as the Six Classes of Harmful Chemicals put out by the Green Science Policy Institute.
If there is a certain sustainability goal for the project, reach out to the manufacturer reps for the companies you love and use them as a resource. Ask them which products they have that meet your project's sustainability goals.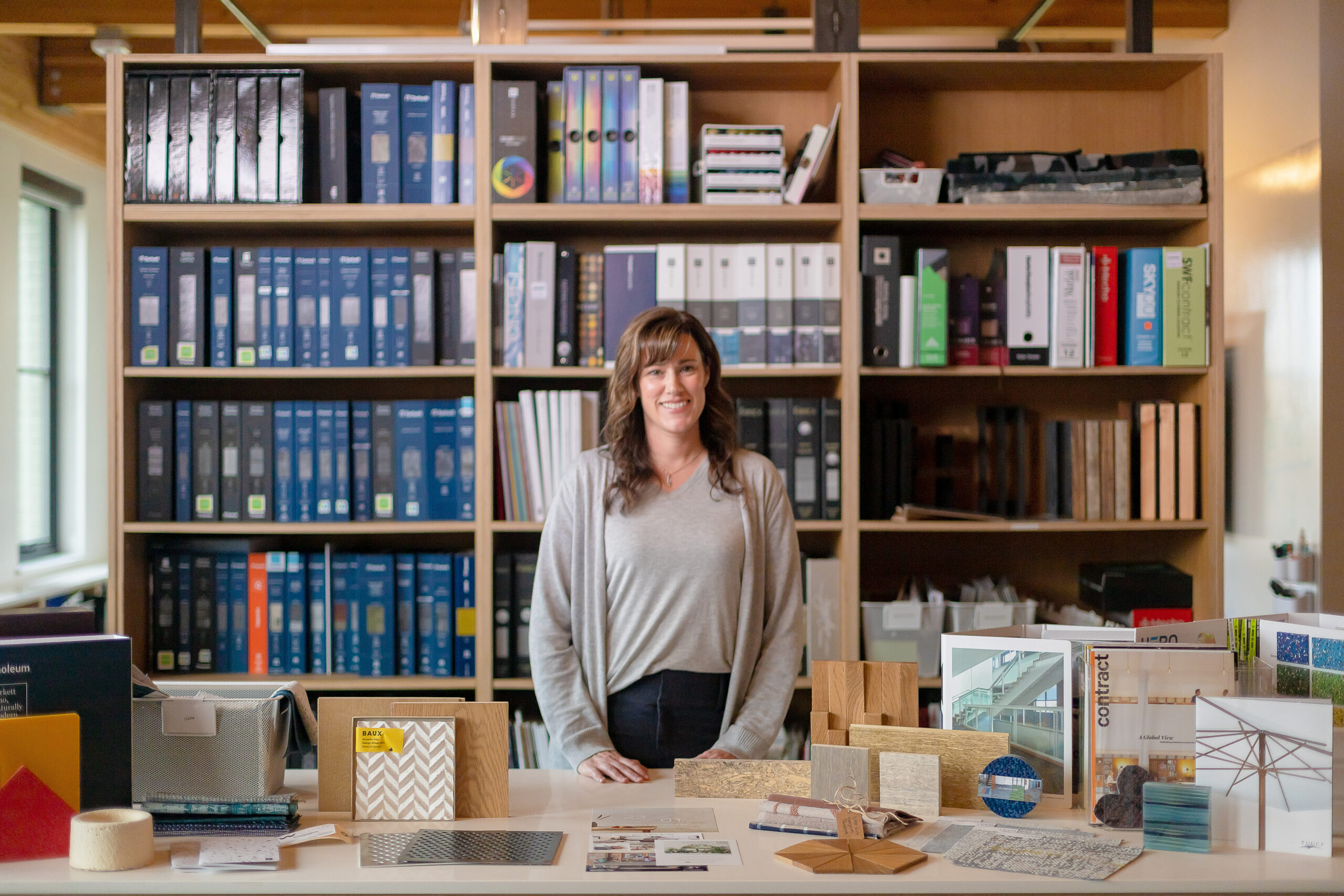 Q: With new products coming out for Spring, what would you consider to be the top 3 products or brands that are embracing environmental innovation/sustainability? What are the innovations these products/companies are focusing on?
A: The flooring companies, textile companies and acoustic manufacturers are where I see the most push towards sustainable product innovation. Many of them are developing products that are degradable, use recycled materials (up-cycled clothing, recycled PET or polyester), PVC-free, or using ECONYL (yarn that is 100% regenerated from fishing lines). Some recent examples are:
Kirei/ Air Baffle: uses Nike grind (recycled PET)
Brands using ECONYL: Interface/FLOR, Delos, Mannington, Milliken, Masland, and Forbo
LUUM is a textile brand that is using up-cycled clothing in some of their products:
Q: Have you noticed any steps/long-term policies or goals announced by these companies to help promote environmental well-being for the future?
A: I'm hearing from several textile reps that their companies are making the move to go PFA free. PFAS are forever chemicals that build up in your body over time and have been linked to many health issues.
Maharam: "As of Jan 2023, Maharam was 78% PFAS free, including all new intros from July 2022- forward. We're in the midst of transitioning all of our textiles and will be 95% PFAS free by the end of this year."
I'm also hearing more manufacturers are pushing beyond carbon neutral and into carbon negative. Interface is a great example.
Q: Why should workplace designers and clients care about sustainability even when under quick deadlines and tight budgets?
A: With the amount of information available to consumers, they are becoming savvier about what's in their environments and the expectations are rising.  Consumer demand is driving that, and more and more manufacturers are making products that align with those values.
Gen Z'ers are also pushing the sustainability movement. According to Trend Hunter, 75% of Gen Z is willing to pay more for sustainable products and they are influencing the older generations.
"Two years ago, only 30 of Gen X parents were willing to spend 10% more on sustainable products.  90% are more willing today."
Workplace designers should care about sustainability because their clients do. Healthy buildings are higher quality buildings, and they offer a better return on their investment. Many large and small companies have ESG goals and initiatives. Buildings designed with healthy and sustainable materials and systems can go a long way toward helping businesses meet their ESG commitments.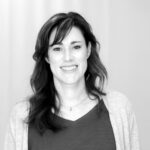 Liza Meek, Materials Library Coordinator
FILTER
SEARCH
This search form (with id 2) does not exist!
The Office as Ecosystem: Strategy 5
April 11, 2023
Culture-First Design for an Engaged Employee Ecosystem
We're all feeling the effects of the boom-bust economic cycle, and it makes it hard to know where to focus the attention when it comes to building a thriving workplace. How much can and should we invest in an office environment when the people who inhabit it are more transient than ever?
Here at Ankrom Moisan, we've been inspired by clients and corporate leaders that are doubling down on their workplaces during these unprecedented times. They've sought to build spaces that not only reflect their values, but also allow their employees to experience them and live them out in their daily work. This kind of long-term, culture-centric approach to the workplace can be more powerful than any training tool or company retreat, with longer-lasting returns, as the message gets reinforced every day.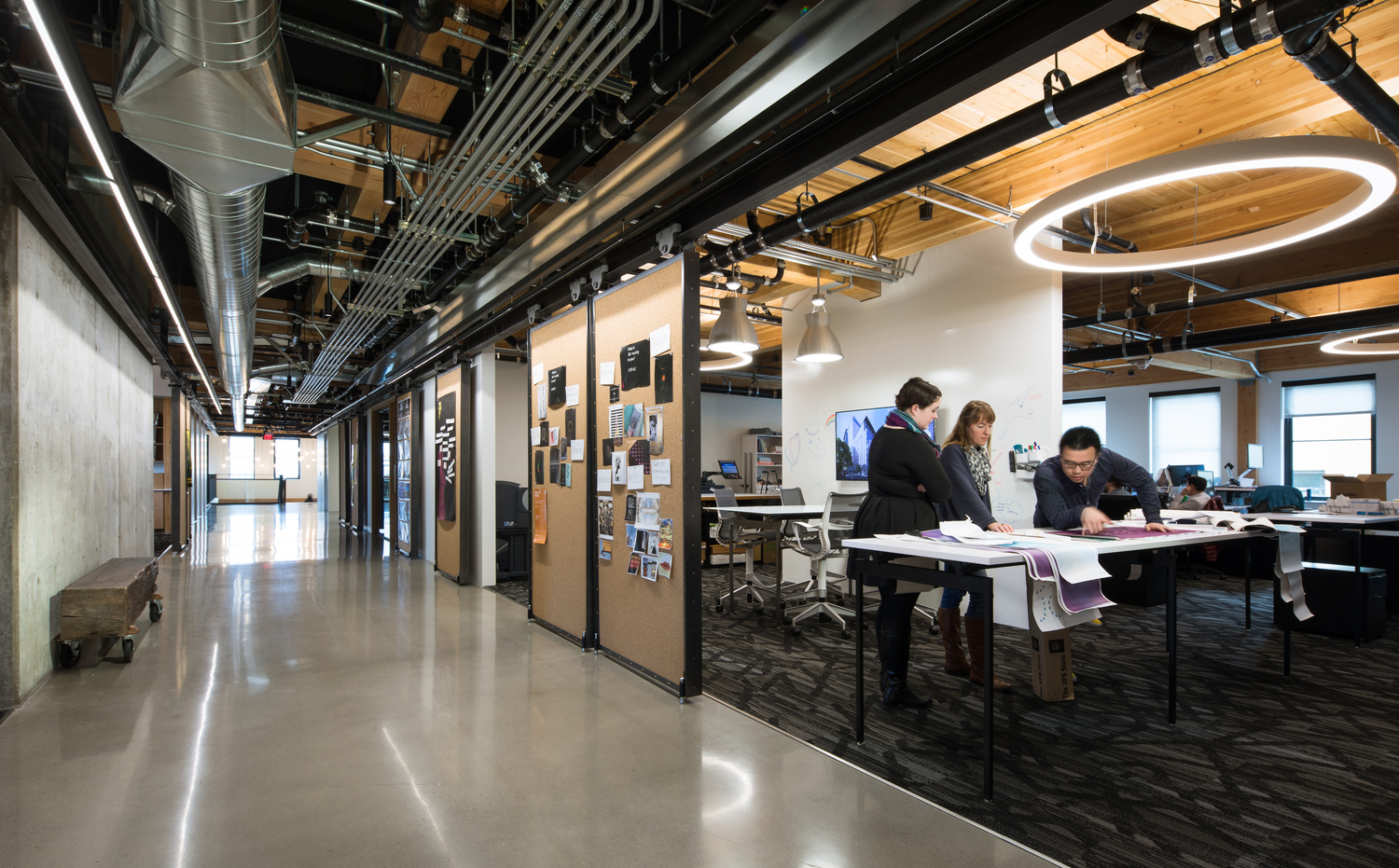 Ankrom Moisan, Portland, Oregon
What do we mean by culture-first design? It's a translation of company values and brand personality into design imperatives. For instance, a company that prioritizes continual learning might integrate an auditorium-style space for seminars, speakers, and certification classes. Display walls might be added near each department to allow groups to highlight key aspects of their work, accomplishments, or projects-in-progress, so others can better understand what they do. A casual meeting area might do double-duty as a mini library, curated with the help and suggestions of employees. The possibilities are endless, but when focused on what your company uniquely values, they also become an exciting, impactful reinforcement of what really matters.
Feeling inspired and want to apply ecosystem thinking to your workplace? Read our full strategic roadmap here, or reach out to our team anytime. We are here to help you and your employees thrive.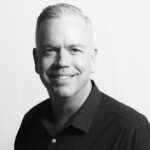 Michael Stueve, Principal, UX Strategy 
Banner photo: Community Transit of Snohomish County, Everett, Washington
📸: Aaren Locke
FILTER
SEARCH
This search form (with id 2) does not exist!
The Office as Ecosystem: Strategy 4
April 4, 2023
New Ways to Meet
Running a productive meeting today is a virtual minefield. With remote participants, on-site attendees, a variety of videoconferencing resources, and let's face it, more meetings than anyone really has time for, it's both more essential, and more difficult, to get meetings right.
We've leaned hard on technology over the past 3 years, but it's time to give design its rightful role in the conversation. While what's happening on screen matters, the places and spaces we meet can contribute significantly to a better overall experience.
The challenge at hand is to make the experience more equitable for all attendees, whether in-person or remote. We've heard stories of in-person meetings with 50 people all in one room and logged in to Zoom, so that the 5 people who were joining remotely would not be left out. While a noble effort toward creating an equitable experience, there has to be a better way.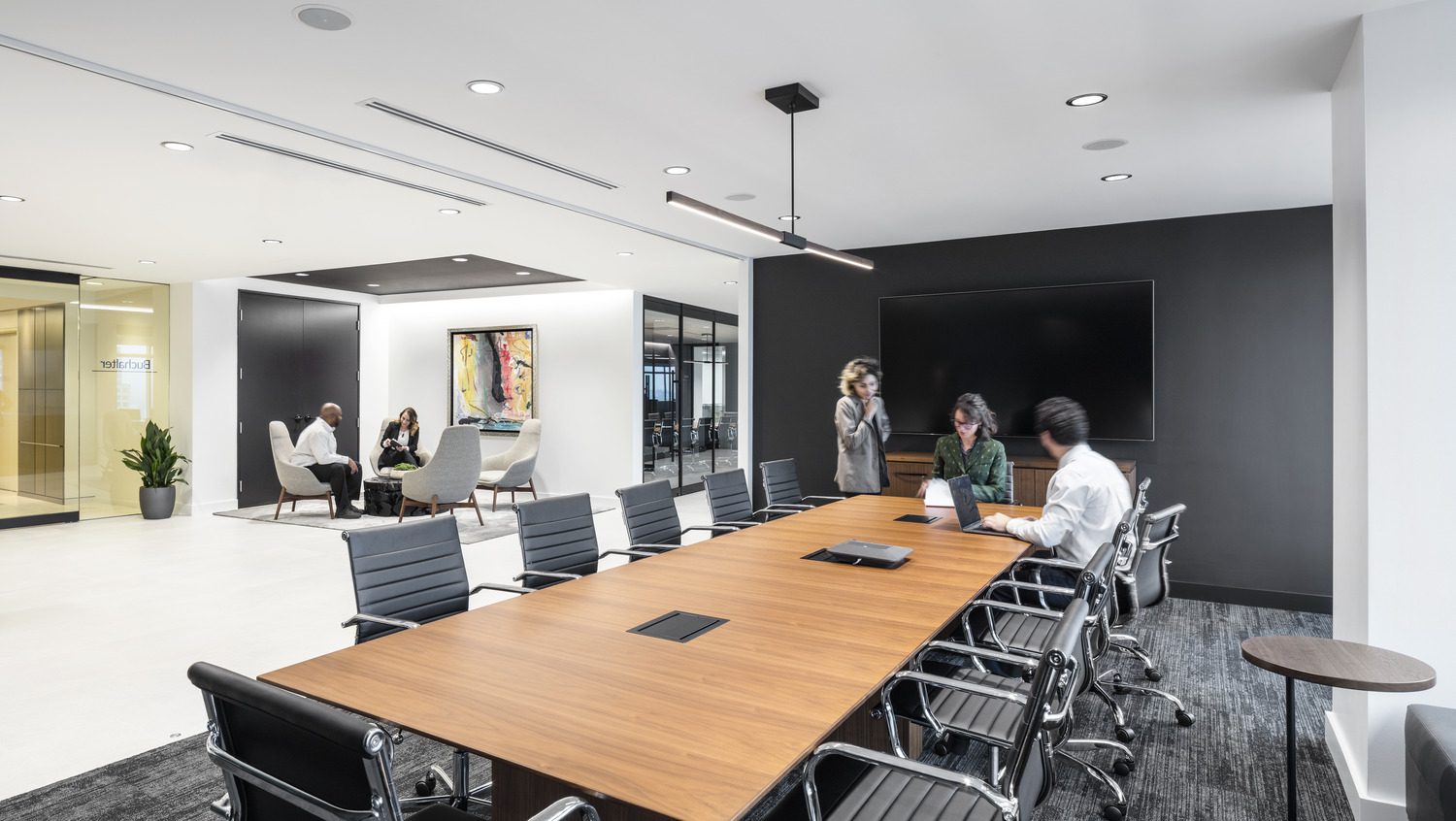 Buchalter, Portland, Oregon
📸: Magda Biernat
The truth is that the implementation of a few design strategies can make a significant difference. For instance, lighting, materials, and color palettes that read well on-camera and feel good in-person can equalize the experience. Room orientation, table layouts, and careful screen placement can bring remote attendees tableside and minimize the tendency to leave people out of the conversation. Thoughtful sound design with an eye (and ear) toward an optimal acoustical experience for those in-person and joining remotely ensures everyone has a chance to be heard.
Eager to solve the problem of mediocre meetings? We explore more meaningful meeting and workplace design strategies in our strategic roadmap, The Office as Ecosystem. Check it out here.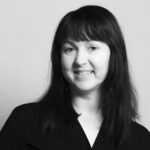 Bethanne Mikkelsen, Managing Principal, Interior Designer
Banner photo: 2201 Westlake, Portland, Oregon
📸: Moris Moreno
FILTER
SEARCH
This search form (with id 2) does not exist!
The Office as Ecosystem: Strategy 3
March 28, 2023
The Not-So-Office Office
The traditional idea of an office was losing appeal well before the pandemic made it obsolete. As wireless technology made it possible for people to untether from their desks, many found they liked working in other environments that, while not designed for work, were conducive to it.
Those environments, such as coffee shops, co-working spaces, hotel lobbies, and living rooms, in many ways represent the antithesis of office design and décor. Feminine, nurturing, and sensorially engaging, the comfort they offer seems at odds with productivity.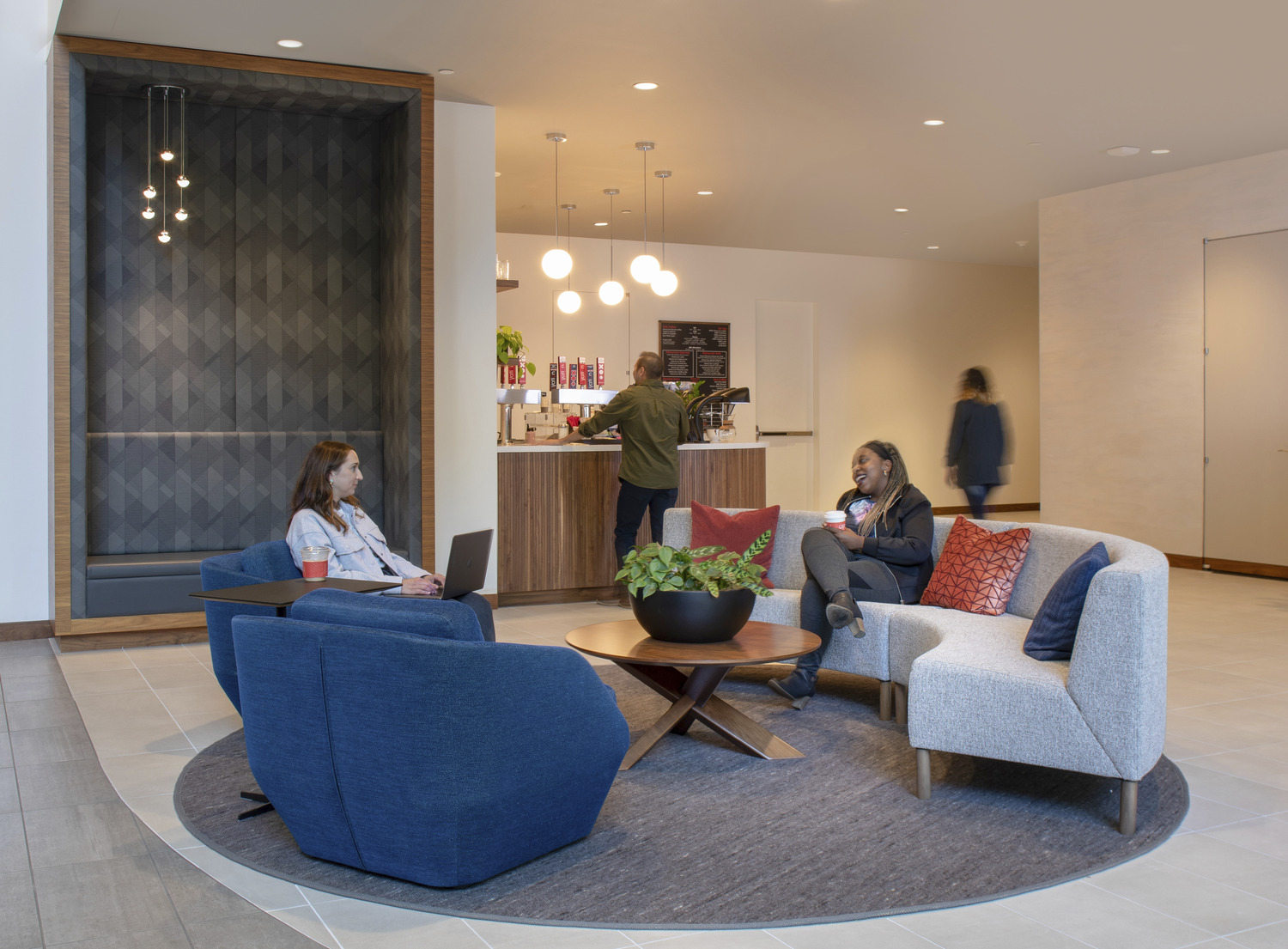 Moda Tower Lobby, Portland, Oregon
📸: Cheryl McIntosh
Progressive workplaces, however, are finding the opposite to be true. Workplace design that's informed and inspired by the principles of residential, food and beverage, hospitality, and retail sectors is helping drive employee satisfaction and the desire to be in the office, without sacrificing the need for work to get done.
Applying this cross-disciplinary approach requires a nimble team willing to seek inspiration from a wide array of sources. It also requires attention not just to what your office enables employees to do, but attention to what and how it makes them feel.
As with each of the strategies explored in our The Office as Ecosystem series, the benefit also extends to the bottom line. When employees feel engaged and inspired, and their needs addressed, they can contribute in more meaningful ways to the business at hand.
Eager to see this strategy in action? Check out the full series, The Office as Ecosystem, here, with inspiring case studies and examples of ecosystem-thinking applied in the real world.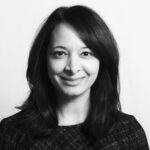 Erica Buss, Senior Associate, Research & Information Services Manager
Banner photo: Community Transit of Snohomish County, Everett, Washington
📸: Aaren Locke
FILTER
SEARCH
This search form (with id 2) does not exist!
The Office as Ecosystem: Strategy 2
March 21, 2023
Building a Commute-Worthy Workplace
Improving an office ecosystem only pays off if employees actually come into the office to experience it. And what gets employees into the office? Studies show the strongest incentive isn't a free lunch, dry cleaning services, or foosball tournaments. It's other employees.
That means a commute-worthy office is, in essence, one that builds community. The table stakes, like good coffee and comfortable surroundings, are essential, but the communal energy that can't be replicated at home is the true galvanizing force to get people there on the regular.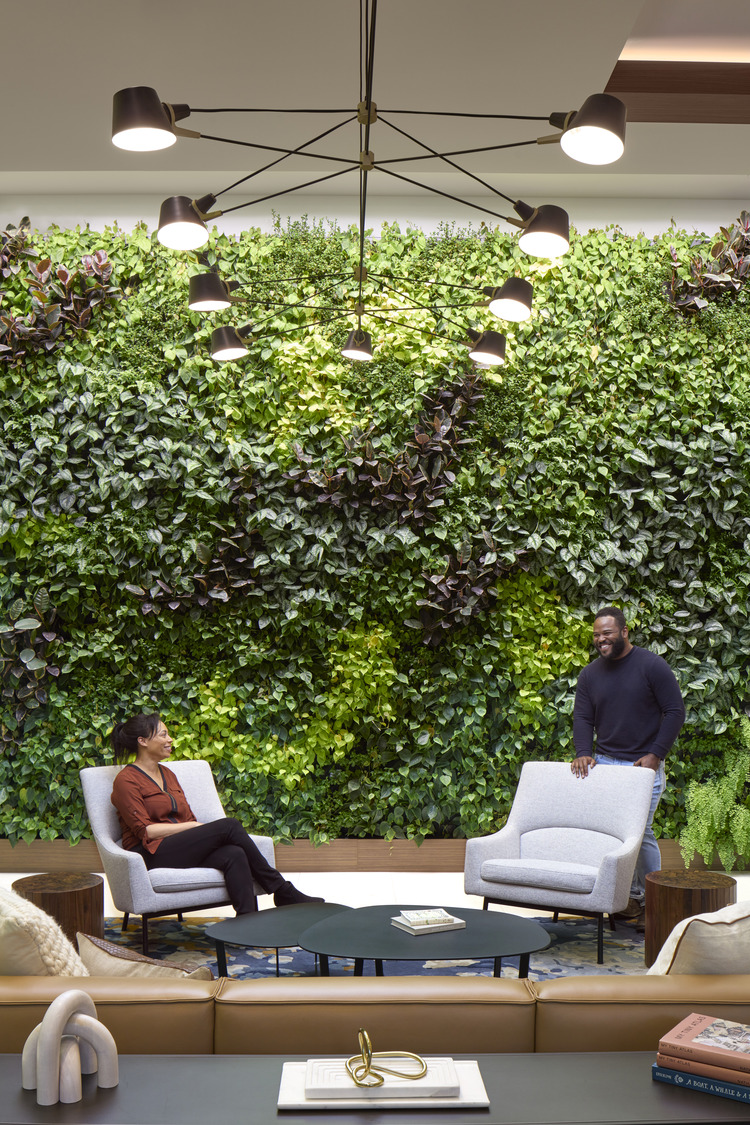 2201 Westlake, Portland, Oregon
📸: Moris Moreno
And it turns out, that communal energy is rarely serendipitous. It's carefully designed into the space. A strategic approach to desk density can create the right level of buzz and activity without sacrificing employees' abilities to concentrate. A variety of thoughtfully designed spaces for spontaneous and planned collaboration can get people talking and building deeper ties. Areas for curated surprises and engaging employee programming reinforce a sense of belonging to a company that is creative and cares for its people, while also creating reasons to get people together.
When your employees can get their work done anywhere, workplace design stops being about desks, chairs, screens and printers, and starts being about the interactions that make work worthwhile.
Want to learn more? Check out our full strategic roadmap, The Office as Ecosystem, here, or watch this space for our next installment, "The Not-So-Office Office," coming next week.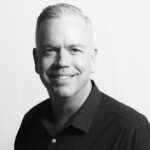 Michael Stueve, Principal, UX Strategy 
Banner photo: Buchalter, Portland, Oregon
📸: Magda Biernat
FILTER
SEARCH
This search form (with id 2) does not exist!
The Office as Ecosystem: Strategy 1
March 14, 2023
The Office Gets Personal (And the Ecosystem Thrives)
The Office as Ecosystem approach has 3 key tenets:
The well-being of one lifts the prospects of all
Fostering connections between people is the primary function of the office
Productivity is a by-product of belonging
When we think about and design for the office as an ecosystem, we're essentially saying that if one area, department, or person is underserved, the workplace as a whole will suffer. Likewise, we acknowledge that moves toward inclusion, equity, and belonging benefit not just the person or people for whom they are taken, but everyone in the greater workplace community.
This kind of people-first thinking and design can manifest in small, easy-to-implement tactics, as well as larger, systemic shifts.
At a systemic level, there's a paradigm shift from the office in service of a business function to an office in service of individuals, each of whom brings different needs as well as gifts to the ecosystem. This requires abandoning both the one-size-fits-all, as well as the set-it-and-forget-it mindsets. Instead, it requires companies to embrace custom solutions, curiosity, and continuous improvement.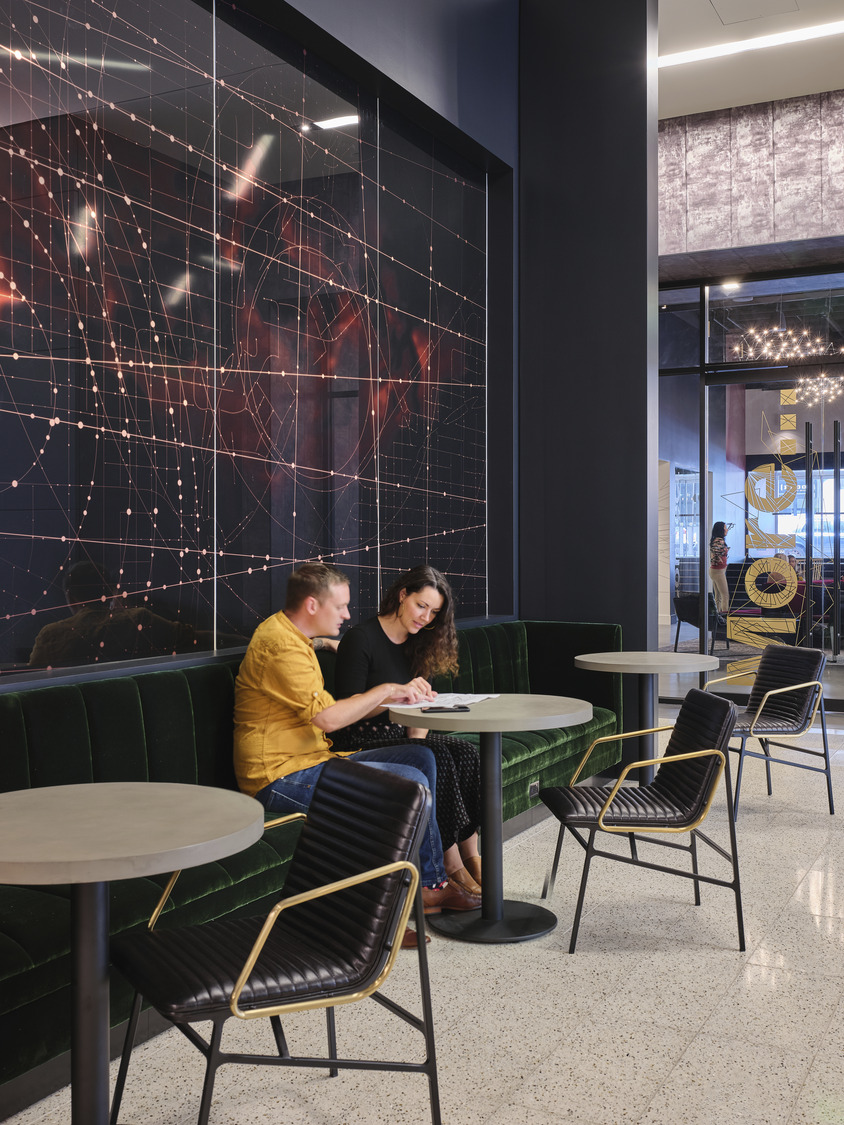 Aspect, Portland, Oregon
📸: Christian Columbres
This can be as simple as inviting a wider array of people with a more diverse set of perspectives to the proverbial table when it comes to office planning and design, asking what they need and building solutions together. Truly ecosystem-focused companies might even go a step further and imagine the needs of future staff and visitors, envisioning a truly welcoming environment for people of all abilities and backgrounds. In this way, companies become attractive to a wider, more diverse, and more engaged talent pool, and avoid the need to react and retrofit with each new hire.
Tactically, there are new, people-first solutions emerging every day that allow workplaces to serve the needs of the individuals within their workforce. Straightforward but ingenious solutions, such as furnishings that support fidgeting or fit a variety of body types not only accommodate differences but celebrate them. Visual cuing systems for d/Deaf persons meet a specific need, but also raise the consciousness of everyone in the office about the myriad ways people receive and process information. Imagine the impact when that understanding gets translated to customer, client, or shareholder interactions. When people-centered design becomes the "norm," everyone in the workplace community – and often well beyond it – benefits.
Want to learn more? Check out our full strategic roadmap here, or watch this space for our next installment, "The Commute-Worthy Workplace," coming next week.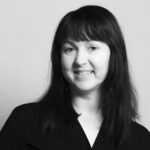 Bethanne Mikkelsen, Managing Principal, Interior Designer
Banner photo: Fox Tower Green Room, Portland, Oregon
📸: Shelsi Lindquist
FILTER
SEARCH
This search form (with id 2) does not exist!
The Office as Ecosystem
March 7, 2023
5 Ways to Design for the Workforce You Have Now and the Workforce You Want in the Future
Our workplace design team has a unique window into the changing nature of work, and the challenges that companies have keeping up with it. Every client meeting we attend, and every new design request we field, gives us a view of what's really going on in today's offices.
Late last year, we started to see some patterns emerge in the conversations we were having with clients about their workplace needs. And those patterns lined up with some trends and tactics we'd been incorporating into our projects.
It just made sense, then, to turn those patterns into a strategic roadmap our colleagues and clients could use as they are all rethinking what the workplace looks like. It examines the ways we need to shift our thinking about the roles, both functional and emotional, that offices play in workers' lives today, with lots of examples and ideas to get begin the journey of workplace transformation.
We call the overarching approach "The Office as Ecosystem," because it acknowledges that the workplace is an interconnected environment, where the well-being of one lifts the prospects of all.
If you've been grappling, as so many companies have, with a changed workforce and a not-so-relevant workplace, maybe a shift to ecosystem-thinking is in order.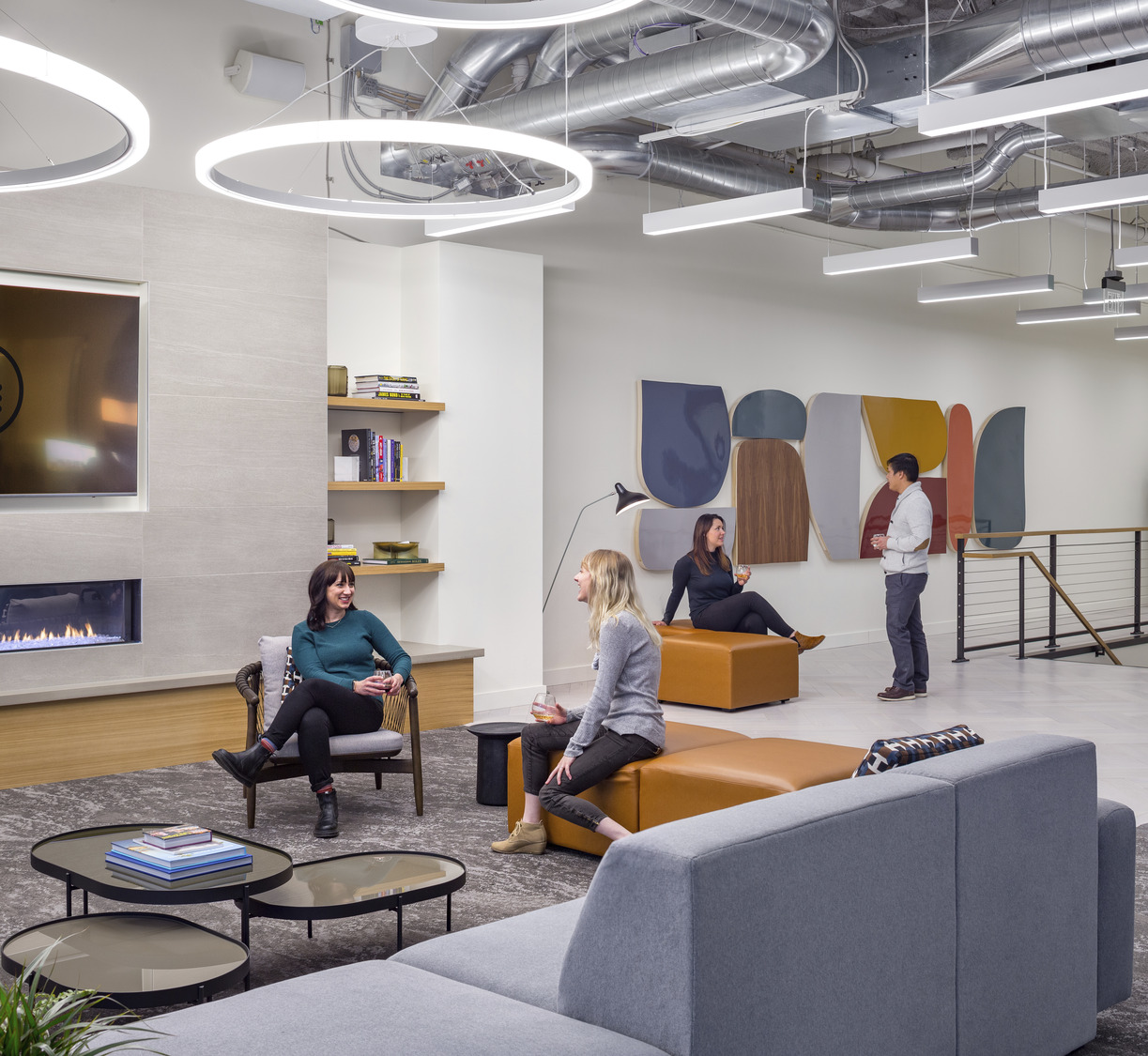 Archivist Capital, Portland, Oregon
📸: Josh Partee
Check out the full strategic roadmap here, or watch this space for each installment, starting next week:
Part 1: The Office Gets Personal
Part 2: The Commute-Worthy Workplace
Part 3: The Not-So-Office Office
Part 4: New Ways to Meet
Part 5: Culture First Employee Engagement
(each Part will be hyperlinked once the blog post launches)
Banner photo: Buchalter, Portland, Oregon
📸: Magda Biernat
FILTER
SEARCH
This search form (with id 2) does not exist!
Living Our Hows Series
March 1, 2023
Lead with our heart. Share openly. Embrace change. Have fun with it. Be yourself. Trust.
These are our Hows, the values by which we work and play. We created our Hows a few years ago through a decade-long process (stay tuned for a future post detailing that process!). We encourage everyone to show up in life and at work authentically, to seek connections and embrace the work we do with enthusiasm and flexibility. We're a hybrid firm, and we work differently.
Our workplace design team has put together a six-part series that touches on our Hows and the way they come to life at AM. Click the links below to read each article in the series.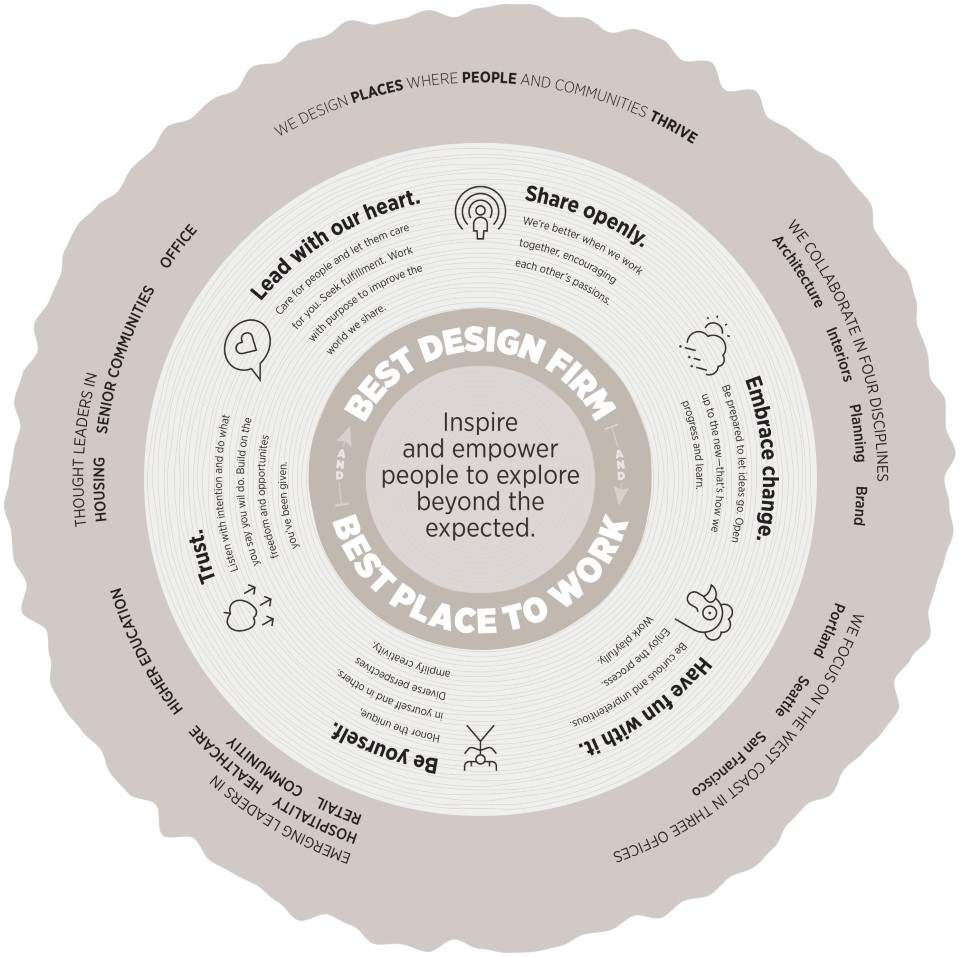 FILTER
SEARCH
This search form (with id 2) does not exist!
An Integrated Approach to Revolutionary Healthcare Design
September 12, 2022
Providence Reed's Crossing Wellness Center
Population health relies on more than simply treating sickness. Leading a healthcare shift to a value-based model whose viability depends on people maintaining their health, from a fee-for-service financial model, our client's strategy embodies this pivot with a new healthcare center that integrates traditional clinical services with wellness facilities. The Providence Reed's Crossing Wellness Center is a dynamic new healthcare facility that communicates warmth, healing, approachability — holistic architecture that sees people as more than patients. Community-oriented general fitness and wellness spaces act as bridges to more specialized functions like integrative health, dermatology, retail, physical therapy, imaging, women's care, pediatrics, and more. Our design connects services with open, blended thoughtful architecture and interior design in an active urban environment.
Our hope: To help people get and stay healthy.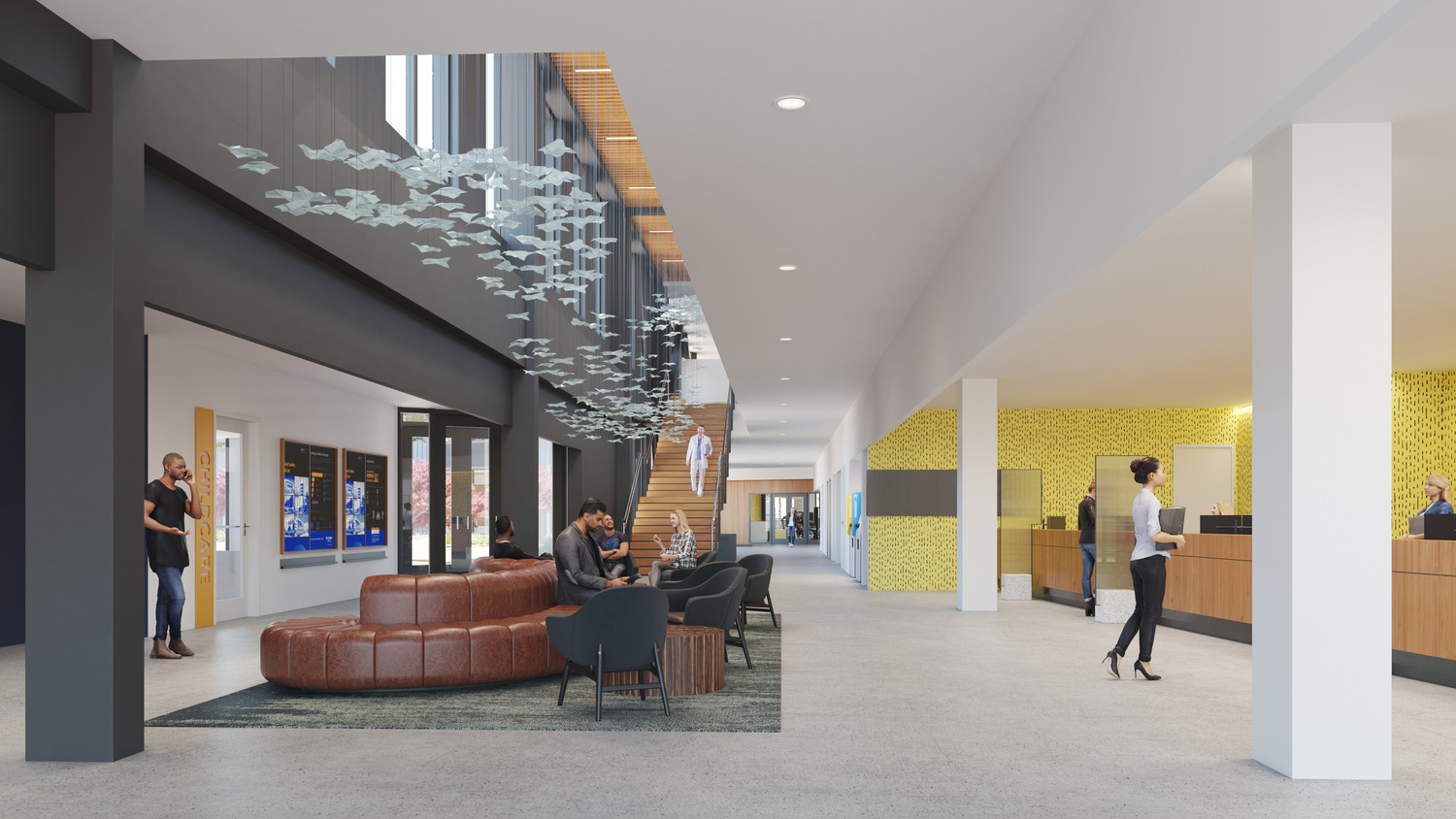 This radical new facility feels like it's part of Main Street while feeling unlike anything else out there. To successfully integrate wellness with clinical services, we start by focusing on how to maximize operational benefits. Our design must communicate warmth and professionalism, relaxation with dynamic activity, aspiration, and inclusion. It's not enough to simply combine traditional healthcare design with wellness. Our design concept must holistically communicate both. Because our client's vision treats patients as complete people whose individual health is affected by diet, behavior, mental and emotional states, as well as physical abilities, our core interior design concept likewise promotes overall healthy living and wellbeing. Biophilic elements like natural light and exposed wood elements soothe visitors and decreases stress while they're working out, learning about nutrition, or waiting to see their physician. Beautiful, integrated color palettes that fit each program will guide and orient people within the facility. Indoor/outdoor spaces further connect our design to its community and bioregion.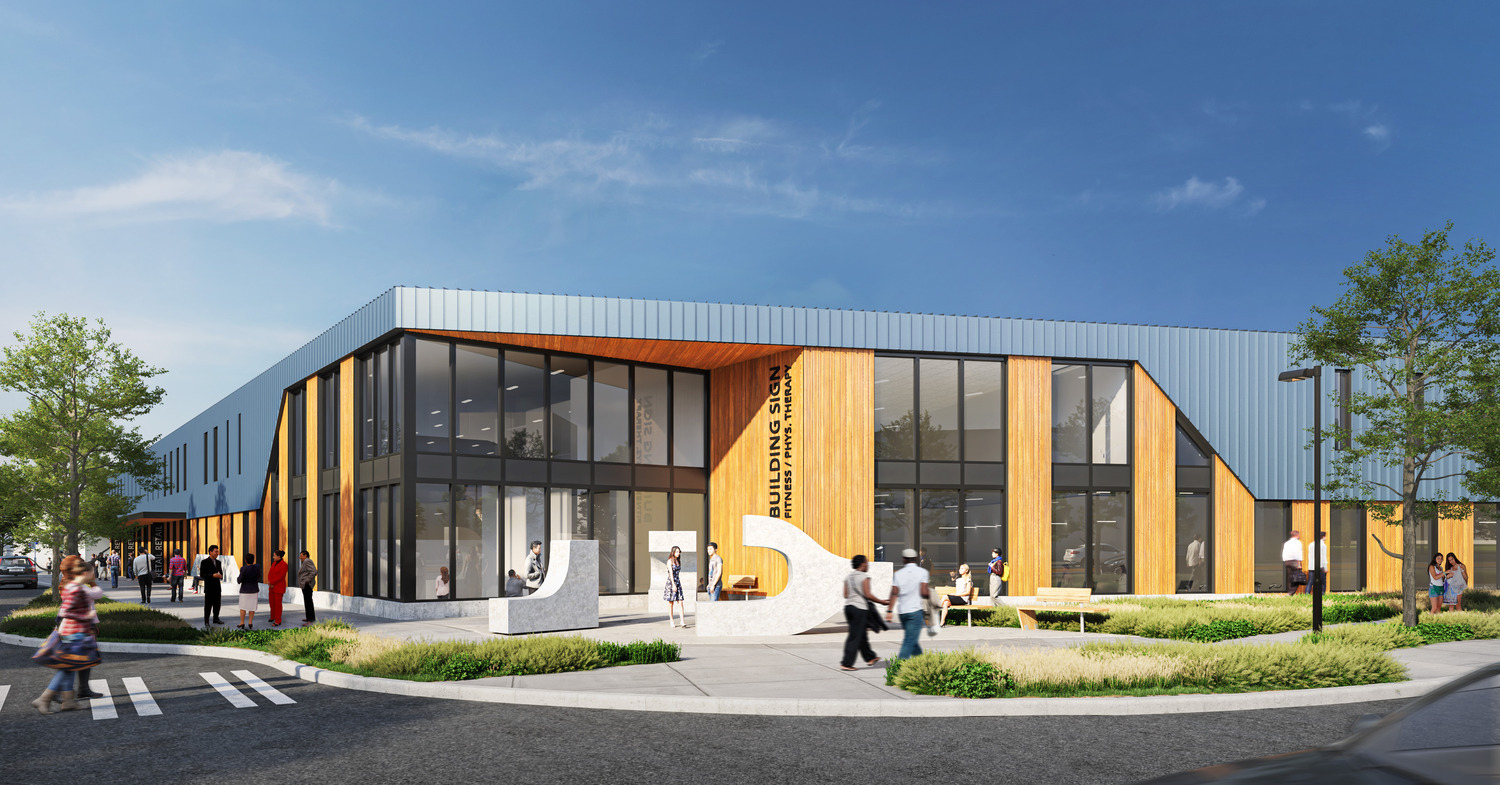 Our hope: A design that feels kinetic yet relaxing, empowering and healing, and completely revolutionary.
Go to the Providence Reed's Crossing Wellness Center Project Page >>
FILTER
SEARCH
This search form (with id 2) does not exist!
Mass Timber: Harder Mechanical
September 1, 2022
Timelessly Modern
A fifth-generation Portland family business, Harder Mechanical needed a new, modern headquarters to last them for another 80 years. Because reinvention tends to be part of their business—they gain expertise in the newest processes, be it mill work or high-tech manufacturing, and periodically transform themselves along the way—they were looking explicitly for an innovative showcase office.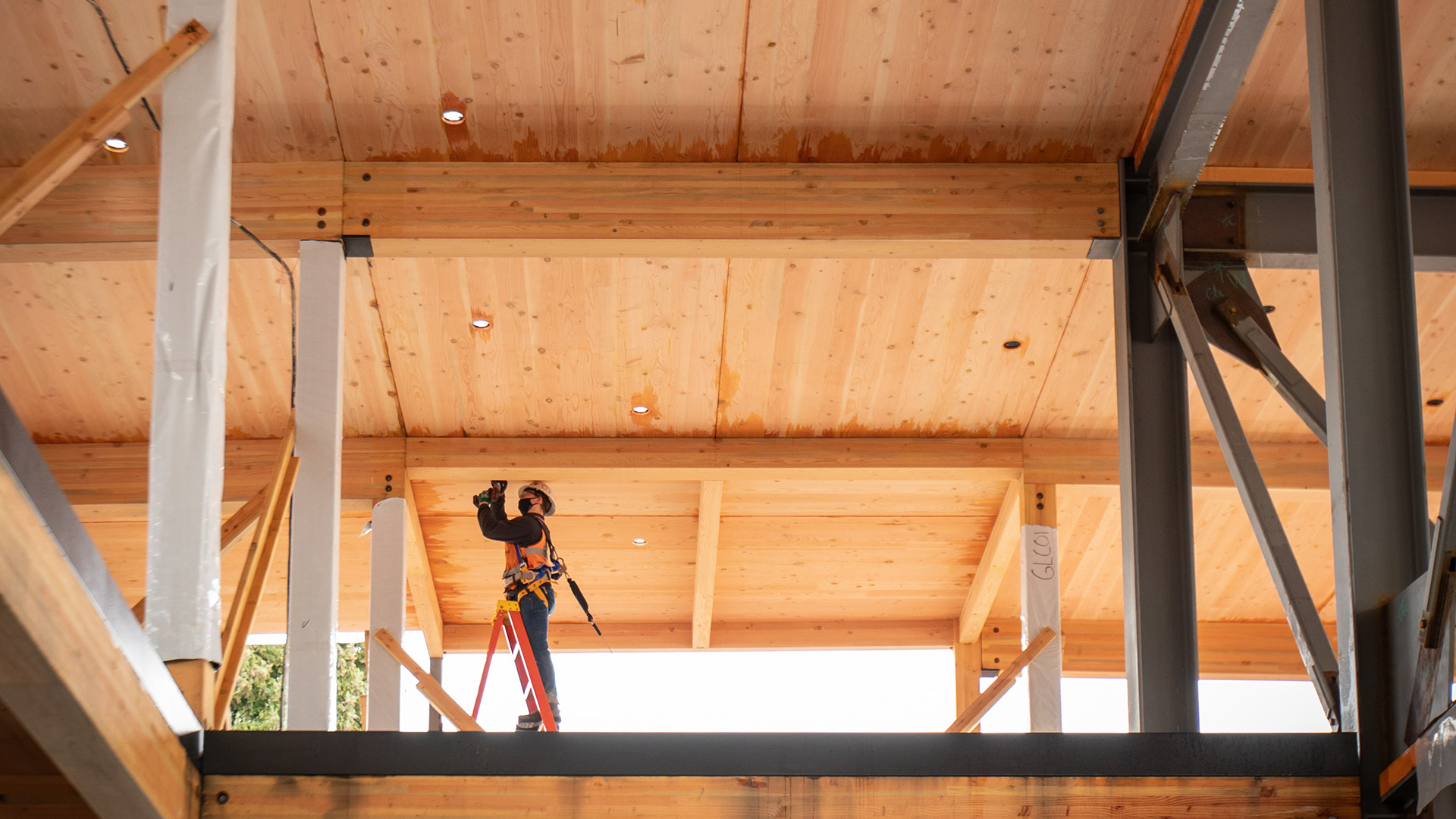 Harder Mechanical building needed to stay rooted in the past while being built for the future. Because the owner is a mechanical and plumbing subcontractor and will self-perform their own scope, the Harder team became an integral part of the design process.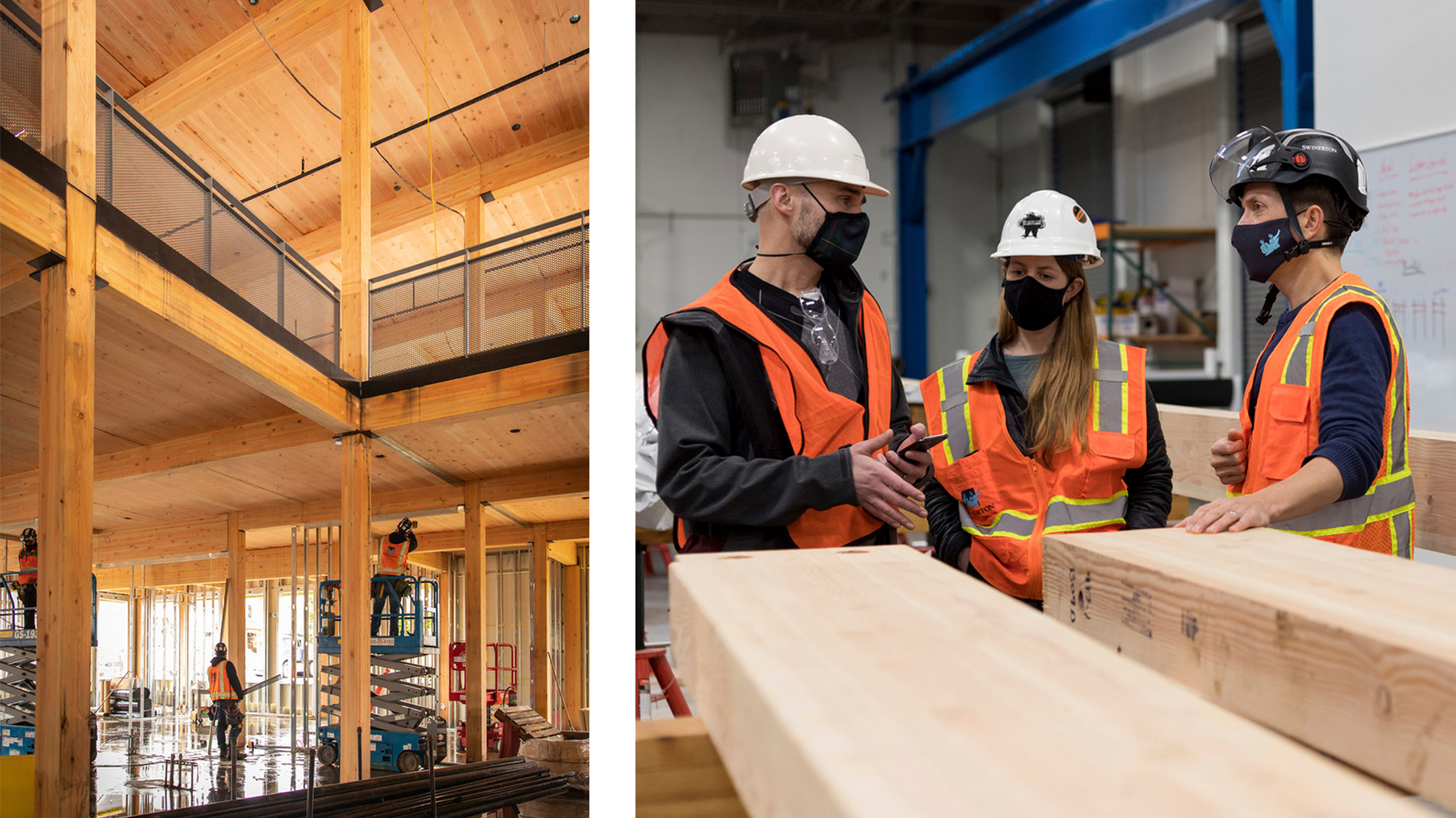 After learning who they are, how they view their work, and what they needed in a collaborative working session, our design encompasses a beautiful, durable brick building using renewable cross-laminated timber (CLT).
Their desire for an innovative approach—to not only the design but also the design process—led to an adapted integrated project delivery method. This allowed for close collaboration with Harder, the General Contractor, Swinerton, and their trade partners to achieve efficiencies and innovative construction methods that meet both design and construction goals.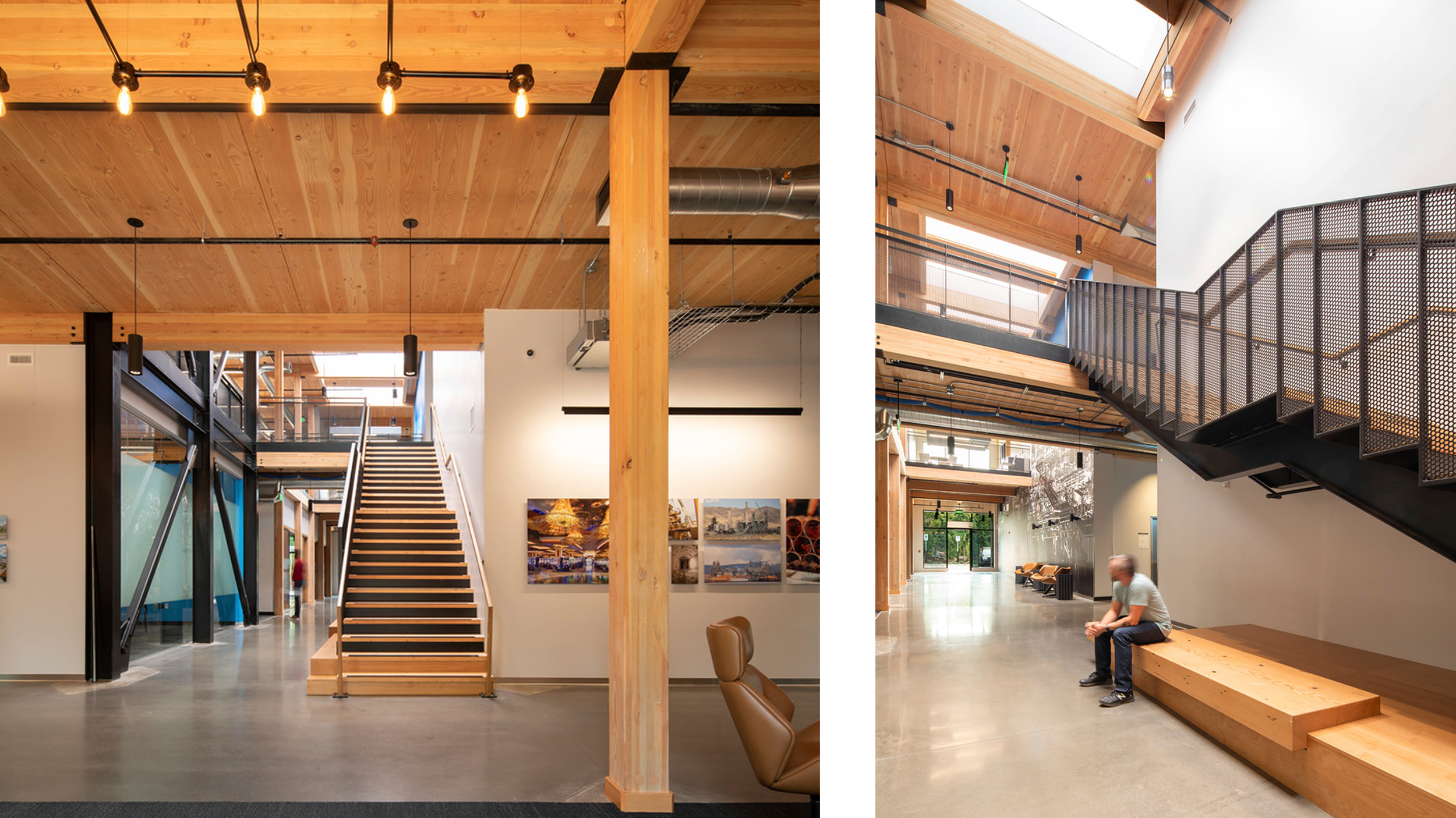 The wish to showcase Harder's own work and innovation led to exposed ceilings and exposed structure and mechanical systems. It is here where the Cross-Laminated Timber (CLT) structural system became a central design element. Utilizing Swinerton's expertise in this area, the CLT simultaneously provides environmental benefits both to the occupants and in broader terms, along with time and cost saving installation.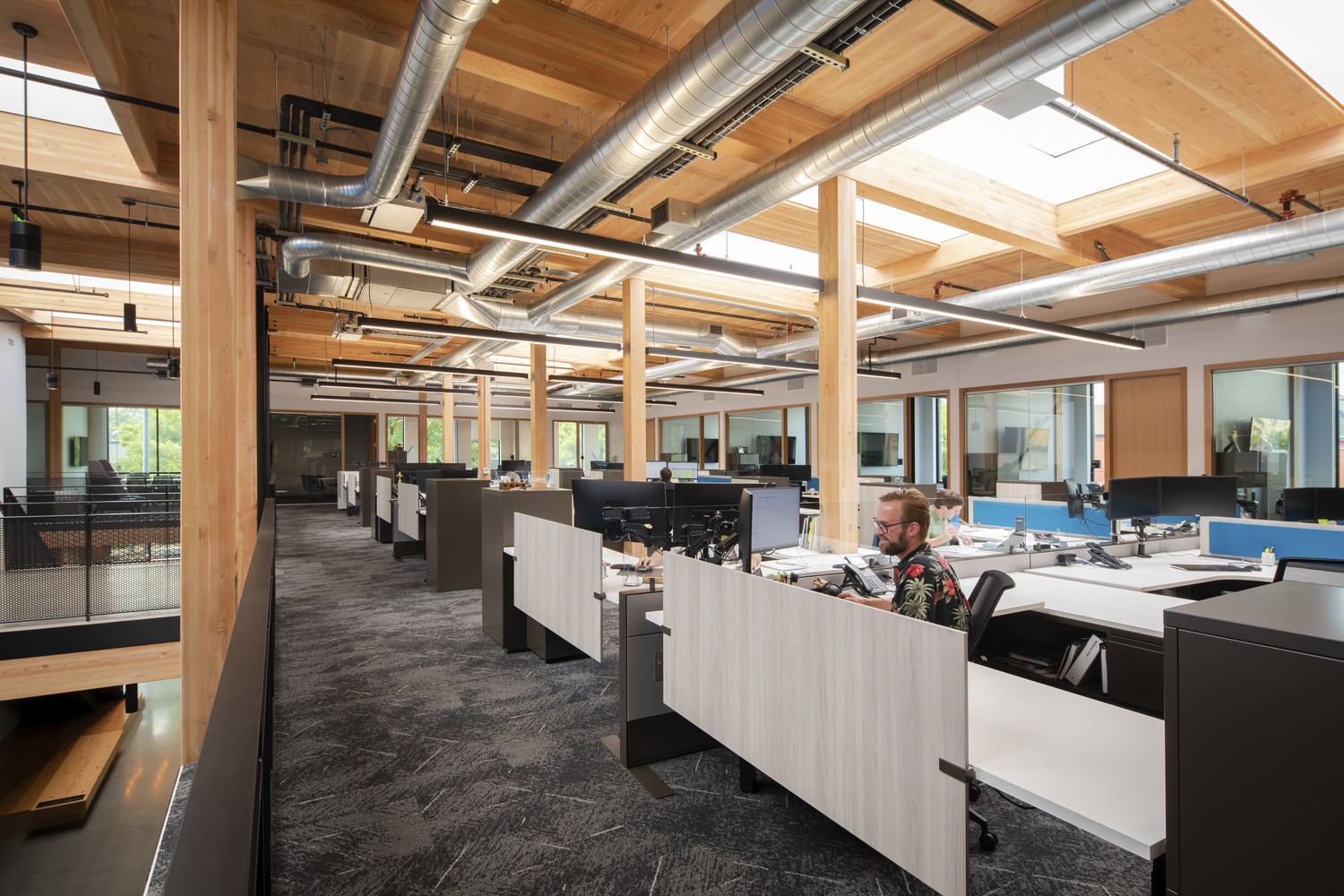 Externally, the company's rich history combined with the historic neighborhood led to the selection of both a durable and beautiful dark brick facade reminiscent of the surrounding context. This traditional material paired with a contemporary aesthetic allows the building to become part of MLK's future whilst respecting its past. The building will last for decades, aligning with and improving the Elliott neighborhood in a way that's both timeless and exceedingly modern.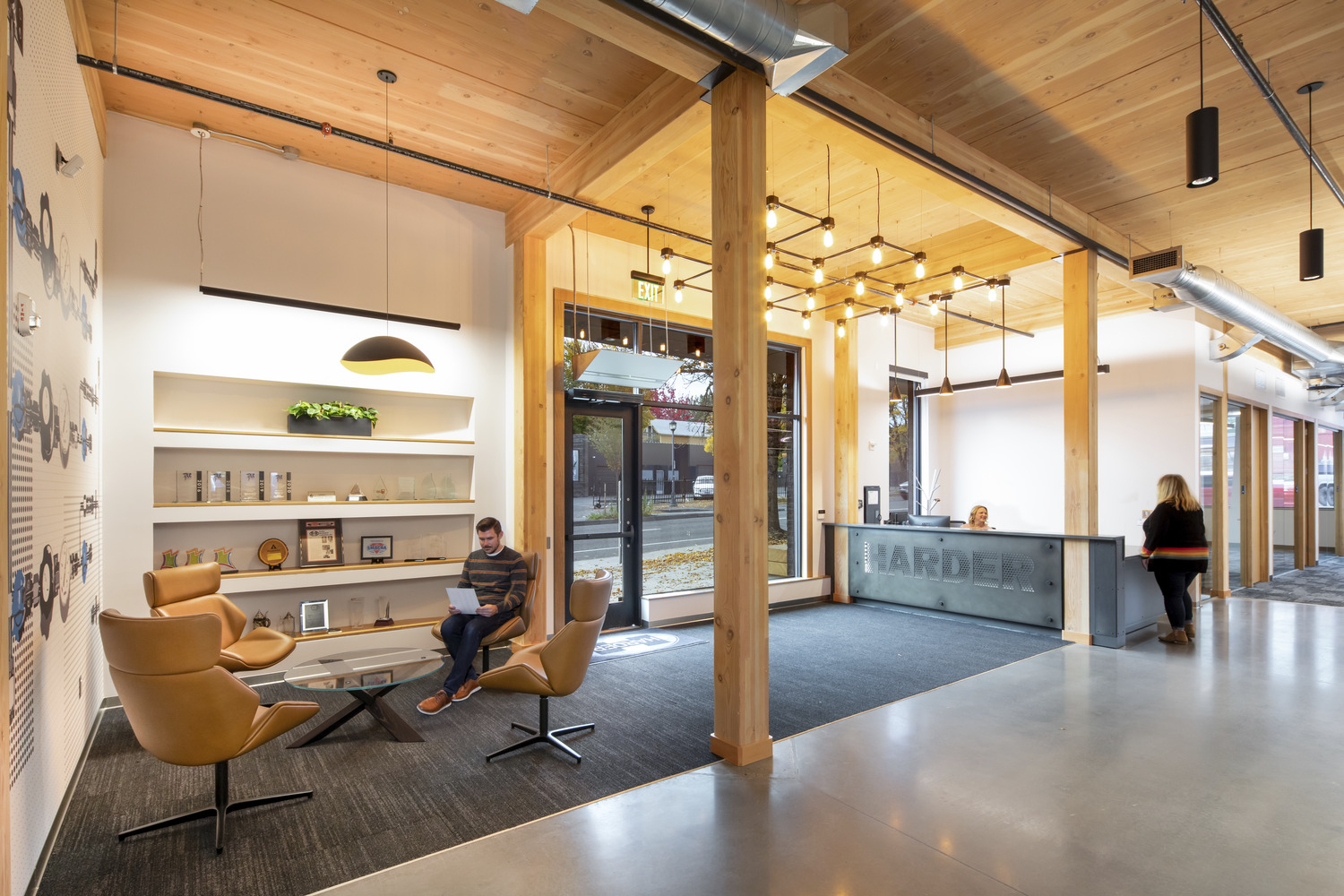 FILTER
SEARCH
This search form (with id 2) does not exist!
Wynne Watts Commons
August 26, 2022
High-Tech Accessibility for the Win
It is undeniable that housing insecurity affects millions across the United States. Rents are up and homelessness is on the rise. There are many factors that lead to these crises, including high housing costs relative to income, poor housing quality, unstable neighborhoods, or even health concerns and peripheral medical challenges and costs. Add to that the encompassing environmental impacts of climate change and a driving need to design and build more sustainably; we are faced with the need to take a more holistic approach to housing and accessibility to address our growing concern for the wellbeing of our communities.
We partnered with Albertina Kerr, an organization dedicated to supporting people experiencing intellectual and developmental disabilities (I/DD), mental health challenges, and other social barriers, to design the largest affordable and accessible housing project in the PNW. This joint project became one of the largest Zero Energy affordable housing projects in the U.S.
This four-story, 150-unit complex features 30 accessible units designed to provide adults with intellectual and/or developmental disabilities, earning 30% or less than the average median income, a place to live independently. Three units are available to families needing temporary housing and the remaining units are reserved for low wage direct service providers. This project showcases innovative technologies and design features readily available today to achieve better health outcomes for residents, minimal overall carbon emissions, and significant savings on energy bills. Energy-efficient features include a 660 KWh PV Array that will produce 727 MW-hours of electricity annually, enough renewable energy to fully operate the building with no utility cost to residents.
Albertina Kerr's in-house staff were consulted to help inform the direction of features that are most useful to the residents. Smart-home integrations enhance safety and useability, and pull-out cook tops and mechanized upper cabinets help residents manage daily tasks. Thoughtfully integrated accessibility features include room darkening shades, RGB controllable lighting for chromatherapy mood management, and acoustically enhanced wall, floor, and ceiling construction that gives residents control of their space to prevent overstimulation.
Wynne Watts Commons is a huge step forward for sustainable and inclusive quality housing for some of the most vulnerable in our community.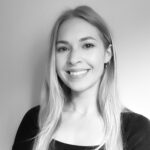 by Mackenzie Gilstrap, Sr. Marketing Coordinator
FILTER
SEARCH
This search form (with id 2) does not exist!
Mass Timber: Moda Tower Lobby
August 19, 2022
Activating Public Art and Springtime Through Renovation
For our first mass-timber curtain wall in Portland's Moda Tower, our goal was to design a canvas that activates the new public art at its heart. Effectively renovating a lobby for public art means more than just designing a white gallery box. The renovated lobby space requires a design that both elevates the artwork and functions for practicalities like circulation, lighting and climate, and code.
Before, Moda Tower's lobby was like many others: small, dark, and relatively constricted. After decommissioning the long-standing previous artwork, we enlarged the lobby and its windows, and replaced the dark, dated floor with bright, crisp materials. The new 30 ft mass timber curtain wall is punctuated by wood-accented and fresh white walls. Warmth and light now invite visitors entering the lobby.
More than just a neutral background, the renovated Moda Tower lobby and our mass timber curtain wall are integral parts of the featured artwork, "Canopy" by Portland-based artist Joe Thurston. Coordinating with our client Unico Properties and Thurston, our team created a lobby redesign that captures the artist's idea of a springlike forest canopy – the feeling of trees reaching toward each other against the sky.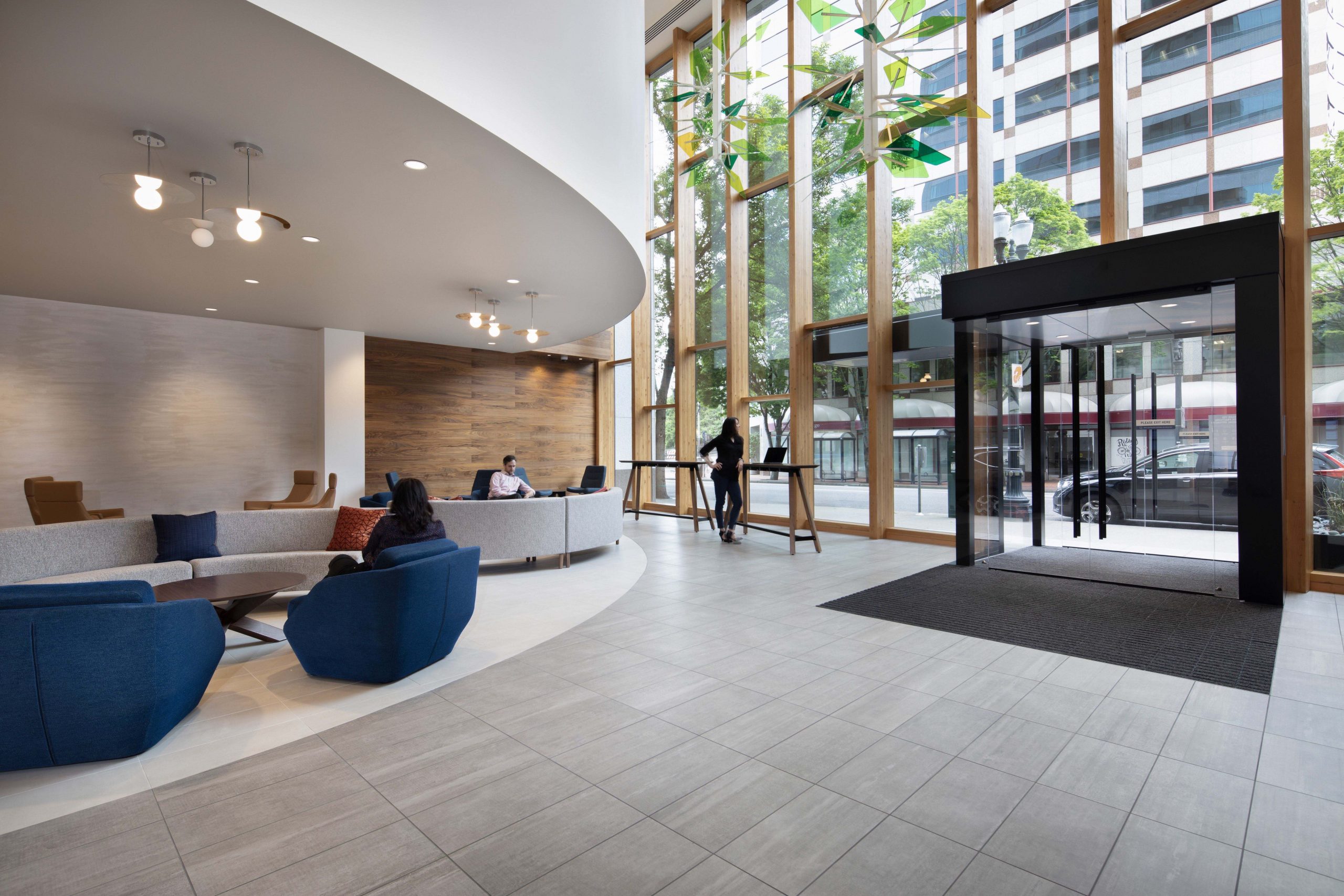 We want visitors to look up as they enter. The glass leaves of Thurston's tree-inspired artwork hang from the lobby's ceiling 30 feet up, spotlighted by our expansive, not-quite-neutral gallery space. Outside, passersby are treated to a bright, vibrant extension of Portland's forests. Using mass timber and other wood accents brings a unique natural beauty and warmth that flows through the space. Within the lobby, people should pause, even momentarily, to look up and find something unexpected.
FILTER
SEARCH
This search form (with id 2) does not exist!
Mass Timber: Skylight
June 19, 2022
Serving Both Pragmatic and Highly Creative Needs­, Equally
Portland's Central Eastside Industrial District is poised to transform its character and vibrancy. Designed to capture and elevate the essence of this historic industrial area, the 115,000 sq. ft. Skylight is our refined rendition of the modern office for creative technology and design professions. The structure is a mix of concrete, hybrid wood trusses, and steel, but the Nail-Laminated Timber (NLT) floor panels are the material binding the whole building together – offering both style and function.
We designed Skylight as two offices bridged by core and amenity spaces, like the wings and body of a butterfly. Our team used structural materials that unite the separate spaces with a raw, edgy, but down-to-earth aesthetic that appeals to creative office users. Exposed mass timber and hybrid wood trusses support a bright, open, and warm office environment. These natural elements contrast with cool concrete, steel framing, and visible architectural joints, adding visual activity and energy to the interior. An array of skylights at the heart of the building brings natural light to otherwise unaccessible spaces.
Use of NLT at Skylight also serves functional goals of our creative office design. The texture of this material has acoustic benefits for the space and exposing the natural finishes removed the added cost of applied interior finishes. We also coordinated with the MEP engineers and subcontractors to hide unattractive parts of typical office systems neatly beneath a raised floor, maximizing exposure to the beautiful natural wood and open space. Supporting mass timber with innovative, long-spanning hybrid trusses also allowed us to create a more flexible and unobstructed layout for existing and future tenants of the office building. Skylight used this method to reduce layout obstructions while maximizing versatility through 35'-40′ spans and only a single row of columns breaking up a 70'-80′ floor plates. To achieve this literal stretch from traditional 20'-25′ mass timber grids, our team designed an innovative, double glulam truss.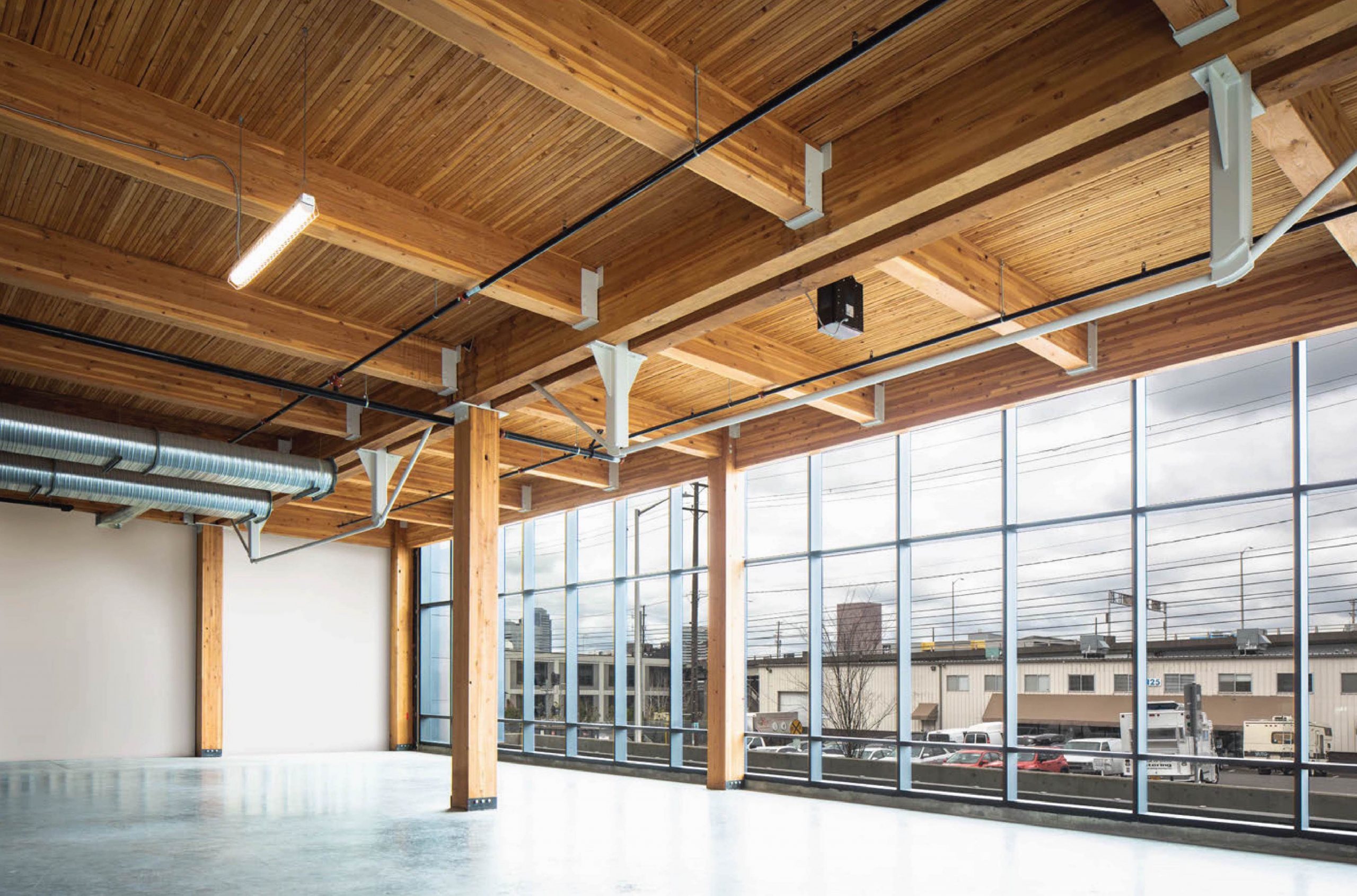 This project fired us up about new mass timber applications. While NLT is not as cutting edge as Cross-Laminated Timber (CLT) panels – a mass timber technology exciting the industry today – Skylight helped us explore and apply the full potential of NLT to establish a new standard for this evolving neighborhood. Its success relied on strong collaboration between the design, development, construction, and engineering team members, who include Turner Construction, DCI Engineers, Glumac, Shapiro Didway, Mackenzie, and Potestio Studio.
FILTER
SEARCH
This search form (with id 2) does not exist!
Mass Timber: The Standard at Seattle
May 1, 2022
Achieving greater heights with efficiency and durability
With study spaces for every occasion, social areas, luxurious amenities, and ground floor retail just blocks from campus, The Standard at Seattle's two high-rise and one mid-rise buildings will welcome students and locals. We took guidance from our client, Landmark Properties, one of the nation's largest student housing developers, and inspiration from the neighborhood's eclectic character to design student housing that fosters a community away from home.
In the mid-rise, Cross-Laminated Timber (CLT) construction will allow us to achieve higher ceilings than would otherwise be possible, with greater efficiency, durability, and beauty – three key reasons why we champion mass timber. Using mass timber from the Pacific Northwest also reduces the building's carbon footprint. Wood on the exterior around the entry draws on the beautiful CLT inside and serves as a beacon for people arriving from the nearby train station. Since exposed mass timber is uncommon in Seattle student housing, we were excited to have the perfect opportunity to use this functional and stylish material at The Standard.
Standing at 26 stories, the two high-rise buildings will be amongst the tallest in the University District upon completion in 2023. Our design team used colors and materials to create a conversation between The Standard's trio of buildings and its eclectic neighborhood. They conceptualized the high-rises as one form, pulled apart to reveal dark blue interior panels that shift in color as the sun hits the surfaces at different angles. The throughway with ground floor retail and afternoon sunlight will be a relaxing destination for the community. With gold details, the throughway is like a yellow brick road to the mid-rise building.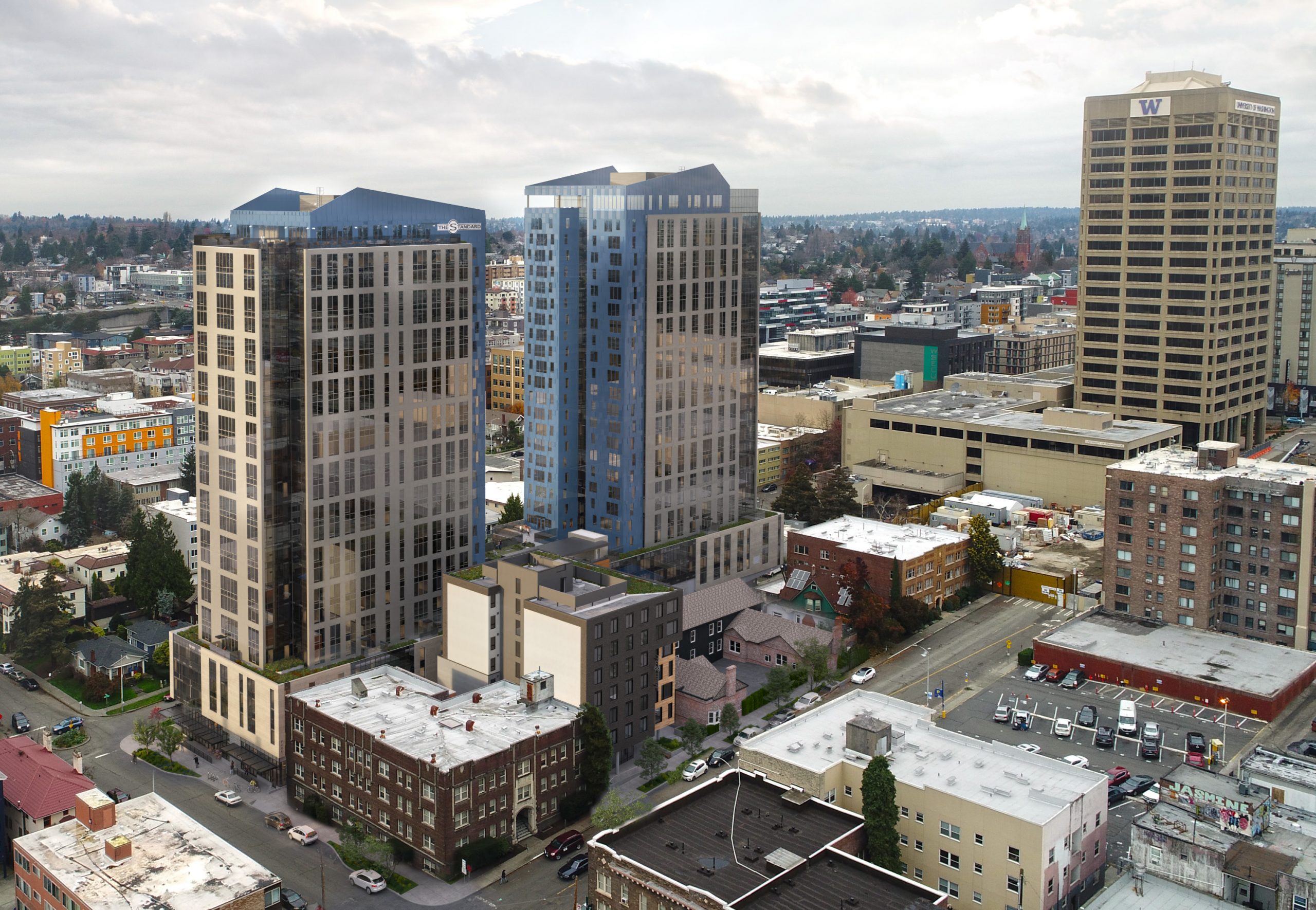 Amenities housed in the high-rise, but accessible to all residents, include a swimming pool, sauna/steam room, and rock climbing wall. All of these options will be easily accessible via a skybridge between the high-rises. The offerings caters towards providing residents as much choice as possible without having to travel far, a feature that our student housing experts know today's young people desire. The interior design mixes natural elements with refined playfulness and warmth to keep the design appropriate for the city's urban, tech-forward, and multi-cultural university students.
FILTER
SEARCH
This search form (with id 2) does not exist!
Celebrating Earth Day
April 22, 2022
Materials That Make an Impact
Our Workplace Design Team is highlighting our integration of salvaged products and materials to celebrate Earth Day! We intentionally source and specify materials made with recycled content and naturally renewable resources in our projects. Beyond these materials there's an abundant opportunity for reusing products that have already been manufactured, this keeps new items out of the landfill and is less energy-intensive than reforming old into new.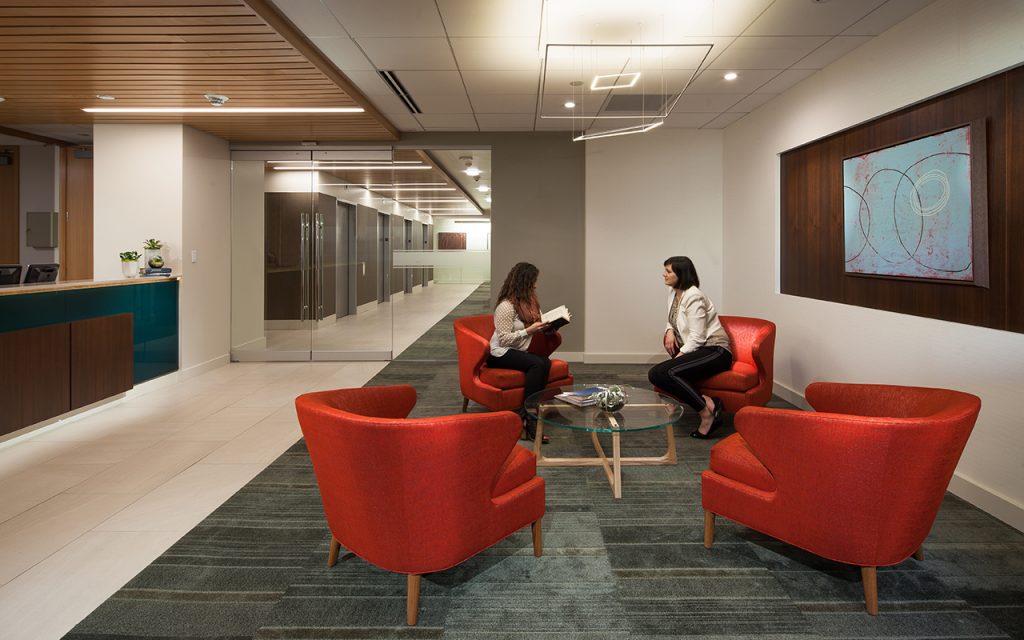 Salvaged goods are not always an obvious choice. A client, in financial services, was consolidating their office space in Seattle, which meant they had a lot of surplus furniture in great condition. The design team took inventory of the existing furniture and strategically incorporated over 140 pieces of furniture throughout multiple floors of the office space. This included conference chairs, task chairs, lounge furniture, and break room furniture. All of the unused furniture was donated to Green Standards to be resold or recycled. This project achieved its LEED certification in 2019!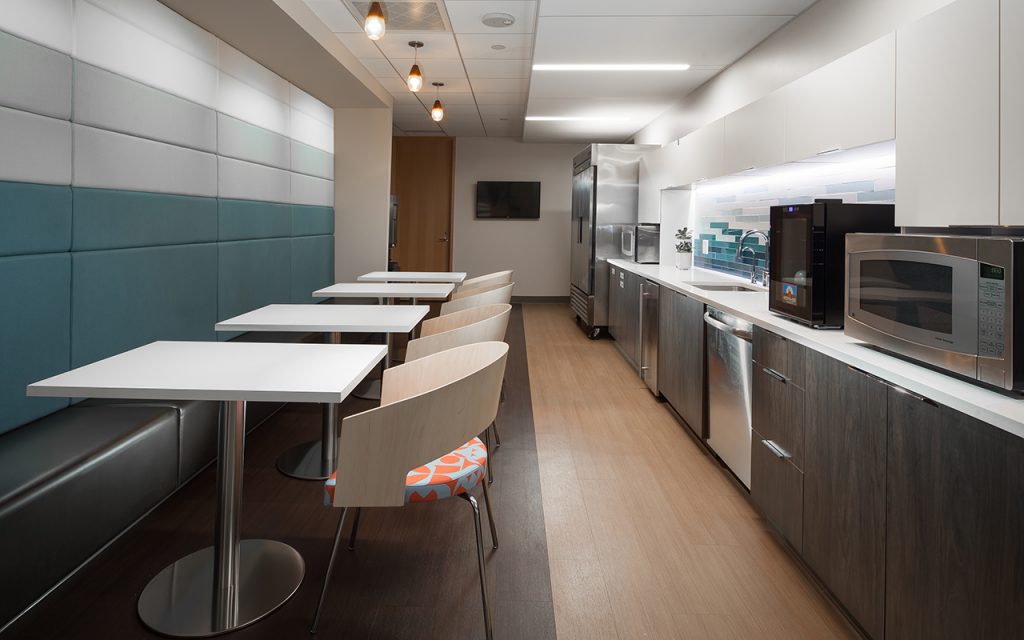 Incorporating salvaged or unconventional materials in tenant improvement projects with fast schedules and tight budgets is the challenge we are looking for! For a project with Los Angeles Sanitation, we brought the concept of recycling into the design. Our designer researched recycled materials and discovered an artist who uses metal cans to create artwork. To exhibit this artwork, the designer, in collaboration with a casework fabricator, created a decorative panel to be installed into the face of the reception desk. A quote from the artist was included in the bid documents to make pricing by the contractor a breeze. Thoughtful planning and smart design allowed us to seamlessly incorporate a design element that reflected the client's values. This was a success for all.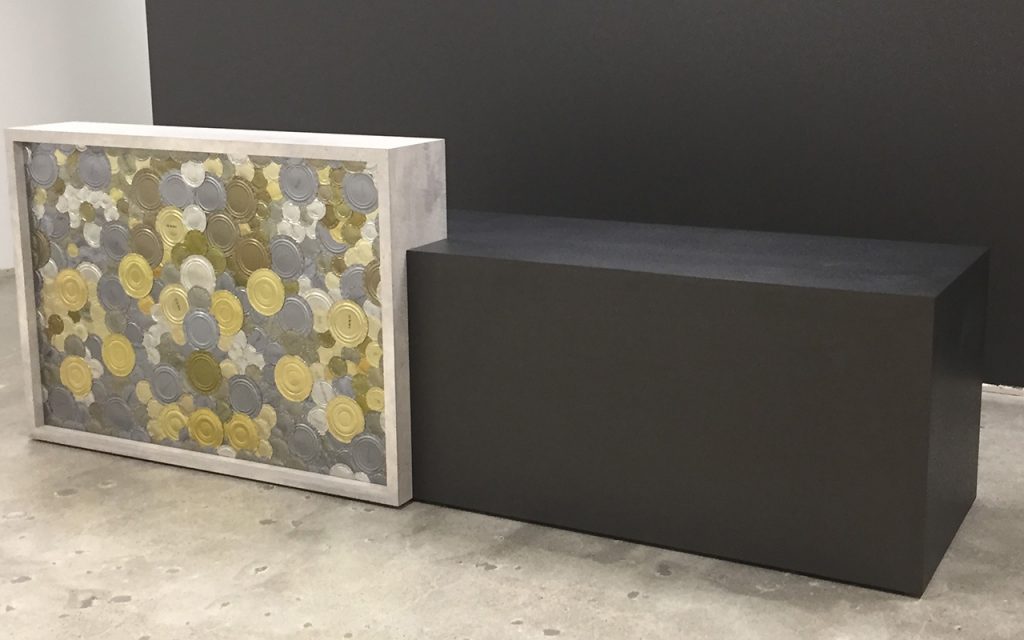 At 38 Davis, our firm's office in Portland, we concepted our design to reflect our values. Sustainability and environmental stewardship are at our core. This is demonstrated by incorporating salvaged wood, from Pioneer Millworks. The salvaged wood material was applied in multiple locations – from ceiling clouds and wall cladding in the conference rooms to rolling benches and booth seating backs in our entry area. The selected wood contrasts the mass-timber construction, while maintaining the warmth and texture only wood can bring. The final project achieved LEED v4 Gold.
FILTER
SEARCH
This search form (with id 2) does not exist!
Mass Timber: 38 Davis
December 19, 2021
Integrating Work and Home Through Mass Timber.
At 38 Davis, work and home is integrated through mass timber. Located in the heart of Portland's Old Town Chinatown District, this building was the first ground-up construction to occur in the district in over a decade. One of the world's first Leadership in Energy and Environmental Design (LEED) v4 certified developments, the building was designed with software guided fans and operable windows rather then relying solely on an HVAC supported air conditioning and heat recovery system. A testament to our commitment to sustainability, the 124,000 sq. ft. headquarters also features a greywater reclamation system and green roof that treats water and removes contaminants on site.
The six-story, mixed-use timber-framed building, which is home to our Portland headquarters, combines office, residential, and retail spaces. Expressing raw craft with care, the mass timber used in 38 Davis is more than warm and honest-it's structurally sound and sustainable, lowering the building's overall carbon footprint.
Utilizing a historic method of a traditional 3×4 tongue-in-groove floor panel system, the building features locally sourced Douglas fir timber beams and exposed columns, which can be seen from the inside as the beams come together in an energetic display of raw materials and craftsmanship that mirrors the work we do. This post-and-beam system allowed our team to create larger interior spaces, high ceilings, and large window openings, achieving our vision of a background "warehouse" space overlaid with a tech-forward workplace that is all parts beautiful and utilitarian, yet historic and comfortable.
As you enter the building, you flow through the ground floor communal thru lobby connecting entries along SW Davis and the semi-private mid-block courtyard with a custom backlit metal art was designed to represent the flow of the Willamette River as it moves through downtown Portland. In the lobby, reclaimed wood wraps the threshold to shared elevators guiding visitors from retail on the ground floor to office space on the second through fourth floors, and workforce housing on floors five and six.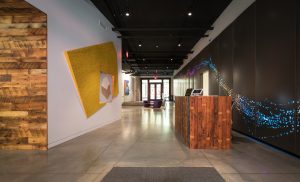 We believe that diversity and sustainability are of paramount importance to the vitality of our lives, neighborhoods, and cities. Designing from an owner's position, we seized the opportunity to create a vibrant, mixed-use development where we can live, work, and learn alongside local community members. The communal lobby, elevator, rooftop, bike storage, locker room and gym area create dynamic interactions between our staff, building residents, and University of Oregon students. A unique, inter-use greywater reclamation system filters runoff shower water from the upper residential floors and uses it to flush the toilet's of the offices below, saving an estimated 202,800 gallons of water annually.
FILTER
SEARCH
This search form (with id 2) does not exist!
Insights from the Advancing Mass Timber Construction Conference
October 20, 2021
Interview with Benjamin Stinson, Sr. Associate
Mass timber technology continues to develop rapidly as more and more projects seek to implement this beautiful, sustainable, and durable material. Our firm's subject matter expert in this field, architecture senior associate Benjamin Stinson, attended the Advancing Mass Timber Construction Conference earlier this month. After participating in workshops, lectures, case studies, and more, Benjamin shared some of his key learnings and how they will influencer our projects.
Q: Why did you choose to attend this conference?
A: Mass Timber is an expanding construction technology solution in our industry and we need to stay ahead of the progress in both code and implementation strategies so we can best serve our clients that are interested in pursuing this great option. Mass Timber is also a construction strategy capable of providing the most substantive environmental impact that our industry has seen possibly ever. The use of Mass Timber at scale could take a huge bite out of the carbon debt we have built up and need to rectify in the coming years, so it is our responsibility to make it as easy a choice for our clients as possible by knowing as much as we can.
Q: Which conference session had the biggest impact on you? 
A: Eric Corey Freed of CannonDesign gave an inspiring presentation about sustainability in design that moved me to want to do more to pursue sustainability with our clients, even when it may not be their first project priority. There is a social responsibility we face to make changes in our industry, and I think we need to do our best to make saying no to those changes in a project as difficult as we can.
I also saw a few great presentations about the Ascent Project, which is a 25 story residential project in Milwaukee, WI that includes 19 stories of mass timber. This project started before developments in the 2021 IBC new Type IV construction types that allow taller mass timber buildings and had to work through a lot of challenges to bring it to market. Even with those challenges, the developers were able to make it a beautiful, viable project. With our strong background in housing, there should be nothing stopping Ankrom Moisan from working with our clients to make mass timber housing projects a reality.
Q: What was something unexpected that you learned at the conference?
A: I had previously heard hints, but I learned that there is a proposal (G147) coming up for a vote that would open projects in the IV-B construction type up to 12 stories to allow 100% exposure in ceilings for the next code update. Exposure of the wood is often critical to bringing mass timber to projects, so opening this up for taller buildings will help our ability to present this as an option to clients. Fingers crossed that the vote goes through, and we can use this as a basis to get more exposed timber in our buildings.
Q: How will your learnings apply to your current projects (if at all)?
A: As Ankrom Moisan's Mass Timber research lead, I am involved in mass timber discussions for multiple projects. What I learned at this conference will come to bear for a lot of our work currently considering mass timber for their schematic design. We are particularly focused on how this can become part of our broad scope of residential projects and how to bring more exposed timber to the living environment.
Q: So, what's next for mass timber? 
A: A key set of innovations that goes hand in hand with mass timber is prefabrication. Mass timber is systemically a prefabricated set of components and integrating prefabrication concepts into the construction process seems like a critical milestone in moving this construction strategy to scale. Constructing a building with prefabricated components can pose a significantly different process for contractors and partners, and streamlining is critical to making mass timber a viable solution. Change can be hard (and potentially expensive), but the more we know about the mass timber process, the more we can help our partners learn this great, new innovative structural solution and bring more buildings to market that make you feel as good being inside as you do being outside, standing among the trees.
FILTER
SEARCH
This search form (with id 2) does not exist!
Designing for Comfort
August 10, 2021
Rest and Relaxation
Our homes should be comfortable, should rejuvenate us, and they can make or break our capacity for resiliency. Designing for comfort goes far beyond material or FF&E decisions to include communal space, biophilic design, sensitivity to place and culture and history, even flexible spaces that adapt to fit each residents' individual conceptions of home and relaxation.
Download Comfort now.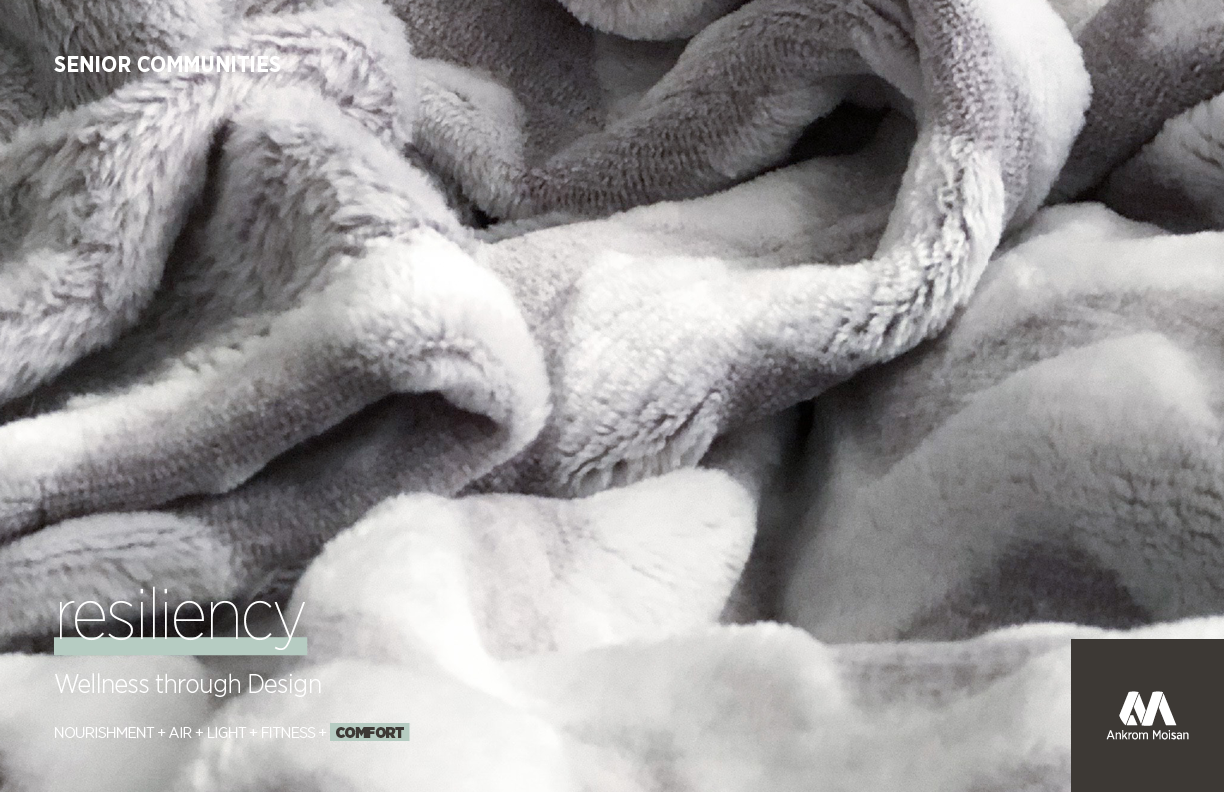 FILTER
SEARCH
This search form (with id 2) does not exist!
Looking Ahead
May 24, 2021
The Post-COVID Landscape for Senior Housing
Ankrom Moisan's Jeremy Southerland, Alissa Brandt, and Chris Ebert led a presentation at the 2021 LeadingAge California Virtual Conference to discuss the research and insights our team has uncovered that will have the biggest impacts on senior housing development in 2021 and beyond. 
Three 
ways to improve senior housing 
design:
Affordability

 – 

adapting to meet demand

.

 

Technology

 – revolutionizing senior 

communities

.

Wellness

 – 

a deeper 

connection

.

 
Pre-pandemic demographic trends remain relevant and will affect development moving forward. Boomers continue to flood the marketplace with 10,000 Americans turning 65 every day; and this market surge will last until 2029. The demand continues, and the new things to pay attention to include affordability as well as a leap forward in technology, which ultimately impacts community wellness. Traditional models of retirement housing are no longer going to meet the market's needs, and senior housing developers and planners will need to adapt to address the lack of affordable housing and embrace a surge in technology.  
Looking at cross-market trends, there are a few things happening in other market sectors that will spill over into senior housing. As offices in urban cores reopen, high-value renters will also return. Seniors have been experiencing a sense of "bored in the 'burbs'" and more of them are looking to relocate to vibrant, dynamic city centers, so senior housing planners should evolve their sites to address this desire. Hyper-localism is another insight we have seen accelerate as well as value-based spending, so expect seniors to look for the same things in their big purchases.  
Shifting back to the development landscape environment, developers and clients are still being driven by their biggest concern: cost. The same lessons we have learned from affordable housing development can dramatically reduce costs and increase efficiency for senior housing communities. As we move ahead, we will continue to apply strategies for affordable housing so we can maximize our spend and have extra money left over for high-market-value items like elevated interior finishes, specialty amenities, or simply more affordable housing. 
Creative partnerships and joint ventures are another major strategy we have seen successfully used to reduce operational costs and enhance service offerings. Built-in services and shared resources and amenities help create resident-focused communities which interact with the wider community. We also expect wellness to play an even larger role in design, landscaping, and architecture as residents look for more ways to socialize.  
Technology and the rapid advancement of telehealth and telemedicine during Covid-19 will likely cause the biggest transformation of the senior community landscape. The emergence of creative healthcare models such as pop-up health centers and roving busses that bring services directly to residents will revolutionize senior housing, connect seniors to affordable programs, and eliminate the need to transport residents off-site. Infrastructure for virtual visitation (ranging from boosted bandwidth capacity to spaces designed specifically as "Zoom Rooms") is finding its way into building programs.  
With an increased access to and use of technology comes improved wellness, allowing seniors to stay better connected to healthcare providers, loved ones, and each other. This advancement, because of the pandemic, also means a shift in how developers see senior communities as healthcare coordinators, not just providers. This has forged a deeper connection and sense of community between staff and residents. Everyone is working together to keep residents safe and healthy.  
Senior communities have needed to adapt to a rapidly changing world and have learned how to function when conditions are less than ideal. In the future, senior communities will look for even more ways to incorporate wellness into the entire design of a project, create flexible layouts, and use the latest in technology to provide an environment that helps seniors age in place comfortably.  
FILTER
SEARCH
This search form (with id 2) does not exist!
Fitness is Integral to Wellness
May 3, 2021
Movement and Play
The connections between exercise and overall wellness are well established—but how can we, as designers, create senior communities that encourage healthy movement for people of all physical abilities? How can we design fitness into residents' everyday lives? These design insights reflect our solutions over decades' worth of projects.
Download Fitness now.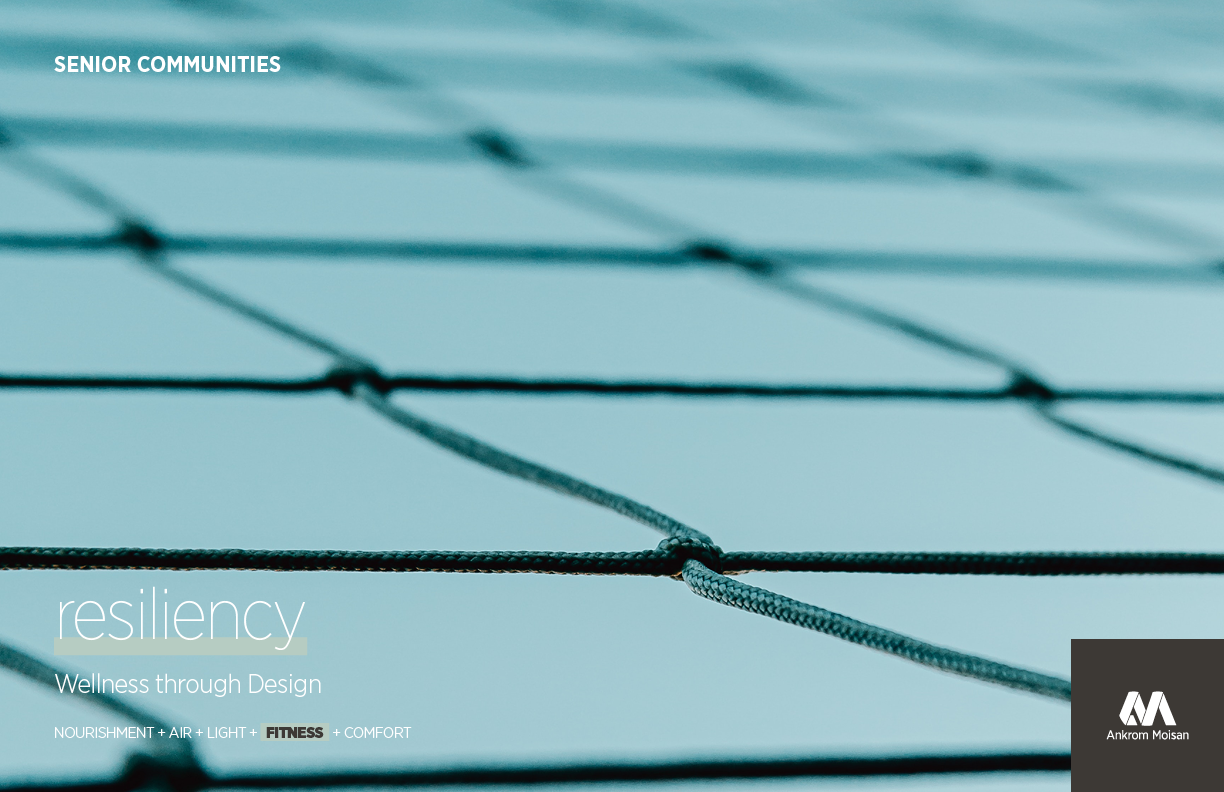 FILTER
SEARCH
This search form (with id 2) does not exist!
Balancing Elements of Design with Light in Mind
February 10, 2021
Natural Light
With access to natural daylight, we're sharper and happier during the day, we sleep better at night, and we recovery faster when we're sick. To properly daylight indoor spaces, designers must balance glazing, climate, solar and thermal gain, external views, nighttime darkness, and many more interdependent factors—far more than simply adding extra windows.
Download Light now.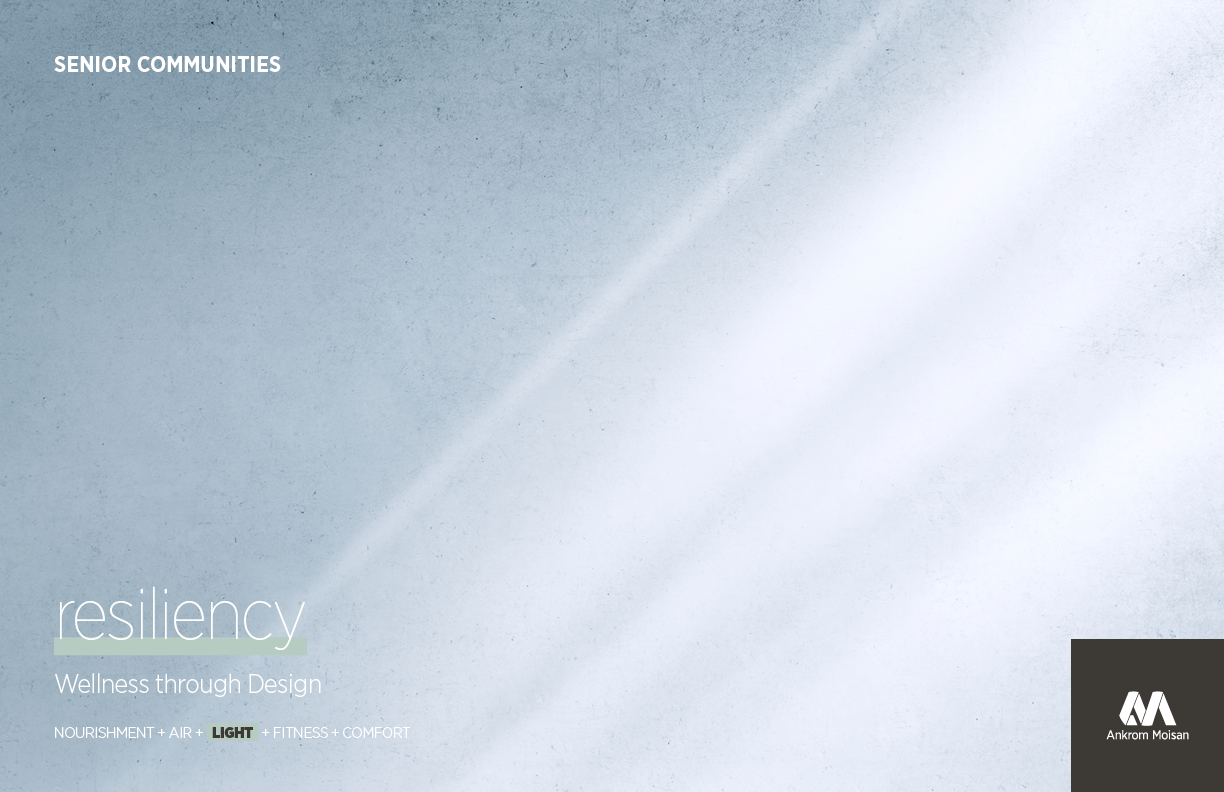 FILTER
SEARCH
This search form (with id 2) does not exist!
Vitality in the Village
November 11, 2020
Mary's Woods
Understanding the connection between a well-designed community and people's overall resilience and health, our campus master plan for Mary's Woods encourages residents to socialize with each other in a large-scale, pedestrian-centered village environment.
Download example here.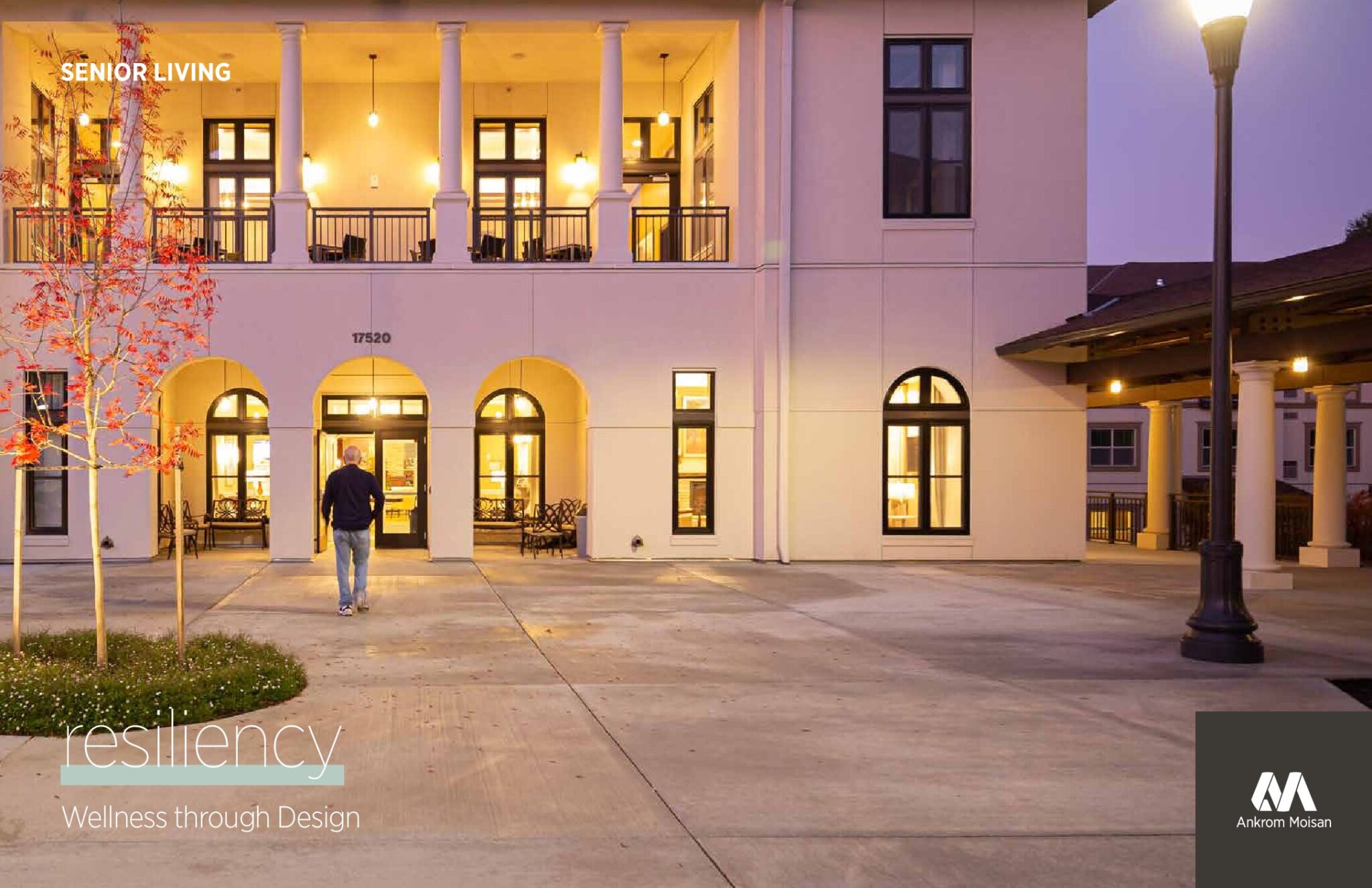 FILTER
SEARCH
This search form (with id 2) does not exist!
Approaching Air Quality Holistically
November 4, 2020
Fresh Air
Fresh air and wellness are intrinsically connected. With ready access to fresh air, people are more alert, physically healthier, able to heal quicker, happier, and more relaxed. And indoors, constantly refreshed air is far safer than stale or poorly filtered air. Our insights explore how designing for fresh air is part of designing for resiliency in senior communities.
Download Air now.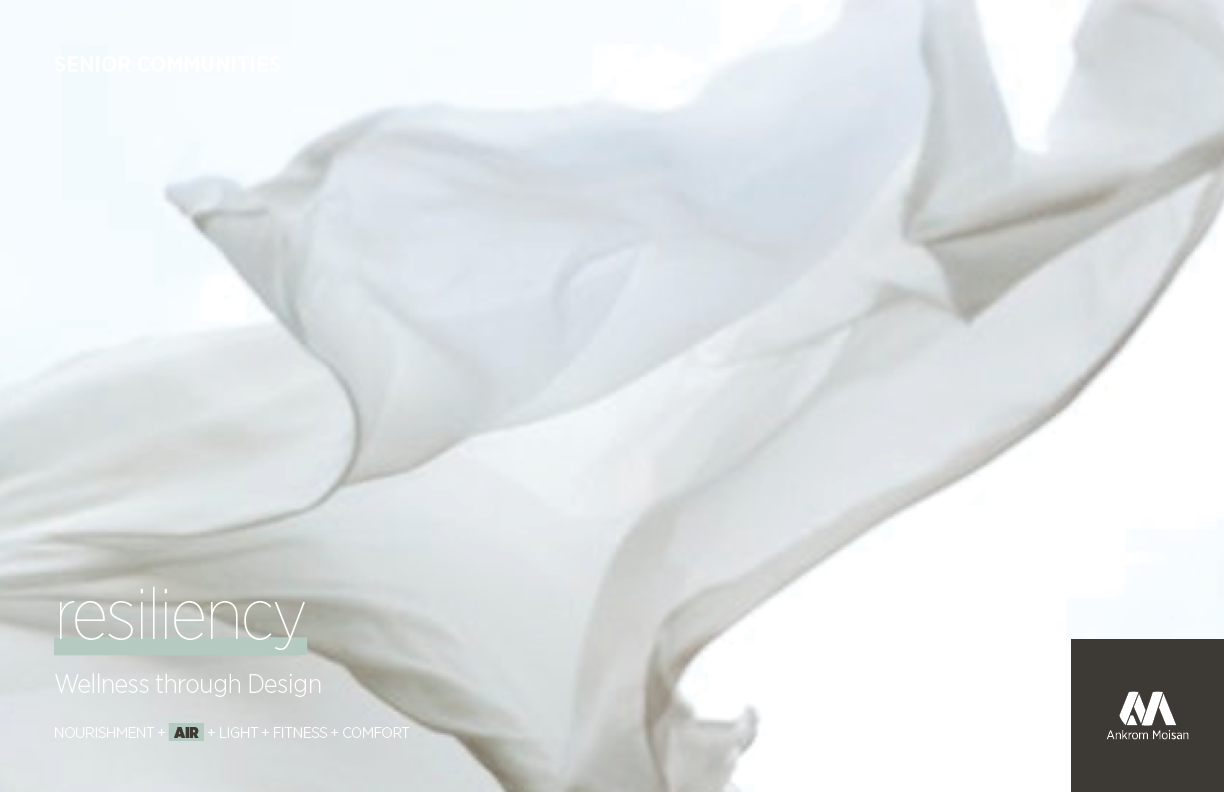 FILTER
SEARCH
This search form (with id 2) does not exist!
Accommodation Around Dining
September 24, 2020
Connection and Choice
Sharing meals is essential to people's social and emotional wellness. Our insights support safer communal meals in senior living campuses that can adapt to social distancing requirements. Spatial redundancies—multiple dining venues, for example—and operational flexibilities—like easily rearranged seating—enable safer, more diverse, and more resilient food services.
Download Nourishment now.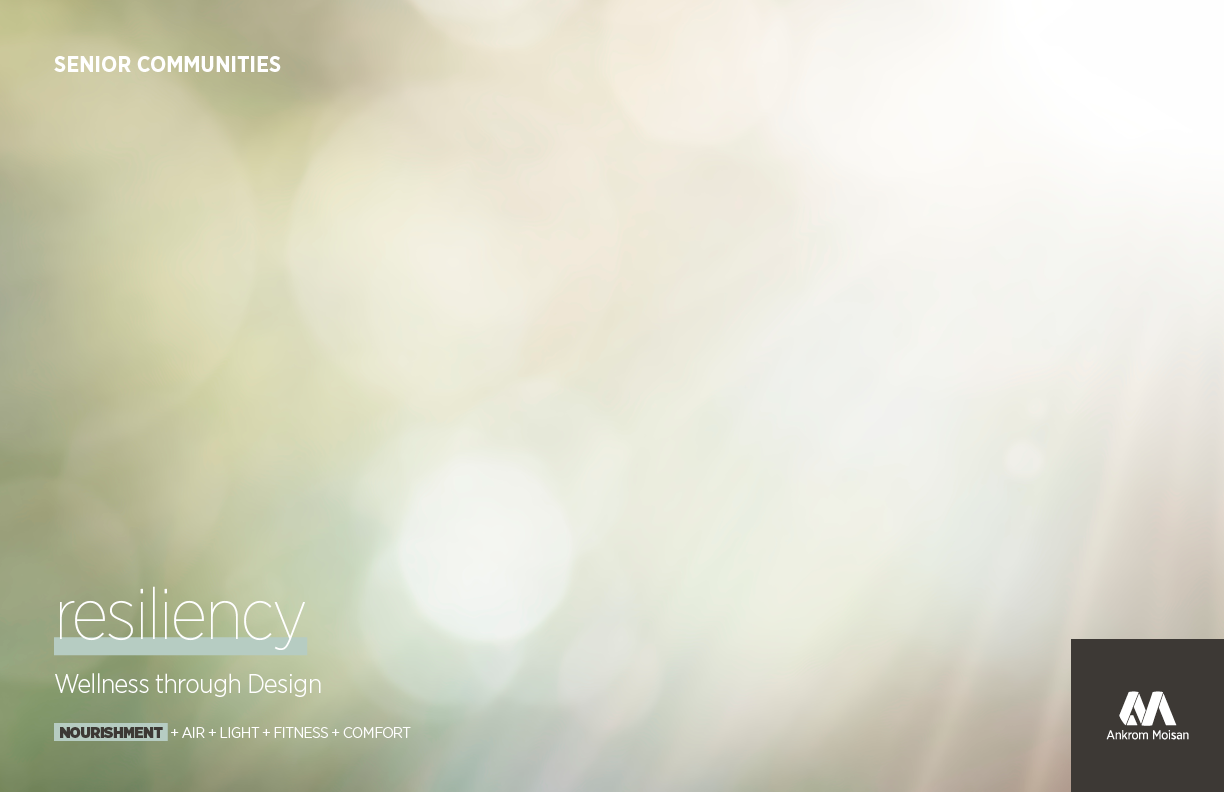 FILTER
SEARCH
This search form (with id 2) does not exist!