September 20, 2022
A Firm-Wide Celebration of Design
Every year, around this time, we gather as a firm and celebrate design. It's like an Ankrom Moisan holiday. A week-long tradition we've all come to know and love—AM Design Week.
This year's theme was aptly labeled "Better Together." And the mission was simple: share, have fun, be yourself, and embrace change.
Opportunities to join in workshops, collaborative exercises and group discussions were sprinkled throughout the week so that AM staff could connect, share ideas, and improve each other's work.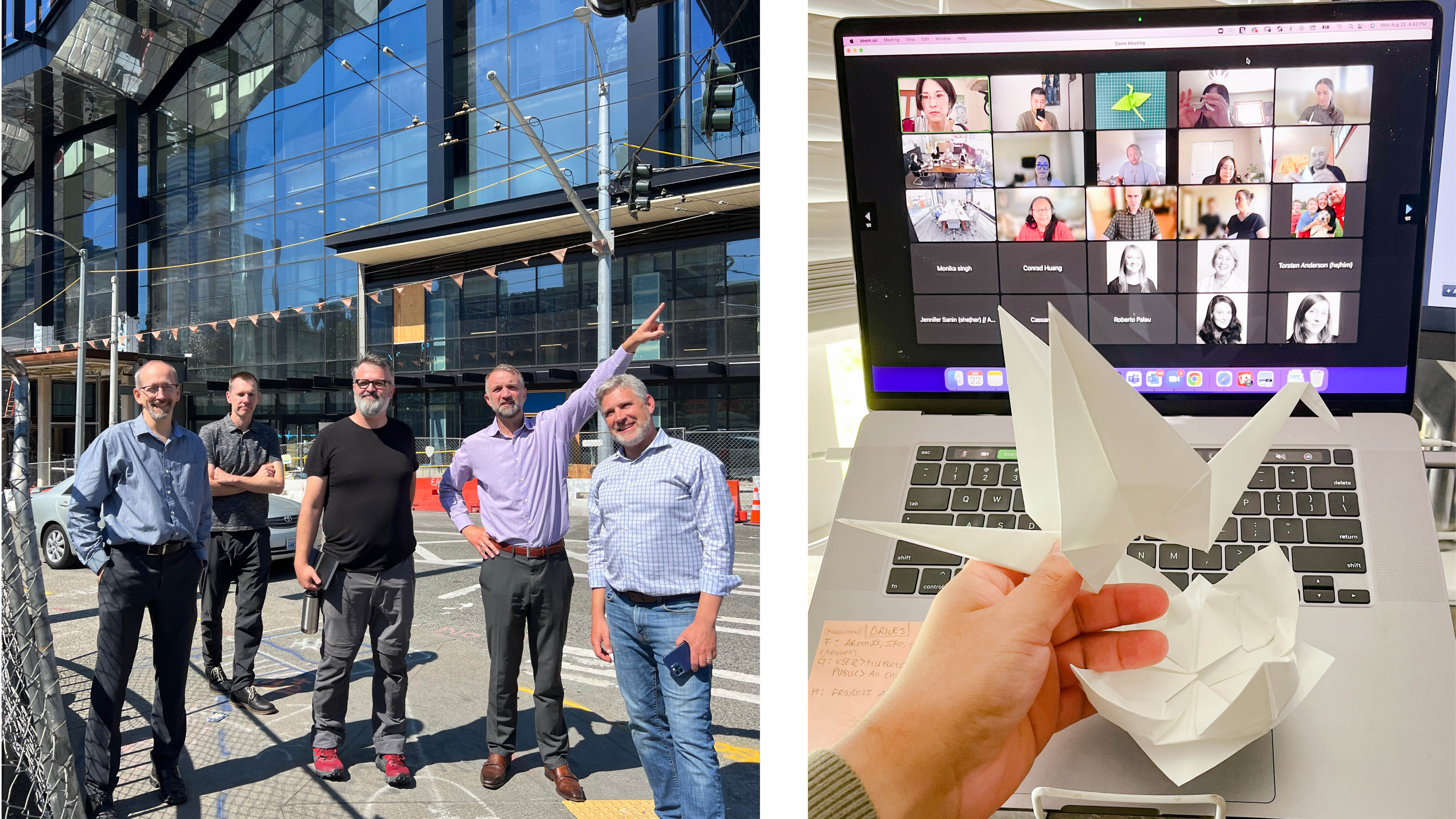 Some of us gathered over Zoom for an origami workshop hosted by an instructor in Japan, others participated in a guided collaboration exercise, or joined in one of the many happy hours—on a rooftop in Portland, in a Seattle speakeasy, or at a San Francisco tapas bar. There were neighborhood walkabouts, design critiques, interactive collages, and so much more. In fact, there were more than 15 activities organized across our three offices.
After the week was over, Kerstyn—AM Marketing Coordinator—told us that "as a fully remote employee, the opportunity to connect playfully with others at AM was welcome and offered many moments of creativity to look forward to."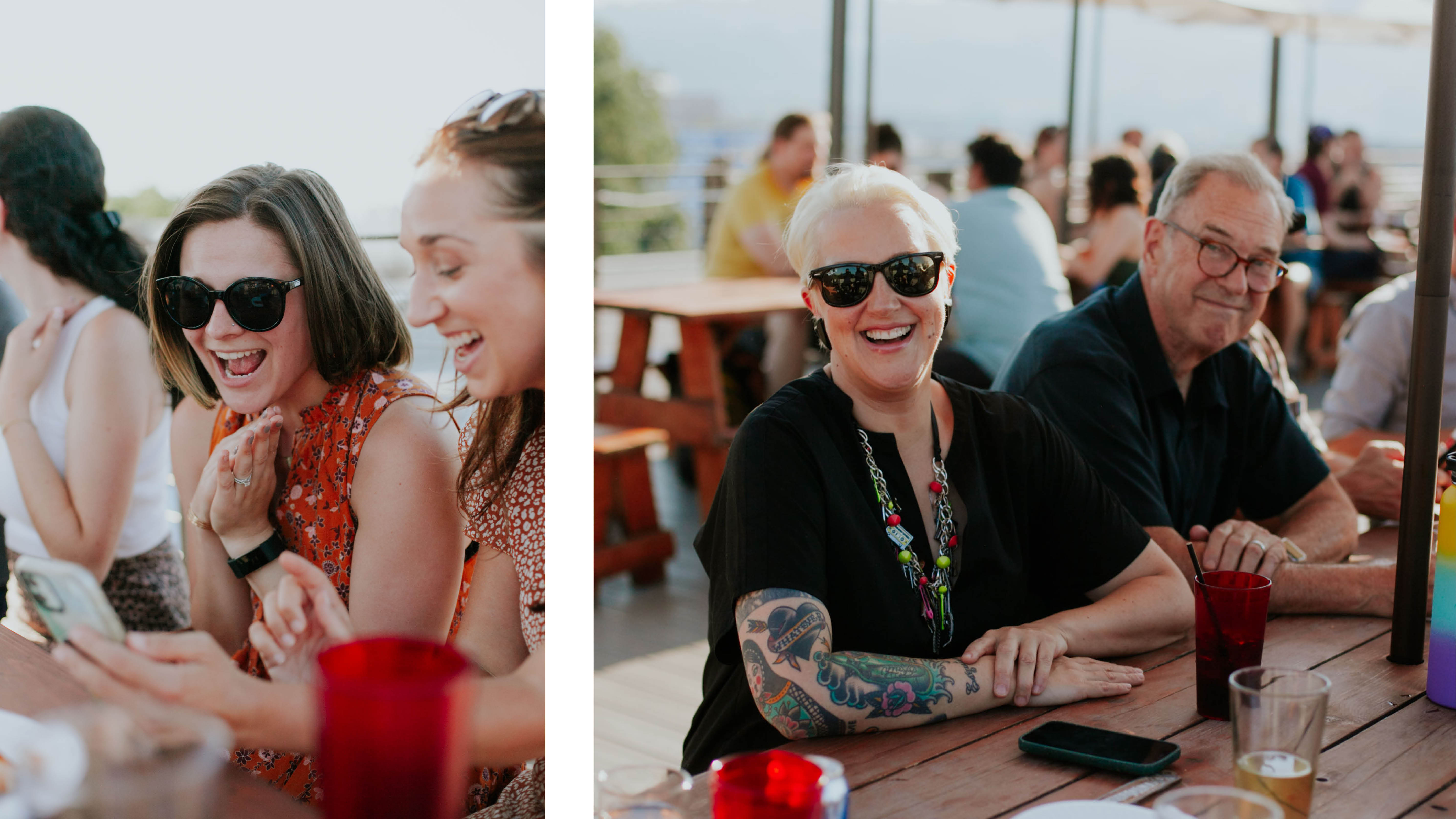 And it really was FUN! Perhaps the best way to illustrate just how much we laughed during Design Week (besides showing you the pictures) is to share a few of the fan favorite "proverbs" we collaboratively generated during our AArdvark Design Labs workshops:
"Sometimes people have ideas from the brain that transcend time and wavelengths."
"Don't forget to remember how a dog sees the bathroom before eating."
"The AArdvark workshop was entertaining and illuminating, with back-and-forth between small groups, focusing together on rapid-fire improvisation" Kerstyn added. "Design Week was a treasure-trove of connection, conversation, and collaboration."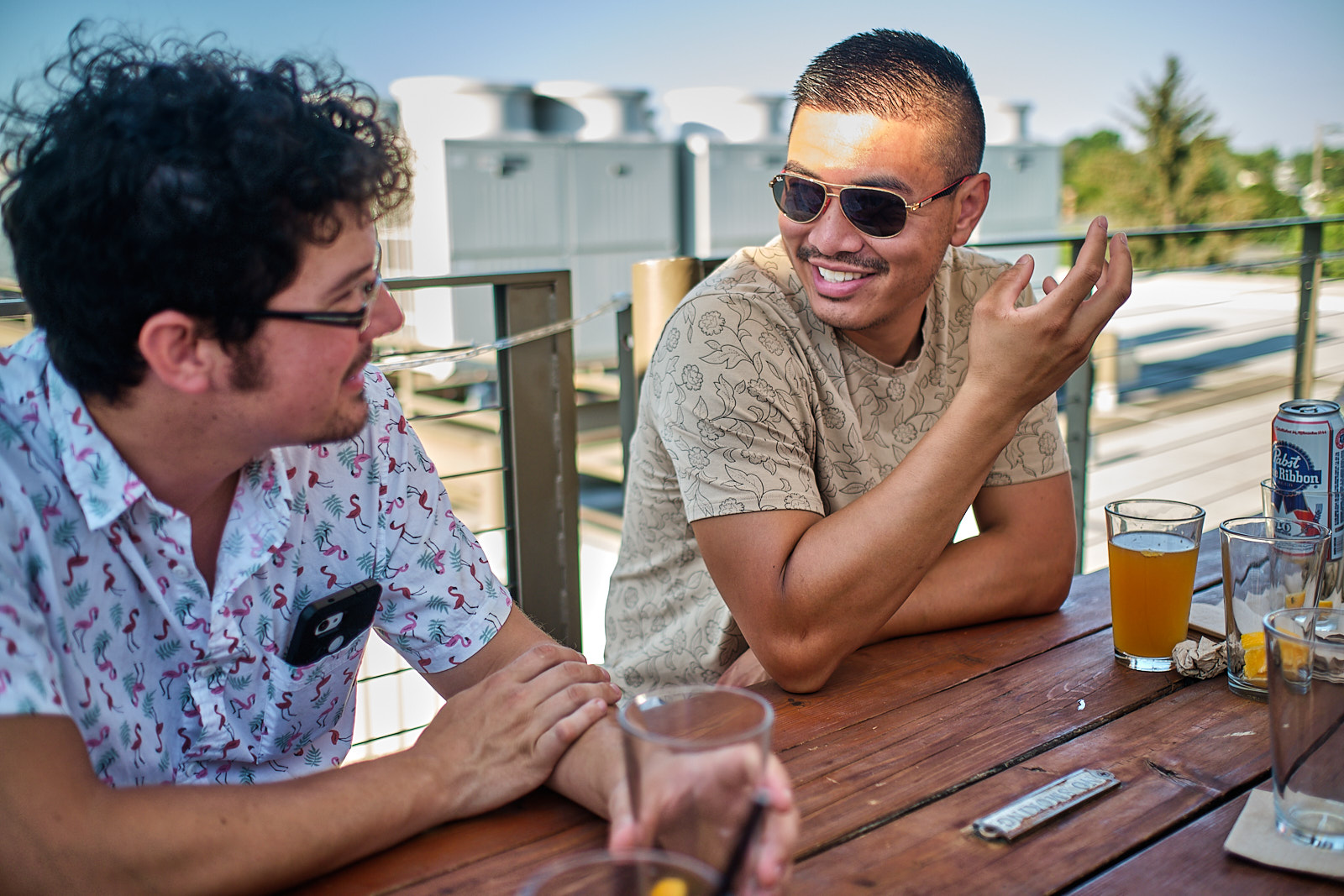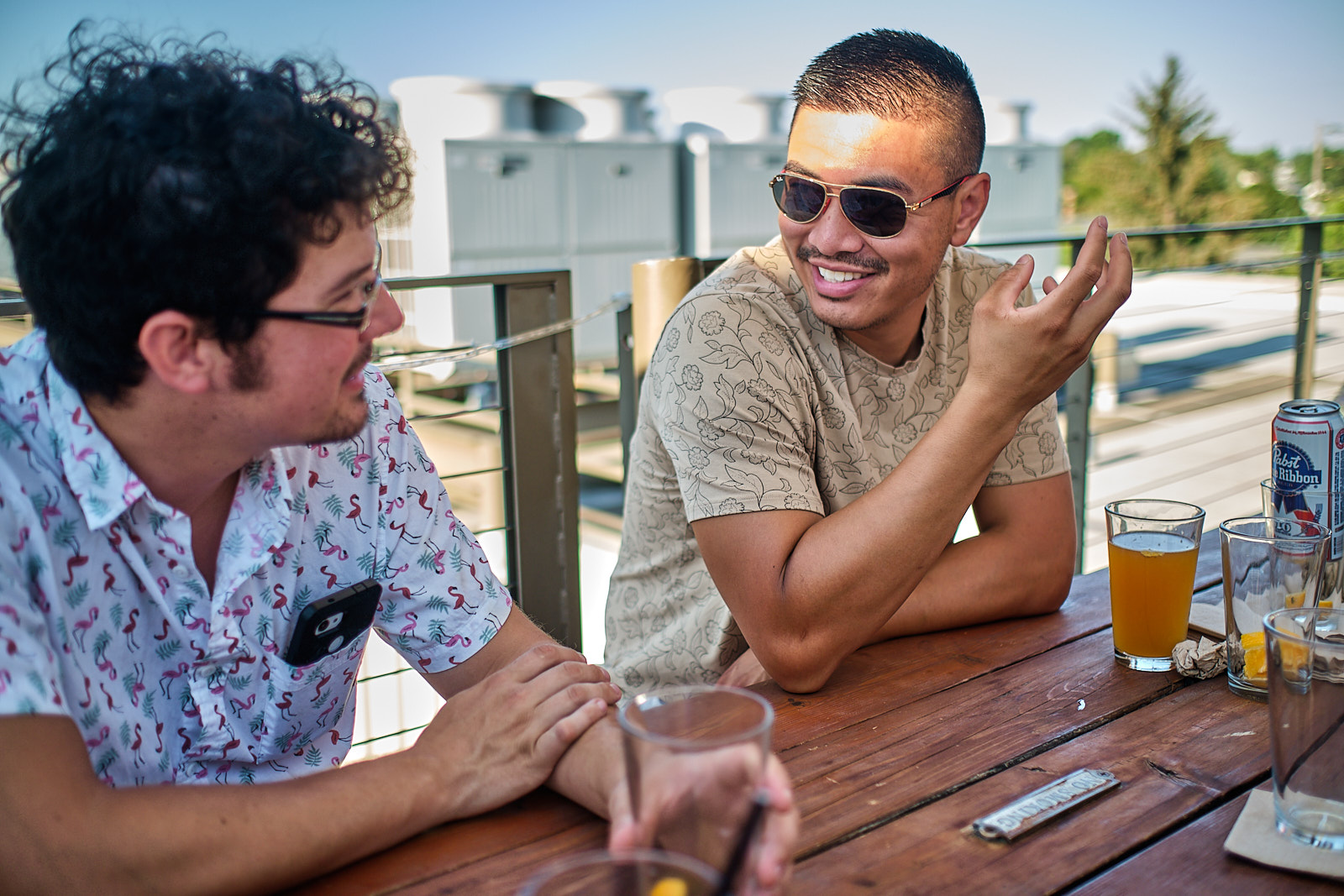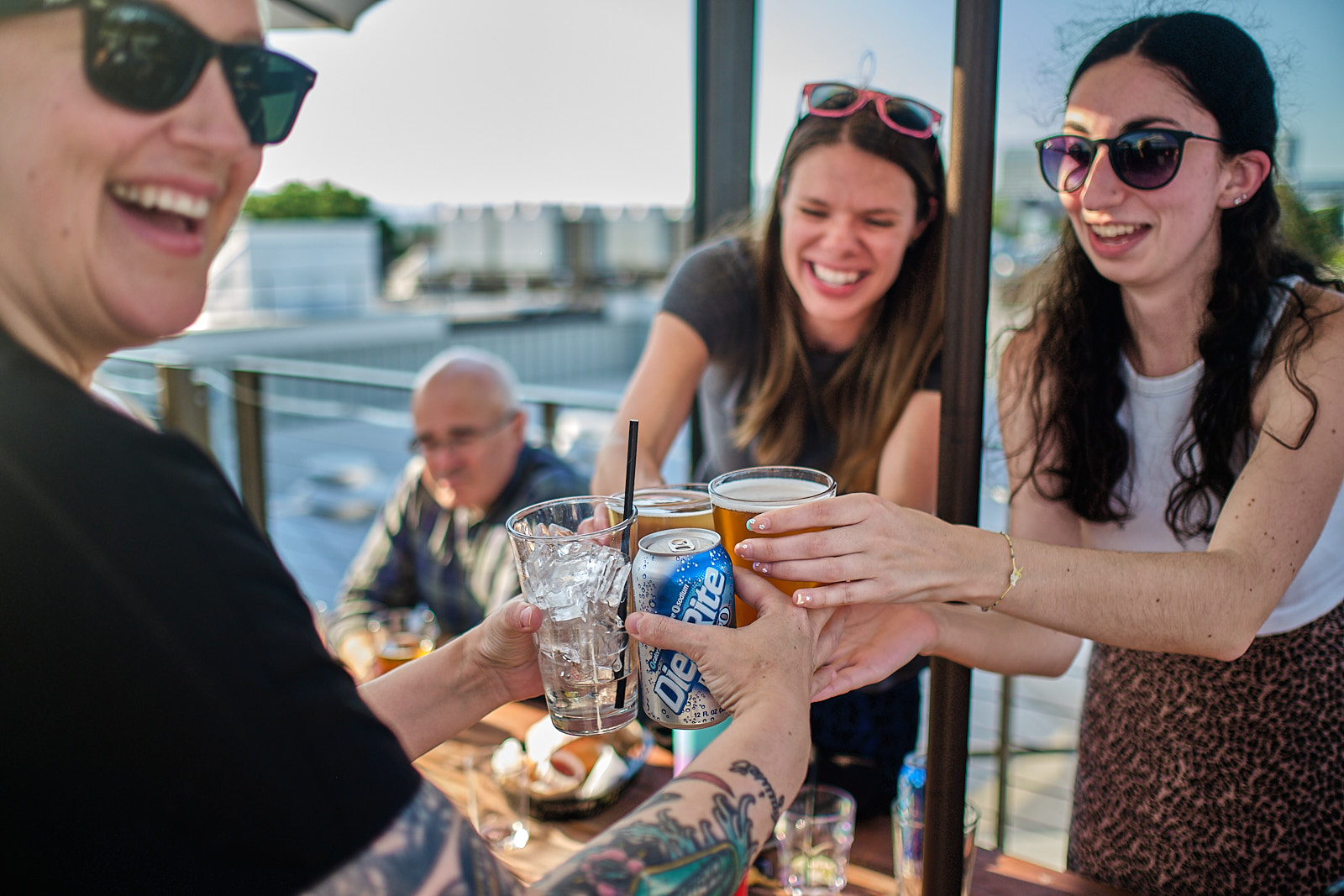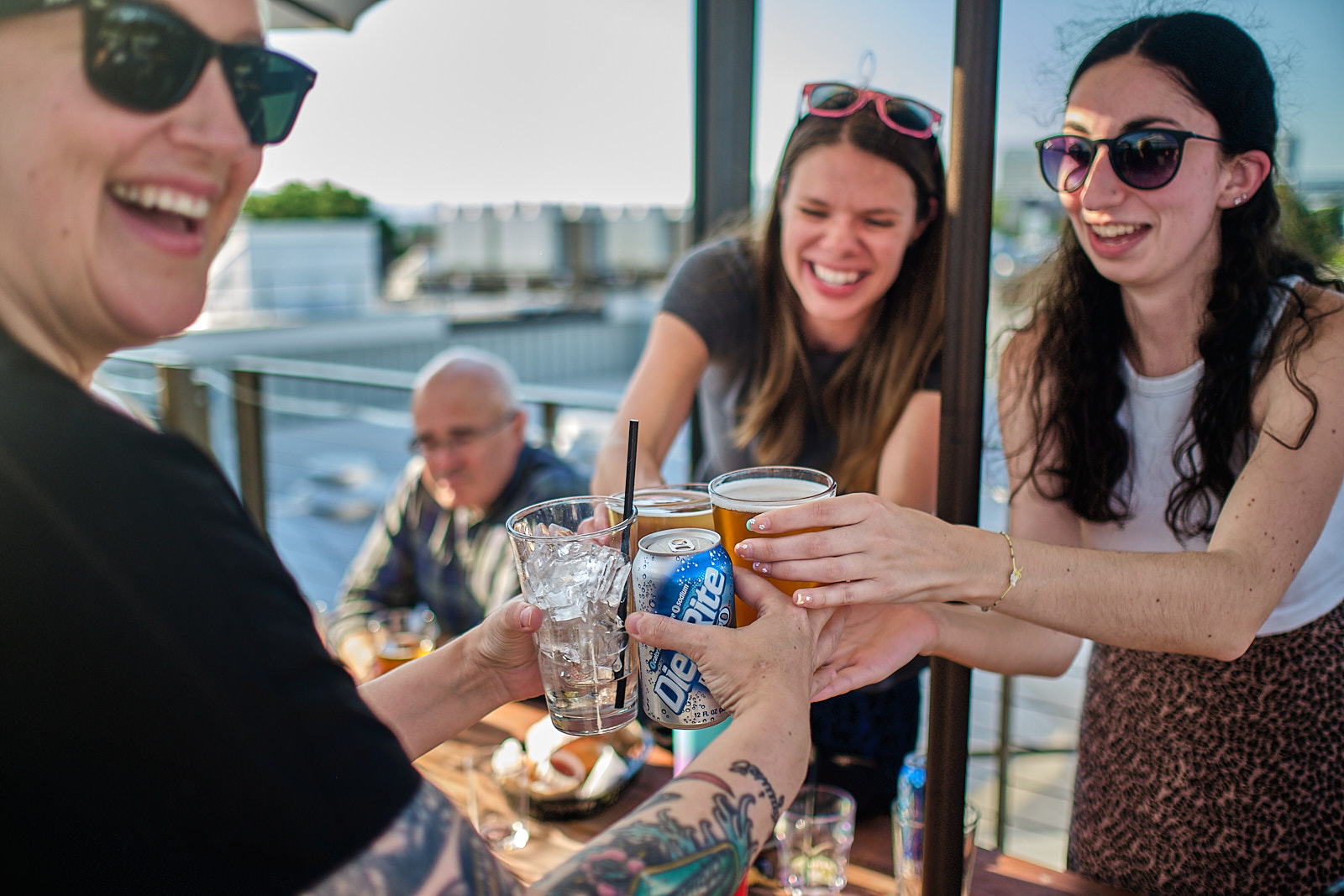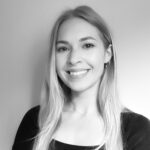 by Mackenzie Gilstrap, Sr. Marketing Coordinator
Employee Spotlight: Jennifer Sobieraj Sanin
August 24, 2022
Empowering Others
Empathetic, balanced, and calm—three words you'll hear from Jennifer Sobieraj Sanin's team if you ask them to describe her leadership style.
This month we're excited to be spotlighting Jen, an architect and Managing Design Principal in our Seattle office. In her eleven years with AM, Jen has come to stand out as a female role model in architecture due to her unwavering advocacy for her teams, and for women in particular.
Jen approaches her leadership position with the intention to empower others. She creates an environment conducive to growth by "letting others get creative and do their best work," as one of her colleagues has noted, "while at the same time staying engaged and providing feedback that guides the project in the right direction and helps you grow as a designer."
We asked Jen to share her advice for emerging professionals in the industry. Here's what she told us:
1. Be an advocate for yourself. Don't be afraid to voice your opinions and ask for opportunities.
2. Find your mentor—someone who will offer guidance and stand up for you when you need it. Check in with them regularly.
3. Don't change yourself to fit into a higher-level role. There is room for you to become a leader while doing what you love and are good at. A great leadership role will be flexible enough to match your skills and passions.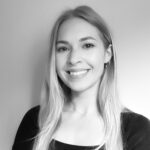 by Mackenzie Gilstrap, Sr. Marketing Coordinator
Spotlight: Intern Jules Stafford
August 9, 2022
An interview with Jules Stafford, Summer Intern at Ankrom Moisan
Q: Tell us what you learned through your summer internship at Ankrom Moisan.
A: This summer, I've gotten the chance to work on so many different projects, participate in client meetings, go on site visits, and get to know some wonderful people. I've learned so much this summer, but one of the biggest things I've learned is how to be the best designer I can be. I've learned to step out of my comfort zone and be open to new experiences and lessons. I hope that as I step into my career I will continue to learn; pulling from all of the lessons and experiences I've had here at Ankrom Moisan!
Q: What was the biggest surprise you experienced?
A: How welcoming and kind everyone I met has been! I was definitely intimidated to walk into a large Architecture and Interior Design firm as a summer intern, but all of the designers and architects have been so kind. I remember walking in on my first day and it was as if everyone had known me for years. Everyone is ready to jump whenever I have any questions, ask me for my opinion, and trust me with decisions. They have become great mentors and have treated me so extremely well. It's been such an amazing surprise.
Q: What story do you think you will tell all of your classmates?
A: At George Fox University, we have a tight knit group of Interior Design majors. My cohort is small, but we're growing, so I want to give reassurance to my peers.  As students, it can be overwhelming to walk into a firm and need to learn so many new things, so fast. Suddenly you're aware of just how much you don't know. So, a story I would tell my peers is how I've learned, despite my fears, that I am capable of so much. We are learning exactly what we need to learn. All the projects and homework is so helpful and valuable. I'm excited to go into my last year with everything I've learned and work on new projects.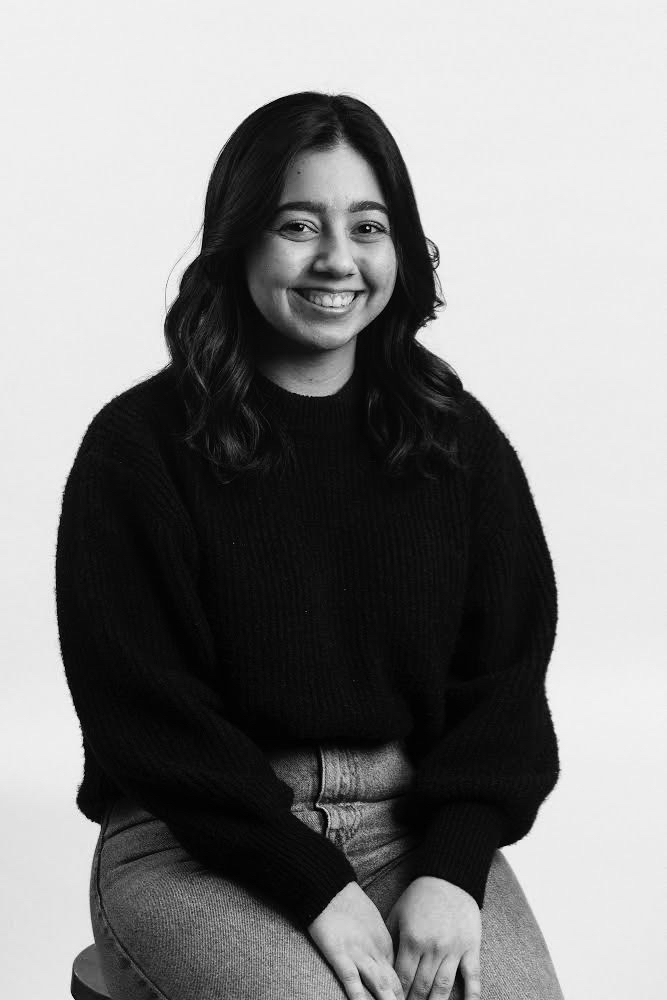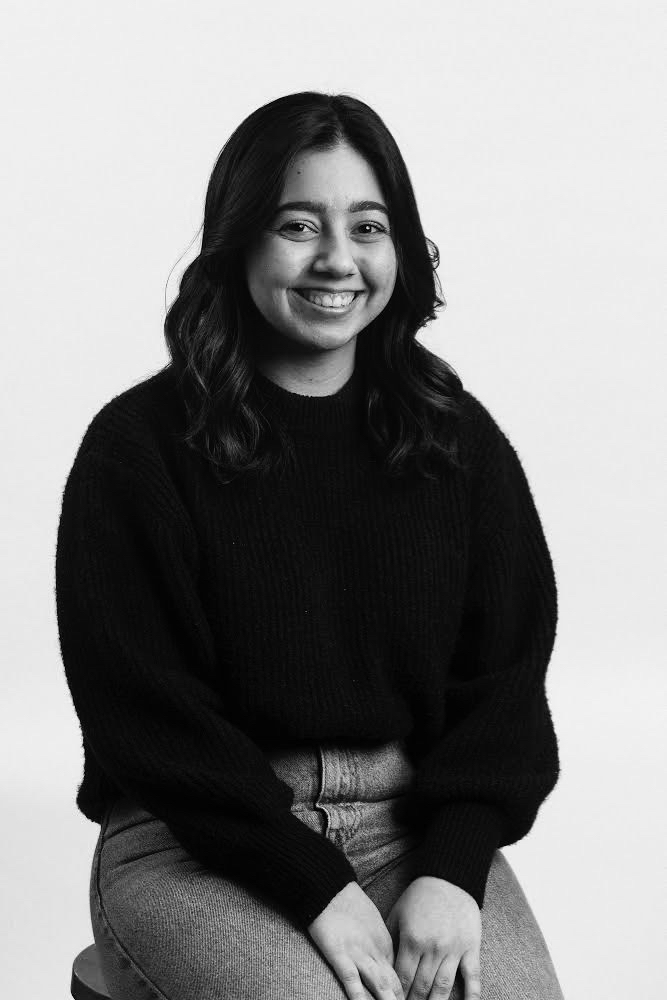 Employee Spotlight: Ryan Miyahira
July 13, 2022
Hitting the Right Notes
Ankrom Moisan Managing Principal Ryan Miyahira recently hosted AM's second annual Pickathon, a video showcase of the firm's many talented musicians.
We chatted with Ryan, who is a talented musician himself, to hear more about the inspiration behind AM Pickathon, an event he not only hosts but also created and produces.
Q. What's your musical background and how did Pickathon come about?
A. I've been playing music since I was a kid. I had a band in high school and another in college, playing mostly 80s indie music. After college, my wife, Lara, and I started a band called the Hip Replacements. We cover old r&b and soul music. We've performed at several Ankrom Moisan Christmas parties and still play the occasional bar gig.
One of my favorite things to do is to go see live music. During the pandemic, we watched a lot of streaming concerts and I thought it would be fun to do an Ankrom version. I've had the chance to play music with other AM employees so I knew that we had a lot of musical talent in the firm. I wanted to show off those hidden talents in a fun way.
Q. How long have you been with AM and what has motivated you to stay?
A. I've been with AM for 22 years. Back in 2000 when I was looking for a job, the most important thing to me was to find the coolest group of people. I was looking for creative, hardworking, and fun people that wanted to do their best, but were also easygoing enough to have a good time while doing it. That's how I landed at AM. I've noticed that it seems to perpetuate itself—a group of good people is like a magnet that attracts more good people. That's what has motivated me to stay for so long.
I also appreciate that it's been a very supportive and fun environment where you can make your own way. There's so much room for passion and exploration at AM. If you have an idea, like hosting a Pickathon, and the drive to do it then the firm will support it.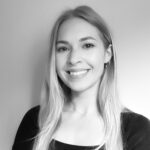 by Mackenzie Gilstrap, Sr. Marketing Coordinator
Virtual Reality
June 22, 2022
Conveying the Nuances of Design
Our incredible in-house visualization team is testing out some VR upgrades! Virtual reality has proven to be a valuable design tool for our teams so we're expanding our capabilities with new equipment. Soon, we'll have upgraded VR stations in each of our three offices.
So, how do we use VR?
VR allows our designers to get a true sense for the scale and feel of a space as they are designing it—adding efficiency and improving end results. For instance, virtually walking through a unit during the programming stage helps inform early layout and square footage decisions so that costly last-minute changes can be avoided and the resulting unit design will better meet pricing expectations.
It also helps our interior designers to visualize details previously left to the imagination such as how flooring patterns would look repeated on large scales or how the placement of a lighting fixture might affect the overall feel of a space. Getting these small details right leads to a more cohesive and intentional end-product.
By providing our clients the opportunity to experience different design variations within their projects, we can aid their decision-making processes. While designing Olympic Tower, a luxury senior-living high-rise in Seattle, we gave our client, Transforming Age, the opportunity to tour the building two years before the project even broke ground. After using VR to experience the tower's premier amenity, a performance hall, the client realized the scale was not what they had imagined. As a result, we increased the ceiling height, changed the dimensions of the stage and adjusted the lighting. VR helped convey the nuances of the design so the client could make informed decisions on where to allocate resources, and they didn't have to experience any surprises during construction.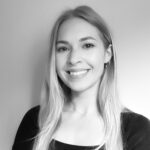 by Mackenzie Gilstrap, Sr. Marketing Coordinator
Employee Spotlight: Lori Kellow
June 16, 2022
Exploration Leading to Success
Lori Kellow, Ankrom Moisan's longest standing employee, has been with the firm since 1985. After a nearly 37-year tenure, Lori has a uniquely broad perspective on the architecture industry and Ankrom Moisan's place within it. We recently sat down with Lori to hear her insights. Lori touches on what the industry was like for women in the '80s and how technology has changed the design process.
Q. What is the biggest industry change you've seen since you started working at AM?
A. Technology, absolutely. In just the past few decades the standard design process has shifted from primarily utilizing manual tools, such as hand-drafting equipment, to being almost entirely computer-based. To research and draw using technology is so powerful. I remember when we had to visit the library and flip through physical binders, the Sweet catalogues, to find products to specify. Now all this information is right at our fingertips and efficiency has just soared because of it.
Q. What has motivated you to work at AM for 37 years?
A. In the mid-80s it was still very difficult for women, especially in architecture, to get a seat at the table. At Ankrom Moisan it was different, leadership showed me from day one that my opinions and ideas were valued. I've always been treated with respect and paid commensurate to my skills.
It was within 3 years at the firm, in 1988, that I was promoted to Principal, becoming the first woman in a leadership role. In the many years since, I have not lost that feeling of being valued and the sense of opportunity. I believe that if you have passion and drive, there are not many roadblocks to growth and success at Ankrom Moisan.
Q. What is your advice for professionals beginning their careers in the architecture and design industry?
A. Explore. I am a firm believer that you must try as much as you possibly can in order to find your passion. I spent years working on diverse project types and taking on varying roles. Eventually I discovered my passion for social service healthcare projects. I find a great deal of fulfillment in creating places that help people heal. Through exploration, I've also realized I am especially adept at big-picture thinking and I prefer to do schematic design work. I'm fortunate enough to work with a firm that has allowed me the freedom to explore and provided the opportunity to tailor my role to match my strengths and passions.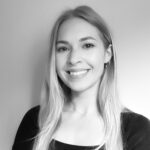 by Mackenzie Gilstrap, Sr. Marketing Coordinator
Project Pin-ups
June 7, 2022
Opportunities for Collaboration
In pursuit of the best solutions, we create opportunities for collaboration.
After all this time meeting and sharing ideas through screens, we are thrilled to be able to collaborate in-person again.
Designers from our Portland office got together recently for a charrette at the pin-up wall—sharing design concept ideas for our on boards project, Fairfield Burnside. Through discussion of neighborhood context and influences, the team began generating a diverse scheme of building concepts for this upcoming 8-story mixed-use development.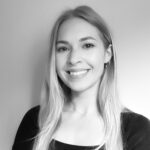 by Mackenzie Gilstrap, Sr. Marketing Coordinator
Ankrom Moisan's Community Service
May 10, 2022
Old Town Cleanup
Old Town Cleanup Community Service, Ankrom Moisan Represents!
Many of our employees provide valuable time, skills and efforts on meaningful activities in and around our communities. In March there was a cleanup of Old Town, Ankrom Moisan's Portland Office neighborhood, organized by SOLVE, an Oregon non-profit, and Ankrom Moisan employees were there!
Volunteers organized at the Portland offices that morning, and SOLVE provided trash collection tools. A big thank you to all who contributed time and energy to the Old Town Cleanup!
Which organizations and services do you champion with your time and energy?
📸: Jason Roberts, Laura Seracin
Sustainability & Ankrom Moisan Interiors
March 1, 2022
An interview with Erica Buss, Ankrom Moisan's Research & Information Services Manager
Q: What efforts are Ankrom Moisan making to provide better information and resources when it comes to sustainability?
A: Ankrom Moisan was an early signatory to the AIA Materials Pledge, which encourages architects and designers to shift the way we evaluate the products and finishes we specify; taking into consideration the materials to improve the health of ourselves and our planet.
Erica curates and maintains a list of resources for our interior designers and architects to easily reference as they are evaluating and looking for the most appropriate product or material for their project. She also coordinates and organizes our vendor presentations and educational sessions; selecting topics around sustainability and healthy materials. The library prioritizes and highlights products to support human health, social equity, climate health, and a circular economy."
Members of our sustainability reform group are also active members of the Portland Materials Transparency Collaborative (PMTC) and the Healthy Materials Collaborative (HMC). Both provide education, tools, and resources collected by our local A+D Communities. Additionally, this group works toward reformatting our specification template to make healthier and more sustainable choices the default. As part of that exercise, the team has created internal resources for prioritizing and selecting sustainable materials, such as resilient flooring.
Our firm sponsored eight interior designers to complete the Parsons Healthier Materials and Sustainable Buildings Certificate Program. This is a four-course program that allowed the designers to take a deep dive into sustainable material selections and bring enthusiasm and knowledge back to the firm, to their projects and clients. The designers who participated in this course were Jamie Kreger, Clare Goddard, Maddy Gorman, Ruth Bernal, Seaian Wood, Laura Serecin, Kaci Mespelt, Sydney Ellison. Ankrom hopes to have more interior designers complete this course in the future.
Q: Other firms have opted to remove all Redlist products from their library – Is this something that Ankrom Moisan is considering? Why or why not?
A: This is something that Ankrom is exploring as a firm-wide initiative, though we haven't made the leap yet. The library is a resource to serve the designers and their projects. Steps in this direction that have been implemented were with PVC. We removed vinyl fabrics from the library and created a dedicated section for PVC-fee wallcovering. We also highlighted flooring products that are PVC free and/or provide full disclosure of material content to make it easier for our design staff to specify healthier flooring choices.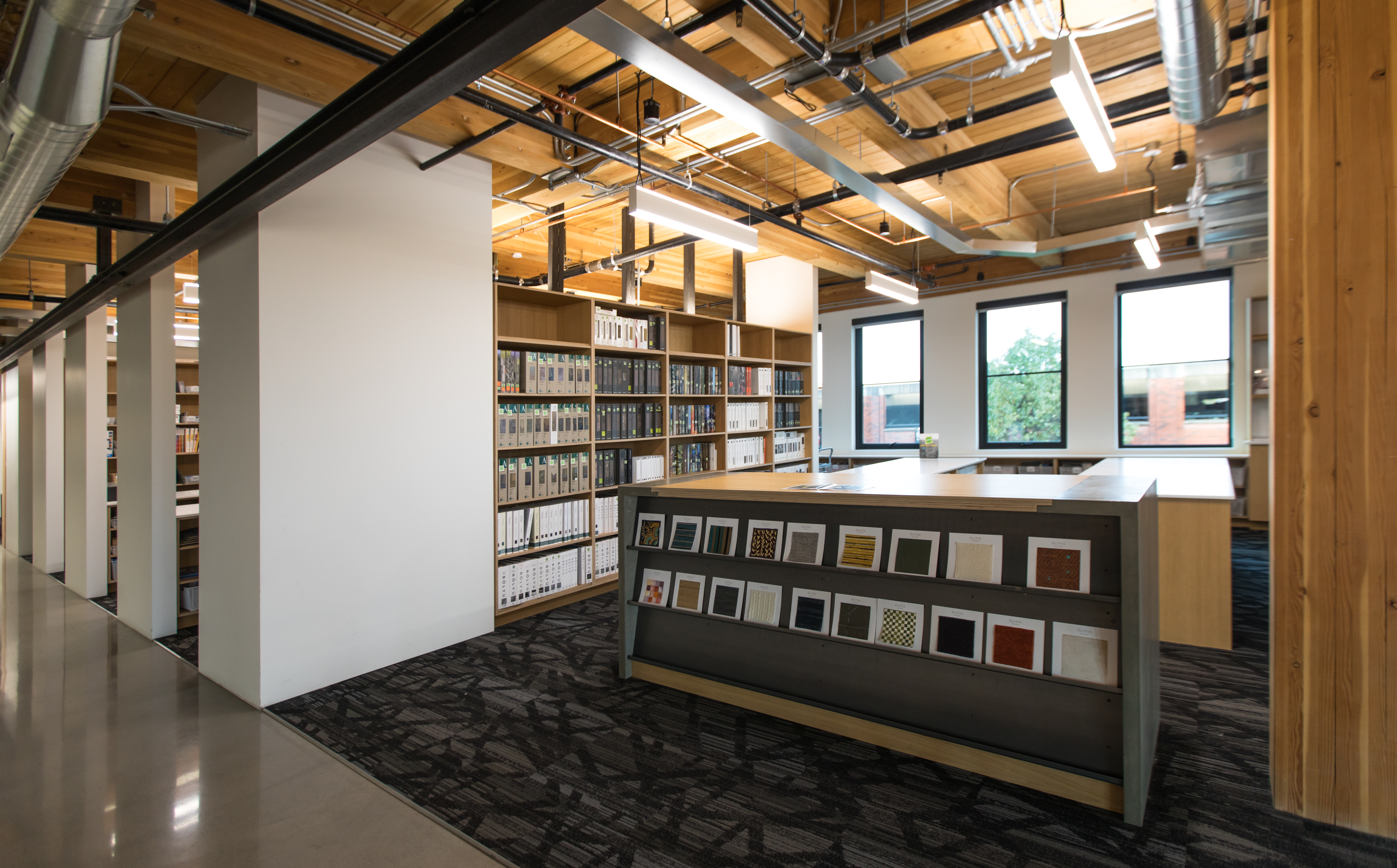 Q: How can we as designers do more to incorporate salvaged materials or encourage material reuse rather than replacing them with new ones?
A: Ankrom Moisan has relationships with a handful of salvaged wood brands in the region, as well as a salvaged metal fabricator.
As an interior design group, we collectively understand the importance of building relationships with local salvage companies to incorporate more reused materials into projects rather than buying new ones. We have an ongoing discussion to share experiences or ideas on how we can work with existing conditions and materials creatively to effectively reuse them in projects.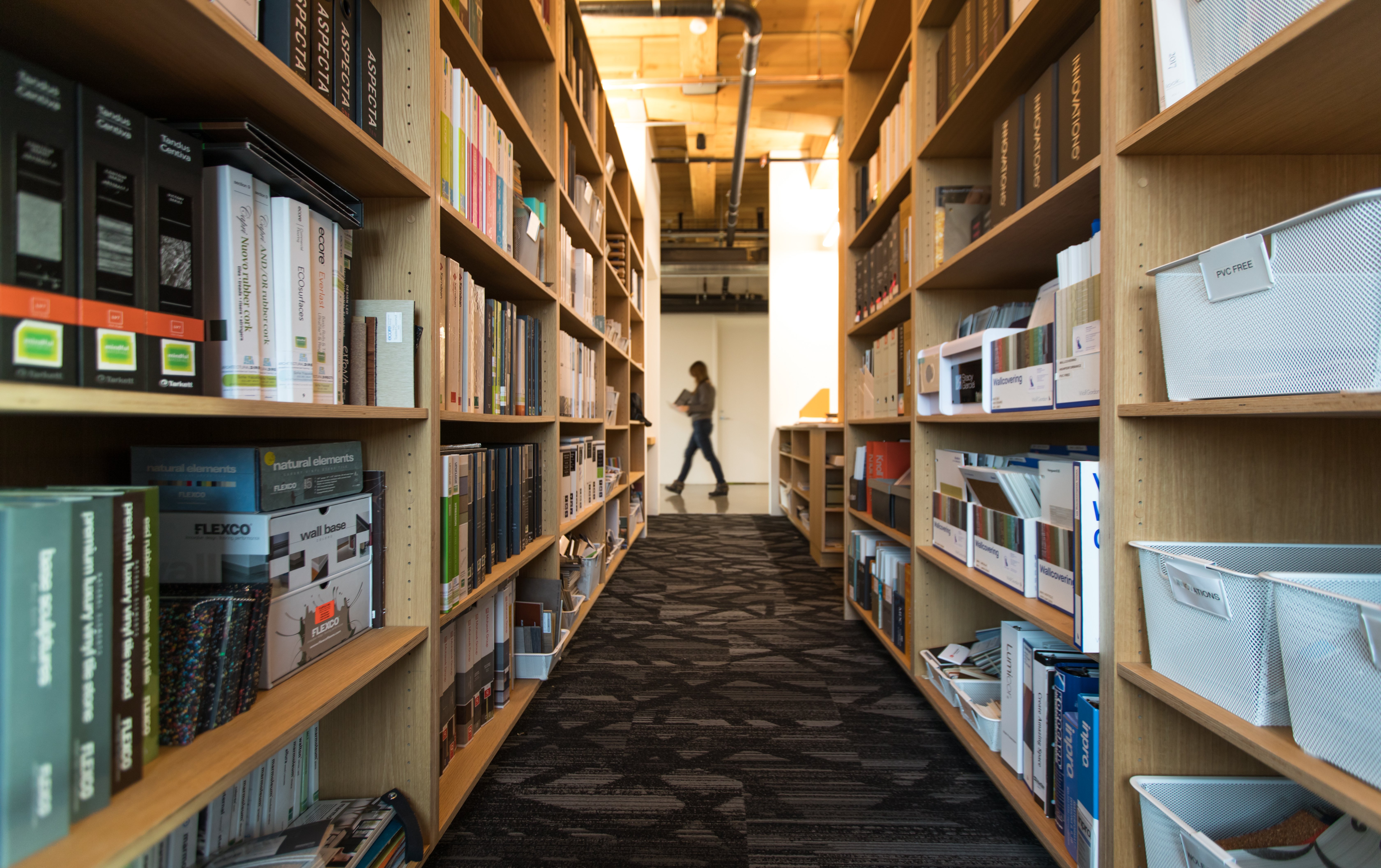 Q: What tools and resources are available to designers to help us educate our clients about the importance of using sustainable products and implementing sustainable practices?
A: Our greatest resource is the designer's ability to strategically engage with the client and draw out what their values are around sustainability, equity, human health, and then being able to link those values back to your material selection strategy. Does the client have an Environmental, Social and corporate Governance (ESG) framework or vision that you can point to and say, "this is how healthier material selection can support your sustainability goals?" And then prioritize, together with the client, what aspects of sustainability you are going to focus on in your material selection, whether that's human health, carbon emissions, social equity, DEI, etc. In the end, you work with the client to establish a goal around material selection and then use your material expertise and influence as a designer to execute on that goal. You also need the construction team on board, so they are on the same page when product substitutions are suggested.
Q: Where do you see the future of sustainability in Interior Design and Architecture? Do you see any changes on the horizon when it comes to how our industry approaches sustainability?
A: The conversation around climate change and sustainability is becoming more mainstream both within and outside the industry. Erica attributes this to the influence of Gen Z, who highly values sustainability, high-quality products that last longer, social equity, racial justice, and environmental responsibility. "They live these values in their consumer spending choices, where they chose to work, how they travel, etc. They have a positive influence on brands and manufacturers, pushing for change. They get it, they are listening, and the brands who want to remain relevant and stay in the game are trying to change and make products that match these values with processes and materials that are carbon positive, safe for humans, the environment, and society."
We are seeing more and more businesses adopt Environmental, Social, and corporate Governance (ESG) mentioned in the previous question. This is a rating system developed by the United Nations that scores a company's social and environmental factors. This is used to make informed choices around investments and future growth. As more and more companies adopt this the design industry will need to respond to help our clients make choices that align with their values and priorities.
Employee Spotlight: Keith Larson
December 17, 2021
Professional Modeler Extraordinaire
Did you know Ankrom Moisan has an in-house model maker?
Meet Keith Larson. While he's been working as a professional modeler since the 1990s, his craft started as a kid playing with LEGO sets. To say he is detail-oriented is an understatement.
From making props on movie sets to creating 1/32" scale replicas of commercial airliners, Keith has an incredible portfolio from which he draws inspiration. Although his career has taken him through a broad spectrum of industries, his love for architecture and design has continued to bring him back to this world.
Since starting with Ankrom Moisan in 2016, Keith has collaborated with our project teams on models small and large, simple and complex. With such a diversity in markets and locations, every project brings something unique to the workbench.
When we asked our in-house model maker Keith Larson to share his current projects, Sandy Health Center was top of mind. The 1/16" scale finished type model includes scale people—a first for Keith's work at the firm. Filled with details, the steep pitched roof was a particular challenge. Cutting the individual angles by hand and seamlessly assembling each piece was a personal triumph.
Keith worked very closely with the architecture team to ensure each detail was correct. The finished model represents a 9,500 sq. ft. facility that consolidates primary care, behavioral health, and dental services into one location. Following the Sandy Design Guidelines, the final architecture is a modern take on a rustic aesthetic.
🎬: Ankrom Moisan
AM Design Week 2020
September 23, 2020
In Conjunction with Seattle Design Festival: About Time
For Seattle Design Festival's 10th anniversary in August, 2020, our Portland, Seattle, and San Francisco offices celebrated Design Week virtually. Over five days, we explored what drew us to design, the realties of this present time, and the many ways our neighborhoods and cities are changing. We shared over 400 photos, 500 posts, and 1,829 emojis. At time when connecting with people isn't easy, Design Week gave us a chance to see the world through each other's eyes.
Here's a tiny sample of what we shared.